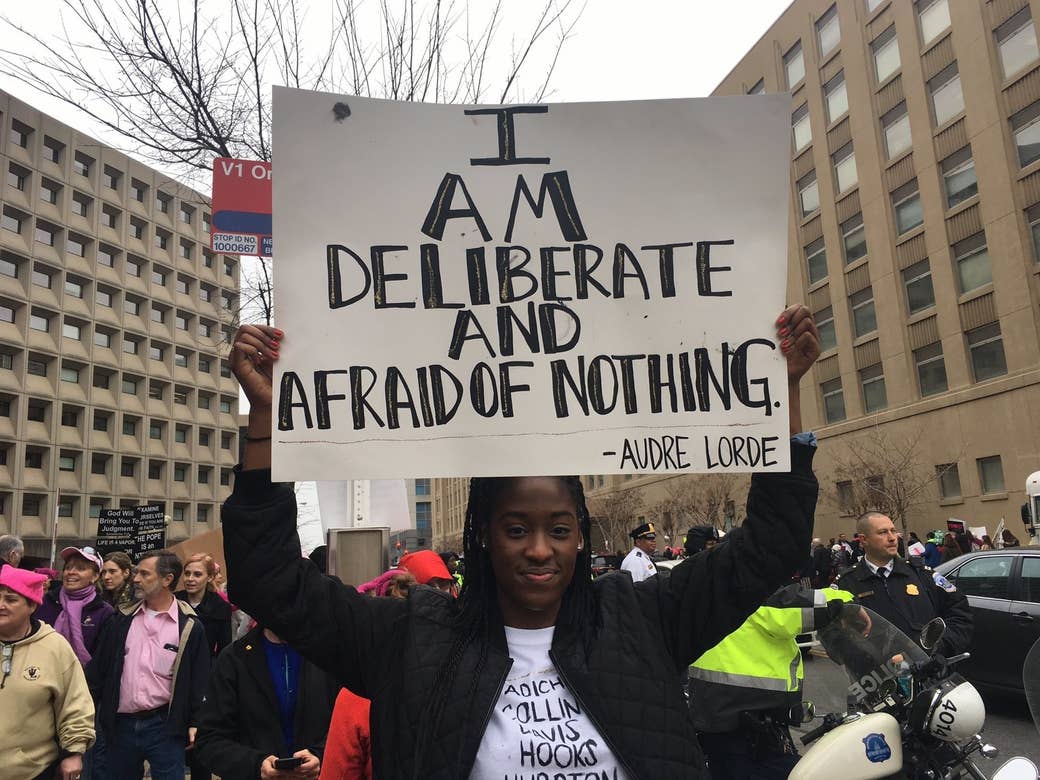 WASHINGTON – In the Culture galleries at the Smithsonian National Museum of African American History and Culture, there is a whole section on style. Written on a museum sign is a quote attributed to Tony Award-winning playwright George C. Wolfe, which reads: "God created black people and black people created style." On the eve of the Trump inauguration, black people came out in style, and gathered at the NMAAHC, nicknamed the Blacksonian, to attend the inaugural Peace Ball: Voices of Hope and Resistance, a "gathering to celebrate the accomplishments and successes of the past four years and the vow to continue to be the change we want to see in the world".
Organised by DC mainstay Busboys and Poets, people of all races and hues paid $200 a pop ($150 for students) to come and hear luminaries in the fight for justice on the most pressing issues ahead. I can't speak for every black person in the museum that night, but it seemed to me they were performing one kind of resistance: the resistance that knows how to put on a glitzy outfit and fill a plate and a glass, and still be cognizant enough to raise a fist in the air.
For many black people, there is a secondary education that takes place away from the formal channels, in which we also learn about black history via visual arts. We know, for example, what gloomy glamour looks like, because we have seen Florence Ballard, Diana Ross, and Mary Wilson as they attended Martin Luther King Jr.'s funeral. We know about Gloria Richardson (even if we do not know her by name), the civil rights activist and leader of the Cambridge Movement, because we know and love the image of her pushing away the bayonet of a National Guardsman during a 1963 protest, a gloriously dismissive expression on her face. We know that struggle is ugly and painful, but that it can also be beautiful and glossy. We have been consuming images of black resistance as married to black glamour for a long time. They form a big part of our shared Black Past.
At the Blacksonian last Thursday night, in sequined gowns and suits and agbadas, and with hairstyles that will make the images both timeless and uniquely of 2017, we were simultaneously building the images that will one day make up a Black Past while living in and observing the Black Present.
It may sound exhausting, but it didn't feel it. It felt fortifying, like an enriching blood tonic. "This is not a game. This is not reality TV," actor Danny Glover said to the crowd. Writer and activist Naomi Klein laughingly called the night "the eve of the apocalypse" before adding, more seriously, "Tomorrow is not a peaceful transition of power – it's a corporate coup d'état." Children's rights activist Marian Wright Edelman led a fiery prayer ("God, forgive and transform our rich nation and us…") and urged the assembled guests to "go out there and cause a movement". Playwright Eve Ensler led the crowd in a series of pledges, to "resist, disrupt, love deeper, to rise".
"We will not compromise, we will not negotiate. We will not go backwards," Alicia Garza, co-founder of Black Lives Matter declared. "Are you with me?"
One of the biggest cheers of the night went to Angela Davis. "Is this not the place to be?" she asked, grinning widely, her gap prominent. Black fists flew into the air. Next to me a young white man, overcome, screamed: "YOU'RE A GODDESS!" Davis introduced Solange, who performed songs from her recent album, A Seat at the Table. Afterwards, Solange bowed. "I'm so, so, so grateful," she said. "Peace and justice for all."
The party went on for a while longer. I left during Migos's "Bad and Boujee", the lead single from their upcoming album, Culture. "Dude, this night is legendary," said another young man near me.
It was difficult to imagine anyone in the museum that night had voted for the new president.
The next day, as I stood in the cold DC wind watching Donald J. Trump get sworn in as the 45th president of the United States, I struggled to find many black faces in the crowd around me. In my pocket was a teal ticket that got me as close to the action as I think a journalist could get – I could watch the events unfold with my own eyes, not on the big screen. The air at the inauguration was just as festive as the museum had been less than 12 hours ago; people wore fur coats and ushanka hats, their glamour just as pointed and deliberate.
I overheard a woman tell her companion, "They need to go to Disney World to learn to manage crowds. This would never pass Disney's standards."
As the Mormon Tabernacle Choir, dressed in cream-coloured turtlenecks, performed "America the Beautiful", I went into a brief reverie over the lyric "Thine alabaster cities gleam / Undimmed by human tears", which always makes me start. Several rows ahead, I spotted a man in a wheelchair, wearing a black hoodie bearing the legend "SUCK IT UP BUTTERCUP". In another wheelchair just in front of me sat an elderly black woman, steel-grey curls glinting. She seemed to be a loyal party animal – the GOP's famous elephant adorned at least a couple of her items – and she leaned forward at key moments, appearing to want to get even closer to the action. Behind me, an excited Indian-American family took photos, the teen girls' animated chatter a constant sound.
As Paula White prayed, a few hands went up and began to sway gently: church shorthand. When the president began to take the oath, a small group stood up and began defiantly reciting the Constitution loudly. Similar to what I had seen at the RNC last summer, they were shouted down with chants of "Trump!"; the tactic was just as effective at shutting down dissent here. During the new president's speech, in which he referenced the "urban sprawl of Detroit", explicitly put "America first", and told the "forgotten men and women" they would be forgotten no longer, "Trump!" and "U-S-A!" chants kept breaking out sporadically. "Now we are only looking to the future," President Trump said. But these chants were very much from the recent past – Trump-rally lite – the only difference being that their man was now ensconced in the White House.
It's hard to shake the rally-type behaviour when it's Trump's preferred event, I suppose. The chants will probably follow us into the future as well. By the time Detroit's Bishop Wayne T. Jackson quoted Mahalia Jackson in his closing benediction, the crowd had already begun dispersing. Where I had been standing, so close to the Capitol building, the crowd had been healthy-looking, and noisy with their enthusiasm, and there was a small crush to exit. On the way out of our section, I overheard a woman tell her companion, "They need to go to Disney World to learn how to manage crowds. This would never pass Disney's standard."
A day later, White House spokesman Sean Spicer would bullishly claim that the inauguration crowd was "the largest audience to ever witness an inauguration, period" and give birth to a new meme.
The Women's March that took place the day after the inauguration would likely not make the Disney cut for crowd control either. There is still no concrete tally on how many people marched in DC on Saturday, but estimates put the number at more than 500,000, and three times the size of the inauguration. This crush was hectic, but also loud and joyous, mixed in with the usual logistical irritations. No furs or sequins here, and very little glamour to be found. But there was the same hope for a changed future, facilitated by the present.
I had come to talk specifically to black girls and women about why they were at the march. Statistically speaking, black women already got in formation at the election (and beyond), and if more white women had followed in their footsteps, perhaps this particular march might not had occurred?
To have sat it out would've been to cede to a feminist movement that was all too willing to discard them, when they had been the silent workhorses of the collective for so long.
I saw so many black women at the Women's March, and each one I spoke to gave me a variant of the same answer: They were here because they had to be. To have sat it out would've been to cede to a feminist movement that was all too willing to discard them, when they had been the silent workhorses of the collective for so long. It was evident in the number of placards and signs I saw, happily quoting from the rich and grand tradition of black feminist theory and thought: Angela Davis, a speaker at the march, popped up often via her words, as did Maya Angelou. The most quoted was Audre Lorde, whose abundant written legacy is a treasure trove of march-friendly quotables. It was about representation, a group of African women told me. They were here, representatives of African women a continent away from this march, each with their own feminist histories, currently living their own feminist realities. This is for us too, all the black women I spoke to were saying. Putting ourselves back into the narrative, where we have always been. So I approached multigenerational groups of black women and asked to take their photo, and I looked out for groups of multiracial teenage girls, eyes wide and almost overwhelmed by the crowd. We are physical manifestations of our parents' dreams, and I saw so many parents with a proud gleam in their eyes on Saturday afternoon.
And yes, it was the Women's March, but I also kept an eye out for black men. I spoke to black men who came with their female spouses; gay men; trans men; black men who came with their daughters, or just in their honour. They too were everywhere. And their presence made me think of previous marches for other causes, in which black men would be more prominent, and what the police reaction might be then. Because black people gathering in large numbers in protest capacities has historically unnerved police forces, regardless of the groups' intent. Invisible and ignored labour was the weekend's quiet background theme. The day before, as I watched Supreme Court Justice Clarence Thomas administer the oath of office to new vice president Mike Pence, I found myself thinking about professor Anita Hill. The current landscape of sexual harassment law and the American workplace might look very different for women of all races now if not for her, and 1992 saw the election of an additional 28 women to congress.
This march's success was in part made possible by the labour of earlier, protesting black bodies.
Blithe explanations for the relatively calm police presence and action on the day that fail to consider the way race and gender intersects when it comes to outcomes of police interactions did not help. There was also a sort of benevolent sexism at play – women cause less trouble, you see – that some women swallowed uncritically, and were happy to parrot. The scores of black people arrested at demonstrations in the last couple of years were not necessarily not law-abiding: They were just black. And we already know that race and law enforcement intersect in sometimes fatal ways.
It seems fair to consider this march in the continuum of American protests of the last several years. This march's success was in part made possible by the labour of earlier, protesting black bodies: Demonstrations around intersectional black civil rights in cities and towns across America paved the way and began preparing the way for large-scale events like this.
The relative lack of police altercations also offered up a challenge to white allies: If they, in the fight for justice, can "force" police civility merely with their presence, shouldn't they do it more often? As MTV News writer Doreen St. Félix tweeted of the Women's March, "it seems like the lesson to take from police presence yesterday is that more white women should attend smaller rallies and protests."
That would be a fine lesson, indeed.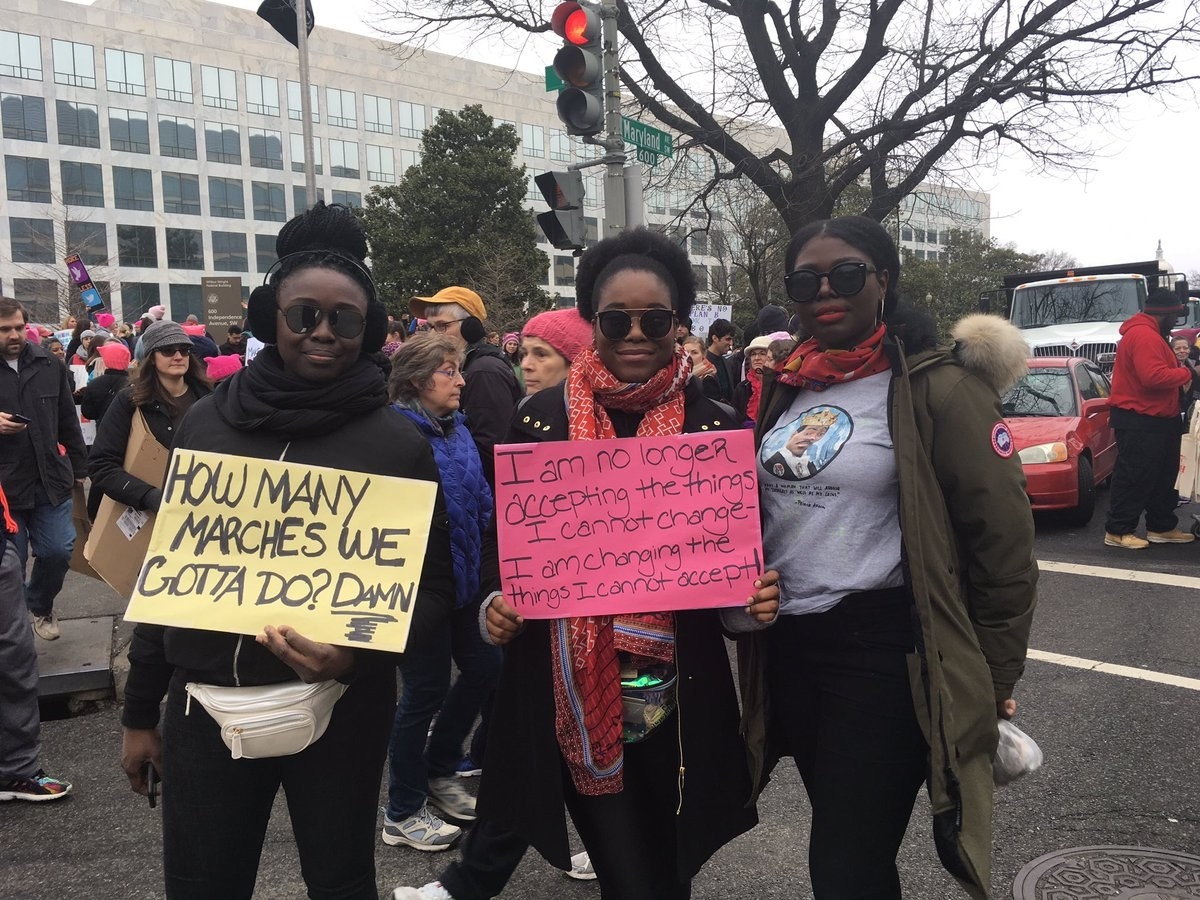 The march that happened on Saturday is exactly the kind of march this Trump presidency warranted. It could not have occurred without it. But there is a sly and disingenuous narrative being spun here. The issues brought up during the march – the water crisis in Flint, indigenous women's rights, anti-Muslim sentiment, violence against women (including the specific threat of murder trans women of colour face), the school-to-prison pipeline and so on – would not have magically solved themselves with a Hillary Clinton presidency. There would still have remained a need to march, to protest, and to resist.

On Thursday night, Angela Davis gestured to the crowd in front of her and said, "This is an inauguration of the resistance to come." It will take many forms, and it will work in coalitions and on committees, and it will be loud and angry as well as quiet and calm. It will be glamorous and also very gritty. It will be met with opposition at every turn. For some people, the women's march was their first brush with physical, tangible activism. For many more, the hope is that it will not be their last.