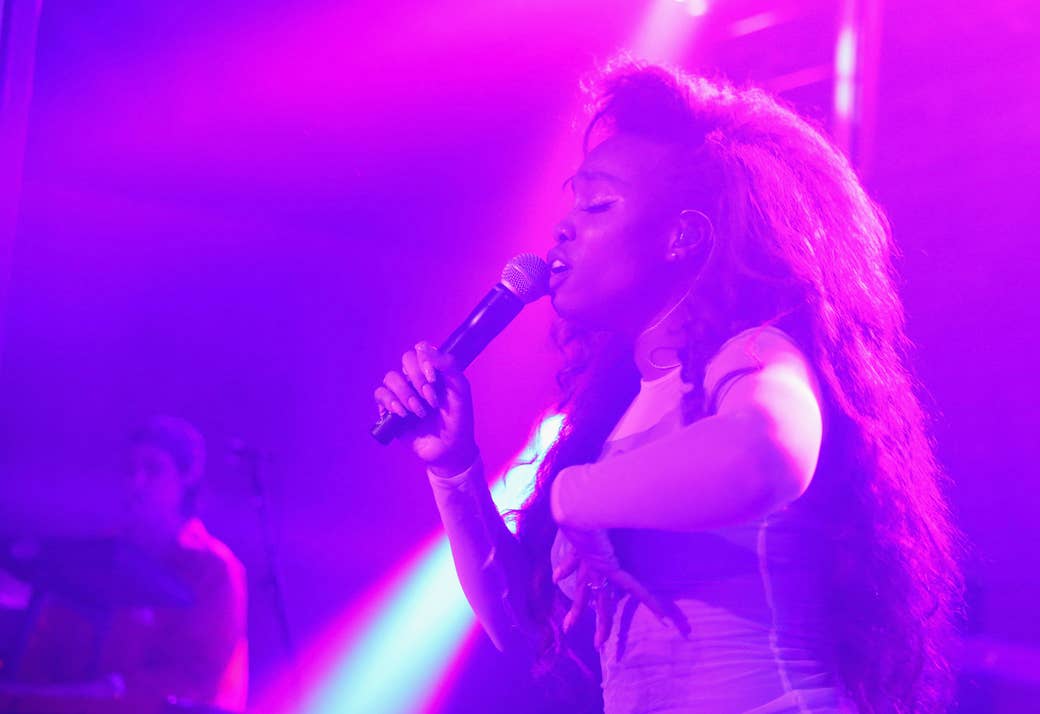 SZA's Ctrl is a black girl's Tumblr come to melodic, vibrant life.
SZA, who is 26 years old and grew up in New Jersey, is speaking in a specific vernacular that will be familiar to black women who spend chunks of their time in certain corners of the internet. It is apparent right from the opening song, "Supermodel," which begins with a recording of the singer's mother speaking on the grand theme of the record ("That is my greatest fear. That if, if I lost control or did not have control, things would just, you know. I would be be...fatal"). It's not that the lyrics come in the form of some impenetrable fancy language, necessarily — it is standard (African-)American English, after all — it is the attitude with which she throws out the lyrics that catches the ear, and then makes the words linger on the mind.
When she plaintively sings "Why can't I stay alone just by myself / wish I was comfortable just with myself" on that opener, for example, you can almost taste the minimalist Tumblr theme; if you close your eyes you can picture an ironic Blingee lighting up on a loop behind your eyelids. Ctrl is covering much of the ground that fills my own dashboard up every single day, the hundreds of posts that essentially boil down to a quest for self-determination — self-determination in a world that seems hell-bent on pushing us into predesignated roles and situations. And that is expressed in pithy but heartfelt text posts about black girl magic in all its forms, mood boards and videos of hair and fashion inspiration, and the men and women we fancy and love, alongside photo sets and GIF sets of nostalgia-nourished TV shows and age-relevant quotes about life and love and self-care. I don't think it's a coincidence that SZA was for a good long time an active Tumblr user (I have followed her on there for years). Even now, via her million-follower Instagram, her preferred platform these days, SZA is still doing much of what her Tumblr used to do (minus the direct contact afforded by her Ask box). Last month she posted a screenshot of a Tumblr post about awkward flirting with the caption: "who dragged me like this?"
SZA's Ctrl is a black girl's Tumblr come to melodic, vibrant life.
SZA's reputation has been building for years via a couple of well-received EPs, See.SZA.Run and S, and her first studio album Z. In 2013, she signed with indie label Top Dawg Entertainment, the home of Kendrick Lamar and the rest of the Black Hippy crew — the first woman to do so. Three years later, she appeared on and co-wrote Rihanna's opening Anti track, "Consideration." Collaborating with the likes of Jill Scott and Chance the Rapper, she's been making atmospheric, lush, and moody R&B that is as much throwback as it is forward-looking, and it is a combination that has made listeners consider her a safe pair of hands (3.9 million monthly listeners on Spotify is no small feat, after all) — the evidence of which lies in her label's ease with releasing Ctrl in the same week as Katy Perry's latest.
Music like SZA's found its first home on Black Girl Tumblr. Or, at the very least, gained loyal followings there. Artists like SZA, H.E.R., Jennah Bell, Jhené Aiko, and so on were the much-cherished discoveries of like-minded girls and young women who were also yearning for their own reflection to come back undistorted. And so perhaps it is inevitable and fitting that listening to SZA's Ctrl often feels like reading a series of all lowercase, punctuation-free Tumblr text posts. Those posts are often telling a version of the truth, comically bemused but with an arched eyebrow. SZA is earnest, yes, but that doesn't mean her eyebrow isn't raised throughout Ctrl.
You can almost hear that eyebrow creak upward on "Garden (Say It Like Dat)" in which she sings engagingly about self-doubt and anxiety: "Lie to me and say / my booty gettin' bigger even if it ain't" is a funny, relatable lyric. And even before she expands it into something more plainly stated, it carries undertones of a little sort of sadness. The latter half of this second-verse lyric, for example, is tongue in cheek and on the nose: "I know you'd rather be laid up with a big booty / body hella positive 'cause she got a big booty" (her ad-lib — an incredulous "wow" — is pitch-perfect). But then the emotion pinballs quickly again with the quiet admission that comes by verse's end: "You know I'm sensitive 'bout havin' no booty / havin' no body / only you, buddy / can you / hold me when nobody's around us?"
In many ways SZA is singing about the things we have come to expect from our indie-slash-folksy white female singer-songwriters, but what Ctrl is delivering comes as experienced and reported through a firmly black girl lens. Like another young musician who has developed an ardent following, British singer-songwriter Nao, SZA makes pop that's sincere — almost painfully so — but she is also playful and smart and funny. Even when she is not in control (of her gravity, of her ex, of the size of her booty), she's still "finding herself" while remaining refreshingly self-aware — she knows who she is and roughly where she wants to end up. I thought a lot about Nao's For All We Know while listening to Ctrl and had a clear thought: Where Nao's constructions sound something akin to black girl church, SZA sounds like the aftermath of a black girl night out (one in which you might have found yourself crying in the club). It perfectly encapsulates that keyed-up post-club, pre-sleep 3 a.m. feeling when feelings are close to the surface.
There is also a firmness in SZA's persona on this record, best exemplified by her grandmother's short, spirited interlude at the end "Love Galore", addressing SZA by her given name, Solána Imani Rowe: "But see, Solána? If you don't say something, speak up for yourself, they think you stupid. You know what I'm saying?" It's a nod and a wink to the listener. SZA knows who's listening, and who that message is for. Another noteworthy and matter-of-fact exemplification comes straight out the gate on "Doves in the Wind": "Real niggas do not deserve pussy." Which is self-explanatory.
SZA sings about the things we have come to expect from our indie-slash-folksy white female singer-songwriters, but reported through a firmly black girl lens.
On "The Weekend," a soon-to-be sidepiece classic, SZA is funny: "My man is my man is your man / heard it's her man too," she coos dismissively before telling her paramour to make sure he's at her place "by 10:30 / no later than / drop them drawers / give me what I want." And on "Drew Barrymore" (a geniusly titled song, effortlessly conjuring as it does images of '90s teen rom-coms and coded norms of suburban insecurity and acceptance), she is sharp: "I'm sorry you got karma comin' to you." When she sings wistfully about the titular character from 1994 film Forrest Gump (first in cinemas when she was 4), SZA's being cute but also serious — imagine a world in which pussy was given to only deserving men! "Where's Forrest now when you need him?" she intones almost solemnly on "Doves in the Wind." "Talk to me."
The dip into the '90s oeuvre of Robert Zemeckis notwithstanding, Ctrl is very much of the now. Even with its dizzying array of producers, the entire record sounds cohesively and fluently like 2017: Peep the references to Netflix show Narcos (which also got a shoutout on Stormzy's 2017 LP Gang Signs and Prayer) or the aforementioned "body positive" (a term whose overuse has given it an unearned negative reputation on Tumblr and beyond). On "Normal Girl," SZA borrows liberally from Drake's 2016 single "Controlla" ("You like it / when I be / aggressive"). Even the nostalgic TV Ctrl harks back to is curiously very current again: that period in the '90s that young people have rediscovered and which they quote liberally from, thanks to streaming. SZA refers to comedy sketch show MadTV on "Doves in the Wind," and on "Go Gina" she uses one of Martin Lawrence's catchphrases from his sitcom Martin.
Ctrl is a mishmash of so many influences, which will continue to reveal themselves as it beds in with listeners. Its pop DNA is evident in its many catchy hooks and choruses ("Prom" sounds like a 2017 update of Gwen Stefani's "Cool," for example), and her guest stars — Kendrick Lamar, Travis Scott, James Fauntleroy, Isaiah Rashad — add weight but are never overwhelming. SZA has an ear for what is aurally pleasing and commercial: Upon my third listen to the record, I was struck by how happily pretty much every song would sit on the soundtrack of a teen show (won't someone invite her to score a black girl coming-of-age movie, please?).
What sells the record best, though, is SZA's own conviction. Like the black girls who live their multi-adjectived lives on Tumblr, she is the best chronicler of her own life. It's an expansion of self-identity that stretches beyond Strong Black Woman (which is not entirely discarded as one facet) and travels into the territory we have always known was in us. SZA's music is vulnerable and sweet, self-questioning and self-affirming, all at the same time, in a way that is performative, yes — but also intimate and tender. It is a snapshot of one 26-year-old's life right now, much like all those Tumblrs are moments in amber. Ctrl feels "Dear Diary" real, which is to say it is Black Girl Tumblr writ large. Control, in all avenues, is the defining characteristic, and it is powerful. "I belong to nobody / hope it don't bother you / you can mind your business / I belong to nobody" SZA sings on "Go Gina."

Listening to Ctrl, you don't doubt it.