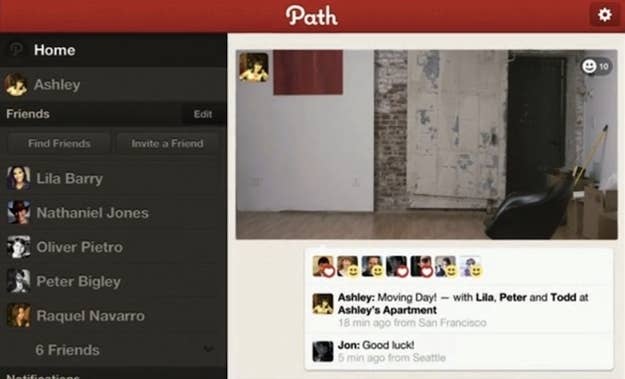 The Federal Trade Commission levied a $800,000 fine on the social networking service Path Friday morning for having, among other things, permitted children to use the service, a small social network meant for friends and family.
"Early in Path's history, children under the age of 13 were able to sign up for accounts," the company wrote on its blog. "A very small number of affected accounts have since been closed by Path."
My first reaction was to hurriedly open the app on my iPhone, where I found, to my relief, that my 9-year old son's account remained active. My son's picture of his grandfather holding a McDonald's bag ("Doom has befall us!") and his image of his little brother face down in a laundry bin ("'helping' with the laundry") were still there, as were dozens of messages he's exchanged with his old babysitter, with his typos and double-posts and occasional errors of tone or content that you make when you're a kid learning something new.
The something new in this case is a basic skill in 2012: operating responsibly on the social web. Path is an amazing teaching tool for that skill, because it's built for family and close friends. Children who come to the social web through Path learn an obvious lesson that eludes adults on Facebook every day: This is the real world. The people you interact with are real people, some of whom you know. Your words will have consequences in your real life — delighting and amusing your family, mostly; drawing the occasional scolding. Pretty much like being a 9-year-old IRL.
Path was created by Dave Morin, a former Facebook executive, and it's a reaction against Facebook's busy page and its insistent pressure to share more and more widely. Path's interface is intuitive and lovely, a simple, linear scroll. It has BuzzFeed-style buttons for emotional reactions, an understated new search feature, and little else. It doesn't push you to befriend strangers, and doesn't make you easy for acquaintances to find. It doesn't, unlike Twitter (where my son also has a now-dormant, illicit account), send porn bots your way. I use it only for people who want to see lots of pictures of my kids, and whose kids I want to see — blood relatives only, pretty much. The popularity of the Unbaby.me extension for Facebook alone illustrates the logic of the service.
Also: This perfect primer on the social web is a violation of federal law. Even though it is, to me at least, one of the things that makes Path so vital to my life, the company is terrified of talking about it. The company's spokeswoman, Amy Swanson, was initially reluctant to speak to me at all when I told her I was working on a (celebratory!) story on how great the service is for kids. When she finally agreed to talk, she began by cutting me off:
"Clearly you have a son or a daughter who is under 13 — but please don't tell me any more than that before I can explain a few things," she said. Had I told her the name of my son, or my 7-year-old daughter, who is also on the service, she would have been bound to delete their accounts.
"If you are under 13 you can't be on" Path, she said, citing the immense technical challenge of implementing federal standards for services aimed at kids. "We are too small of a start-up for us to put that in place."
"Facebook doesn't even do that yet," she noted.
Swanson's comments, and her company's reluctance to talk about the issue, were shaped by the Children's Online Privacy Protection Act (COPPA), passed in the Neolithic year of 1998. That's also the legislation the Federal Trade Commission's ritual denunciation this morning relied on, blasting Path for, among other things, having "enabled children to create personal journals and upload, store and share photos, written 'thoughts,' their precise location, and the names of songs to which the child was listening."
How dare they?
Any 21st century parent knows that COPPA is outmoded beyond belief, and deeply counterproductive in its consequences.
Actual attempts to comply with it, like the kid-conceived and -designed GromSocial, are mostly jokes. And it has the toxic side effect of establishing lying (about one's age) as the first thing many kids do on the internet.
"Not only are kids lying about their age, but more often than not, parents teach them to lie about their age," a "social media researcher" warned The New York Times in 2011.
This also means that kids learn to communicate online almost solely from their peers, not their parents, in other forums. My son chats with his friends inside Minecraft, and he checks out Minecraft forums where other kids ask for recommendations of Minecraft summer camps.
The most popular social network for kids, though, has to be Xbox Live, a kind of 4Chan gateway conversation where the talk revolves around violent killing, and competitive one-upmanship inevitably spirals into abusive, profane language. Xbox Live has limited social functionality and requires parental consent for the creation of under-18 accounts. Thirteen-and-under accounts are not officially allowed.
After I spoke to Swanson, I went home and ranted a bit to my kids about the absurd law that prevented a company from boasting of its truly fantastic service. My daughter listened patiently. My son had, however, already moved on.
"I don't really like Path that much anymore," he said. "I don't want to go online to talk to grown-ups."