What Obama Is Doing In Israel
Not nothing, but not as much as he once hoped. Where the laws of gravity always apply.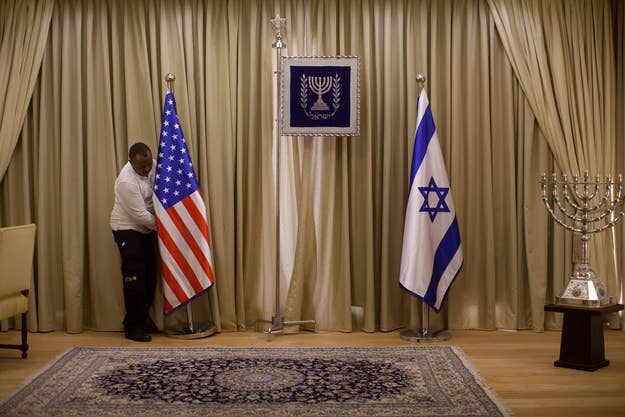 In his memoir of American diplomacy in the Middle East, The Much Too Promised Land, Aaron David Miller recalls a hot day in Hebron in 1997. Miller was then a mid-level American diplomat, assigned to create a "buffer" — but not anything that could be mistaken as a wall — between Israeli and Palestinian residents of the Shuhada Street in Hebron.
Miller soon found himself on all fours in the middle of the street, calculating its width, something he makes a metaphor for the American role in the region.
"Down on my knees that afternoon in Hebron measuring a road, I felt small and ridiculous, certainly as a representative of the world's only superpower," he writes, and quotes the scholar Fouad Ajami on how regional powers treat the U.S.: "They like you big, but they want to send you back small." (The second half of Ajami's line, a bit harder to link to the present moment: "They like you a virgin, but want to send you back a whore.")
Israel has already had that effect on President Obama. He conceded, in an interview with Joe Klein at the end of his first year, that his failed push for Israeli-Palestinian peace had been a signal failure: "I think that we overestimated our ability to persuade them to do so when their politics ran contrary to that," he said.
Obama's overestimation of his personal ability to make change in the Middle East — driven by his domestic and global popularity, and the sense of history that hovered over his first year in office — was one of his first big mistakes, and an iconic one. Much of his first term was about learning that the laws of gravity continue to apply.
Now Obama's trip to Israel and the West Bank this week is perhaps the least ambitious foreign trip of his presidency, as Josh Gerstein wrote today in Politico. Obama is now "a bit more humble" in his approach to the region, said Jeremy Ben Ami, of the liberal Jewish group J Street, who was among the Jewish leaders who met with Obama on the issue four years ago and again last week. His group has pushed the president, largely in vain, to lean harder on Israel to make peace.
This week's trip has no real agenda, which doesn't mean that it doesn't have a point. Its symbolism, including a trip to the grave of the creator of modern Zionism, Theodor Herzl, is clearly focused on reassuring the Israeli public that the president, and the United States, are firmly on their side — something that Republican politicians spent much of 2012 calling into question.
Josh Block, a former AIPAC spokesman who heads The Israel Project, put that message in its bluntest form: "They're the forward operating base of freedom and the West, and now more than ever it's incredibly clear that our relationship with Israel is not just mutually beneficial — it is to our great interest."
That reassurance — and the alliance itself — are of particular importance as the region's old order unravels. Egypt, long America's most important Arab ally and the dominant regional player, is stuck in political crisis. Syria's civil war shows no sign of easing and is driving a growing refugee crisis. Negotiations over Iran's nuclear program have never really gone anywhere.
"These guys are at the nexus of every awful problem in the Middle East right now," said Tommy Vietor, the recently departed former National Security Council spokesman, who said he expected Obama to offer Israelis "personal public reassurance."
He said he expected key meetings to be held on Iran and other security issues.
"These guys don't love talking about the most sensitive issues — military planning, etc. — on the phone," he said.
These are, as Jeffrey Goldberg writes, important conversations; Obama won't be down on his hands and knees in the middle of a Hebron road.
But they are conversations that have gone roughly nowhere, like the peace talks, since Obama began his testy relationship with Netanyahu in 2008. There is ritualistically hopeful talk now of meetings with the new Israeli government — but the prime minister is the same. And on an equally glum front, Obama will also be there to boost the increasingly hapless Palestinian Authority leadership in the West Bank, to reinforce their increasingly tenuous stature as the sole legitimate representatives of the Palestinian people.
But while Obama may have learned how hard these small problems really are, said Ben-Ami, "he hasn't really changed."
"The president to me comes off as far more nuanced and a bit more humble in addressing the issue — but with the same determination and the same worldview," he said.