Obama Aides Doubt Clinton Strategy
"She doesn't need this," says Benenson.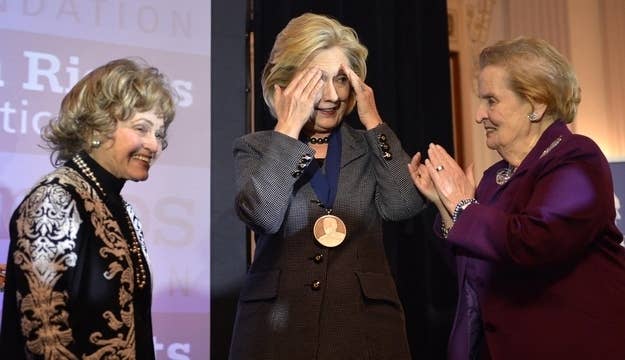 Top advisers and former aides to Barack Obama say Hillary Clinton is repeating the mistakes she made in 2008, building a machine in lieu of a message and lumbering toward the Democratic nomination with the same deep vulnerabilities that cost her the nomination eight years earlier.
The former secretary of state has offered her tacit blessing to a series of Democratic organizations, including a draft group, Ready for Hillary, which was recently taken over by a former Clinton aide, and Priorities USA Action, the Obama super PAC repositioning itself to raise huge sums for Clinton. The moves have been effective in telegraphing to other would-be candidates that they may have a hard time raising money and building an organization, and in establishing the sense of inevitability that was central to her 2008 campaign — a perception that also backfired badly.
"I just don't see any strategic value in stories positioning her as inevitable or the preemptive nominee, and I don't think people who are out there talking about this help her, and I think she should make that clear," said Joel Benenson, Obama's chief campaign pollster and now the top White House pollster. "She doesn't need this. If she decides to run for president, everybody knows she's going to be able to raise money, everybody knows she's going to be extremely formidable, that she's going to have a significant network of supporters around the country — so what's the value of all this in 2014?"
In 2008, that sense of inevitability had tactical consequences: her positions drew more scrutiny than her rivals', and observers developed a rooting interest in the underdog, while donors and operatives who hadn't gotten in on the Clinton ground floor 20 years earlier went elsewhere. And Obama aides, who outmaneuvered the Clinton juggernaut seven years ago, see similar weaknesses developing already.
"The further out front the effort to elect Sec. Clinton is three years before election day, the greater the incentive is for the press, prospective opponents, and adversarial groups to scrutinize and attack her every move," said Ben LaBolt, the national press secretary for the 2012 Obama campaign. "Even if it is a well-known candidate — sometimes more so — activists, donors, and voters like to see candidates fighting for every vote. If they start to feel like their power and influence is diminished it could have unforeseen consequences — we learned that lesson the hard way during the New Hampshire primary in 2008.
The willingness of Benenson and others to speak openly about their concerns reflects a growing consensus among Democrats that Clinton may be taking a wrong turn, something that has been much the conversation among the people — notably, advisers to Obama and to former Sen. John Edwards — who jointly beat her seven years ago in Iowa, beginning the end of her campaign. Officials were also willing to speak on the record about what they see as those mistakes, in part to send a message to the former secretary of state. "People are really getting worried about it," said another former top Obama aide, who said she would like to see a woman elected but worried that Clinton "doesn't have a compelling rationale for her candidacy."
Some Clinton aides agree, quietly telling colleagues that they fear that jockeying for position, rather than Clinton's own interest, has spurred the early build-out. And others with front-row seats in 2008 see a similar pattern.
"I see real similarities emerging in terms of carrying the mantle of the status quo, getting out front too soon — and playing it safe. The GOP is so messed up it might work — but running this way could be the way she loses again," said Joe Trippi, a top adviser to Edwards.
That air of inevitability proved a particular problem in the early states of Iowa and New Hampshire, where activists expect to be courted; and when Ready for Hillary arrived in Des Moines last month, it wasn't clear who was supposed to be making the first move.
"All this stuff about her being destined to be [the nominee], and it coming from top-down, and being ordained — we've really got to work hard to overcome that. It's got to be grassroots up," said Phyllis Peters, a 55-year-old resident of Ames, Iowa, who volunteered for her 2008 campaign.
"Everybody has to earn it," said Peters. "You can't assume it's been given to you on a silver platter."
Clinton's infrastructure has a range of elements, and Democrats said she is making some prudent moves. Efforts to defend her reputation as Secretary of State, and combat Republican attempts to define her, for instance, may not be able to wait. But the erection of a large-scale fundraising machine at Priorities USA and a grassroots Ready for Hillary — two super PACs operating outside Clinton's control — both strike a range of former Obama officials as unwise.
"Being seen as a front-runner this far before there's another candidate will only lead to an organized effort to find an alternative," said a fourth former senior Obama campaign aide. "If another step is taken — and maybe her allies try to change the calendar or do something to the rules to make it easier — there's going to be a backlash."
Clinton spokesman Philippe Reines noted that the groups are independent, and that Clinton's own staff is small.
"They are acting on their own," he said in an email, putting the size of Clinton's own foundation staff at just seven.
Clinton "is not a candidate. Unless and until she is, we're not going to act like one," Reines said, adding, "I respect Ben [LaBolt], but I think many on the president's team would say doing so — anyone doing so — this far out wouldn't make sense."
And a spokesman for Ready for Hillary, Seth Bringman, argued that Ready for Hillary is replicating Obama's effort, not Clinton's.
"President Obama's victories in 2008 and 2012 demonstrated that successful presidential efforts aren't built overnight; they're built over time and from the ground up," he said, noting that the group has hired as consultants former Obama aides. "I'm sure there's a couple people out there who disagree, but nearly 2 million supporters believe this mission is critical."
(A spokesman for Priorities USA did not comment for the record.)
Indeed, Obama's former aides hasten to add that Clinton is in a far stronger position than she was in 2007. She has a record as a loyal and respected member of President Obama's Cabinet, one that erases long-ago worries about her national security experience. The war in Iraq is no longer a top issue for Democrats. And no talented young African-American progressive is headed for Iowa.
But the 2008 election was fought as much on character as on policy. Obama and Edwards fought to define Clinton as manufactured, untrustworthy, and a creature of forgotten Baby Boom quarrels. In the late primaries and in the subsequent years, she built an alternate image: of a gritty and authentic fighter, a pioneering woman, and a resilient national force.
It's that second image that now appears to be at risk.
"I would tell her to be much more of a risk taker and not to be so concerned about will this incremental position hurt me or this incremental position help me and just lay out there what you believe," said former Edwards pollster Harrison Hickman (who said he doesn't think Clinton's broader organizational approach is a mistake). "She's someone people will respect and people aren't going to get overwrought if they disagree with her on one or two issues."
"They can actually undercut an essential characteristic of presidential candidates — they want to see someone fighting for it, they want to see someone earning it the hard way," said Benenson, the Obama pollster. "They want to see her demonstrate some of that grit that she brings to the table."