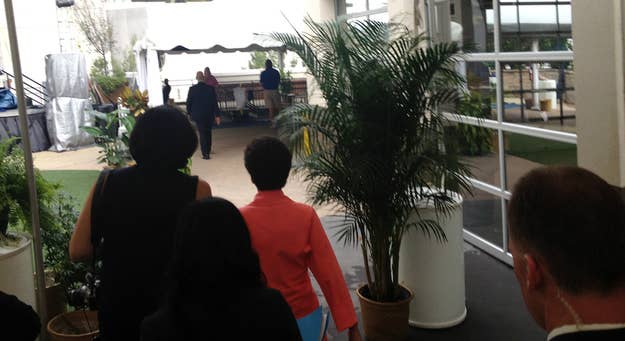 CHARLOTTE, NC — Valerie Jarrett deftly avoided the looming shadow of a cutting New York Times article during three quick appearances here this morning.
Jarrett sat for two genial interviews, with Politico and Bloomberg, with a brief visit to the California delegation in between then fled the press on foot through Charlotte's mazelike EpiCentre. She took no questions about the article that brought to the surface simmering questions about her role in the White House, with passages including:
"He's got a real mess in the West Wing," said one close presidential adviser. "Valerie is effectively the chief of staff, and he knows, but he doesn't know. She's almost like Nancy Reagan was with President Reagan, but more powerful."

..."There is an inherent challenge in managing anyone, this is not particular to Valerie, who is a senior adviser and part of a structure, and also close personally with the family," said David Axelrod, the president's chief strategist. "Obviously it's cleaner and less complicated if everyone is discussing things at the same meetings. But it's a manageable problem."
The Times also reported that her colleagues have branded her "the Night Stalker" for her habit of following the First Family home to the West Wing living quarters.
Jarrett's role has been intensely controversial inside Obama's circle since she arrived from her Chicago real estate base at Obama's Chicago headquarters during a low moment in 2007. A true personal friend of the Obamas, her defenders say she keeps them true to themselves and that her internal rivals project on to her dissatisfaction they in fact feel with President Obama's own decisions. Her critics say she affirms Obama's worst political instincts and has bobbled the administration's relationship with the business community.
None of those questions would be explored Tuesday, where Jarrett began her day with a cringe-inducingly on-message performance at Politico's Playbook Breakfast, where she affirmed that President Obama has "a very strong management style" is "interested in bringing together a diverse group of people" and is exactly the same in private and in public.
"He wakes up every morning thinking about you putting aside the short-term political agenda and really focusing on how to move our country forward," said Jarrett, who confessed to reading "Playbook" and being a "loyal viewer" of MSNBC's "Morning Joe." "He's focusing on you."
Jarrett, clad in a pink blazer, white skirt, and a string of large pearls, did offer a brief glimpse of her view of her own role as the keeper of Obama's core.
"He has certainly grown, as anyone would in office, as anyone would in life — but I would say that those core values, his character, his integrity, his moral compass pointing toward true north" have not changed.
"His confidence in office has grown," she said. "He's looking for another four years."
She swept out, Secret Service at her side, to a California delegation breakfast where she reminisced about meeting the Obamas in a speedy five-minute talk, then veered back to Bloomberg's sprawling, well-appointed white space. There, the news organization's executive editor, Susan Goldberg, skirted the Times article, though she began with an introduction that included a series of the most flattering quotes from it: "The single most influential person in the Obama White House… the president's protector-in-chief... Mr. Obama's spine."
Jarrett rebuffed a question on the lack of women other than herself in Obama's inner circle, citing two deputy chiefs-of-staff and the White House counsel, and downplayed private sector worries about Obama.
"You have to separate the few on Wall Street from the rest of the business community," she said. She looked forward, she said, to working with business to "reform... our corporate tax system."
"There's plenty of ways that we can continue to work together," she said.
"We're confident that when people vote their self interest, if they vote their self interest, they vote for him," Jarrett said.
She then stopped to pose for pictures with event staff and then headed back out toward her car, five minutes down stairs and across balconies in the EpiCentre mall. She was lodged firmly under the arm of veteran Washington producer Tammy Haddad, and followed by a pair of staffers, a security detail, three reporters including BuzzFeed and the Times's Ashley Parker.
"I'm literally so late," she told Parker, asked about the Times article, before a press secretary intervened, promising reporters anything they wanted — other than a chance to ask Jarrett questions.
Haddad said Jarrett had insisted on "no ground rules" for the Bloomberg interview, and in any event, she kept her eyes forward as she headed downstairs to an SUV, where a reporter from the Los Angeles-based celebrity site TMZ was waiting with a hardball.
"Who do you think would portray prez Obama better in a movie: Will Smith or Drake?" he asked. Jarrett demurred, and boarded.