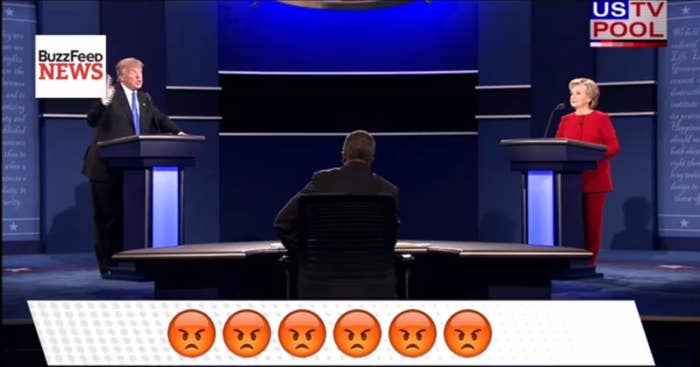 Here is the story of this debate so far: Hillary Clinton is a strong debater, and she came to play.
Donald Trump stood at center stage through most of a dozen presidential debates this fall, and should by all rights have been at the center of Monday night's. But instead, Hillary Clinton set the pace and the tone. Trump leaned to his left to get an word in edgewise — and often took the bait as Clinton reached deeper and deeper into her opposition research file.
Perhaps the signature line so far? When Clinton touted her website and Trump rejoined, "And take a look at mine also."

(A close second: her invitation to "just join the debate by saying more crazy things.")
Clinton benefitted too from pre-debate coverage, which focused largely on whether Trump would show up wearing pants. She didn't trip trying to climb onto the stage. She proved fairly definitively that she is not dead, debunking a rumor that one of my colleagues' mothers passed on to her the other day.
That's the thing with Clinton's candidacy. Sometimes the bar is just so low. And indeed Clinton has been a weak candidate — unable in some core sense to close the deal, so far, with people you'd expect to vote for her (people who voted for Barack Obama, people who are appalled by Donald Trump). The first female Democratic nominee hasn't been able to drive a wide gender gap.
But Hillary Clinton has participated in 35 presidential debates — 26 in 2007 and 2008, nine in 2015 and 2016. She has shied away from press conferences but exercised with a steady diet of interviews with people kind of like Lester Holt — Charlie Rose, David Muir, Matt Lauer, etc. She's been working on federal government policy her whole life, and knows a lot about it.
Donald Trump, by contrast, did as well as you could be expected to perform in a presidential debate when you are totally winging it. He has some great riffs, on NAFTA and on airports. But he was constantly reacting, and spent much of his airtime responding in detail to Clinton's attacks.
This contrast may not win her tonight's debate. Indeed, it's less clear than ever what it means to "win." For most of my career as a reporter, that was hashed out in the spin room. By 2012, Twitter had replaced the spin room and you could make a decisive call during the first hour. But in a country more divided than ever, and with a media whose decisions feel less relevant, we may actually have to wait until the millions of viewers who watched this one make up their minds.
But if Clinton drops in the polls after this one — and if she manages not to fall off the podium over the next hour — she can at least take some solace in the reality that this is as good as it gets.