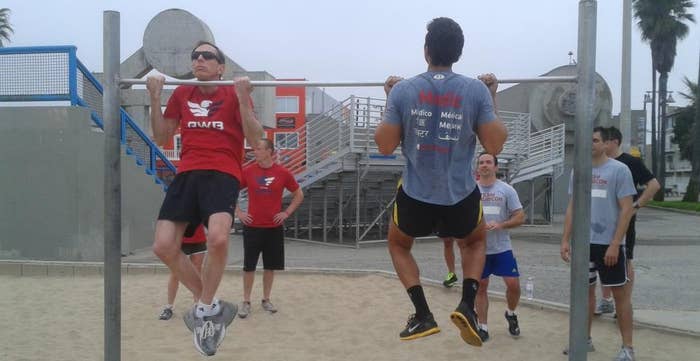 There is a quiet and conventional path from shame to redemption for American political figures brought down by personal sins, and David Petraeus has, just six months after resigning as director of the CIA, followed it with his signature focus on strategy and on his own image.
The former Iraq and Afghanistan commander, who resigned after an indiscreet extramarital affair, has mounted a two-pronged campaign on Washington, D.C. From the outside, he has chosen a safe and important charitable cause, the reintegration of veterans into American life. Meanwhile, on the inside, there are signs of just the right sort of Washington insurgency: Petraeus has not attempted the kind of brash, frontal, and unapologetic return former Rep. Anthony Weiner is trying in New York. Instead, he's barely visible, working with the ubiquitous Beltway fixer Bob Barnett, though he has no book project or paid speaking tour in the works. He has been quietly, formally welcomed back to the town's high society, arriving as the guest of honor one recent evening at the home of Atlantic publisher David Bradley with such eminences as Walter Isaacson, Andrea Mitchell, and Alan Greenspan; at the dinner, a person familiar with the conversation said, the sex scandal was mentioned only obliquely. Crucially, his wife Holly — who was present at the Bradley dinner — appears to be on board for his rehabilitation.
"The rollout is devised like the invasion of Iraq," said one person who spoke recently to Petraeus.
Petraeus is, of course, hardly the only person for whom Bradley, a leading Washington host, has thrown a dinner party, and an aide to Bradley, Linda Douglass, downplayed the party.
"David did have a private dinner party for the Petraeuses, but it was not characterized as a 'welcome back' dinner," she said in an email. "It was just a dinner with some of his friends. They have known each other for several years."
But people around Petraeus say he's been thinking hard about how to manage his comeback, his image, and his new role outside the national security apparatus in which he's been a key player for a decade, and in which he's spent his entire adult life. Petraeus has always been famous both for his intelligence and for his ability to manage the press, and he has signaled that he has thought hard about his predicament.
"Needless to say, I join you keenly aware that I am regarded in a different light now than I was a year ago," he said in a speech at the University of Southern California last month, where he apologized to those he'd hurt with his affair with his biographer, Paula Broadwell.
And while this sort of comeback is hardly his most complex campaign, his very reputation for dexterity does have one particular pitfall: lingering doubts about his motives. When Petraeus met with Kaj Larsen, a former Navy Seal and advocate for returning veterans, an hour before the USC speech, Larsen had his suspicions. He was aware that Petraeus has been mentioned as a possible presidential candidate, and he worried about being used in some sort of choreographed political comeback.
"I'd never met him and I was skeptical because of the scandal and because of the way in which he resigned — I just didn't know what his purpose was, I had no idea what his agenda was," said Larsen, whose organization, The Mission Continues, provides fellowships for veterans to do public service.
But after a conversation, and after a "hellacious" dash down the beach in Venice at 6:00 the next morning — Petraeus, 60, insisted on engaging in a pull-up contest against the much younger former Seal — Larsen was persuaded.
"He's a strategic guy, and he's a smart guy, and he's certainly trying to rehabilitate his public image — but I didn't get the sense of being used," he said. "I got the sense he would give his name to veterans' causes whether or not there was a scandal."
Indeed, instead of a cynical pol, Larsen he said, he saw in Petraeus a more familiar figure.
"He's a little lonely and trying to figure it out like other returning veterans," he said. "I met with him and it just dawned on me that he's looking for a new mission and a new sense of purpose, and he went back to something that he was comfortable with."
Petraeus has also begun to work with Team Rubicon, which aims to engage veterans in responding to natural disasters.
"He said when he first walked in, 'I'm excited to get to know what I've been told is the best veteran blue-collar organization out there,' and we don't mind being called blue collar and certainly appreciate that," said Jake Wood, the group's president. "There's no doubt that veterans hold a special place in his heart; I have no doubt regardless of what manner he left public service, he would have elected to serve veterans."
He's also associating himself with a third group, Team Red White and Blue, which supports physical fitness.
"Nothing in particular to talk about, he just joined the team like other veterans have," said the group's executive director, Blayne Smith. "He joined the team and is wearing the shirt."
And Petraeus is carefully raising his profile in other ways. He has told associates he'll be going to London this summer to receive the prestigious Chesney Gold Medal from London's Royal United Services, a presentation that was postponed last fall amid the scandal. He accepted a visiting professorship at the City University of New York.
But he is also dealing with the lingering investigation into whether he inappropriately shared secret documents with Broadwell; FBI agents reportedly visited his home earlier this month.
The question now is where Petraeus' comeback will stop. Does he aim merely to be readmitted to polite society and to the top tier of America's political and media elite? Or does the former general, relatively young and extremely hale, see for himself a career in public life? Atop a university or think tank or defense company?
Petraeus has not been giving interviews, and Barnett didn't respond to a request to speak to his client. (Slate's Fred Kaplan first reported on Barnett's role as the retired general's "consigliere.") But one close friend told BuzzFeed he expects the former general to keep his public focus on veterans and education and to offer military advice behind the scenes.
"You will not see him write a tell-all book, and he's very respectful of the people who are serving above or below, whether in uniform or elected office," the friend said. "I can imagine them calling on his advice as a subject-matter expert in certain areas, but I doubt we would hear anything of those from him. It's just not his style."