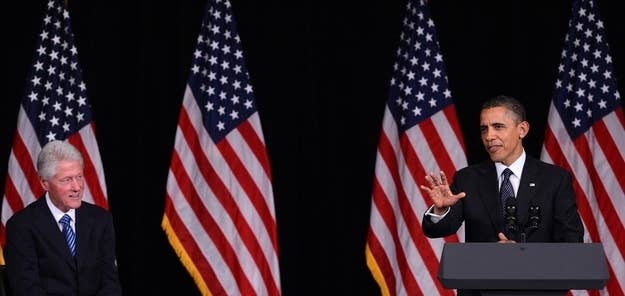 CHARLOTTE, NC — Former President Bill Clinton is slated to give what could be the most important speech of the Democratic National Convention in two days — but nobody here knows what's he's going to say.
Clinton is the only major speaker yet to submit his address to the typically painstaking vetting and rewriting that typically accompanies major convention addresses, provoking a mild and growing dose of nerves among senior Democrats, a Democratic official told BuzzFeed Monday.
Clinton's speech will be key because Republicans have sought to peel Clinton Democrats — working class white voters he so successfully courted in the 1990s — back to the Republican coalition. Aides to Mitt Romney have even accused Obama of breaking with Clinton's legacy, an unthinkable accusation for the anti-Clinton Republican Party of the 1990s.
Clinton has emerged, by and large, as both a staunch public supporter of the president and a well-cultivated behind-the-scenes advisor. The New Yorker's Ryan Lizza this week detailed a relationship defined less by mutual respect than by mutual interest:
The quasi-friendship between Clinton and Obama resembles the transactional relationship between most living Presidents. People in Clinton's orbit portray his campaign work for Obama as that of a man going through the motions—speeches, photographs, rope lines.
Obama's circle offers a more diplomatic assessment. "Clinton still believes that Obama doesn't take care of his donors as he should," a senior Obama official said, referring to Obama's reluctance to woo his biggest financial supporters. Yet, the official added, "Clinton has a lot of respect for how honest and how supportive the President has been to his wife." Obama's success with health-care reform, which the Clintons failed to achieve, also resonates. "Health care means a lot to all three of those people—Hillary, Bill, and Barack," the official said. "I think historic achievements matter to historic figures like Bill Clinton."
A Clinton spokesman didn't immediately respond to an inquiry about the speech.
Clinton has every reason to give Obama the endorsement, and Romney the rebuttal, that Democrats seek. The Obama camp's worry is not that he would be an out-of-control Clint Eastwood, who also did not submit his remarks, but rather that any private strategic differences might play out in public. But as Obama's aides wait on the speech draft, they aren't concealing just a touch of nerves.