Bill De Blasio Wins Democratic Primary For New York Mayor
A repudiation of Mayor Michael Bloomberg. And a new kind of identity politics?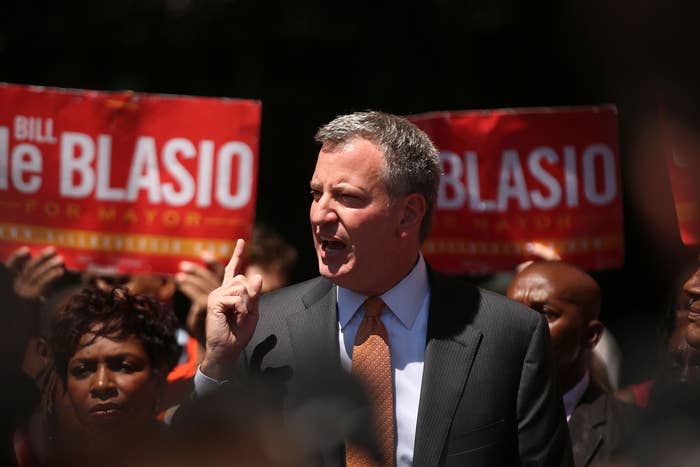 BROOKLYN, N.Y. — New York City's Democratic Party — which essentially acceded to eight years of eclectic, at times autocratic rule by the independent billionaire Michael Bloomberg — appeared set as polls closed at 9 p.m. Tuesday to repudiate key elements of the three-term mayor's legacy.
Public advocate Bill de Blasio, with a movement progressive with professional roots in the liberal Democratic administration of David Dinkins, led just over 40% the vote with 98% of votes counted. Former Comptroller Bill Thompson stood at 26%. De Blasio can avoid a runoff by breaking 40%.
De Blasio campaigned against Bloomberg's stop-and-frisk policing tactics and for a tax hike on the wealthy Manhattanites whose ranks grew over Bloomberg's 12 years, and whom the current mayor unapologetically viewed as key to his own large investments in public works and public schools.
In his victory speech just after midnight Wednesday, he offered "an unapologetically progressive alternative" to Bloomberg's vision and "to do something about this tale of two cities."
Making clear de Blasio's place in the city's political structure, his victor speech was preceded by an introduction by one of the city's key union leaders, the president of 1199 SEIU George Gresham, who said de Blasio would "return New York City to a city for working people."
"We ran a consistently progressive campaign where we focused relentlessly on the millions of New Yorkers who were left behind in the Bloomberg years at a time when the overwhelming conventional wisdom was that you have to tip your cap to Bloomberg," de Blasio's media consultant, John Del Cecato, told BuzzFeed as a room at Brooklyn's Bell House performance space — a fashionable alternative to the usual grim Midtown hotel — began to fill for the candidate's anticipated victory party.
De Blasio also relied on a variety of identity politics that is new to New York City: Del Cecato's ads led with his interracial family and his son Dante, whose dark skin and afro would have, his father charged, made him a target for the stop-and-frisk policy. Exit polls suggested that de Blasio was beating Thompson, who is black, among black voters; and leading Christine Quinn, a lesbian, among gay and lesbian voters.
Quinn's supporters seemed stunned at her weakness Tuesday, even after a series of polls suggested that the speaker of the City Council — once seen as the frontrunner — might not even come in second.
While the candidate campaigned on the Upper West Side until the final moments before polls closed, supporters outside her election night party in Chelsea lined up to watch the results come in — many of them still saying she had run a "solid" and "strong" campaign so far.
And as the results became clear, some of her supporters blamed voters who they suggested weren't ready for a lesbian mayor. Frank Bua of Union Square, praised the candidate for her strong long-term game, but said that if she doesn't make it out of the Tuesday primary, the voters, not the candidate, are to blame.
Bua cited an "underlying, latent sexism that often permeates our decision-making. A strong man is OK, but a strong woman is threatening."
De Blasio will face either Republican Joe Lhota or John Catsimatidis in a general election in November. He emerged briefly at 10:15 to rally his supporters in on 7th Street in Gowanus: "We'e got a lot of work to do," he said.
Meanwhile, two politicians who appeared momentarily to have recovered from sex scandals appeared less fully recovered Tuesday. Anthony Weiner flamed out, giving the finger to a reporter as he drove away from his defeat; while Eliot Spitzer flagged, despite his famous name and fortune, and lost the race for city comptroller.
In a speech that clocked in at just under two minutes, Spitzer thanked his supporters and quickly left.
"I have never regretted a single day of my public service," he said. "I am proud to have run a campaign over the last nine weeks that many thought was incapable to mount from the very beginning."