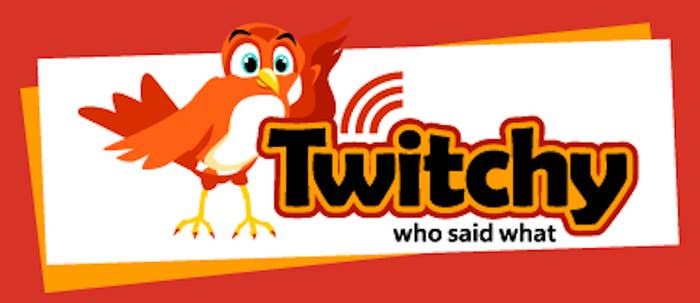 Twitchy, the conservative Twitter aggregation site, has been sold for an undisclosed amount to Salem Communications, the Christian radio conglomerate and owners of Hotair.com and Townhall.com.
Jonathan Garthwaite, general manager and editor-in-chief of Townhall.com, confirmed the news to BuzzFeed Tuesday, saying he was "excited" to be folding Twitchy into existing Salem news properties.
"Media Matters types would like to paint conservatives as boring, old white guys," Garthwaite said. "Twitchy adds more fun and humor to our platform, which will appeal to totally different generation and break that stereotype."
Launched in March 2012, Twitchy was the brainchild of conservative author and pundit Michelle Malkin, who until now served as owner and chief executive officer. The site is unique in the conservative media landscape for its native social aim, acting as a "Twitter curator" and timelining social media wars between pundits, politicians and celebrities.
Malkin had formerly sold Hotair.com to Salem Communications in 2010.
Garthwaite says Malkin will relinquish the title of CEO, but will still be active in promoting the Twitchy brand. He said the nine Twitchy staff writers, disparately located around the country, will not be asked to relocate to the Townhall news offices in Arlington, Va. Garthwaite would not disclose terms of the deal.
With the acquisition, Salem Communications will now operate a consolidated block of three major properties in the conservative media landscape in diversified areas. Garthwaite predicts that folding in Twitchy will boost the cumulative traffic of the overall property up to 11 million uniques a month. The company's properties have also had success on television in the last couple years with Townhall's political editor Guy Benson and news editor Katie Pavlich becoming Fox News contributors.
The move should also be big news for the growing number of conservative competitor sites in Washington. Garthwaite named The Daily Caller, Washington Examiner, Breitbart.com and Washington Free Beacon as "ideologically similar and friendly competition," acknowledging as well that this competition extends to page views and ad dollars.
"We are looking to grow organically and through acquisition," Garthwaite said, adding that they intend on hiring more writers for Twitchy soon.