It's been a couple weeks since the close of the Apple World Wide Developer Conference (depending on who you ask, also known as the World Wide Denny's Conference or World Wide Drinking Competition). The week saw a number of announcements about the future of the iPhone, iPad and Mac, with major updates announced for the laptop line's hardware as well as for the software that runs all three.
WWDC is typically a turning point in the annual Apple news cycle. The features announced in new versions of iOS and Mac OS X shape the evolution of the next year's products, and the conference is one of those rare moments where Apple demos a product to the public before it's ready for launch. One can often glean as much about Apple's long-term strategy from paying attention to OS announcements as by seeking out leaks from component manufacturers or poring through patent filings.
New Opportunities, and Clues of What's to Come
Apple rarely tips its hand with respect to new hardware announcements, but there were indications that the company is moving in the direction of cutting-edge technologies that have yet to experience widespread adoption. Aaron Hillegass, the founder and CEO of Big Nerd Ranch (one of the oldest and most well-respected Mac and iOS training services), pointed to signs NFC and LTE are coming soon to the iPhone:
"We're starting to see indications of what the next round of hardware is going to be. If you look at Passbook, while it's great for what it is, it's also the beginning of an infrastructure for proper Near-Field Communications [the same technology that allows you to tap your credit card to pay instead of swiping]. Facetime over cellular is also an indication that LTE is coming [to the iPhone]."
We also saw some clues in the iOS 6 release (though all details not revealed in the Keynote are still under NDA) as to what the future of UI design might look like. This tiny detail in the iPod app noticed by a Gizmodo reader is an early sign of what will soon be a sea change in interface design. One Apple employee (who I can't name as the company does not allow employees to speak on the record without approval from media relations) said that in the future, your phone will show drop shadows based on the actual position of the light in the room, as detected by the phone's ambient sensor — and everything in the UI will be rendered in 3D on the fly.
In other words, enjoy your two-pixel drop-shadows while they last. Designers will have to adapt as hardware improvements allow new UI metaphors to become commonplace.
The move toward using latest-generation hardware to drive realistic interfaces is also apparent in Apple's new "Flyover" mode, a 3D-rendered aerial view of selected cities. The flagship feature is only available on newer devices which use the company's A5 chipset (sorry, iPhone 3GS owners).
What Did the Developers Think?
They are the "D", in "WWDC," after all. Here are some more reactions from the crowd on Apple's public announcements:
Hillegass observed that while there weren't many entirely new APIs announced on the same level as iCloud and Newsstand, there were plenty of reasons to celebrate:

"There were features that were specifically pointed at the consumer, not the developer. The 'Do not disturb', and the ability when someone calls you to say 'Remind me later'... These are not features that are available to developers, but they make it a better phone which will result in more people having iPhones. So everyone here rejoices because the more people who have iPhones, the more people you can sell applications to… [iCloud document storage is] a huge step forward. All developers are really excited about getting away from having to rely on the Dropbox APIs."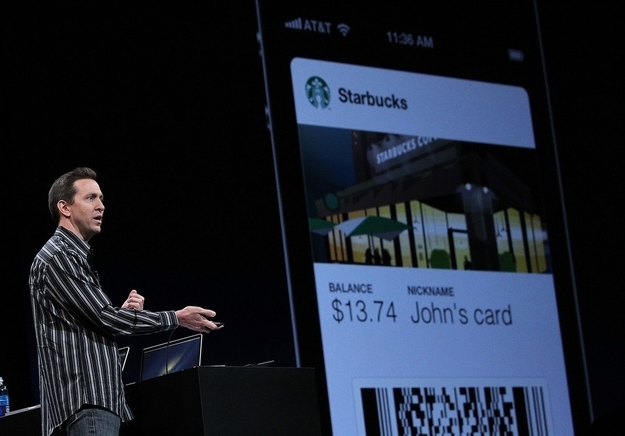 He did note a couple of letdowns, most notably the lack of a 17" Macbook Pro and any announcements whatsoever about the Apple TV:

"When you're working with XCode, you need as much screen real estate as you can have... so what I think you're going to see is a lot of developers getting glasses so they can use all those new pixels on the retina display and get the same effect… We're all a little bit disappointed that we didn't see an SDK for Apple TV… For developers, that's a place where Apple is going and doesn't seem to be bringing us with them, and that's always disappointing to see."
His favorite part of the announcements, however, was watching what he called "Tim Cook 2.0":

"The thing that made me crack up again and again during the keynote was Tim Cook doing his Steve Jobs imitation... talking with the Steve Jobs tempo, using his catchphrases, he even did a namaste... I would love to see what his friends at Target had to say about the 'new', revised Tim Cook version 2.0."
Chris Forsythe, CEO of the Growl app — which was widely described as having been "Sherlocked" by Apple this year — was understandably conflicted after seeing the Keynote:

"Originally we made Growl to get Apple to look at notifications, and we started Growl in 2003, and a couple of years after that we were like 'They're not gonna do this, let's just keep working on it.' So it's 2012, and they actually added it. It's a little bittersweet."
He did, however, echo a common sentiment among those who have seen Apple release similar products: sales went up after the announcement. "Right before the keynote [Growl] was #11, and all week long it's been #8 in the top sales," he said. "If you walk into WWDC not expecting them to copy you in some way, you're walking with blinders on."
In fact, another product Forsythe worked on, Adium, was also in the same boat with Apple's public announcement of the Messages app for the Mac — and he had nothing but praise for the new app. "I think [Messages] covers the 80%. Most people just want to talk to their family and friends, and SMS is the biggest network of all time," he said.
Another developer, Tal Shrestha, earned the distinction of being Sherlocked before even having released his app. Tal is the developer of Instalyrics, and was working on an iOS app with a Mac OS X client that pulls the front page of your preferred browser into Mobile Safari when your iPhone is on the same wifi network as your computer. While his app will be of little use to people who prefer to sync their Safari tabs to Mobile Safari in iOS 6, he was encouraged and optimistic, saying that it just means he had a good idea. "Now I can better serve Chrome and Firefox users, as well as Safari users, by making a shorter way to get to the tab they are looking for," he said.
Apple is Focused on Broadening the Reach of the iPhone and iPad
For all of the buzz around the new Macbook Pros with Retina displays, the real star of this year was iOS 6, and Apple's reach with the iPhone and iPad will continue to grow as they improve the experience.
Consider the slew of new accessibility features. Guided Access with Single App Mode opens the device up to users with poor motor coordination, including older users, and to teachers wishing to use the device for tests without allowing the students to look up answers in Safari. It also makes it easy to give the iPad to even younger children, or children with autism. Forsythe was adamant about the feature's importance to parents. "When we allow my 2-year-old to use Netflix to watch Sesame Street on the iPad, he always hits the home button," he said. "So while I know [Guided Access] is not the big geeky thing in the news, that's one of my favorite features."
Apple also improved the experience for vision-impaired users with VoiceOver screen-reader support for Maps (including turn-by-turn directions), AssistiveTouch hardware control, and screen magnification. Hearing-impaired users were not left out, as the company announced it was working with manufacturers on "Made for iPhone" hearing aids for the iPhone 4S, and those with motor-coördination disabilities gained the ability to simulate gestures with speech.