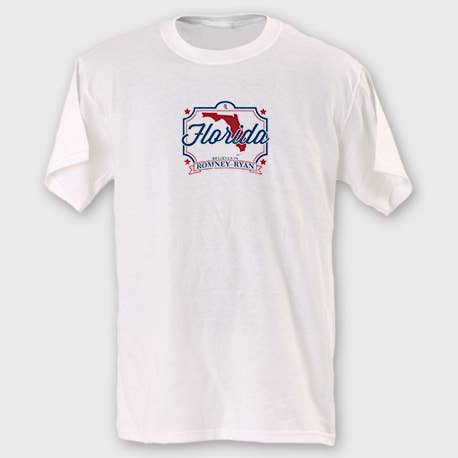 The designer, James T. Edmonson, is the creator of Wisdom Script, which was used in the t-shirt's design. The typeface, which is available as a pay-what-you-want download through the Lost Type Co-op, is not free for commercial use, and includes a license file which clearly states that commercial use is prohibited without contacting the designer. The designer's website also contains a link to "Purchase a Commercial License". Edmonson was alerted via Twitter by Dan Cassaro, a Brooklyn-based designer, and the case quickly caught the eye of Jessica Hische, who quickly tweeted a call for help to her roughly 50,000 followers.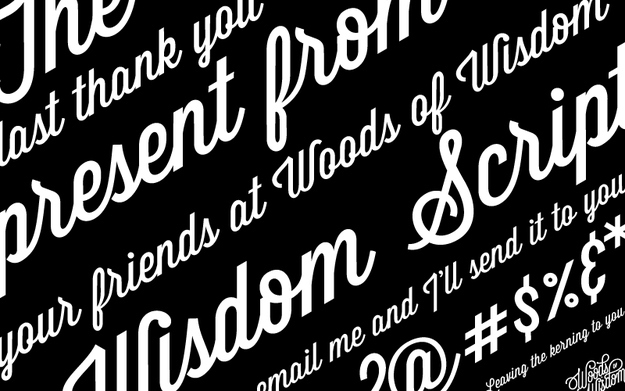 "We take licensing matters seriously. We are looking into the matter," a Romney campaign spokeswoman, Andrea Saul, said Saturday morning.
Edmonson said the Romney campaign's move was fairly common.
"Basically what the Romney campaign did was they ignored the EULA that's attached with my font. I'm not a lawyer, I don't know exactly what that falls under. It's illegal, it happens all the time, but it doesn't happen all the time with high-profile uses of a font like that," he said.
Edmonson also said that while he could not be sure someone from the campaign did not purchase a license under a personal email, no purchase record exists for anyone using an email from mittromney.com, and said it was "extremely likely" that it had been used without a license. Edmonson said he'd seen his typefaces used multiple times in the past by political campaigns, including the Obama campaign, which paid for a commercial license, and Herman Cain's campaign, which to his knowledge did not.
While typefaces themselves are not protected by US copyright law, as decided in Eltra Corp. vs. Ringer, the digital font file used by the campaign is covered according a federal district court's decision in Adobe Systems, Inc. v. Southern Software, Inc., which held that scalable computer fonts constituted a "software program" for the purposes of copyright law and were subject to protection. As the AIGA's Design Business + Ethics handbook notes, "The training and expertise required to develop a typeface qualifies the product as intellectual property and merits its protection under copyright law in many countries." Adobe, which sells typefaces in addition to font authoring software, also has a blog post detailing legal protections for fonts.
Romney has not done himself any favors with the (admittedly niche) designer vote, which Obama has courted with unusual enthusiasm, including a celebrated embrace of highly-respected type foundry Hoefler & Frere-Jones in its materials. (Gotham Serif was commissioned specifically for the campaign.) The Obama campaign also paid Andy Mangold, a designer based in Baltimore, Maryland, "handsomely" for his work through Lost Type, according to this tweet from the designer.
Romney is no stranger to copyright-related controversy, having received cease and desist letters from BMG and Silversun Pickups (Ars Technica's Timothy Lee argued, however, that Romney's campaign video featuring Obama singing Al Green's "Let's Stay Together" was fair use). The aforelinked Rolling Stone article notes that Romney is far from the first politician to face such allegations, and names several other Republican candidates who have been accused of copyright violation in addition to Charlie Crist, a former Governor of Florida who has publicly backed Obama, much to the GOP's chagrin. While Obama was himself embroiled in a copyright scandal in 2008 over Shepherd Fairey's unauthorized use of an AP Photograph in his iconic "Hope" poster, the work in question was not authorized by his campaign.
Edmonson, for his part, said he is mostly concerned about the impact of widespread ignorance of font licensing on the ability of type designers to make a living. His main goal, he said, "is just [to] bring attention to the fact that designers need to pay attention to these things, because they are stealing whether it feels like stealing or not. It's wrong."
"One person hired a designer who was maybe likely to overlook these sorts of things, so that person has some responsibility… if they hire a capable designer, they know to look out for these things."