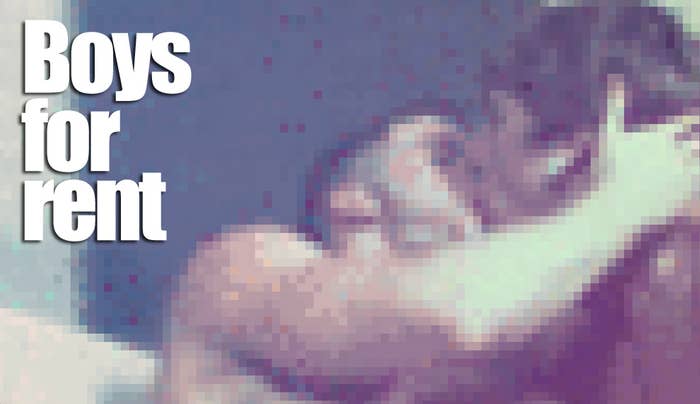 "I zone out when I'm home. I just don't think about it."
Dave* has just begun telling me about a typical day at the office. Dave doesn't usually tell people right away what he does for a living. That's because he works as the director of online marketing for, as he first described it to me, "a pimp."
Dave's employer is not, strictly speaking, a pimp. Instead of dealing directly with the trade, the company runs what is, on the surface, an online social network for gay men, shielding itself behind a legal loophole that allows it to profit from the sex trade while maintaining plausible deniability.
His parents don't know the exact details of his work, either. When people ask, "I'm a consultant for some companies in New York" is his standard cover. He and his coworkers use fake names at work, and he treads lightly when discussing the details of his job. "I try to have a first conversation to see what kind of people I'm dealing with so I can tell them what I do."
Most people "don't believe that it exists," Dave said. Some immediately assume that he works as an escort himself; others find it fascinating, and pepper him with questions. No one seems to know the first thing about how these online escort services operate within the law.
Welcome to the world of rent boys.
How prostitution works online
Because online escort listing services are not technically escort agencies, they have no responsibility for the escorts. Clients communicate the exact details of their transactions via phone numbers or email addresses included with each listing. Dave told me that his employer has never experienced any friction with the law.
It is, in essence, a dating site. Imagine OkCupid, but with pictures of scantily clad men everywhere (ok, that's not much different), and explicit descriptions of likes/dislikes, fetishes, preferred position, and condom policy. Working hours are clearly laid out, and rates are provided for weekend stays, overnights, dates, and home visits. Body descriptions include additional attributes of interest, such as body hair, build, foreskin ("cut" or "uncut"), and "cock size."
The market is crowded with competing sites: A Google search for "gay escort" turns up results for RentMen.com, HourBoy.com, Rentboy.com, Men4RentNow.com, and dozens of similar networks.
Dave's company has less than 30 employees. Escort listings form the core of the business model. Users can purchase advertising space with a credit card, but also with other forms of payment, like money orders, which don't require a real name. Escorts can place the ads themselves, or through an agency.
Dave characterizes his work as "mostly social media and search marketing." He looks for "stuff that [clients] are going to either talk about, or relate to in a way. Because that's one of the elements of the web site — some people go there just for the pictures."
The first thing Dave does upon arriving at work is open Tumblr, and to search for "straight up, hard-core gay porn," as he put it. Dave spends up to 10 hours a day doing this, reposting the most click-worthy material to the company's small but loyal following on various social media sites. (He declined to specify exactly which ones.)
Dave's job is complicated by the fact that he's straight. He told me he's tried to expand the company's horizons beyond its current social presence, but that his boss feels because Dave is not gay, he doesn't have the perspective to know the best ways to reach the site's audience.
"I don't know Google+ because I never tried."
Why Tumblr? It's the best place to get fresh material. While the site's community guidelines request that accounts with adult-oriented content be flagged as NSFW by the owner, it does not specifically prohibit pornography.
The service does, however prohibit uploading explicit videos to its own servers. Tumblr's guidelines state, "We're not in the business of profiting from adult-oriented videos and hosting this stuff is fucking expensive." The site allows external hosts, however, and the guidelines recommend the porn hub xHamster for hosting anything unsuitable for direct upload to Tumblr.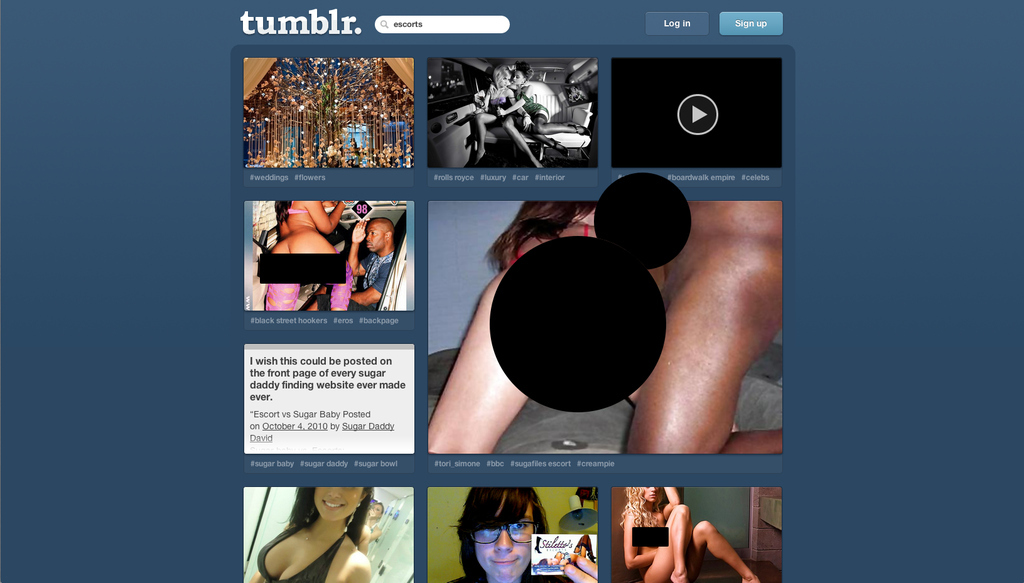 Tumblr is far from the only place where adult material can be found though, and escorts operate on most major social networks. Twitter, Craigslist Personals, and Facebook all turn up results for escort services when searching for "escorts". Even Instagram hasn't escaped the sex trade; this search on Statigram (warning: NSFW) has mostly adult-oriented content from accounts with names like miamiescorts and your_secret_desires.
What about Google+? "I don't know Google+ because I never tried," Dave explained, chuckling.
"If you post just a butt crack, your whole Facebook page can get taken down."
Of all the networks Dave posts to, Facebook is the least accepting of lubricious content, and the site's draconian enforcement policies mean that he treads carefully on Mark Zuckerberg's lawn. "If you post just a butt crack, your whole Facebook page can get taken down."
The site used to advertise with Google Adwords until the search giant changed its terms of service to specifically prohibit escort services. Massage is fair game, but "any mention of sexual content, you're out." In response, some escort listing services have launched massage sites specifically targeting gay men.
The one large outlet that doesn't present an attractive target for distributing gay porn? Pinterest. According to Dave, the site's terms of service, which specifically prohibit "any information or content we deem to be hateful, violent, harmful, abusive, racially or ethnically offensive… profane, or otherwise objectionable," meant that his employer never even considered posting their material there. And while there are some pics of topless men on Pinterest, it's mostly just photos of partially clothed mainstream celebreties like Daniel Craig or Ryan Gosling, not the gay pornstars which make up the majority of the site's pageviews.
And what turns up when searching for "escorts" on Pinterest? Photos of escort cards. The site was the only one out of all the social networks examined that didn't have any links to actual escort services in the results.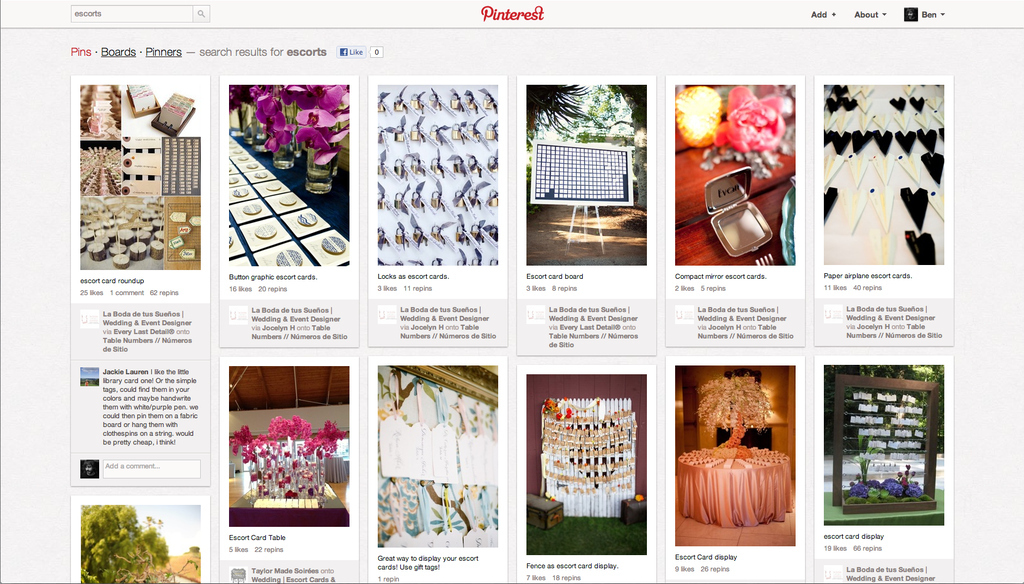 To catch an escort
Soliciting a male escort comes with its own set of complications. There has been a rash of users who put up fake pictures, book a hotel, then wait in the bathroom for the client to appear before knocking him out and robbing him. Dave told me these crimes go largely unreported: "Shit. I just got a hooker, got beat up by the hooker and got robbed by the hooker. What do I do? I'm a victim, but at the same time, I'm committing a crime."
Clients have no way of communicating with each other through the site. Still, many connect through Daddy's Reviews, a review site — registered to the blithely named WinkWinkNodNod, LLC and based in a strip mall in Renton, WA — where users post painstakingly detailed accounts of their appointments with different escorts. When a client travels to an unfamiliar city, the easiest way to find an escort is to visit the site's message board and request assistance in code: "Do you know the 411 on Patrick Bateman?"
Arrangements vary; there isn't always a guarantee of sex. Some escorts specialize in "muscle worship," posing and flexing for clients. Others go on dates with the understanding that if things go well, the night will end with a blowjob. Dave has also seen a recent surge of escort listings in India. Quite a few of the listings I found in my own search for similar listings were for straight men, specifying the user's sexual preference with descriptions like "for females both married and unmarried", and "i am intelligent. god made me only for female."
Lots of escorts offer services as a team. Couples can be heterosexual, which is the only way a woman will get past the unwritten "penis rule" (transgender escorts are welcome, as are transexuals and cross-dressers). These couples mainly go after married couples and elderly men, who can turn out to be cash cows.
Craigslist killed the gay pimp
Most of the gay men Dave knows have worked as an escort at some point in their lives. "It was always the first job they got in New York," he explained. Newcomers with scant resources often resort to informal prostitution in bars, and the profession offers an easy, consistent source of income.
Offline male escort agents have been largely phased out by the disruptive influence of online sex listings, which began in the early 2000s. "Prior to that, it was really hard for [escorts] to live off the little ad on the back of Village Voice," Dave explained.
These days, Dave said, "It's really easy. You put up an ad, people call you up — why would you need a middleman?"
In cases where administrative assistance is required, pimps have largely been supplanted by online agencies and sugar daddies. The former manage multiple escorts, taking a cut of the fees. The latter usually retain one escort for themselves and occasionally pay for listings to supplement his expenses. While the agencies are in it for the money, Dave said, "[the sugar daddy] is more selfish — he only wants the product for himself."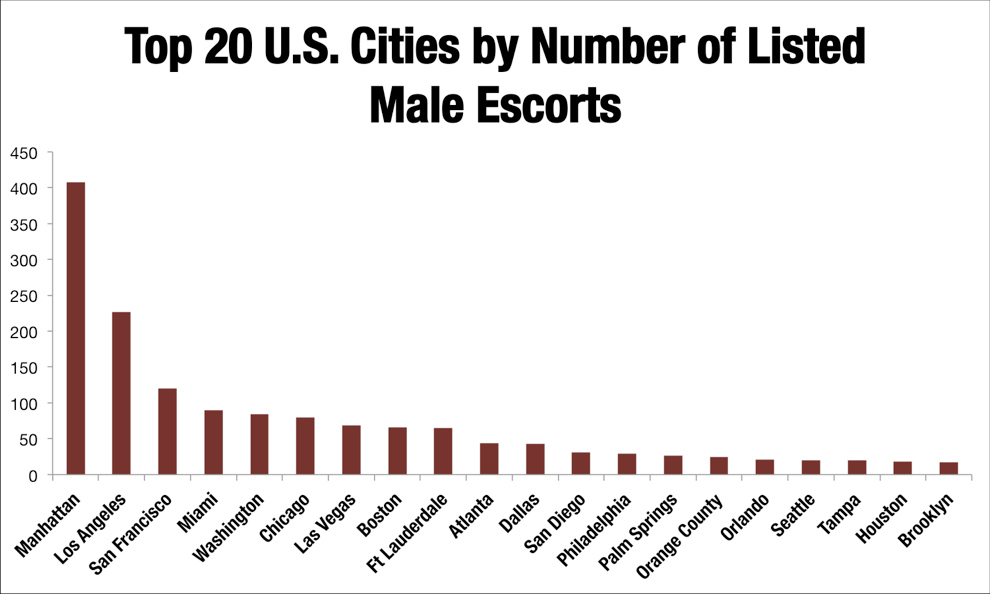 Rentboy.com (warning: NSFW) — which achieved notoriety after a scandal involving George Rekers, a member of the Christian right and vocal anti-gay activist — lists close to 2,000 escorts in the United States, and over 1,000 in China, according to data collected from the search filters. After New York, the biggest markets are in Los Angeles, San Francisco, Miami, Washington, D.C., and Chicago.
Clients can join for free to get "enhanced browsing" with advanced filters, though this appears to be less useful outside of major cities due to sparsity of listings. A user searching Rentboy.com in Manhattan can choose from around 400 escorts; Brooklyn, on the other hand, has only 17, while the Bronx and Queens have 7 and 12, respectively.
Tragically, if the listings are to be believed, there is only one lonely escort servicing the entire borough of Staten Island. His offer states simply, "Partnership with my younger BROTHER available upon request."
But while male escort networks have disrupted both the print classifieds and offline pimps, they have thus far escaped disruption by even newer entrants. Grindr, which leverages geolocation technology to facilitate casual encounters between gay men, has not hurt business; Dave says it's "mainly for cruising." Escort sites, on the other hand, caters to those with deep pockets and very specific tastes.
"Shit. I just got a hooker, got beat up by the hooker and got robbed by the hooker. What do I do? I'm a victim, but at the same time, I'm committing a crime."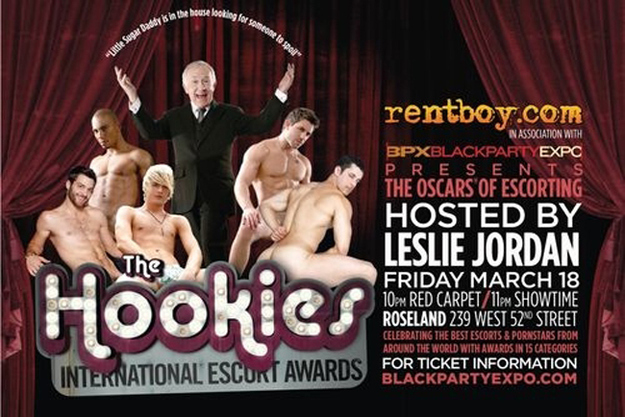 "If they have the body for it, they're gonna try porn."
Porn serves two purposes for the male escort. First, it works as free advertising. The majority of the porn is legally produced and widely distributed, and the site's clientele is "very much aware of their pornstars… they walk around Chelsea and people take pictures They wanna talk to them, get to know them. Because there's this element of 'Hmm, I might get to have sex with this guy, if I play my cards right.'"
But it also pays better, with a "one-on-one" shoot for a relatively unknown actor going for $1,000-$1,500, a princely sum in comparison to a typical escort's $120-$300 base rate. Other types of shoots carry standard markup fees. With a threesome, for example, "If both guys are tackling one guy, he's gonna get more money." This extra fee amounts to around $500-$700, but as Dave noted, "This is for one guy in the front, one in the back, not for two guys in the back."
Porn stars and escorts compete each year in the International Male Escort Awards (more commonly referred to as "The Hookies"), sponsored by Rentboy.com. The ceremony includes awards for "Best Top," "Best Boyfriend Fantasy," "Best Daddy," and "Best Transsexual," among others. Nominees are drawn from regional events, where "Mr. London," "Mr. San Francisco," and others are elected by the crowd.
The hardest job on the internet
Dave has developed a sixth sense for what will fly with the site's fan base on Tumblr. Animated GIFs are by far the most popular, followed by video. These generate thousands of notes, while photos rarely break four digits. When they do, it's generally "a guy who's well-endowed, in shape… Not like a selfie. Professional work, that's what they like."
As for subject matter: "twinks" (attractive, boyish-looking, young gay men) or transexuals work best. "If there's like 3 or 4 [twinks] in the video, that's the one you want."
"The best part of my job is when I leave."
According to Dave, animated GIFs are "the ones I hate the most." This is mainly because they often begin fairly innocuously — "I try to avert my eyes every time I see something that I deem 'too much,'" Dave explained — but upon loading can quickly progress to something far more intense before he's able to look away. "I thought it was a myth, but I actually saw a mangina on the site… I thought it was bad Photoshop at first, but there was a link to a video," which showed the man playing with a dildo. "I'm seeing this really hairy, buffed-up guy that sports a functional vagina."
As a joke, Dave once printed out an online "male escort manual" to give out at a Christmas party when people asked what he did for a living. One of the men he met at the party would not stop talking about how it was the most fantastic thing he had ever seen. A few months later, while optimizing some code on the web site, he opened a profile and found himself staring deep into the man's sphincter.
Dave is looking to get out of the sex trade and find a less salacious line of work, but so far it hasn't been easy. In the meantime, I asked him about the highlight of his day. "The best part of my job is when I leave."
*Dave's name has been changed in order to avoid any repercussions with his employer