The Supreme Court's historic ruling favoring same-sex marriage throughout the United States last Friday drew celebration in the U.S. and comments from millions of Chinese internet users.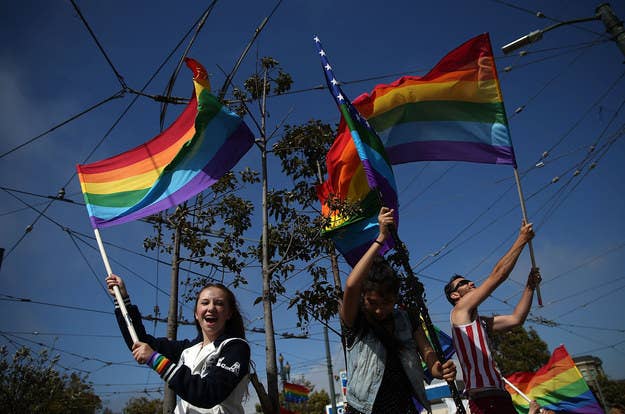 After first hearing the news, many Weibo users had the same reaction as this one person did: "Same-sex [marriage] is legalized in the U.S., it's very shocking news! o(︶︿︶)o"

Some posted pictures of Chinese yuan bills folded into a rainbow pattern.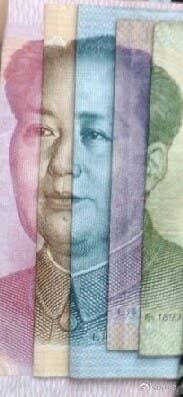 Same-sex marriage hasn't been legalized in China. It remains common for LGBT Chinese people to enter into heterosexual marriages and live their lives hiding their identities, fearing social stigma.
The pressure comes from the traditional idea that one has to have children to fulfill one's obligations in life, a philosophy that dates back to ancient China. Mencius, one of China's most renowned philosophers after Confucius, is known to have said, "There are three ways to be unfilial; the worst is not to produce offspring."
So, when Justice Kennedy cited Confucius in his marriage equality ruling, it quickly caught the attention of Chinese web users and China watchers.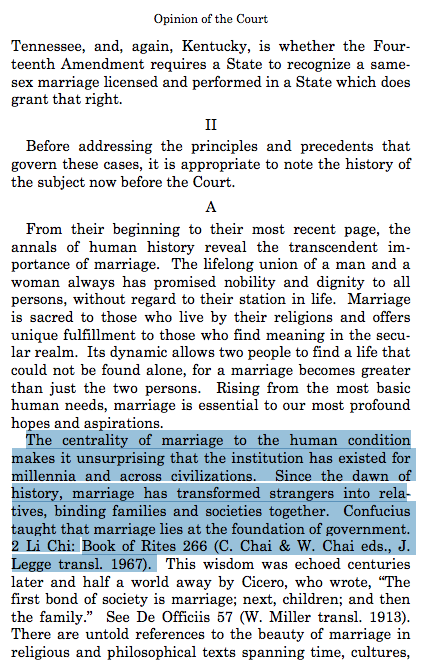 The sentence "Confucius taught that marriage lies at the foundation of government" was quoted in several tweets, with many trying to figure out the source of Confucius' quote.
Many users quickly found the original text in Mandarin.
In China, the debate over whether the citation was appropriate or not became heated quickly. Many scholars argued over the translation Justice Kennedy used.
The Paper, a Shanghai-based news website, interviewed Confucius scholars. One said: "Gay [people] are free to have their own sexual orientation ... But if someone wants to be an upright person, s/he must bear the obligations such as having offspring."

Despite the opposition, the citation of Confucius brought more attention to the rights of LGBT people in China.
Leading Chinese sexologist Li Yinhe told the Global Times, "The US ruling has been hailed by Chinese society and this will be a boost for the gay rights movement here. I've noticed that there are more heterosexuals who support [same-sex marriage]."
On Weibo, a group that calls itself "Fans of Chinese President Xi Jinping" did an online poll to gauge whether users supported same-sex marriage legalization in China. Nine out of 10 top commenters voted "Yes", and it received thousands of "likes."