LOS ANGELES — The heart of Koreatown was still hot as night fell in early June. Inside a ballroom on the second floor of a three-star hotel, a white banner with Korean words revealed the night's theme: "Discussion between fellow countrymen in the U.S. on peace and unification." Ken Roh, 72, was wearing an old, dark-striped suit and a bright scarlet-colored tie, and stood greeting the three dozen people who drove from all over the city to see him, a veteran reporter who built his career defending one of the most secretive countries in the world: North Korea.
The audience sat straight up, focused, eager to hear about what Roh had seen and heard during a recent four-month-long trip to the country and its neighboring areas in China — his 69th visit to the country officially known as the Democratic People's Republic of Korea.
It's become a tradition over the past decade — two to three times each year, the same group of Korean-American fans gather, eat Korean food, chat, and wait for the good news brought back firsthand from what they believe is the ideal society.
On that June night, Roh started off by triumphantly displaying on a TV screen a Washington Post article that told the story of the two Pyongyang-born sons of a former American GI who defected to North Korea in 1962. The article, which detailed their continued loyalty to North Korea, relied on a video of an interview that Roh had done with the two men while in North Korea and had uploaded to the YouTube channel of the news site he founded over a decade ago, Minjok Tongshin. Roh appeared in the video himself, and it has since garnered around 20,000 views, making it his most watched video ever. He shared his pride with the crowd twice, once in Korean, and another in his less-than-perfect English, telling them he regarded the interview and its subsequent appearance in a huge national newspaper as his "number one good job" during the visit. The audience applauded. "It was a moving interview," Roh said, as someone stood on a chair and took a photo of the room.
While everyone else in the world sees North Korea as the home of gulags, starvation, and aggressive missile tests, the South Korean émigrés gathered in the ballroom see the country as a peace-loving, self-independent motherland, even if, technically, it's still at war with South Korea despite an armistice signed in 1953. This is the pro–North Korea community in the U.S., whose interests are at odds with the country they've made their home — on Wednesday, July 6, for the first time, the U.S. sanctioned North Korean leader Kim Jong Un for human rights abuses. From the outside, everything about the community, from how it emerged, to how far it is willing to carry its commitment to North Korea, is puzzling. Roh and his followers, listening intently to the gospel delivered straight from Pyongyang, offer a window into how North Korea's ideology spreads under the radar on U.S. soil, and, ultimately, just how people decide what to believe in.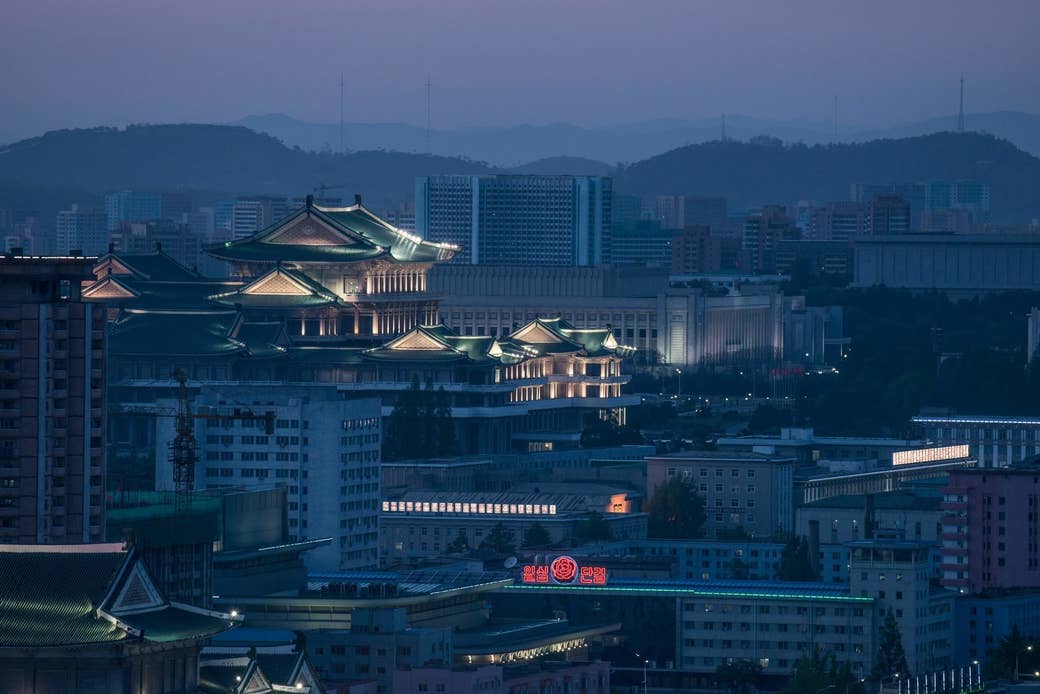 Roh's house sits along a main road in Glendale, surrounded by vibrant flowers like daylilies and blue jacarandas with an open view of the low-lying Verdugo Mountains.
It's nearly 6,000 miles away from Gangneung, the northeastern coastal city in South Korea where Roh was born in 1944, when the Korean Peninsula was in its last years of Japanese colonial rule.
The split that divided the two into a Soviet-backed north and U.S.-backed south was never meant to be permanent; both countries on the Korean Peninsula want to see an end to the status quo, and talks about reunification has been on top of the agenda for decades. The horror of the Korean War — and the inability of North and South to decide what a rejoined government would look like — set the divide firmly into place. These days, the biggest obstacle the tens of thousands of divided families face, according to the Brookings Institute, is "North Korea itself." When Roh was young, though, the Cold War was still in full swing and neither side was particularly admirable.
"As soon as I graduated [from South Korea's elite Yonsei University], I was trying to find a way to run away from the South Korean territory to pursue the freedom of expression," Roh said, describing how publicly criticizing the government could lead to jailing under then-President Park Chung Hee. When Roh was still at school, however, he couldn't stay away from politics — as the editor-in-chief of the campus English-language newspaper, he once surveyed his classmates on how they felt about the government. (Eighty-five percent responded negatively; he said the school cut his scholarship afterward.) He became a student activist against the Park dictatorship, but saw no hope for democratization in South Korea and, after a few years saving up money, decided to come to the United States. It was 1973.
"At that time I thought that United States was number one democratic country, number one social justice–oriented country," Roh said. But during his years at the University of Texas as an urban sociology student, he changed his mind. "I started to know what is jingoism, what is the civil rights movement in the U.S.A.," he said in his somewhat stilted English, pointing to the struggle of black Americans and racist laws targeting Chinese immigrants in the 18th century. "I didn't know before I came here. I started to open my consciousness [and] become critical," he said.
Even with the constant threat of renewed conflict, for a long time, Roh gave North Korea no thought, maintaining his focus on democratization in South Korea, where oppressive governments remained in power until the late 1980s through U.S. support as a counter to Pyongyang and communist China. "Just once in awhile [I thought to myself], Why divided?" he recalled. Upon completing his degree, he moved to L.A. and worked for a few local Korean community newspapers. After seeing his articles being thrown out, he says, he quit.
North Korea caught Roh's attention for the first time in 1989, when he heard news that several high-profile South Korean dissidents had taken unauthorized trips to Pyongyang as an unofficial way to promote reunification. The trips sparked a new wave of national turmoil in South Korea — the country was dealing with the aftermath of its drastic social transition from an authoritarian state to a democracy. For Roh, the idea of entering North Korea at all seemed like a revelation. The next year, he traveled to North Korea for the first time as an organizing member of a "pan-national rally for reunification," the first free border crossing agreed to by the two governments since their division in 1945. Until then, Roh said, he was under the influence of a "Western way of thinking" and thought Kim Il Sung, North Korea's first leader, was a dictator. But the visit, he said, changed everything.
After the rally in Panmunjom, a village north of the 2.5-mile-wide demilitarized zone (DMZ) that separates the two countries and where the armistice that paused the Korean War was signed, 15 participants, including Roh and three other Korean émigrés, were unexpectedly whisked away and driven to a beautiful villa. Kim Il Sung walked out and greeted them personally; they had been chosen to share a meal with the Great Leader. Roh remembered Kim's secretary saying, "This is the first time he came out in front of the house. Usually [he's] inside — this is unusual."
"I was scared," Roh said, "but he made us very comfortable."
Roh recalled the moment when he began to sympathize with Kim, as the North Korean leader described how hard it was to establish the country, counting only "seven to eight intellectuals" among his leadership's ranks. By the end of the banquet, when a symbolic course of "black, rotten potatoes" like those that were the only thing available during World War II and the Korean War were served, Kim had won Roh over.
"My feeling is [that] he's like a grandfather," Roh said. "My grandfather."
Roh's interest in North Korea continued once he got back to the U.S. Over the years, he collected the eight volumes of the elder Kim's memoir, With the Century, and memorized them by heart. He's a big believer in North Korea's official ideology, juche, Korean for "self-reliance," also known as Kimilsungism. And he took a more active role promoting reunification the way he knew best, by writing. But this time he wanted his own publication. He couldn't afford to print a newspaper, but the younger brother of a friend, who was working as an internet developer at the time, offered him something he'd never thought of: a website.
"Mr. Roh, why don't you operate internet news?" Roh said the young man asked him one day in 1998, when the internet wasn't yet a popular primary news source (the websites of the Los Angeles Times and the New York Times had launched just three years earlier).
Minjok Tongshin, Korean for "National Communication," debuted on Nov. 11, 1999.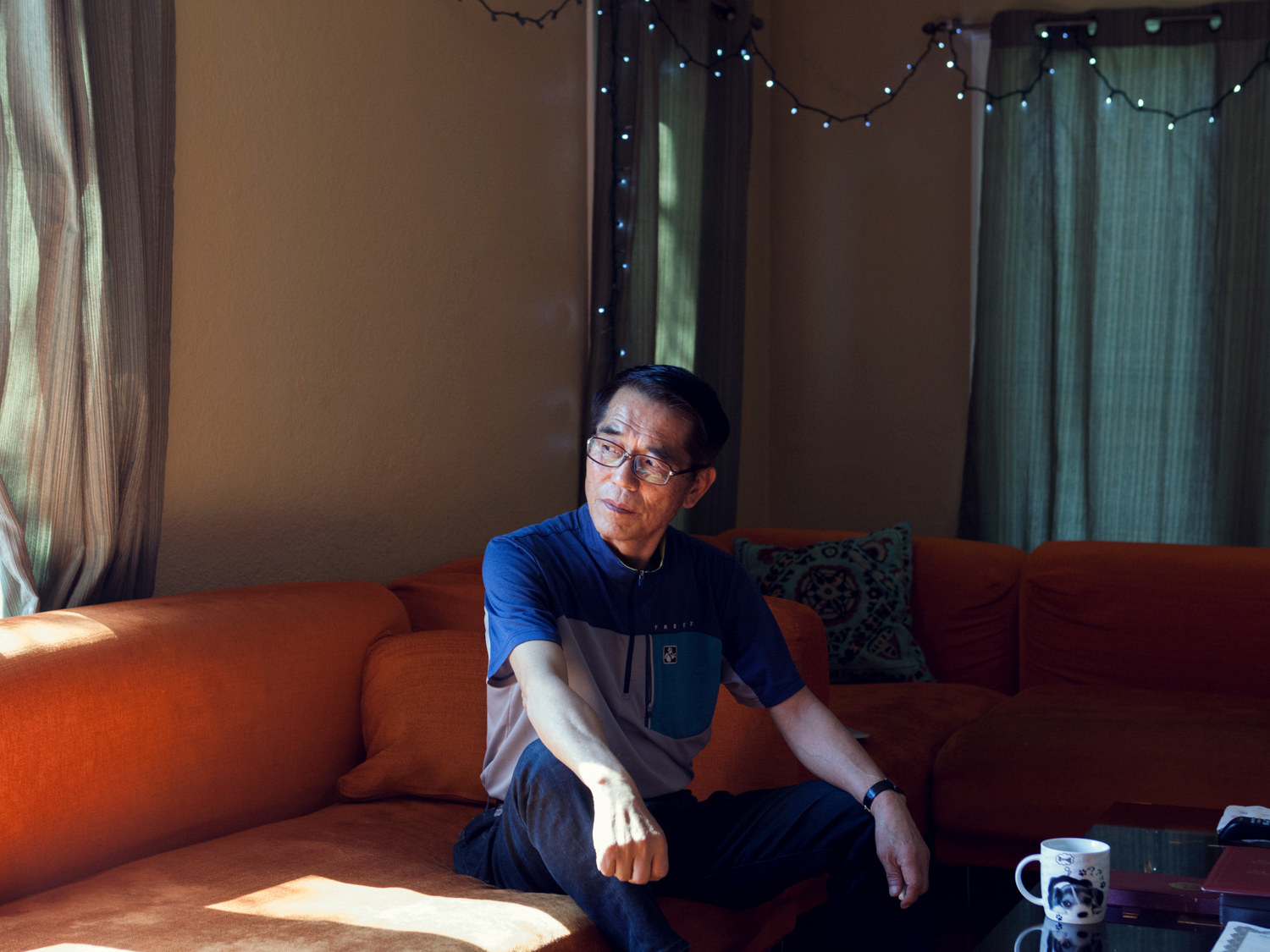 Today, Roh updates the site daily and manages nine other members of the editorial staff, all of whom are volunteers who get only symbolic salaries — no more than $100 a month each, former editorial staff member Rev. Joseph Paik confirmed in a phone interview. Roh says that the operating funds for the website all come from small offline donations from Korean-Americans throughout the country: Los Angeles, Chicago, Boston, Baltimore, D.C., and New York. People in South Korea sometimes send him money too, he said.
"Of course many times [we have had a] shortage," Roh said, but money, he says, has never been his top concern. Roh has maintained a series of side jobs, including selling encyclopedias, in which he brought his substantial persuasive abilities to bear, earning enough to buy property in Koreatown.
The website's angle hits you right in the face — the U.S. is referred to as "imperialist America," and calls South Korean President Park Geun Hye's government "oppressive." (Her father is Park Chung Hee, the former military dictator whose policies Roh spent the early part of his life protesting.) Meanwhile, it dwells on the good deeds of the "Supreme Leader" Kim Jong Un and cites articles from the Korean Central News Agency and other North Korean state-controlled media. South Korea blocked Minjok Tongshin in 2004.
Roh considers it a success, claiming a monthly readership of 2 to 3 million, though a typical article gets only a few hundred views. (A review of traffic analytics websites shows that, in reality, Minjok Tongshin gets an average of about 20,000 visits per month, whereas Korean-American community newspaper Korea Times gets about 1,600,000. After confronting Roh with the number, he insisted a conservative number of 1 million was accurate, if including social media and email subscribers — but the site has only about 1,000 Twitter followers and 600 YouTube subscribers.)
After that first visit, Roh continued to travel to Pyongyang every year, soon becoming a trustworthy comrade of the North Korean regime, gaining rare access to the country. He once shook hands with the country's current president Kim Jong Un, offering condolences for the death of Kim Jong Il, Kim's father and predecessor. He also claims that the Foreign Ministry is at his disposal to set up interviews upon request, as long as he submits a list of questions they deem appropriate. That's how he was able to reach the sons of the American who defected to North Korea, for the interview that landed him in the Post. He met their father, James Joseph Dresnok, years ago through an exchange of cigarettes, when the two English speakers were both hospitalized in Pyongyang Friendship Hospital. Roh wanted to meet with him during his latest visit, but officials told him Dresnok was too sick. Undeterred, he suggested to officials that he could at least catch up with his friend's sons. The government granted his request after reviewing the required list of questions.
Roh's work on Minjok has won the heart of the North Korean government: In 2008, he got a Ph.D. in political science from Kim Il Sung University. In 2014, the government awarded him the Kim Il Sung Prize, which is "a very significant award to get from the DPRK," Michael Madden, a visiting scholar at the U.S.-Korea Institute, told BuzzFeed News. "Obviously something has been done to the attention to the supreme leadership of North Korea who usually signs off on the document authorizing the prize." The government treated Roh with a reception for the prize, which comes with a certificate and a pure-gold medallion. In the official certificate, he was addressed somewhat awkwardly as the "Representative of Korean American Internet Newspaper." Roh, who was in North Korea for one of his reporting trips, claimed he had no idea the award was coming: "They didn't tell me in advance and I only knew as a surprise."
Roh's deep involvement and access has obviously raised some eyebrows.
"I think he's funded and supported by North Korean government," said Seoungmin Lee, a defector who is currently enrolled at Columbia University. "Just look at it, he's supporting North Korea and delivering the messages to the outside world — otherwise why would he do that."
Roh admits that Minjok Tongshin is a pro–North Korea organization, but denies that he's controlled by the North Korean government. "One hundred percent [of our funds come] from overseas Korean-Americans, [including] even a small percent of funds from South Korea," he said.
Minjok Tongshin, however, is not the only organization in the United States that sympathetic toward North Korea. According to a list pulled together by Lawrence Peck, a researcher specializing in the U.S.-based pro–North Korea movement, there could be as many as 70 to 80 such groups, although many are composed of just one person. The major ones include New York–based Nodutdol and Korean American National Coordinating Committee (KANCC), which organizes "reunion" tourist groups to North Korea and offers so-called orientations before the groups set off.
"We tell them what we expect from them," said Moon J. Pak, vice president of KANCC, who is in close contact with Roh and has written articles reposted on Minjok Tongshin. "Most Korean Americans think [North Korea] it's a dictator's country, that's not true, [we tell them] 'you can take pictures with people on the street freely,' to assure them [that] they are not going to a dangerous place." The group also has its controversies: Last year, KANCC was forced to deny an accusation of U.S. tax violations published in state-controlled South Korean media. Moon denounced the accusation as an attempt to undermine his work, telling BuzzFeed News the office had never been investigated.
Peck splits pro-DPRK groups into two categories: "front groups" and "open groups." The former appear neutral and address mainstream society — he listed Women Cross DMZ, the group of feminist activists who walked across the demilitarized zone intending to demonstrate peace last year, as an example. (The group has denied accusations that they were bolstering the Kim regime, including during a visit to Capitol Hill.)
The latter set, like Minjok Tongshin, shows open support for Pyongyang. Peck monitors Roh's website and social media accounts closely. He often emails fellow anti-North Korea activists about Roh's activities, and, "in some rare cases," goes to monitor Roh's events from a distance to discover hidden members of front groups. Minjok Tongshin's community is well aware of him, he said, pointing to articles that have called him "pathetic." (During a follow-up phone call, Roh angrily said he didn't want to talk about Peck and his accusations at all.)
Members of these organizations are passionate, but it's unclear how far North Korean influence actually reaches. "I don't even know if there are such groups in our community," said Chris Lee, the director of the dispute resolution center at Korean American Coalition (KAC), an organization based in L.A. "I know there are a lot of people supporting North Korea in LA, but we don't interact with them; they have their own [opinion]. We don't have any relationship, period."
In truth, the reunified Korea that Roh and his admirers are praying for ultimately is a double-sized regime for Kim. Roh and his ilk's methods are nothing new: When the international community condemns North Korea for its human rights issues, North Korea points back at South Korea and the U.S. for their own human rights abuses.
That Roh's video wound up in the Washington Post is a "brilliant North Korea propaganda piece," said Greg Scarlatoiu, the executive director of the Committee for Human Rights in North Korea. The video, he said, neglected an important basic fact: The mother of the two sons, reportedly, was an abductee from Romania who eventually "died in North Korea, unable to return to her country." (A BBC documentary called Crossing the Line detailed the true story.)
"The propaganda news [on Minjok Tongshin] is not 100% true, and those great things that happened did not happen to 99% of the North Korean population. A very big amount [of the population] is suffering," said Grace Jo, a North Korean defector turned activist who goes to school in Maryland. Jo lost four of her family members to starvation and prison torture during the 1990s famine that killed as many as 3 million people by some estimates, before she escaped and spent her teenage years in China with her mother and her elder sister. "If a naïve student gets exposed to these articles [posted on Roh's website], they will consider North Korea to be good and praise the system," said Jo.
Roh has denied all accusations of propaganda and maintained that he only wrote about "truth" when confronted with his critics' views.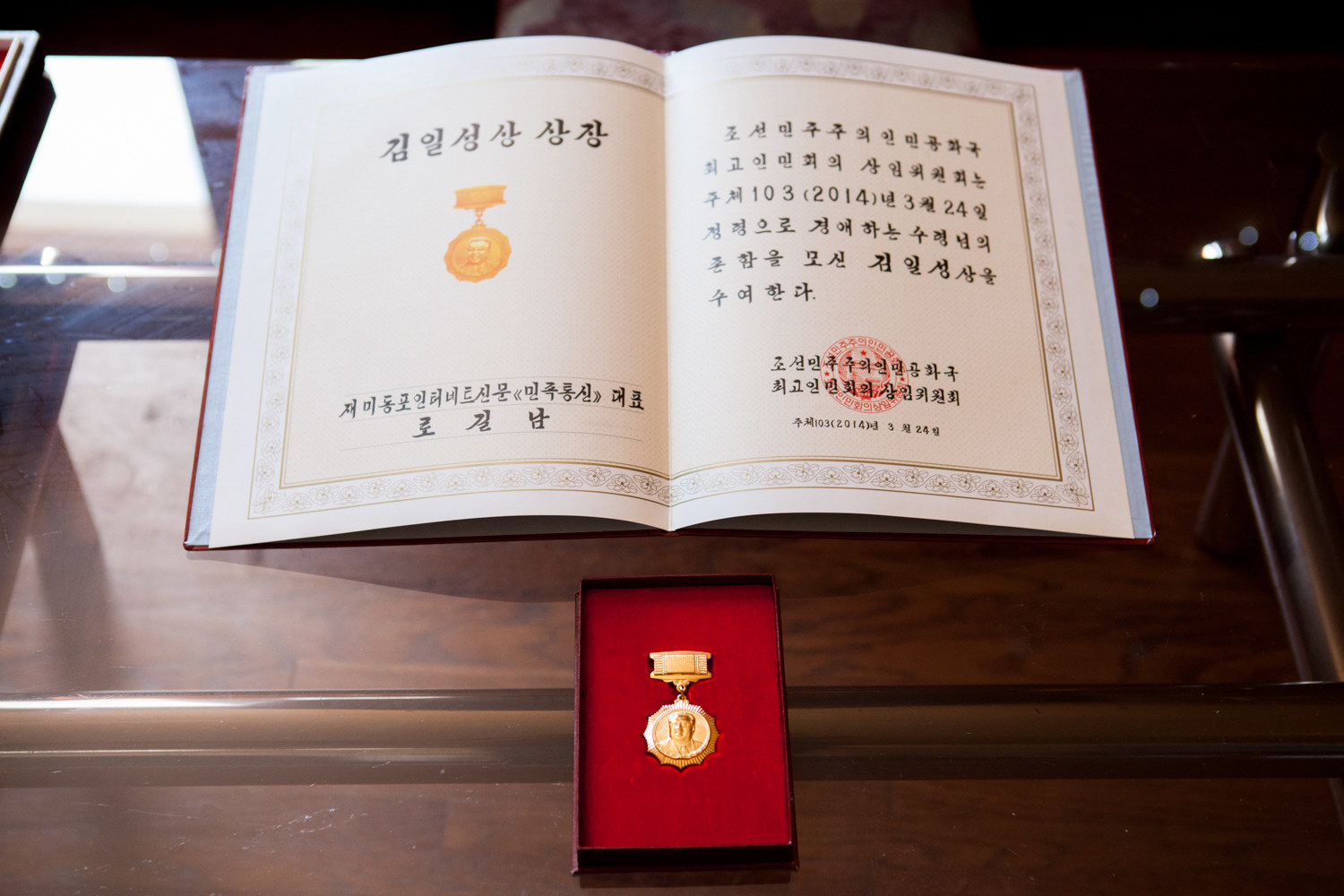 While young people in South Korea worry about a chaotic future brought on by the potential reunification, for some second-generation Koreans in the U.S., Roh's work on North Korea provides a happy illusion of an alternate life that they've never lived: simple, pure, with worry-free access to housing, education, and medical treatment.
Two new faces inside that L.A. ballroom were Deb Kim and Michael Kim, friends and business partners in their mid-thirties who are not related. (Both asked that their photos not be used for fear of judgment from L.A.'s Korean-American community.) Over cheese rice cake and Korean rice wine at a restaurant called Saek Dong Juh Gori, one of many that serves that largest Korean-American population in the country, they spoke of their sympathy for North Korea.
"I would definitely prefer to live in North Korea," Michael said. "People are purer in North Korea, although they are poorer. But there's nothing bad about it."
Michael was born and raised by Korean parents in the U.S., while Deb moved here with her family from the city of Gwangju when she was 7. Deb didn't know a lot about Roh or Minjok Tongshin before the meeting, but Michael has known Roh since last December. It's been a short time, but to Michael, who has spent many nights defending North Korea on Facebook and around the internet, Roh has already been a role model — Michael dreams of establishing an English-language website to bring North Korea news to mainstream society.
Going public with his love for North Korea didn't come without a cost for Michael: his ties with his family. His mother thought he was being insane, said Michael, and he hasn't found much to talk about with most members of his extended family since.
At home, Roh, aware of his advanced years, is also having a hard time finding someone to carry his torch. "Hey Daddy, your work is enough, one is enough for our family," Roh recounts one of his two adult daughters saying. "My kids also have their own values — they are almost the American way of thinking," Roh said with frustration, knowing that he wouldn't be able to convince even his family of the wonder of North Korea. They still respect the work he does since it's what he loves, and they comfort him when he gets depressed by the kinds of North Korea news he deems distorted, just like they did when they were little: "Daddy, one Korea yes, two Korea no!" He says they make him laugh.