Despite the powerful visual, China's state-run CCTV News presented another theory: The footage ~could~ be Western propaganda faking a humanitarian excuse to further intervene in the war.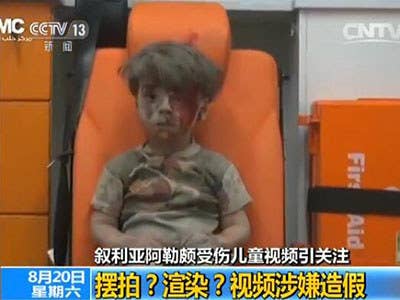 The station aired a "debunk" over the weekend, citing accusations from unspecified sources that the rescuers didn't try to help the boy and actually staged the footage.
That's one step further than what a Russian government spokesperson said in a press release that slammed the Western media's "cynical use of this tragedy in anti-Russian propaganda material," according to the state-owned RT News.
But even Chinese social media users, who are mostly fed only the state's narrative and blocked from viewing information from most foreign social media, found the accusation too absurd to buy.

Another said that the rescuers shouldn't be blamed for taking video: "to rescue and to record [the rescue] doesn't have to be contradictory, okay?"

A few sympathizing souls got really angry, including one person who demanded to know whether the person responsible for the segment would stage their own child in that situation.

"What is this trying to say?" Weibo user Forevermili asked. "Should we raise more concerns about the cruelty of the war or attack the West?"

"Even if this is indeed faked, this photo broke people's hearts and brought out the mercy in us. Isn't it enough that we understand the brutality of the war?" another said.