A Couple's Bodies Were Found Embracing Each Other In The Aftermath Of Taiwan's Earthquake
The puppy they raised died by their side too.
The bodies of a pair of university students were found hugging each other tightly Thursday morning under the ruins of a residential building in Taiwan.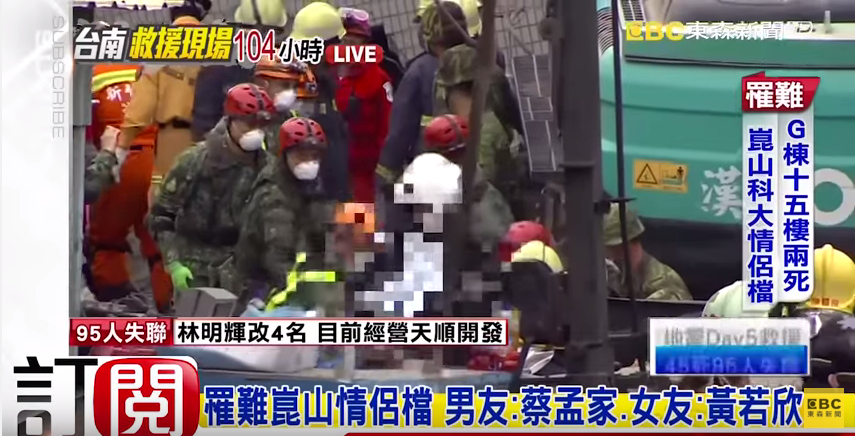 Tsai Meng-chia, the male student, was reported to be covering his girlfriend, Huang Ruo-hsin, with nothing but his own body as a desperate effort at protection. Rescuers struggled to unwrap his arms from around her.
Tsai had posted many loving images of the two of them on Facebook, including this one of them hiking hand-in-hand over a year ago. The caption reads: "If we hold hands, I hope it's for my whole life."
The two explored constantly, posting pictures of their exploits together all the while. "There are many more places in Taiwan that I still wanna see," Tsai once wrote.
A friend of theirs asked for help from social media just after the quake happened. "Friends from Tainan, can you help me look for these four people? They might be in a hospital. We don't know whether to wait at the scene or to search," he wrote.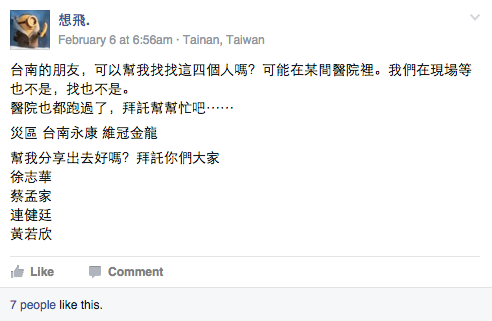 The tributes have been pouring in online for the couple. "Tsai Meng-chia, have a good journey, I'm really sad. I was waiting for you to go to work with me, how come the cheerful you are gone," wrote a co-worker on Facebook on learning the sad news.
"You did what you said. You worked really hard on it," wrote one of his friend on his feed. "You were a great man," wrote another.
"I'm happy that we served in the army together, for two times. Hope we meet in the next life! Rest in peace!"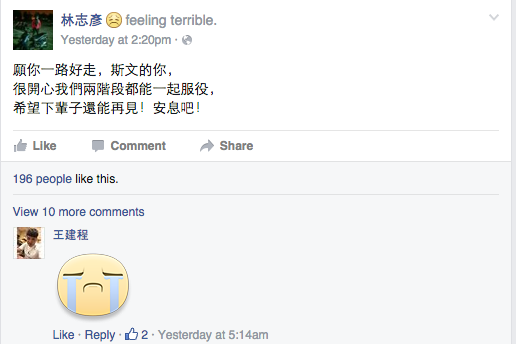 "I'm happy that I got to meet you guys. You will live in our heart forever. And hope you stay best friends in heaven."

Adding to the tragedy of the situation, the couple's pet dog — "Qiao-er" — was reportedly found dead alongside the couple.
The death of the young couple has swept across Chinese-language media, prompting demands of a thorough investigation and punishment of the contractors of the Weiguan Golden Dragon complex over allegedly problematic construction work.