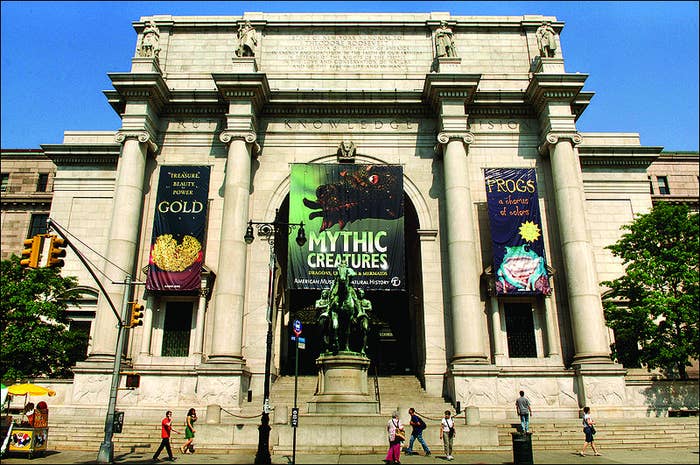 Two more scientists at major institutions are embroiled in controversies over alleged sexual misconduct.
A story published on Tuesday in the journal Science details investigations launched by the American Museum of Natural History into the behavior of one of its curators, anthropologist Brian Richmond. In the Science piece, an unnamed woman claims that Richmond — who at the time was her boss at the museum — sexually assaulted her in his hotel room after they had been drinking heavily at a scientific meeting in Florence, Italy, in September 2014.

Last week, the New York Times published a story on Jason Lieb, a former genetics professor at the University of Chicago. Lieb resigned after a sexual misconduct investigation found that he had made unwelcome sexual advances to several students at an off-campus retreat, and also, according to the Times, "engaged in sexual activity" with a student who was intoxicated.
These cases follow three other sexual harassment scandals in the astronomy field: Geoff Marcy at Berkeley, Christian Ott at Caltech, and Tim Slater, formerly of the University of Arizona. After those stories were made public, some wondered whether the problem was specific to astronomy. But the new cases suggest that sexual harassment is a serious problem in all fields of science, where fewer than 25% of full professors are women.

The new Science story reports that the American Museum of Natural History is conducting its third investigation into Brian Richmond's behavior, this time including accusations brought forward by three former undergraduates who had attended the Koobi Fora Field School, a summer institute in Kenya where Richmond had taught while he was a professor at George Washington University.
Richmond denies the accusations brought against him in the Science article, claiming that the hotel room incident was consensual.
"I want to be clear that I never sexually assaulted anyone, threatened anyone with retaliation, or attempted to harm anyone's professional career," Richmond told BuzzFeed News by email. "I deny the versions of events described in the article, including the allegations made by three anonymous sources regarding my actions at the Koobi Fora Field School."
Richmond also noted that after the museum's first investigation — which, according to Science, found that he violated its policy prohibiting inappropriate relationships between supervisors and their subordinates — he was given a positive performance review and granted a raise.
"I take full responsibility for exercising poor judgment in the past by mixing my professional and personal lives, and I have changed my thinking and my behavior," Richmond said.
In December, Richmond said, after it became clear that the allegations against him were going to be made public, the museum asked him to step down from his position. He declined.
"This is a difficult situation for our community. Throughout it, the Museum has endeavored to respond fairly and appropriately based on available information," museum spokesperson Anne Canty said in a statement provided to BuzzFeed News. "It is also an evolving situation during which the Museum, like so many other institutions, is learning."
There were no formal sexual harassment complaints against Richmond at George Washington University, according to Science. But after hearing about the sexual assault investigation at the museum, Bernard Wood, Richmond's former mentor at George Washington, began canvassing former students about their experiences.
Wood told Science that two women told him they had been subject to unwanted sexual advances from Richmond. Because they had not filed formal complaints at the time, Richmond was able to move to AMNH with a clean record, Wood said. But after Wood's informal survey, AMNH has since decided to include older incidents in its investigation.
"I strongly believe that to be a scientist is not just a question of coming up with exciting and important and intuitive hypotheses. Science is a social activity," Wood told BuzzFeed News. "As long as these individuals remain in their jobs, there's always the risk that behaviors that have resulted in these allegations might be repeated."
In Jason Lieb's case, for example, as the Times reported, he was hired at the University of Chicago despite suspicions about his behavior at his previous institutions, Princeton and the University of North Carolina at Chapel Hill. (Lieb did not respond to a request for comment from BuzzFeed News.)
A survey of 666 scientists conducted in 2014 found that nearly two-thirds of respondents had experienced some form of verbal sexual harassment while doing field research, while 1 in 5 had experienced sexual assault. The vast majority of those experiencing harassment were students or postdocs.
"My sense," Wood said, "is that young women are not being given the institutional protection that they deserve."