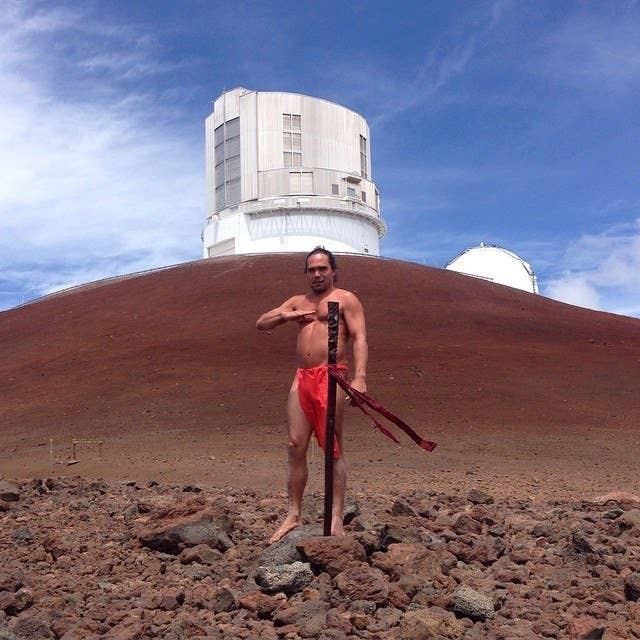 In late March, construction began on the $1.4 billion Thirty Meter Telescope, a massive, gleaming dome that will allow astronomers to observe the origins of the universe, and, possibly, signs of life beyond our world. As a 2010 brochure for the effort put it, "The story of the Thirty Meter Telescope is the history of the universe."
But for now, the TMT's story is not about the vast universe. It's about a remote piece of land 14,000 feet above sea level, Mauna Kea, which happens to be one of indigenous Hawaiians' most sacred sites.
"The mountain needs to be revered," Kealoha Pisciotta, president of the activist group Mauna Kea Ohana, told BuzzFeed News. Pisciotta is one of six plaintiffs who have brought civil cases against the TMT, on the grounds that the telescope doesn't meet criteria for building on protected lands.
"It's a temple. You can't make war in a temple," Pisciotta said. "You can stand for righteousness. It demands aloha."
The fight over the TMT has been happening for more than seven years, but came to a head last week after 31 protesters were arrested on the mountain. On Tuesday, Hawaii's new governor, David Ige, called for a weeklong halt to construction.
While physical demonstrations and a social media tidal wave — including several celebrity endorsements — have broken out in Hawaii, a quieter battle has erupted in the astronomy community.
Some American astronomers argue that having one of the most impressive telescopes ever built on U.S. soil is an opportunity too good to pass up. The scientific knowledge we stand to gain, they say, plus the ways in which the telescope could create jobs and give back to the local economy, make the project a win-win.
But other astronomers are beginning to challenge those claims — and talk openly about it. The Mauna Kea uproar is driving emotional conversations on their Facebook groups, Twitter feeds, and email inboxes, making them question whether their profession places a higher premium on the Western idea of scientific progress than indigenous cultures.
The TMT "is predicated on this idea that we have some permission to take over these spaces and use them for scientific research," Adam Burgasser, an associate professor of astrophysics at the University of California, San Diego, told BuzzFeed News.
"Even though I benefit greatly from that professionally, I don't think we can make that assumption that we have rights to this mountain," he added. "It's a very, very complex issue, but it involves a lot of assumptions that a lot of people are uncomfortable facing."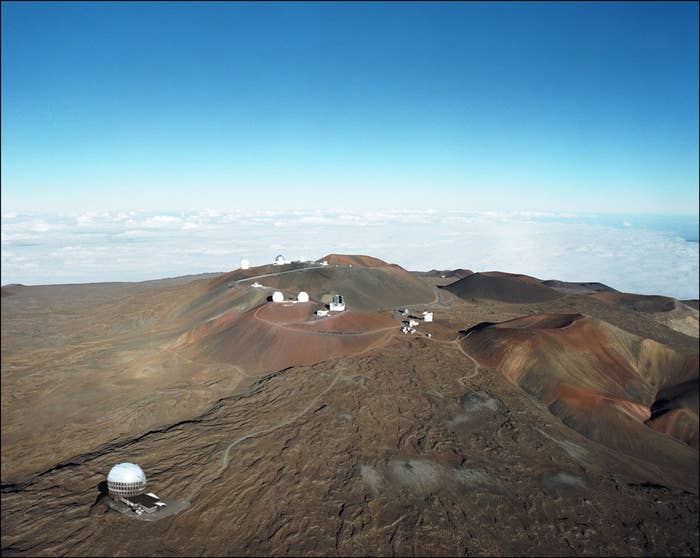 The TMT is only the latest skirmish in a decades-long battle between astronomers and native Hawaiians over Mauna Kea.
In 1968, Hawaii's Board of Land and Natural Resources leased 11,000 acres — which include 141 ancient shrines — on Mauna Kea to the University of Hawaii as a science reserve. Because of its isolated location and ideal atmospheric conditions, a 525-acre portion on the dormant volcano was designated as an astronomy hot spot and seized on by research institutions from across the world.
"The governor of Hawaii and community leaders recognized that it could become one of the premier spots for astronomy," Daniel Meisenzahl, a spokesman for the University of Hawaii, told BuzzFeed News. "It could be part of the economic engine of the island and also the university."
In the decades since, 13 telescopes have sprung up on Mauna Kea, dotting the soft slopes with their otherworldly white domes. Strangely, because of a long-standing clause in the university's subleases, each of the hosting institutions forked up exactly one dollar per year for their pristine spots atop the mountain.
But subsequent investigations showed that the University of Hawaii wasn't doing enough to protect the land it was given stewardship over. A 1998 state audit showed that the university was putting research interests ahead of protecting Mauna Kea's natural resources. In 2003, a judge shot down a request by NASA to build four to six additional small telescopes on the mountain. The courts also required that the university draft up a new plan to show that it had the best interests of Mauna Kea in mind.
And then came the TMT, run by a nonprofit corporation called by the same name. The plans for the new telescope were an astronomer's dream: With a mirror spanning nearly 100 feet, the TMT would have the power to take in nine times more light than today's top telescopes, enabling it to see more than 13 billion light-years away.
After choosing Mauna Kea from a pool of four other sites — all located in the Chilean or Mexican deserts — in 2011 TMT received state permits to go ahead with the project. Less than two weeks later, the activist Pisciotta and her group filed suit. Arguing that the telescope failed to meet the requirements for building in a conservation district, the case has been in a seesaw of dismissals and appeals ever since.
But unlike the other telescopes on the mountain, the TMT affiliates argue they have been trying to do things differently. "It's too bad that so much of the history is getting lost here in this heated discussion," Michael Bolte, a professor of astronomy and astrophysics at UC Santa Cruz and one of the main U.S. organizers for the TMT, told BuzzFeed News.
Bolte pointed out, for example, that TMT held more than 20 public hearings — including multiple consultations with representatives from the native Hawaiian community. Once fully built, TMT will be paying $1 million per year to lease the land. Some of the money will support the state's Office of Hawaiian Affairs, whose mission is to protect native Hawaiian interests, and the rest will go towards upkeep of the mountain. In November, after a series of protests occurred at the groundbreaking ceremony for the telescope, TMT promised another $1 million per year to fund science and technology education on the island.
"Look, we made a lot of adjustments in how we do business there," Bolte said. "But there are zero legal barriers here. Someone standing in front of your bulldozer is not a legal issue."
TMT's critics argue that $1 million in education programs pales in comparison to the telescope's $1.4 billion price tag. They also say that throwing money at the problem dismisses more important questions: What do astronomers owe the communities in which they place their towering stargazers? And what if — as is the case for many of the native Hawaiians who value Mauna Kea for reasons immeasurable in earthly currency — the community doesn't want what the scientists have to give?
"As a native of the area, I can say that it's not the local people who are getting these jobs, it's not our people that are getting the intelligence — it's basically exploiting and destroying our conservation lands for another community's benefit," Kamahana Kealoha, head facilitator of an activist group called Sacred Mauna Kea Hui, told BuzzFeed News.
Many in the astronomy community who would otherwise be thrilled about the state-of-the-art instrument have also begun to feel conflicted.
Emily Rice, assistant professor of astrophysics at College of Staten Island, CUNY, did much of her graduate work using the Keck telescope on Mauna Kea. Rice told BuzzFeed News that as a graduate student she led several outreach efforts with the surrounding community. But the realities of Mauna Kea's significance to the indigenous population did not hit her until the recent controversy over the TMT.
As she tweeted Thursday:
Others argue that Mauna Kea is just one part of a systemic problem in the field. Chanda Prescod-Weinstein, a researcher in theoretical physics at the Massachusetts Institute of Technology, this week promoted the hashtags #DecolonizeSTEM and #DecolonizeAstronomy on Twitter, sparking a broader discussion about inclusion in science.
"This is consciously looking away and willfully not making a connection that is so obvious: that when you show up on someone else's ancestral land and appropriate it for your own purposes, there's something wrong with that picture," Prescod-Weinstein told BuzzFeed News.
Prescod-Weinstein, whose ancestors came from Trinidad and Barbados, noted that she's one of the only black women in her field. She's been disheartened by the reactions from the TMT's backers, she said. "It's very alienating. Their reflections on Hawaii really affect how I see myself in this community. How can I tell Caribbean and other black Americans that astronomy has a place for you?"
Sarah Ballard, an astrophysics fellow at the University of Washington in Seattle, confronted her own unease while speaking to a native Hawaiian colleague, Keolu Fox, a genetics researcher who opposes the building of the TMT on Mauna Kea. It was an emotional conversation, Ballard said, because she knows that she will almost certainly use the groundbreaking telescope — or at least its data — in her own research.
"There must be a way of doing better, because it certainly seems that whatever is happening is insufficient," Ballard told BuzzFeed News. "Maybe this means the astronomy community making more concessions of some kind. It seems like we're just kind of literally bulldozing over the concerns of these people."
These researchers point out that tensions between scientists and indigenous peoples have long played a role in the history of astronomy, and in the history of science more broadly. Similar battles over telescopes with native populations have cropped up in remote mountain locations in Chile and Arizona, for example.
In Hawaii, astronomers and protesters are waiting anxiously to see if construction will continue. On Thursday the governor went to the summit and met with both sides, and on Saturday Ige announced that TMT is further delaying construction for another week until Monday, April 20. The protesters argue that work on the TMT should be halted until the case makes it to the State Supreme Court.
Despite the national outcry and pending legal cases, TMT's leaders are confident that the prized instrument will be built. If they get their way, then the TMT will begin collecting its first images of distant stars in roughly 2024.
For some astronomers, though, the power of the telescope will never make up for what it took to get it. "I want those pictures," Prescod-Weinstein said, "but not by any means necessary."
The story has been updated to clarify that Chanda Prescod-Weinstein did not create the #DecolonizeAstronomy hashtag, and that the public hearings with TMT included representatives from the native Hawaiian community. The piece has also been updated to reflect Governor David Ige's April 11 announcement about further postponing construction.
Governor David Ige announced Friday that TMT would continue to postpone construction of the telescope. No date was given for when they would resume.