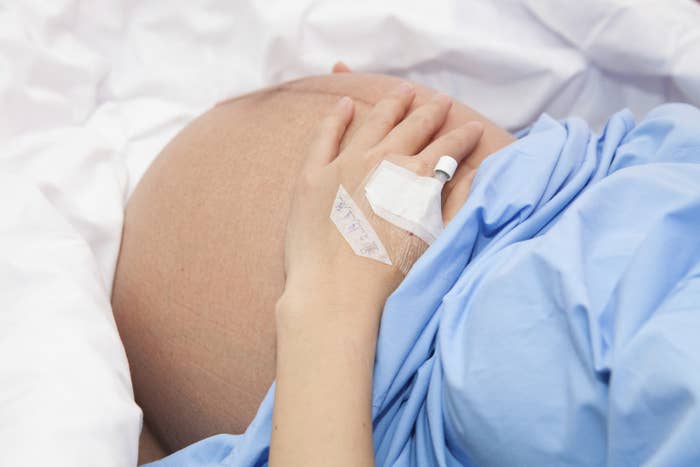 On Monday, the American Civil Liberties Union announced that it is suing Dignity Health, a Catholic hospital network, for refusing to provide a woman with the tubal ligation recommended by her doctor.
The woman, Rebecca Chamorro, is eight months pregnant with her third child and is scheduled to deliver her baby at Mercy Medical Center in Redding, California, in late January. Chamorro and her husband consulted with her doctor about getting her tubes tied immediately following her C-section — the "ideal time" to do the procedure, according to the American College of Obstetricians and Gynecologists. But Mercy prohibited her doctor from performing the procedure, citing rules banning sterilization in Catholic hospitals.
Chamorro's doctor, Samuel Van Kirk, estimates that he's had at least 50 women in the last eight years who have been denied tubal ligations that he's requested for them at Mercy, according to the lawsuit. Because Redding is a rural area, the nearest hospital that could provide alternate labor and delivery services is 70 miles away.
The ACLU contends that Mercy's refusal to let Chamorro get her tubes tied is discriminatory and violates California law.
"This case is an example of gross overreach and the harm done to women and their families when religion is invoked to deny medical services," Ruth Dawson, staff attorney for the ACLU, told BuzzFeed News. "But this isn't just happening in Redding, and this isn't just happening in California."
A spokesperson from Mercy told BuzzFeed News that she couldn't comment on pending litigation. In a statement, the hospital noted that it prohibits its doctors from performing sterilization procedures in accordance with the Ethical and Religious Directives for Catholic Health Care Services, or "ERDs."
Set by the U.S. Council of Catholic Bishops, the ERDs ban the direct sterilization of men or women, other forms of birth control, certain prenatal genetic tests, and abortions of viable fetuses, even in emergency situations when the life of the woman is in danger. Such procedures are deemed "intrinsically immoral."
But the ERDs have come under fire in recent years as more cases have arisen presenting conflicts between what patients and their doctors decide, and what their hospitals will allow.
"As a doctor I've gone through years of training to become a medical expert to treat my patients in the reproductive health realm," Pratima Gupta, an ob/gyn who represents Physicians for Reproductive Health, a national nonprofit also named as a plaintiff in the suit, told BuzzFeed News. "Religious directives shouldn't interfere — doctors shouldn't have to make decisions based on that when they're counseling a patient."
The 635 Catholic hospitals across the U.S. see more than 5.2 million inpatients a year, as well as 102 million outpatients, according to the Catholic Health Association. Those numbers seem to be on the rise: A report from the ACLU and the advocacy group MergerWatch found that between 2001 and 2011, even as the number of hospitals nationwide declined, the number of Catholic hospitals rose 16 percent. And all must abide by the ERDs.
Chamorro's case is just the most recent in a slew of legal actions being brought by the ACLU against Catholic hospitals that deny medical procedures for religious reasons.
In October, on advice from her doctor, a pregnant woman with a brain tumor wanted to get a tubal ligation to prevent any future complications with pregnancies. After her hospital refused the procedure, the ACLU filed a complaint with the Michigan Bureau of Community and Health Systems.
The ACLU is trying several legal strategies to argue these cases. In the new suit, the organization claims that the ERDs discriminate against women — in violation of California law — by denying services that do not apply to men.
"We believe that religious institutions that are providing health services to the general public can't use their religion to discriminate against women," Dawson said.
But a more extreme case shows the legal difficulties faced by those fighting religious exemptions.
In 2011, Tamesha Means was 18 weeks pregnant when her water suddenly broke. Means immediately rushed to her local Catholic hospital in Michigan, where doctors allegedly chose not to tell her about her non-viable fetus. The standard emergency treatment in such a case would require inducing labor and terminating the pregnancy to protect Means' life. But her doctors allegedly sent her home with painkillers instead. After returning to the hospital twice more over the next day due to pain and bleeding, she miscarried.
Means and the ACLU sued the U.S. Conference of Catholic Bishops (who issue the ERDs), but the suit was dismissed in June of this year. The judge said deciding on the case would require ruling on church doctrine, which is outside of the scope of the court system. The judge also suggested that rather than challenge the ERDs, Means should file for medical malpractice "without needing to resolve doctrinal matters." The decision is currently under appeal.
Because Chamorro's due date is fast approaching, in addition to the lawsuit filed in her case, the ACLU has filed an emergency motion asking the court to prevent Mercy from being able to interfere during her scheduled delivery in late January. The hearing on this motion is scheduled for January 5.
UPDATE
This post has been updated to clarify that the Ethical and Religious Directions ban abortions of viable fetuses, even in emergency situations when the life of the woman is in danger. The ERDs do not ban abortions of unviable fetuses.