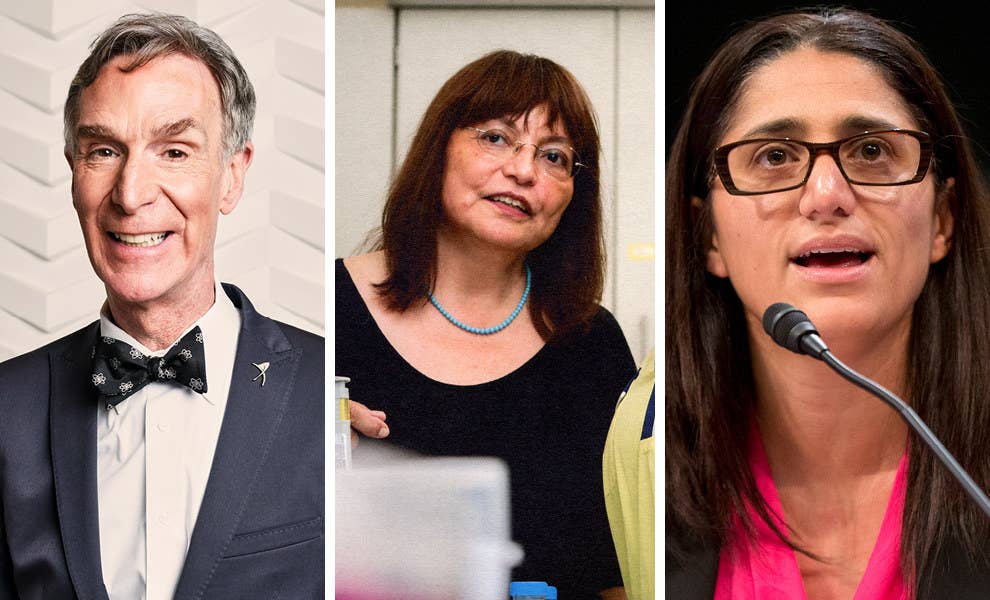 On Thursday, after at least a week of contentious deliberations, the popular March for Science movement will announce three people to lead its April 22 protest in Washington, DC.
Two are prominent scientists and vocal advocates for diversity in science: Mona Hanna-Attisha, the pediatrician who first exposed dangerous lead poisoning among the mostly poor black kids in Flint, Michigan, and Lydia Villa-Komaroff, a molecular biologist famous for helping to figure out how to get bacteria to make insulin.
The march's third leader is the only bona fide celebrity: '90s pop-science phenomenon Bill Nye. Since his hit TV show, Bill Nye the Science Guy, went off the air in 1998, Nye has become a tireless public defender of science, from arguing with Tucker Carlson over climate change to debunking the creationist claim that dinosaurs and humans ever coexisted on our planet.
"People are denying the facts of science in the world's most influential economy," Nye told BuzzFeed News. "We're marching to remind everybody of how much science serves you, a person, as a citizen in our society."
The March for Science, which hopes to replicate the success of the Women's March on Washington, now has nearly 2 million supporters across social media platforms, more than 100 scientific groups signed on as partners, 428 satellite marches planned for cities across the globe, and 100,000 volunteers.
But much like its sister protest, the science march has also spent most of its short lifetime steeped in tense debates about what — and who — it is taking a stand for.
As recently as last week, Nye was slated to be the march's first honorary co-chair. But after a fresh round of complaints that the group was not taking diversity issues seriously enough, Hanna-Attisha and Villa-Komaroff, both women of color who have long fought for science to serve communities it has traditionally left behind, were added to the lineup.
Since the march's inception at the end of January, critics have repeatedly slammed the organizers for saying that the march should be about championing science, not mixing it up with politics.
So when it came to choosing public faces for the march, the organizers were struggling to figure out how not to screw up again.
"He is a white male, and in that way he does represent the status quo of science, of what it is to be a scientist."
"I love Bill Nye," said Stephani Page, a biophysicist at University of North Carolina, Chapel Hill, who created the Twitter hashtag #BlackAndSTEM. Page was asked to join the march's board in February after she tweeted criticism of its approach to diversity. "But I do feel comfortable saying to you what I said to the steering committee: He is a white male, and in that way he does represent the status quo of science, of what it is to be a scientist."
Adding Hanna-Attisha and Villa-Komaroff, she said, "was an opportunity to put up a picture of science that did not just fit the white male image."
These intense arguments about diversity in the march reflect a much broader debate about science itself. The institution that prides itself on its objectivity has always been plagued by questions over who participates in it, who it serves, and who it leaves behind.
"This is a tense topic, period," Page said. "But part of telling the whole story is that what's happening in the science march is really what's happening in science. It's just bubbling up really quickly."
The March for Science's origin story starts, as tales of nerdom often do, on Reddit. On the day President Trump was sworn into office, it appeared that all references to climate change had been scrubbed from the White House's website. Scientists, already stressed about the prospect of budget cuts to research and the rise of climate denialism, were incensed.

"There needs to be a Scientists' March on Washington," one person commented on an r/Politics thread about the news, a reference to the historic 1963 March on Washington led by civil rights activists and Martin Luther King Jr. Hours later, the group had a logo (now a globe held inside an atom), a Facebook group, and thousands of followers.
But almost immediately, problems cropped up, playing out publicly on Twitter and Facebook.
Many scientists felt alienated by the march's apolitical stance, arguing that it denied the experiences of the minorities President Trump was most fiercely attacking and who have felt excluded from science, too. Responding to this criticism, the organizers tried to show that they stood with all scientists.
"Colonization, racism, immigration, native rights, sexism, ableism, queer-, trans-, intersex-phobia, and econ justice are scientific issues," an organizer tweeted, following with a raised fist and a rainbow emoji. The next day, the group released an updated diversity statement, claiming that issues like sexual harassment, disability, LGBTQIA rights, clean water access, and mass shootings "are scientific issues."


But not everyone was pleased with the march's attempts to broaden its vision. In response to the diversity statement, famous Harvard psychologist Steven Pinker tweeted: "Scientists' March on Washington plan compromises its goals with anti-science PC/identity politics/hard-left rhetoric."

The organizers never publicly responded to Pinker, but deleted the original tweet and took out some of the language that had been added to the diversity statement. "Glad to see that the March for Science Web site has removed the distractions. It's an important event," Pinker tweeted in response.
This back-and-forth, and the organizers' seeming willingness to bend to those who believed the political discussions were detracting from the true message of the march, angered many scientists. But others argued that focusing on identity politics would hurt the march's chances of being taken seriously in Washington.
Two days later, the march's lead organizer, Jonathan Berman, was quoted in the New York Times: "Yes, this is a protest, but it's not a political protest."
"It took one tweet by one high-profile male scientist for the organizers to completely retreat from the diversity statement that they put out," Zuleyka Zevallos, a sociologist at Swinburne University in Australia, told BuzzFeed News. "It's important because it shows that there's a wavering commitment to diversity that is swayed by the status quo in science."
One month and four diversity statements later, the group is trying to prove its commitment: It now has a diversity coordinator, and a steering committee composed of several women of color.
"At best, I misspoke. At worst, I was wrong," Berman told BuzzFeed News last week, referring to his quote about science not being political.
In fact, Berman said he and Nye considered this exact question back in 2007, after Berman saw the celeb give a talk at the University of Rochester.
"The question I asked Bill then was, 'Is it okay for scientists to become politically involved, or should we just let the data fall as they may and stay out of the political discussion?' His answer to me 10 years ago was, 'Absolutely we need to be part of the political discussion, this is our role.'"
Berman and the other march organizers had planned to announce Nye as their first honorary co-chair last week, but held off after realizing it might be received badly.
In an interview with BuzzFeed News before this change, Nye seemed baffled when asked about the diversity issues surrounding the march.
"With respect to diversity — is that the key word here? There's a diversity committee on the march, and they're working this problem," he said. "I was born a dorky white guy who became an engineer. I'm playing the hand I was dealt. We can't — this march can't solve every problem all at once."
The organizers pulled the announcement later that day, deciding to add co-chairs who would better represent the diversity in science.
"We did talk internally about the optics of having the first person to be announced be only a white man."
"We did talk internally about the optics of having the first person to be announced be only a white man," Berman told BuzzFeed News on Tuesday, though he stressed that wasn't the sole reason they added Hanna-Attisha and Villa-Komaroff.
For Mona Hanna-Attisha, diversity is "part and parcel" of what it means to do her job.
She made headlines in 2016 after announcing data showing that the number of children in Flint, Michigan, with elevated lead levels had almost doubled after a switch in their water supply.
"Science has taught us that there is no safe level of lead, and that lead disproportionately impacts a vulnerable population — it's already an environmental injustice," Hanna-Attisha said. "The science in Flint was irrefutable, yet it was dismissed and it was attacked."
As for the science march's diversity debates, Hanna-Attisha argues that if science's goal is to improve our communities, diversity is also inherent in that discussion. "This is part of the work that we're doing," she said.
These fights are also crucial to Lydia Villa-Komaroff, whose nonprofit SACNAS aims to help its 20,000 Latino and Native American members get advanced degrees and careers in STEM.
"For a very long time I have felt that just because I am a scientist does not free me from my responsibility in my community," Villa-Komaroff told BuzzFeed News. "As for those folks who feel that it's a mistake to talk about anything but the doing of experiments, to not include diversity in a discussion of science, I think that's shortsighted."
For all of the turmoil of the last two months, some outsiders are optimistic that the march's organizers have taken the criticism to heart.
"Finding ways together to get past biases is the whole point of the scientific method," Janet Stemwedel, a philosopher of science at San Jose State University, told BuzzFeed News. "So if we're seeing a little bit of that in how the march planning is coming together, maybe that's a good thing. Maybe we should recognize what that's worth."