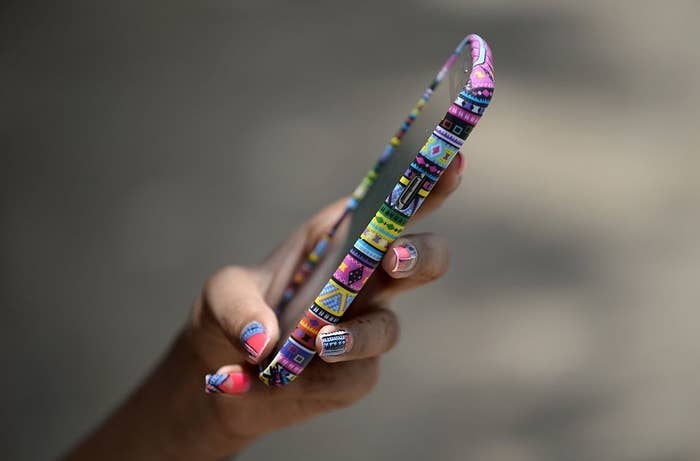 Since late on Tuesday night, four major crisis prevention hotlines have reported a surge in calls, chats, and texts from people feeling intense mental distress.
Among those who appear to be the most affected by the events are LGBTQ Americans, many citing fears about their safety and security under a Donald Trump and Mike Pence administration.
"People find it hard enough to be a trans person during an Obama administration, and now we're facing one of the most repressive and regressive administrations in modern history," said Greta Martela, co-founder and executive director of Trans Lifeline, a phone-line resource for transgender people of all ages.
Pence, for example, has argued for public funding of conversion therapy, the highly discredited form of therapy that seeks to change a person's sexual orientation or gender identity. And if Trump adds a conservative justice to the Supreme Court, as he has promised, marriage equality may be in jeopardy. Trump has also repeatedly stated that he wants to repeal Obamacare, which in May banned discrimination against transgender people in health care settings. "Trans people have been fighting really hard through the last three years to get access to health care, and now people feel like we're about to lose it again," Martela told BuzzFeed News.
Trans Lifeline typically answers about 40 to 50 calls a day. Before this week, the highest volume of calls they'd received in one day was 250, on the day of the protest against North Carolina's bathroom bill, which bans transgender people from using certain restrooms.
Between Wednesday and Thursday afternoon, Martela said, Trans Lifeline received 523 calls, but the staff was only able to answer 184 of them. "We have a lot of volunteers, a lot of people working, but it's just not enough," she said. "All this stuff that people are calling about is also affecting our volunteers." Many of the most distressed callers, she added, were teens.
Crisis Text Line, a service that responds to text messages from the general public, also reported a surge in volume, according to spokesperson Liz Eddy. In the first day after the election, the service saw a doubling in the average number of texts received. In the second day, it reported a fourfold increase.
The words "election" and "scared" were the two terms most often mentioned by texters, and the word most commonly associated with "scared" was "LGBTQ."
The Trevor Project, a suicide hotline that offers free calls, chats, and texts for LGBTQ people under the age of 25, typically receives several hundred contacts a day. Since election night, that number has roughly doubled.
"When we saw the results of the election, we immediately called in more volunteers," said Steve Mendelsohn, deputy executive director of the Trevor Project. "We expected there to be an effect, but we didn't expect it to be this much of an effect."
Most of the kids they've spoken to are extremely distressed about expressing their LGBT identity under a Trump presidency, Mendelsohn said. They're also afraid of conversion therapy and the reversal of marriage equality, he said.
The same trend held at one of the country's largest general crisis prevention hotlines, the National Suicide Prevention Lifeline, which has some 10,000 operators answering calls across the country.
"Going into Tuesday night, calls started to increase," John Draper, the hotline's director, told BuzzFeed News. "Midnight and thereafter, we saw an extraordinary increase."
From 1 a.m. to 2 a.m., Draper said, the hotline received 660 calls, compared to their typical 250 calls during that hour. By Thursday, he said, calls had settled back down to normal levels.
"When there is a community event or a national event that can in some ways provoke anxiety or fear or a sense of loss, that's going to aggravate existing feelings of loss, anxiety, or fear," Draper said. "If you're already worried about your family, your job, your relationship, your lot in life, your health, this is going to aggravate it."
The higher call rates among LGBT youth are occurring as rumors swirl online about several trans teens' suicides. On Wednesday afternoon, a writer at the Guardian US, Zach Stafford, tweeted that several of these deaths had occurred, citing a private Facebook group for parents of trans kids. Today, he deleted that Tweet, explaining that the numbers were unconfirmed and could do more damage than good, especially if other trans teens were motivated to act in the same way.
"There have been unconfirmed reports that some trans people died by suicide in the hours following the election, but at this point it is not possible to substantiate those rumors," Nick Adams, director of GLAAD's Transgender Media Program, told BuzzFeed News. "It's important that mainstream media outlets and people on social media do not spread incomplete or inaccurate information about suicides, as it can lead others to attempt self harm."