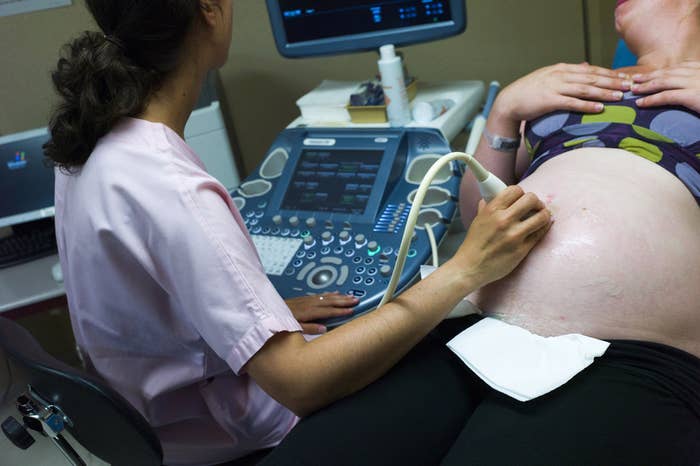 The American Civil Liberties Union on Thursday announced that it is suing Trinity Health Corporation, which operates 80 hospitals nationwide, for refusing to provide pregnant women suffering from life-threatening emergency complications with abortions.
Trinity Health hospitals have "repeatedly and systematically failed to provide women suffering pregnancy complications with the emergency care" required under federal law, according to the suit.
Like all other Catholic hospitals in the U.S., Trinity Health must abide by a set of Ethical and Religious Directives, or ERDs, set by the U.S. Council of Catholic Bishops. The directives prohibit abortions of viable fetuses under all circumstances, even when the life of the mother is in danger.
One in six patients in the U.S. is cared for in a Catholic hospital, according to the Catholic Health Association. The 635 Catholic hospitals across the country see 19.5 million emergency room visits a year.
"We have heard reports growing over the years of how the Ethical and Religious Directives are affecting women who present in emergency rooms at these hospitals with pregnancy complications or miscarriage," Alexa Kolbi-Molinas, a staff attorney at the ACLU, told BuzzFeed News. "When a woman's health is at stake, it's doctors — not religious leaders — who should be calling the shots."
While the ERDs dictate care at all Catholic hospitals in the U.S., the ACLU is filing its suit against Trinity Health in particular because of a report from a public health educator who found that, at a single hospital in its network in a single given year, several women suffering from pregnancy complications were denied care.
"This case has no merit," Trinity Health said in a statement released after the ACLU's announcement. "The Ethical and Religious Directives are entirely consistent with high-quality health care, and our clinicians continue to provide superb care throughout the communities we serve."
But the ACLU suit alleges that, in abiding by the ERDs, Trinity Health violated the Emergency Medical Treatment and Active Labor Act, which applies to every hospital with an emergency room that receives Medicare funds. The law says that whenever a patient comes in with an emergency condition, the hospital is required to provide whatever treatment necessary to stabilize the patient.
"For women undergoing certain pregnancy complications or miscarriage, the stabilizing treatment may be abortion," Kolbi-Molinas said. "We want them to have to abide by the same law every other ER abides by, so that when women show up at their doors they know they'll get the care that they need and not be turned away."
It's not just abortions: Catholic hospitals also prohibit birth control, sterilizations, and certain prenatal tests.
The ERDs were first published in 1948 when American medicine began veering away from "natural, moral law," Marie Hilliard, director of bioethics and public policy at the National Catholic Bioethics Center, told BuzzFeed News. "The understanding of the Hippocratic Oath changed over time in the secular community. But we were all on the same page initially."
Today, ERDs not only prohibit abortion, but contraceptive use. They also refuse sterilizations to women, and do not allow prenatal diagnosis if the intent is to abort a fetus with a genetic anomaly.
But because Catholic hospitals are so prevalent across the country, some advocates argue that a big issue is how much information women are provided about their care. This is particularly problematic in rural areas where Catholic hospitals are the sole providers.
"The directives are dangerous for that reason," Sara Hutchinson Ratcliffe, domestic program director at Catholics for Choice, told BuzzFeed News. "We have heard there are a number of cases around the country about women who come in with ectopic pregnancies, pregnancies that have gone wrong, hypertension, and other severe conditions, that are then refused care — and often times not told why they're refused care."
The ERDs have caused problems at Catholic hospitals before.
In 2010, a Catholic hospital in Phoenix was stripped of its Catholic affiliation after the hospital's ethics committee decided to terminate a woman's 11-week pregnancy in order to save her life.
The decision was "consistent with our values of dignity and justice," the hospital's president, Linda Hunt, told the Guardian after the announcement was made. "If we are presented with a situation in which a pregnancy threatens a woman's life, our first priority is to save both patients. If that is not possible we will always save the life we can save, and that is what we did in this case."
The case highlights the fact that the ERDs are interpreted differently at hospitals across the U.S.
"A lot of doctors I speak to are not ideologically aligned with these directives, they're often just people who want to provide good healthcare," Lori Freedman, assistant professor of medical sociology at UC San Francisco, told BuzzFeed News. "It's really the institution driving this—the bishops who write the directives and make the policy."
CORRECTION
The Ethical and Religious Directives prohibit abortions of viable fetuses under all circumstances, even when the life of the mother is in danger. An earlier version of this post wrongly implied that they also prohibit abortions of unviable fetuses.