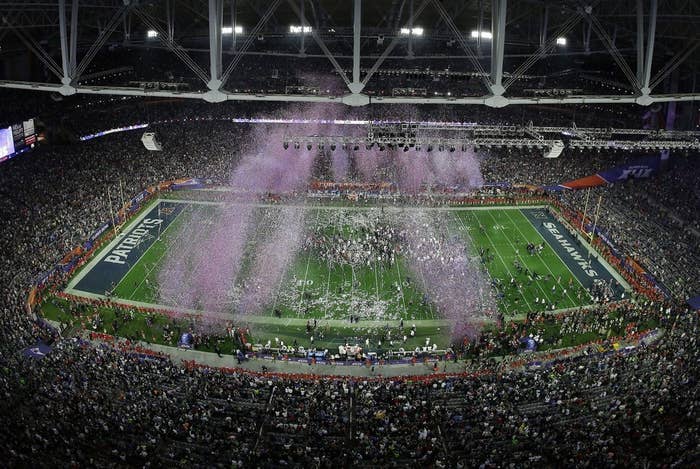 Here's what Seahawks coach Pete Carroll had to say about his decision to call a pass play -- which resulted in an interceptions -- near the end zone.
"For it to come down to a play like that, I hate that we have to live with that," said Carroll, who is no stranger to taking gambles on the field, about the decision that will no doubt haunt him and his team.
Here are the records Tom Brady broke or met tonight: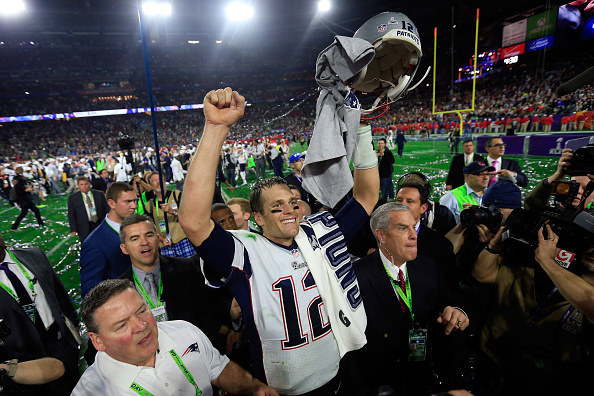 First quarterback to throw touchdowns to four different receivers
Tied Joe Montana and Terry Bradshaw for most Super Bowl wins by a starting QB (four).
Broke Joe Montana's record for career touchdown passes during Super Bowls. Brady: 13; Montana: 11.
Now holds the record for longest span between first and most recent Super Bowl wins at ten seasons.
Brady's third Super Bowl MVP award ties Joe Montana's record.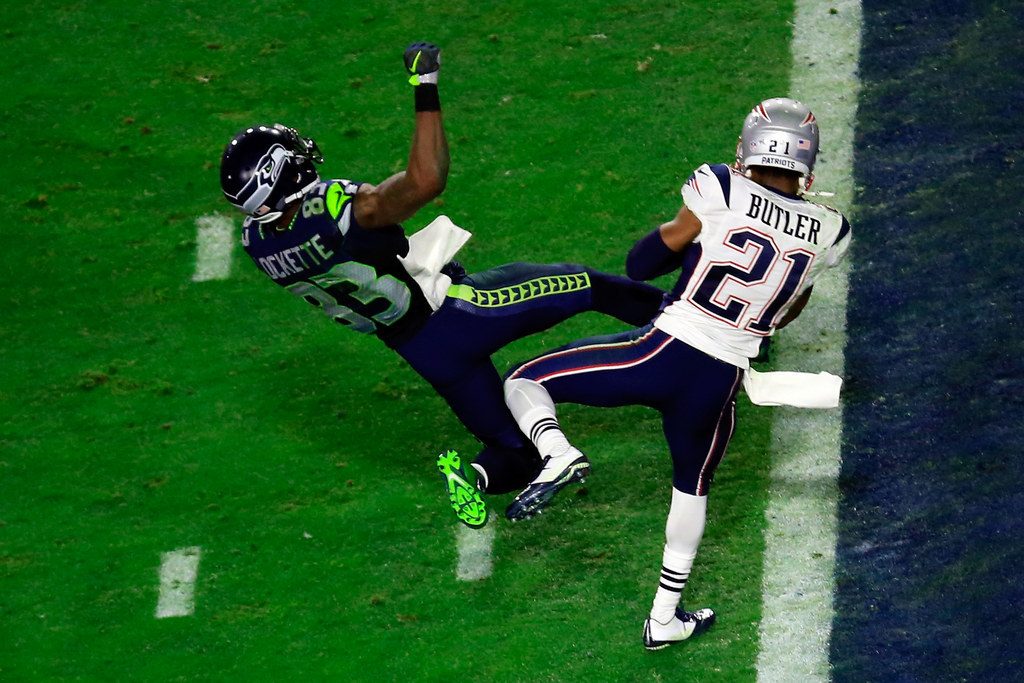 Tom Brady was... a bit excited about that break.
Still down 24-21, Brady breaks his second record of the game with a 7-yard pass to Shane Vereen.
Brady connects with Danny Amendola with 8 minutes left in the game. Seahawks lead 24-21.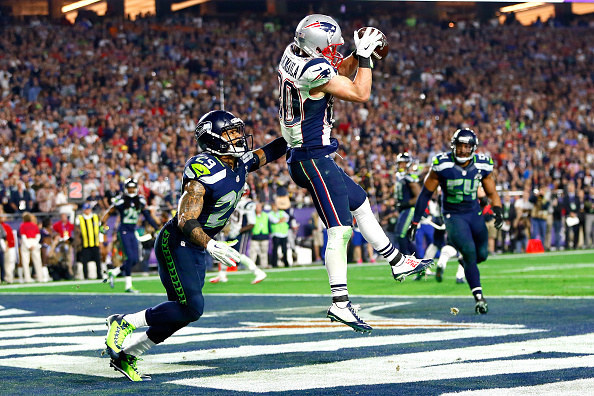 With that touchdown, Brady broke his childhood hero Joe Montana's records for most touchdowns thrown during Super Bowls. With 12 in the books, Brady is now the man to beat.
In 6 plays, the Seahawks move the ball 50 yards to fire a quick touchdown to Doug Baldwin. Seahawks lead 24-14 with 4:54 left in the third quarter.
Brady throws his second interception of the game to Seahawks Bobby Wagner. Going into the game, Brady had two interceptions TOTAL in five Super Bowl appearances.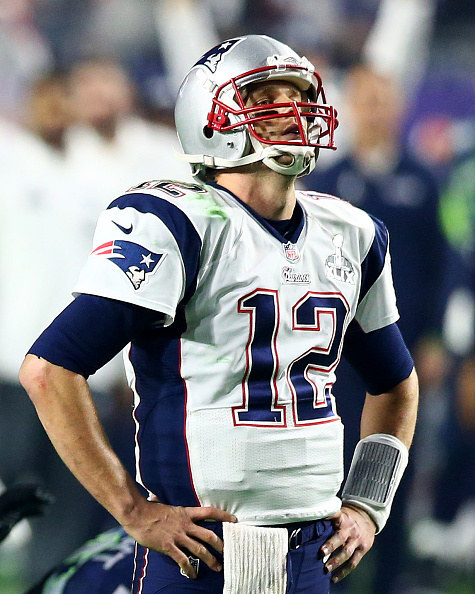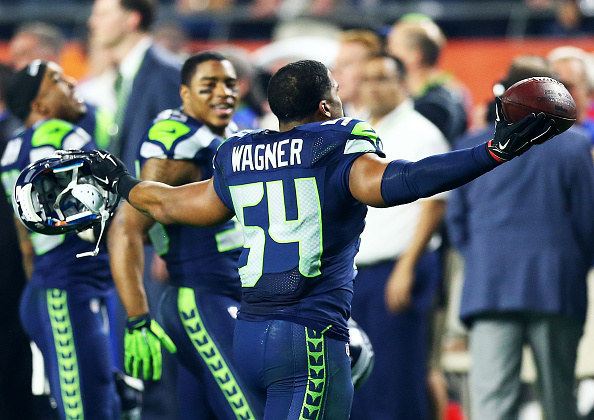 After an explosive halftime show by Katy Perry, the Seahawks bring a soft strike against the Patriots by scoring a field goal on their opening drive. Up 17-14, it's their first lead of the game.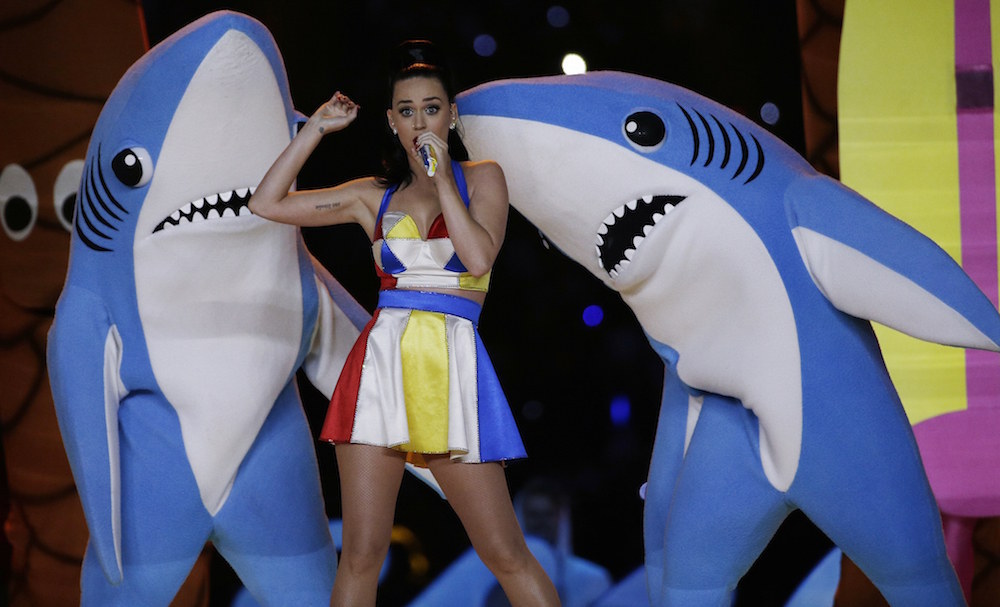 Tied game! Seahawks go for the touchdown with 6 seconds left in the half to tie it up at 14-14. Chris Matthews brings in his first career TD and second catch of the game.
Marshawn Lynch scores a 3-yard rushing touchdown to tie the game at 7-7 with 2:16 left in the first half. After receiving a serious warning from the NFL earlier this week, Lynch did not do his celebratory crotch grab.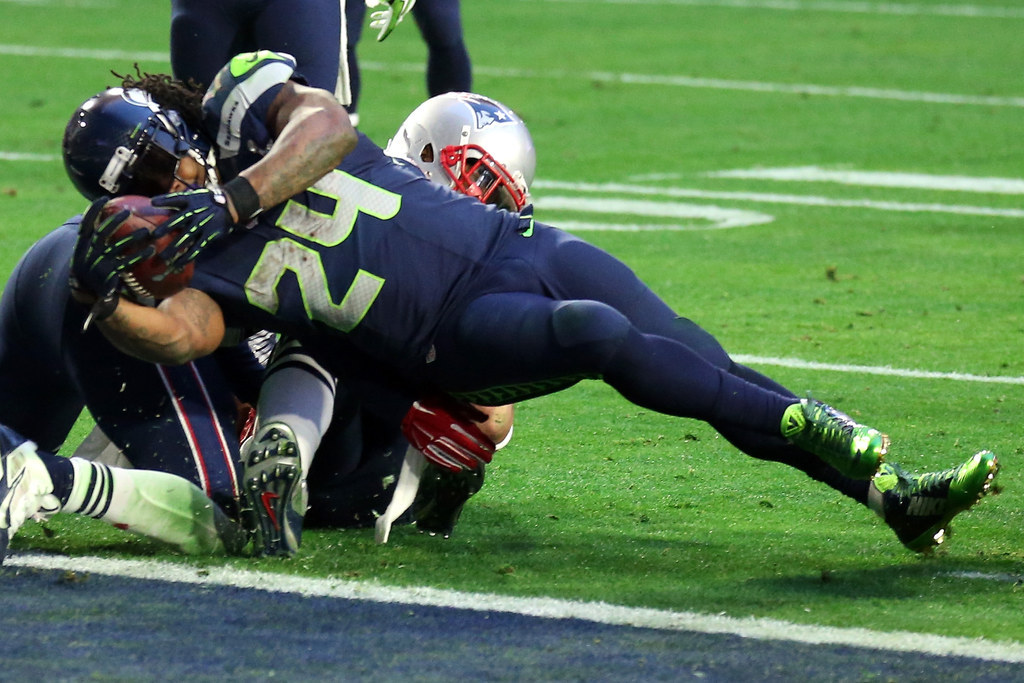 Brandon LaFell celebrates his second-quarter touchdown.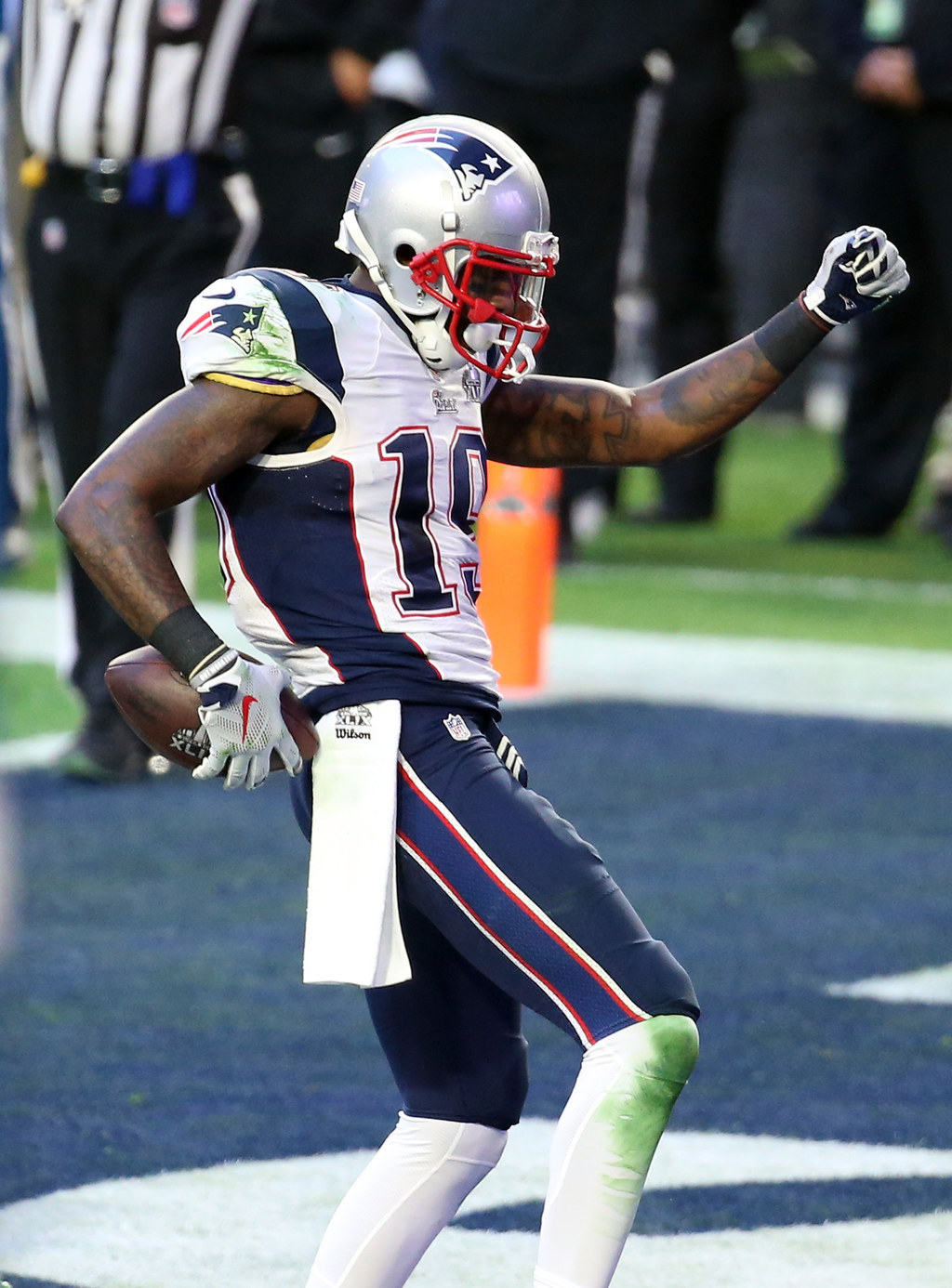 Brady throws 11-yard touchdown pass to Brandon LaFell with 9:51 left in the first half.
End of the first quarter: Score remains 0-0. The Patriots have never scored in the first quarter of a Super Bowl (6 appearances). The Seahawks were up 8-0 against the Broncos during last year's Super Bowl.
With 11:44 left in the first quarter, refs missed a roughing the passer call against Seattle's Jeron Johnson.
Under rule 12 of the NFL rulebook, roughing the kicker occurs when a special teams player hits the kicker on their non-kicking leg. A properly called penalty should result in an automatic first down and 15 yards for the kicking team. Instead, the hit was called as running into the kicker, which the Patriots declined. Accepting the penalty would have meant their punter would have had to kick again.
The Seahawks offense took over at the 16 yard line, but went 3 & out.
Super Bowl XLIX is officially underway!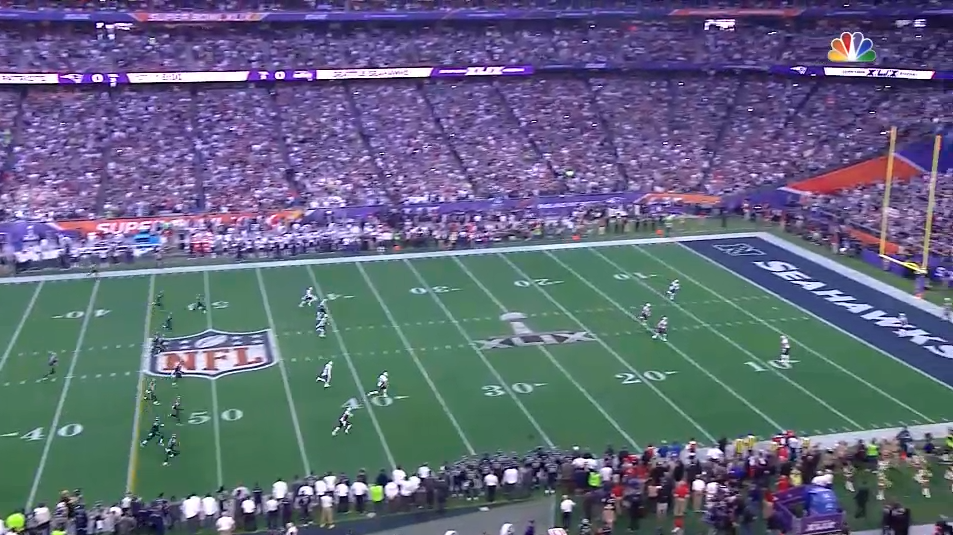 Former Patriots tight end Aaron Hernandez, currently on trial for a 2013 murder, will be able to watch the Super Bowl if other inmates at Nashua Street Jail in Boston choose to watch the game, WCBV reports.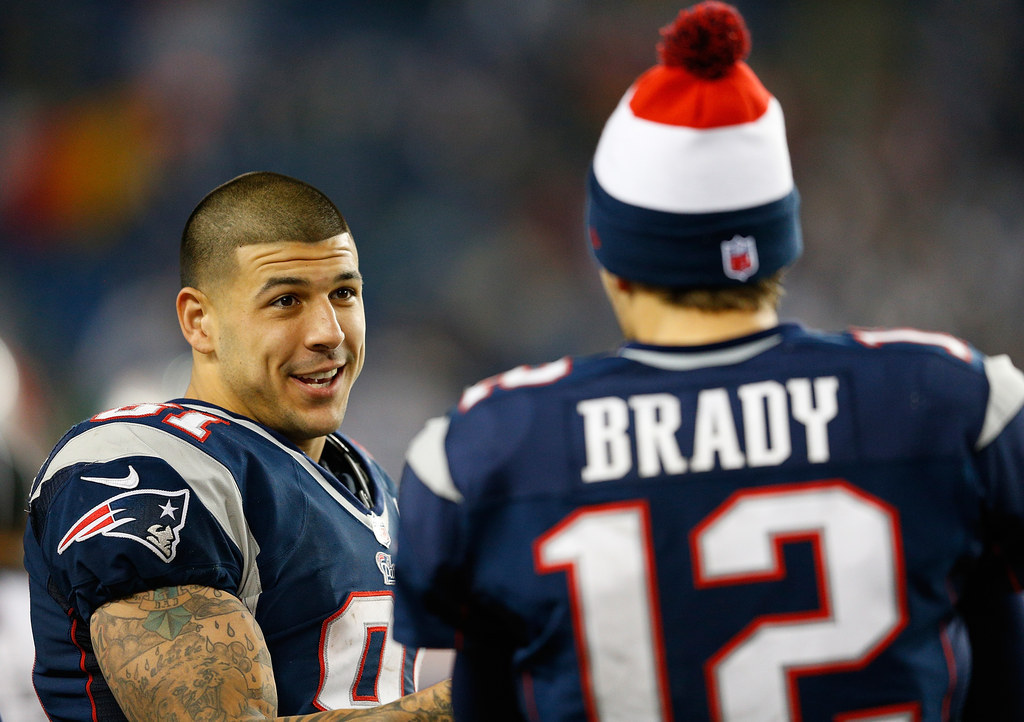 Seattle wins the coin flip, will defer possession to the second half. Tom Brady and the Patriots offense will take the field to start the game.
Good or bad, these are the ads everyone's going to be talking about this year. Check back for updates throughout the game.
Quarterbacks Tom Brady and Russell Wilson take the field.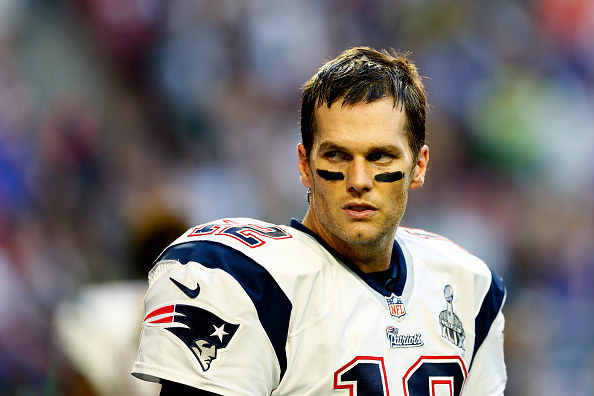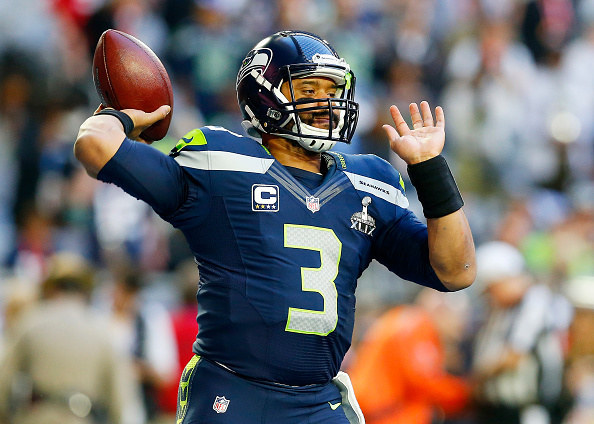 The Super Bowl game balls will be on lockdown until 10 minutes before game-time, according to NBC Sports live broadcast.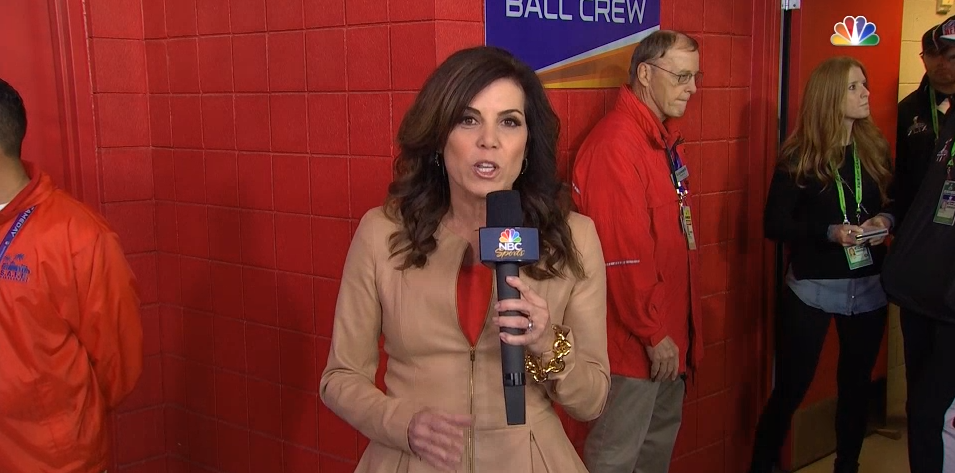 It was also stated that more game balls will be used in rotation than normal, due to many of the footballs being later donated to various groups and charities to auction off. Each of the game balls has a computer chip inside to authenticate it was used during Super Bowl XLXI.