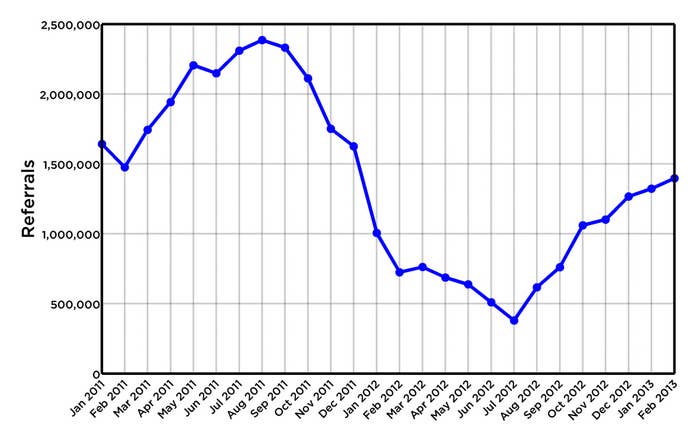 Over the past 12 months, referral traffic from Digg to online publishers has grown by 93%, with the former link giant clawing its way back to prominence after its sale to Betaworks for $500,000 in July of last year.
As BuzzFeed reported earlier, the new Digg bears little resemblance to the old Digg in that there's less user participation and more reliance on editors to find and promote stories. But for publishers, Digg may once again be on a path to reclaim a place at the table as a vital source of traffic. According to BuzzFeed's Social Intelligence Report, which tracks referral data from the BuzzFeed Network, a collection of sites that accounts for 300 million monthly unique users from over 200 publications including The Huffington Post, Daily Mail, NewsweekDailyBeast, Time, Sports Illustrated, UsWeekly, etc., Digg sent 1.4 million referrals to publishers in February 2013, compared with 75,000 referrals in February 2012.
While Digg remains behind both StumbleUpon and Fark, which sent between 2 and 3 million referrals to publishers in February, it's growing while these platforms are not. And to put the referral numbers in additional context, Digg is now on par with Tumblr, a platform with more than 100 million users, in terms of referral traffic. Tumblr sent 1.3 million referrals to network publishers in February.
What remains unclear is what role a human hand, versus an algorithm, is playing in deciding Digg's story recommendations. Only a handful of Digg's top-referred stories were among the top-shared stories in the BuzzFeed network. Traditionally, algorithms determining popular stories look at the open APIs from Facebook, Twitter, and other sites to determine which stories are being widely shared. BuzzFeed's algorithm also takes into account data we collect from our partners in the BuzzFeed Partner Network, which includes referral traffic from other publishers. The list of top stories from Digg, however, reflected a clear editorial sensibility; that is, stories seemed to be plucked from the internet by editors for their quirkiness (e.g., a story from Greatist.com on the nutritional content of semen) rather than their high sharing rates, referral traffic, or rate of growth. This opens the door for publishers to pitch Digg on stories that they feel deserve a second chance — the site can serve as a sort of secondary, but limited, front page for publishers.
What remains to be seen is if Digg will continue to grow referral traffic to publishers past its first year — and whether it will continue its editorial emphasis or begin to include more user-generated or algorithmically selected content.