As Hurricane Irma's projected path lead to mandatory evacuations on both of Florida's coasts, last-minute travelers had few options as hotels and shelters filled to the brim.
Vanessa Faraj, a Decatur, Ga. resident, thought she could offer a solution. She started a Google form called "Atlanta Solidarity Housing" to connect people evacuating Florida and Atlanta-area residents with space to spare.
Photojournalist Maura Friedman met some of these families throughout the suburbs of Atlanta and documented the experience for both the hosts and evacuees.
Alpharetta, Georgia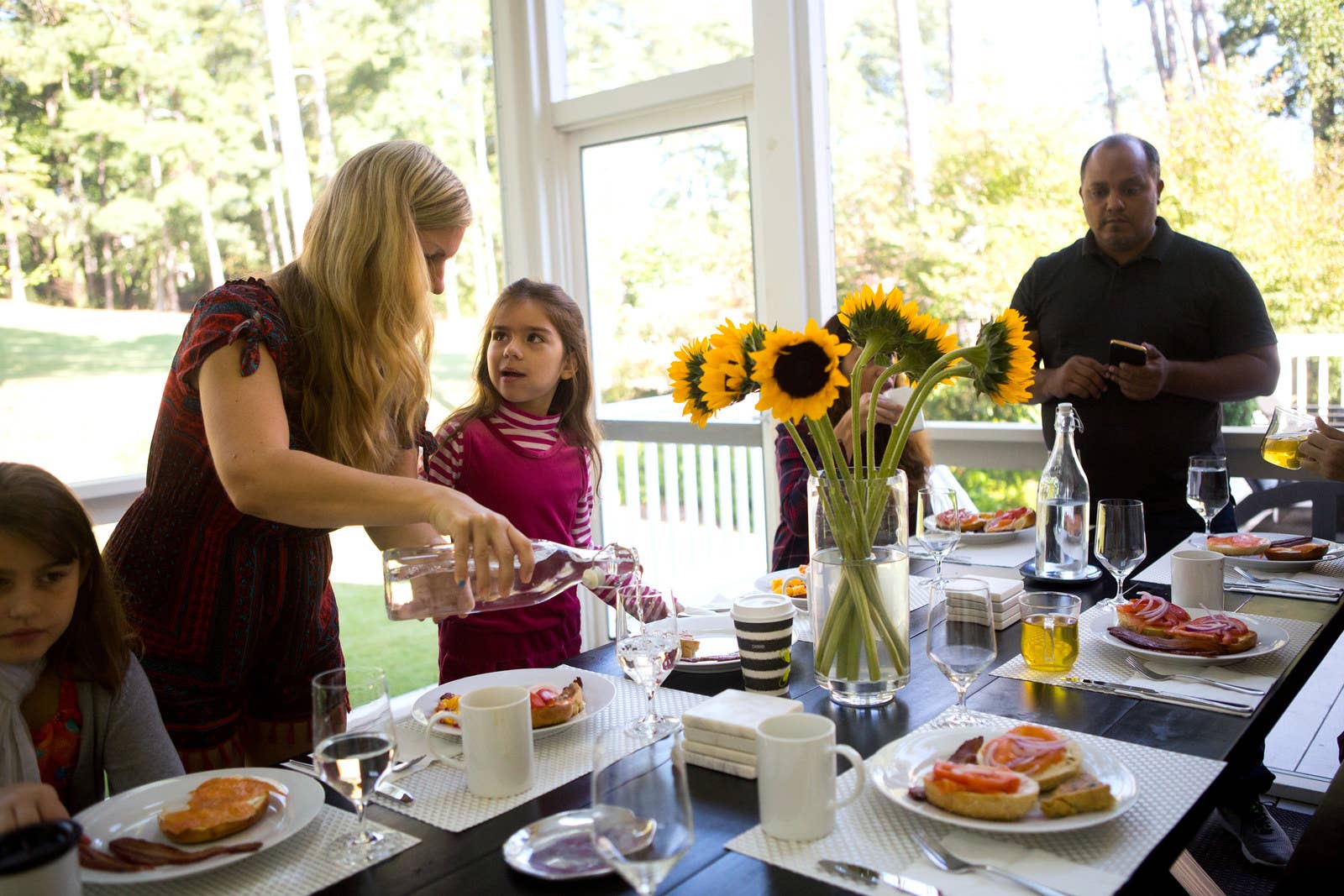 At first, the Murvartian-Rhim family thought their Hurricane Irma evacuee would be a relative. But when Michael Murvartian-Rhim's sister decided against leaving her home, the family decided to keep their home available.

"Mom was like, 'I think we should still take people in,' " said Claudia Murvartian-Rhim, 13.
The family is a member of the Unitarian Universalist Congregation of Atlanta. Laura Murvartian-Rhim noticed the online form for evacuees while checking the church's website.
"I think it's in the that Latino culture that 'mi casa es su casa' is so true," Laura said.
After they submitted their information, the family got busy pulling out snacks and candy and making up beds. The kids consolidated into one bedroom, and Laura put up a clothing rack with hangers in the office, next to a daybed.
"What we want to convey is you're welcome here, we've been expecting you," Laura said.
Two families ended up at their home, for a total of twelve people under one roof.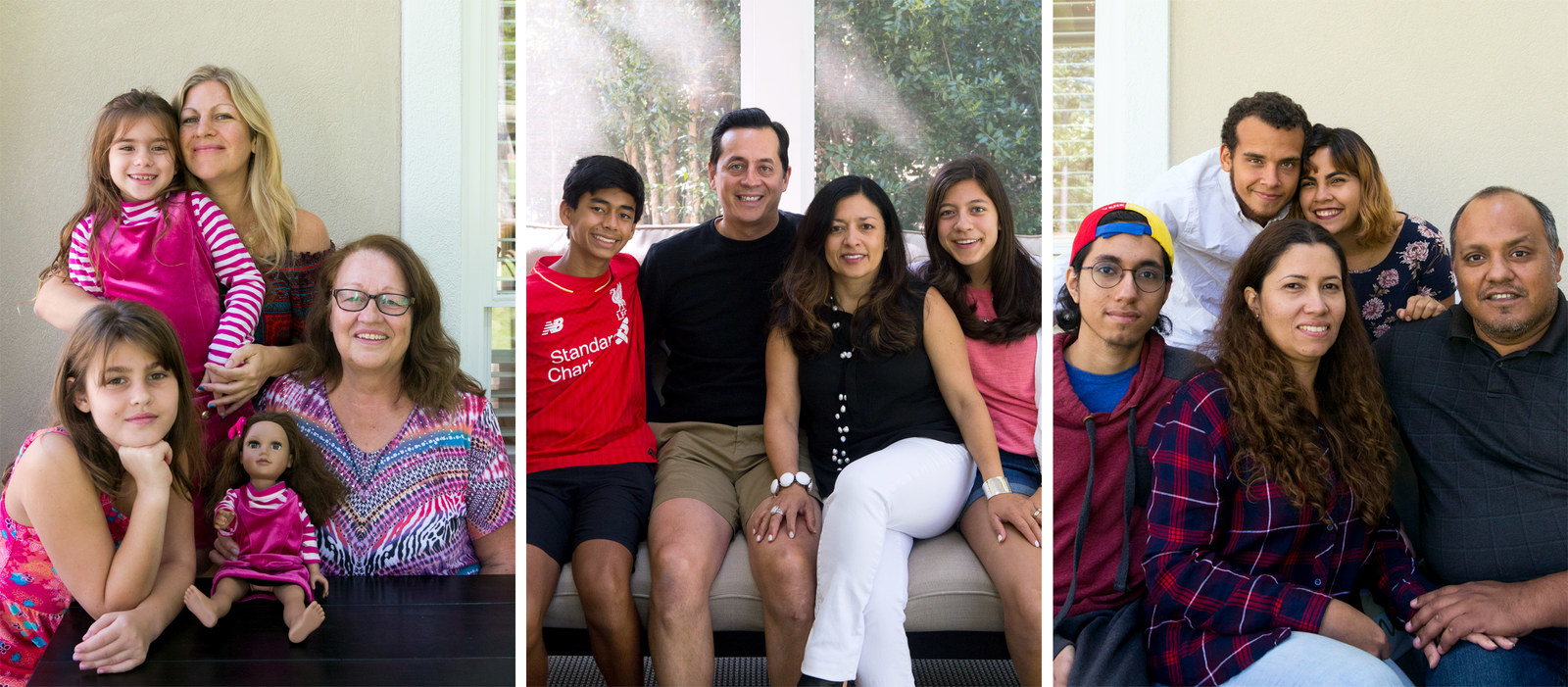 The first to arrive was the Velasquez family, from Palmetto Bay, Florida. Their town was one of the first areas ordered to have a mandatory evacuation, and all the hotels were filled. Daniel Velasquez googled "Georgia shelters" and found the sign-up form, and he was skeptical at first, as was the rest of the family.
"It sounded a little weird, but we didn't have any other options," said his daughter, Diana Velasquez.
The family left Thursday at 2 p.m. and got into Atlanta late Friday, a journey that took 32 hours — with only two breaks to sleep.
"You don't ask any questions, I just knew it was a family of five coming," Laura said.
That they ended up at a home with Spanish speakers was a happy coincidence. The Velasquez family constantly check their phones, looking for text updates from family who stayed behind in Florida and watching Instagram videos of the ongoing storm in the Miami area.
"We're really thankful," Diana said. "They're being so nice, and so familiar with us."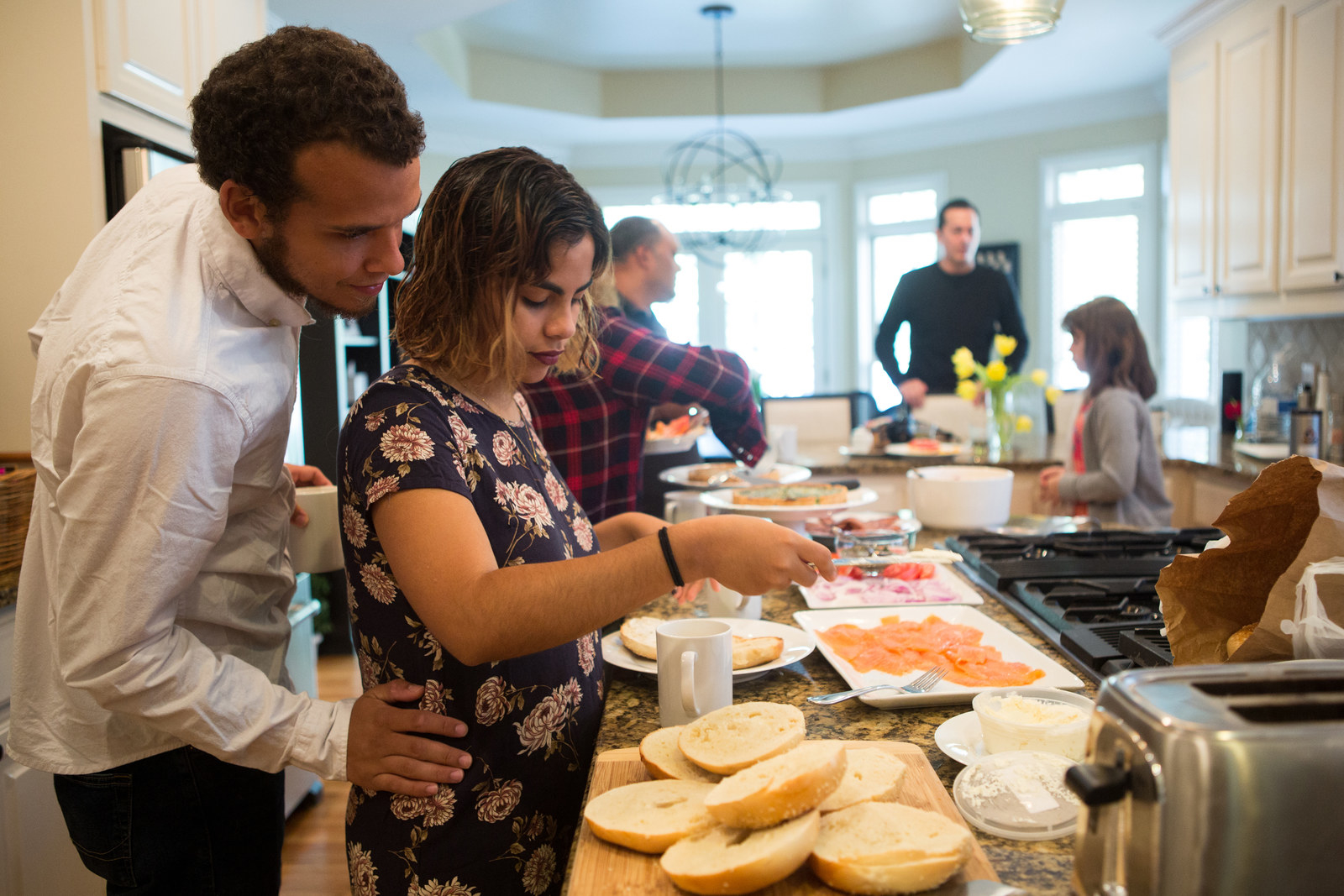 The Greene-Wilke family debated evacuating, but by Thursday night the forecast put Orlando in the direct path of the storm. All the AirBnBs and hotels Amy Greene-Wilke had previously researched were booked, so she thought they'd missed their window to evacuate. At 1 a.m., Amy, a member of a Universalist congregation, decided to see if congregations in Atlanta were hosting anyone. The search brought her to the sign-up sheet.
"I didn't even know for sure that we'd have a place to stay, so I had to have faith that somebody would put us up," she said.
The family started driving at 7 a.m. Friday, without any confirmation on housing, but no where else to go. On the way, they were paired with the Murvartian-Rhim family.
"I was shocked," said Peggy Greene, Amy's 70-year-old mother. "This is something I've never done in my life, is stay with strangers."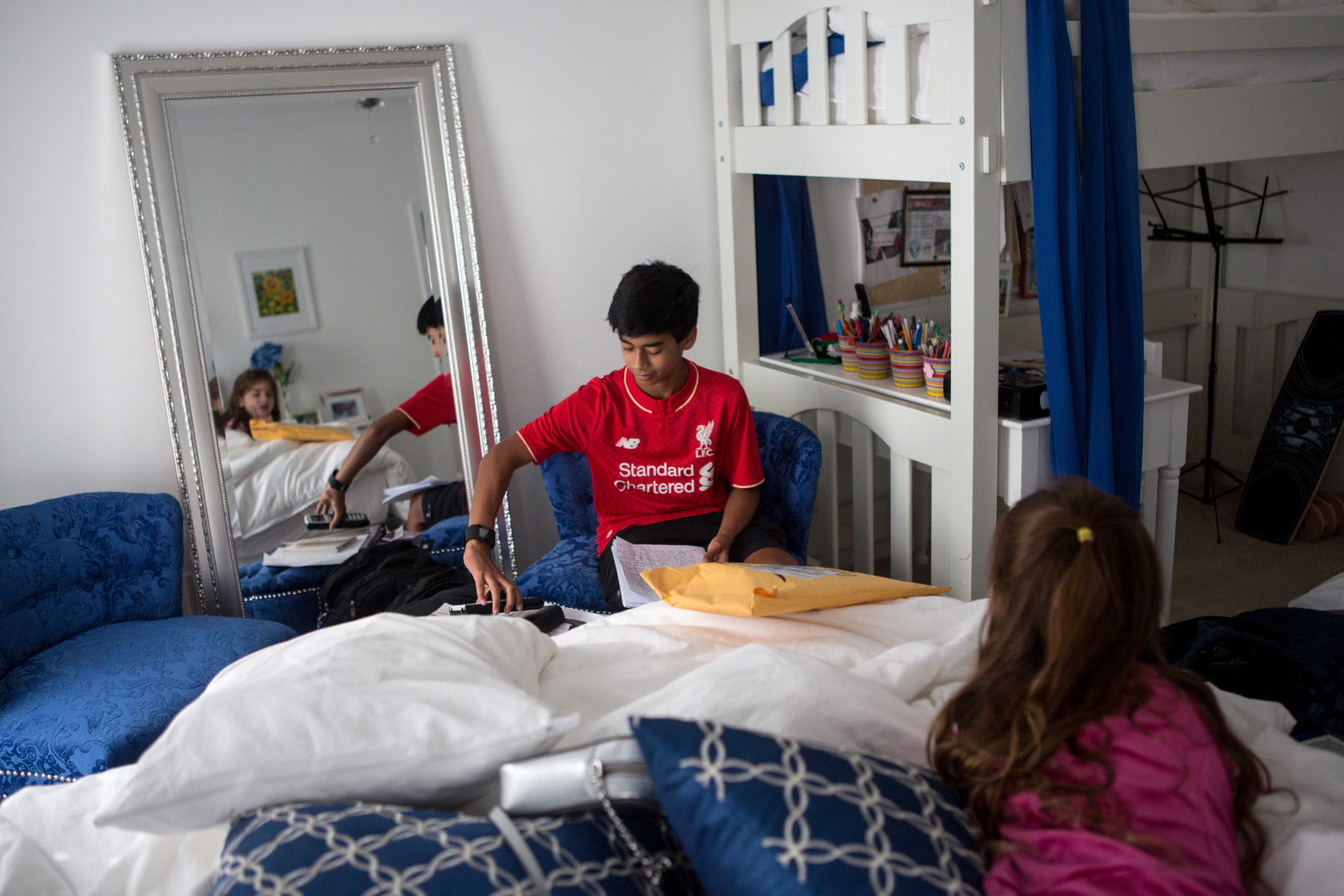 There was some trepidation, as they had no idea the type of house or neighborhood they'd land in. "[But] the minute I walked in the door, I knew," Peggy said, tearing up. "These are wonderful people with a good heart opening their home to people they don't know."
The Murvartian-Rhim family had asked them to call an hour before they were due to arrive at the house, no matter the time. When the minivan pulled up at 6:30 a.m., Michael had a homemade soup ready on the stove and helped bring all their belongings into the house.
"To me it's like a youth hostel, kind of but like a grown up version where you're just meeting other people from other countries and different backgrounds and I think it's awesome," Amy Greene-Wilke said.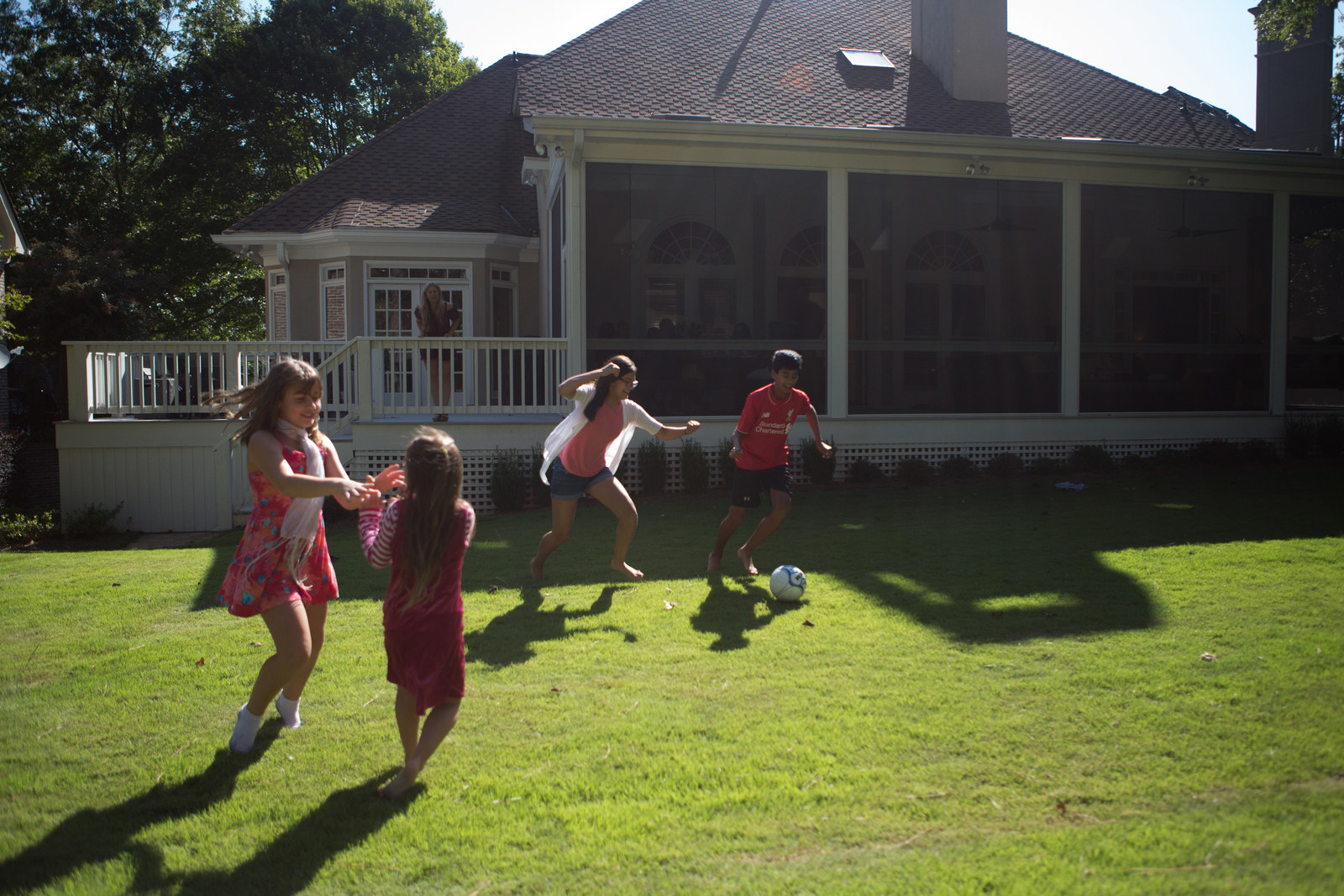 The three families have created a natural bond — the kids sharing their love of Hamilton, the moms sharing their universalist beliefs and fondness for art.
"We never discussed how long people would be here," Laura said. "We don't know what condition their homes will be in or what the area will be like … Everyone is welcome to stay as long as they need."
Marietta, Georgia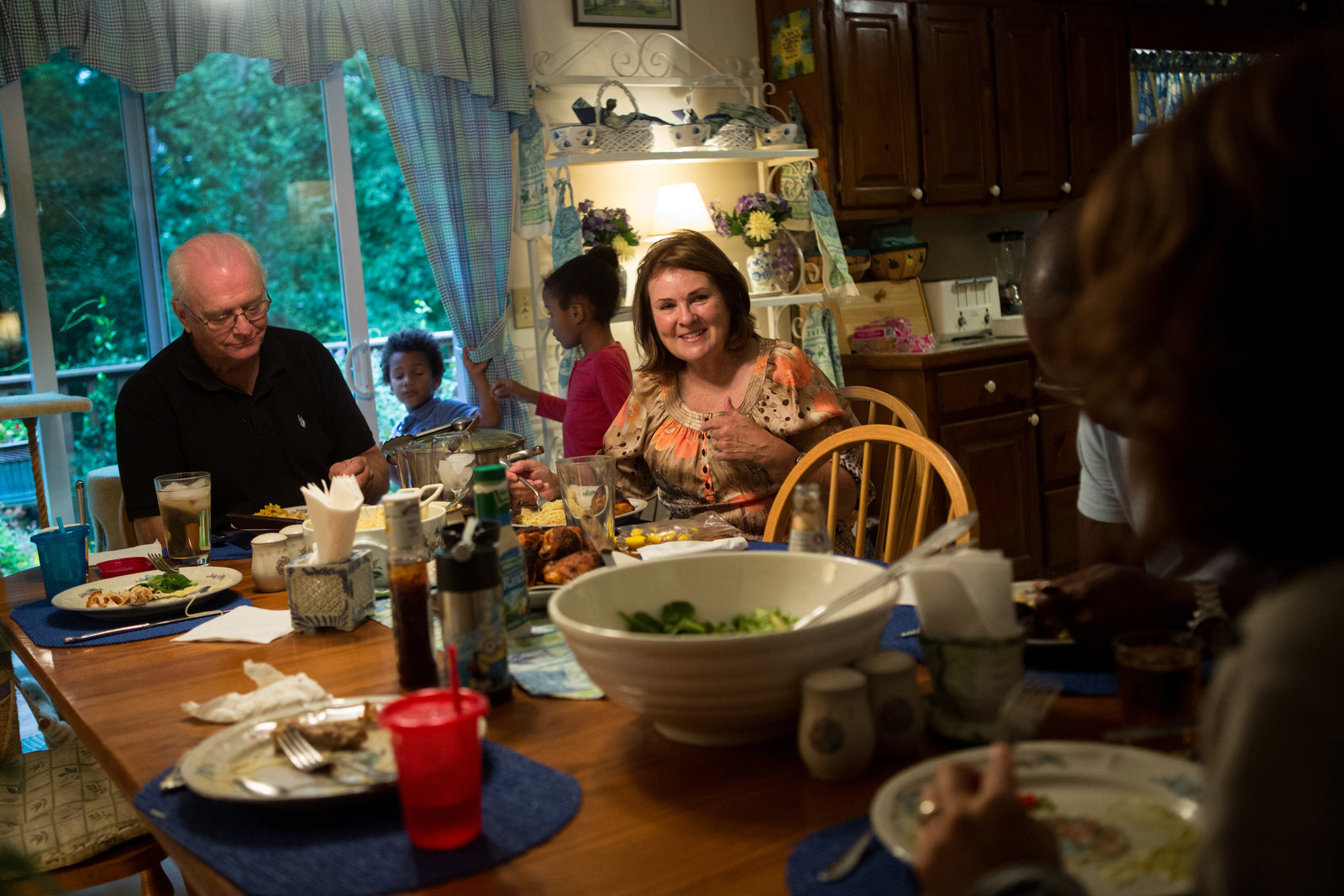 Moira French was watching news coverage of the Hurricane Irma evacuation when she decided to get involved.
"I looked and I saw all this traffic," Moira said. "And I said if God is really concerned about all of these people, then he's looking for people who'd be willing to host. And if he's looking for people who would be willing to host, that's me."
It was around 11 a.m. on Friday when she came across Vanessa Faraj's name in a news article. Moira turned to the White Pages, finding only one entry for 'Faraj' – Vanessa's mother, who put the two in contact.
A little while later, Jerry, her husband, mentioned to his wife that a co-worker was taking in evacuees and that he thought they should do the same.
"And I said, 'honey, guess what? As a matter of fact, we are taking in someone," said Moira. "We're taking in a family with two children and three dogs and they'll be with us tomorrow."
Neither was ever nervous about welcoming strangers into their homes. "The people coming were just friends we've never met before," Moira said.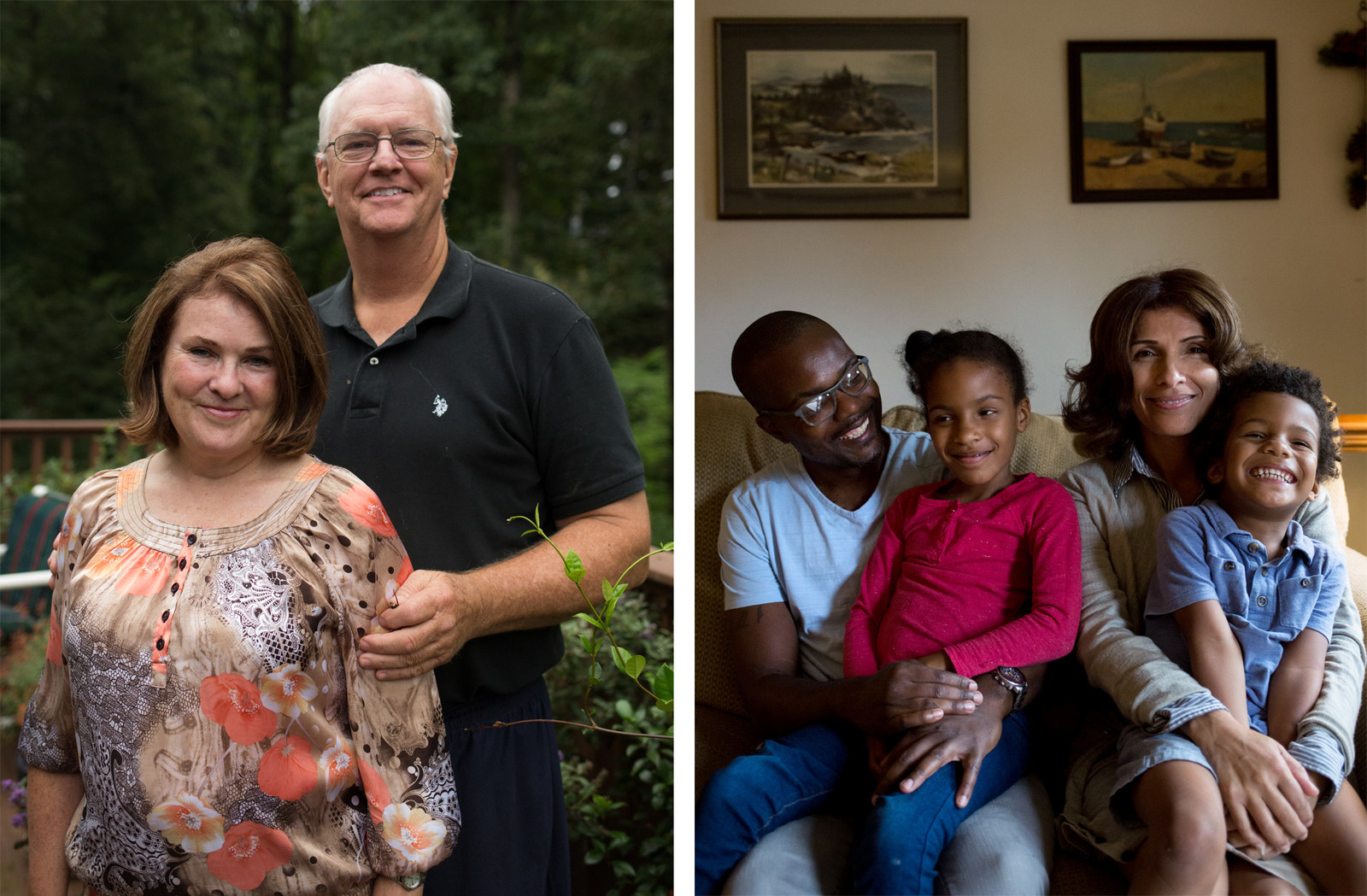 The Powell family left Ft. Lauderdale on Thursday with only the first night of their evacuation planned – a cabin reservation at Roosevelt State Park. The highways out of town were at almost a standstill, turning their eight-hour drive into a sixteen-hour journey. But that was just the beginning of their travel problems.
The cabins were booked out for every day after their reservation and, with the hurricane shifting, that park was now on the path of the storm. Jerome made call after call to hotels, but every space was either booked or couldn't accommodate their three dogs.
Jerome's sister told the couple about the sign-up form. Around the same time that the French family called to offer up their home, Jerome was put in contact with Vanessa Faraj. She called him back five minutes after their initial conversation and said "I've got a place for you."

Jerome was a little nervous, but his wife, Rowena, never doubted the set up.
"People who would open their house for us, they must be good people," Rowena said. "Especially taking us in with three dogs when everyone else had declined."
Siena Powell, 7, says the two things she's always wanted were a rocking horse and a bunkbed – she now has both in her and her brother's room at the French family's home.
"I told both of them they could only take one toy, just something that was most important to them," Rowena said of preparing her kids to evacuate. "That was quite hard."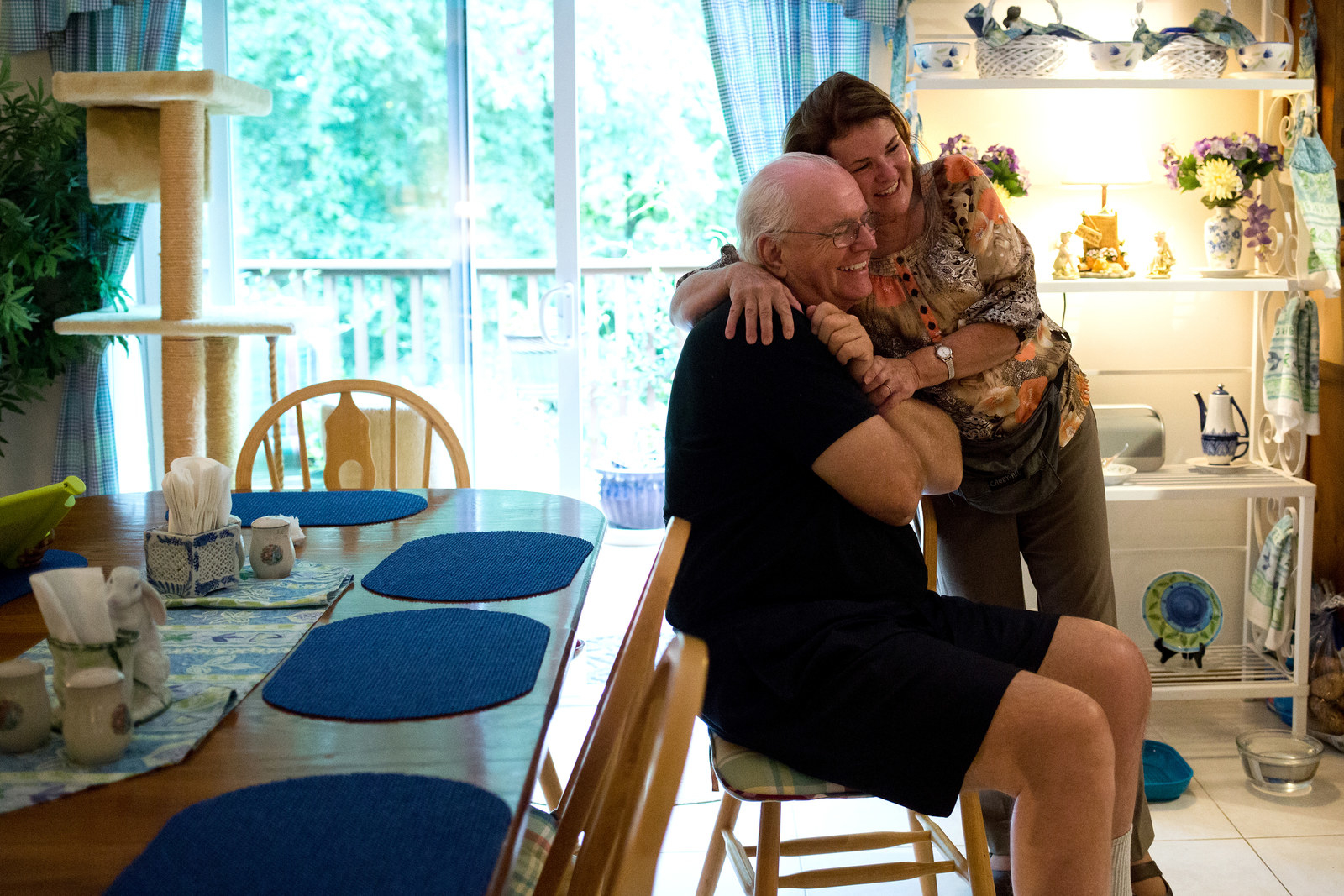 So far the families have eaten dinners together and gone to church together. Rowena even refers to her hosts as 'Aunt Moira' and 'Uncle Jerry' when talking to her children.
"You guys are doing just an excellent deed," Jerome said. "We called so many places…you live and you learn. Next Irma, as soon as I hear something, I'll book a place."
"Next Irma, you're coming here," Moira said.
Lilburn, Georgia
Marnie Bell-Ferguson posted on Facebook that she was willing to take in evacuees, but everything started rolling when Vanessa Faraj tagged her in a Facebook status with the Google form.
"We don't have a lot of disposable income to throw money out to different organizations, but we have a lot of space," Marnie said. "We can provide a safe and loving environment." Using some donated cash from a neighbor, the Fergusons stocked their refrigerator in anticipation of their incoming guests.
The decision to leave Miami was hard for Kathy Bird. She's worked hard for the life she's built and the home she owns, but she remembered living through Hurricane Andrew and didn't want to put her children through that kind of trauma.
"The sound of the wind is absolutely terrifying, it's like a howl," Kathy said. "I was like, I'd rather walk away from the house…if something's going to happen to it, me staying in it is not going to protect it from the hurricane."
When she drove her family out of Miami, Kathy had a plan to stay with a friend in Tampa for just one night. But with the Hurricane moving that direction, she wanted to head further north. A friend of Kathy's had posted the housing form on Facebook, and so she filled it out.
"People don't have family everywhere, our options were very limited," Kathy said. "I can't pay an indefinite number of nights in a hotel – five hundred, six hundred dollars, I can't do that right now."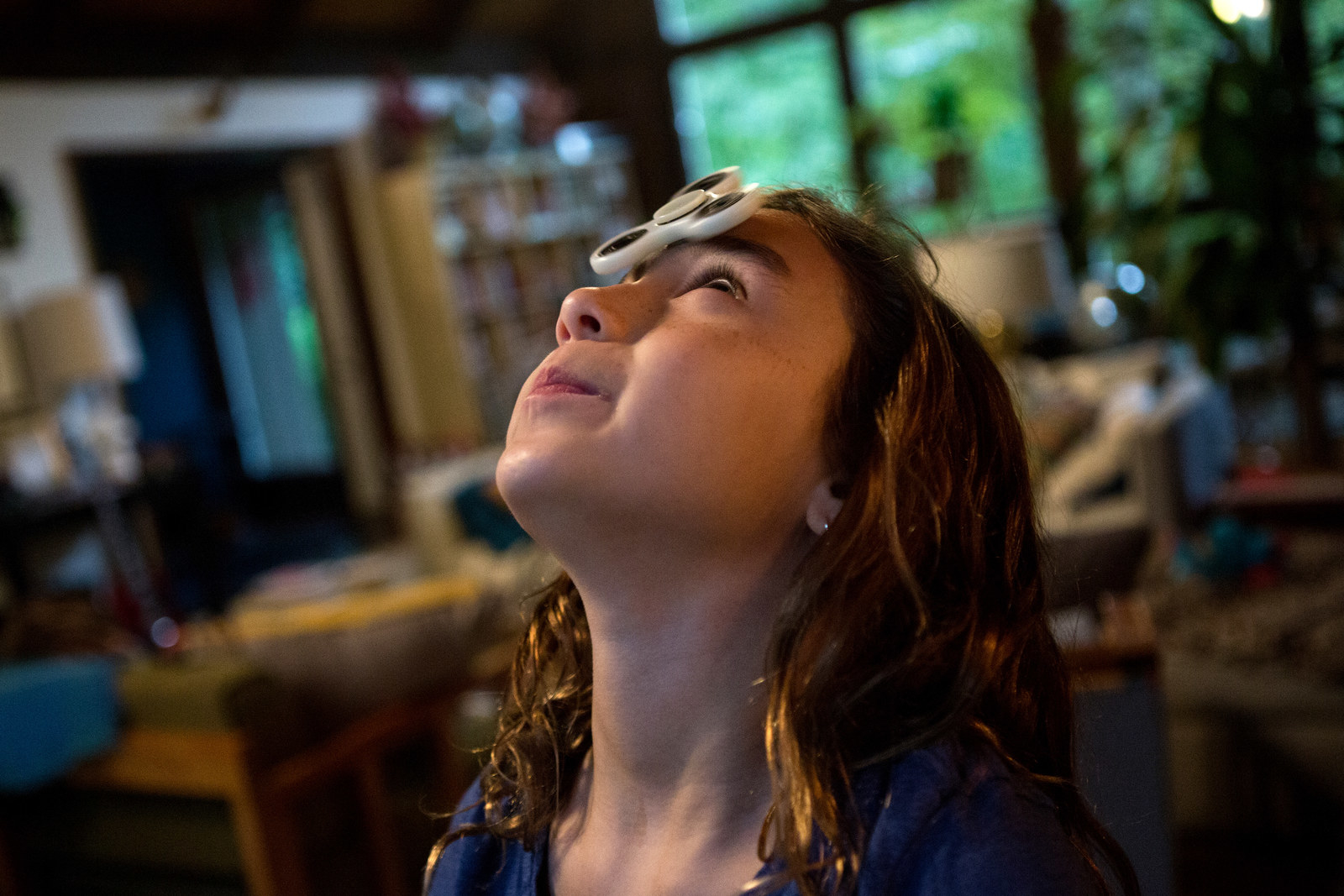 For the time being, the Ferguson home has become their refuge. The kids have become fast friends, and the day-to-day has taken on a comfortable pace.
"Being able to wake up in a place that you know is safe…for all of us to be together, to be able to have a hot cup of coffee and make breakfast yourself – they're all these little things that you would maybe take for granted day to day, but being in this situation, it's a luxury," Kathy said.
"It's been an amazing experience, I'm really grateful to the folks who organized this in Atlanta," Kathy continued. "When we get back to Florida, we're going to figure out how we can help others and how we can give back."