58 Great Books To Read This Summer, Recommended By Our Favorite Indie Booksellers
Featuring unputdownable thrillers, underrated books in translation, dystopian fiction, piercing criticism, and so much more — this list has something for everyone.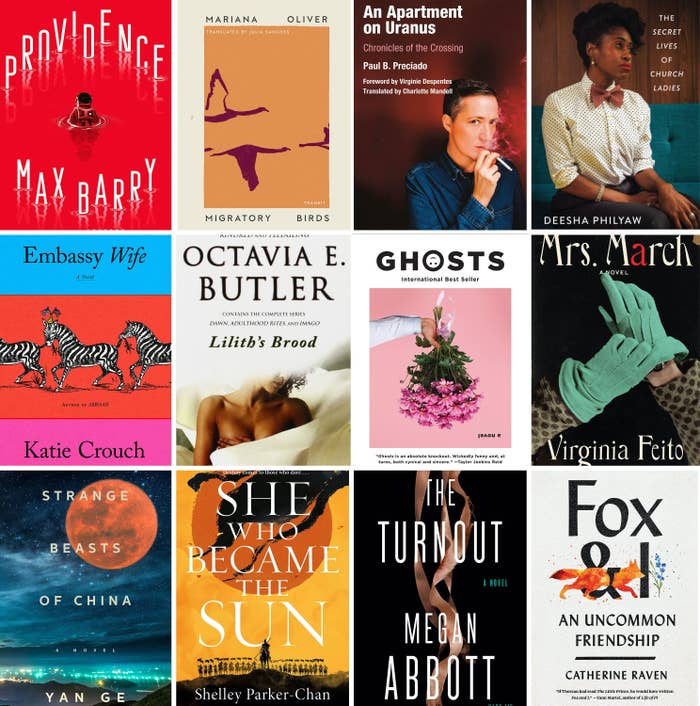 "Max Barry has long been one of my favorite authors. He takes issues in society and tends to blow them up to ridiculous proportions. This is his take on the military-industrial complex. There's alien contact, a questionable AI, and ninja stars. What could possibly go wrong?" —Melissa Taylor; E. Shaver, Booksellers (Get your copy.)
Migratory Birds by Mariana Oliver, translated by Julia Sanches
"A subtle collection of essays that surprise with their supple brilliance. Oliver meditates on migration and its many forms, drifting from subjects like the Berlin Wall to underground cities, investigating history, displacement, and our own human nature." —Mark, Brazos Bookstore (Get your copy.)
"Utterly radical and breathtakingly beautiful, this book collects five years of Preciado's bimonthly column for the Libération newspaper, a period of time during which Preciado transformed from Beatrice to Paul B. Though this book is in no small way a document of that gender transition, it is also a swift and revolutionary reflection on politics, art, technology, and more, from one of the most keen and inspired thinkers of our time. As complex as many of the topics are, the precision and poetic spirit of the writing, and the brevity of each individual piece — each column being approximately 1,500 words — make this a firecracker of a book, something like watching a wrestling match between language and reality." —Mark Trecka, Binnacle Books (Get your copy.)
"Each story in this collection will grab your heart in a different way. They are tough, tender, and fun. Perfect summer reading!" —Sydne Conant, A Room of One's Own (Get your copy.)
(Read a story from the collection here.)
"Embassy Wife already stands out as a smart, observant social novel about smart Southern women — the type of women who grew up in Charleston and Virginia in the '80s and 'share a complex lexicon of Laura Ashley, white guilt, Dave Matthews ... and the kind of sex that happens in a car during a church picnic' — but its Namibian setting makes it truly unique. The author spent two years there and her insight shines without looking like someone trying to show off research. It almost reads like a Namibian mash-up of Gatsby: Ivy League athletes, car crashes, smuggling, a much-too-late quest for lost love, and lots of drinking. Crouch sets the wheels in motion and all the elements come hurtling together like a minibus coming at you in the passing lane. Plus, there's a big plot surprise I did not see coming at all." —Jonathan Sanchez, Blue Bicycle Books (Get your copy.)
"After humanity has destroyed Earth, they are rescued by an alien civilization, the Oankali. For Lilith Iyapo, survival means working with these mysterious, otherworldly beings. However, can she live with the sacrifice she must make to create a future for her children? This June, Octavia E Butler would have celebrated her 74th birthday. There is no better way to celebrate by revisiting one of her most imaginative works. Themes of power, gender and ethnic identity, and evolution are salient in this series." —Isis Asare, Sistah Scifi (Get your copy.)
Ghosts by Dolly Alderton
"I've been obsessed with Dolly Alderton ever since she was the dating columnist for UK's the Sunday Times (2015–2017). I was an avid listener to The High Low podcast — if you haven't heard of it before I beg you to take a listen — and I read her Dear Dolly column in The Sunday Times religiously. Needless to say, I'm a fan. But I didn't think it was possible to love her anymore than I already do until I read Ghosts. The novel is about the perennially single Nina who meets a seemingly perfect man, Max, on a dating app who disappears after he says, 'I love you.' In the midst of it all is her father's failing health and dementia, her mother's inability to cope, and a crumbling friendship. Ghosts is sharp, witty, insightful, and incredibly tender. Alderton is a keen observer of human behavior and daringly tells a story of how we love and the lengths we go to to hold onto love. Your heart will break and you'll laugh out loud." —Michelle Malonzo, Changing Hands Bookstore (Get your copy.)
"This book had me from the first page! Virginia Feito's debut novel is a chilling tale of a woman obsessed with perfection and what others think. Being married to bestselling author George March, she's involved in the New York literary world, requiring parties and socializing. When Mrs. March finds an article about a missing girl in her husband's study, it sends her on a search for the perpetrator and spirals out of control. It keeps you guessing until the end." —Sherri Gallentine, Vroman's Bookstore (Get your copy.)
"An amateur cryptozoologist spends her days identifying and cataloging the strange beasts in her city of Yong'an. These beasts live alongside the city's human denizens, identifiable in their peaceable camouflage only by the subtlest physical signs: a strange birthmark, a serrated ear, a patch of scales. As she progresses in her work, our protagonist becomes drawn into a deeper mystery that entwines her in unexpectedly personal ways as her sense of self begins to waver. This book has some of the dreamlike architecture of Can Xue's work, and the metaphysical specificity of Borges'. It's a tender and hypnotic read." —Harvard Book Store (Get your copy.)
"I picked this book up, honestly, because it was billed as a blend of Mulan and The Song of Achilles — and how happy I am to have read it! In 14th-century China, a village is starving to death beneath the iron fist of Mongol rule and ruthless warfare. Two children live alone with their father, having outlived the rest of their large family. Zhu Chongba, the last remaining son, is told by the village's fortune teller that he is destined for greatness, but when he succumbs to despair and death after his father is murdered, it is his sister who takes up the mantle — and his identity — in a desperate bid to not only survive, but to achieve the greatness promised to her brother. She enters into a monastery as a novice monk, keeping her true self a secret. But when her safe haven is destroyed, Zhu is thrust into the wide world and must depend on her ever-burning desire to survive no matter what. She Who Became the Sun is a thrilling and amazingly satisfying read." —Amanda, Tombolo Books (Get your copy.)
"Megan Abbott has always been expert at diving into the darkest parts of women's souls, but The Turnout, her latest, is on a whole new level. While preparing for the season's performances of The Nutcracker, two sisters who run a ballet school run afoul of a dangerous contractor hired to fix their studio after a small fire. One falls for the contractor's dark sexual spell while the other succumbs to suspicions and doubts about her own marriage. Mirroring the shadowy underbelly of The Nutcracker — as well as the dark, sensual world of fairy tales — The Turnout is soon twisting and turning in unexpected ways as family secrets and lies come to light. Full of gasp-inducing plot twists and simmering with an uncomfortable sexuality, it's easily Abbott's best book, a work of fiction on par with the best of Patricia Highsmith or Shirley Jackson. I can't wait to recommend this one to customers!" —William D. Carl, An Unlikely Story (Get your copy.)
"This is the remarkable true story of a solitary woman, a misfit with a PhD in biology, who forms a friendship with a wild fox who begins appearing on her property every day at the same time. Remind you of anything? She begins to read to him from The Little Prince and forms a tenuous, four-year, life-transforming relationship. The descriptions of nature in this book are mesmerizing and this poignant and dramatic tale is sure to change how you view animals and the forces of nature." —Mitchell Kaplan, Books & Books (Get your copy.)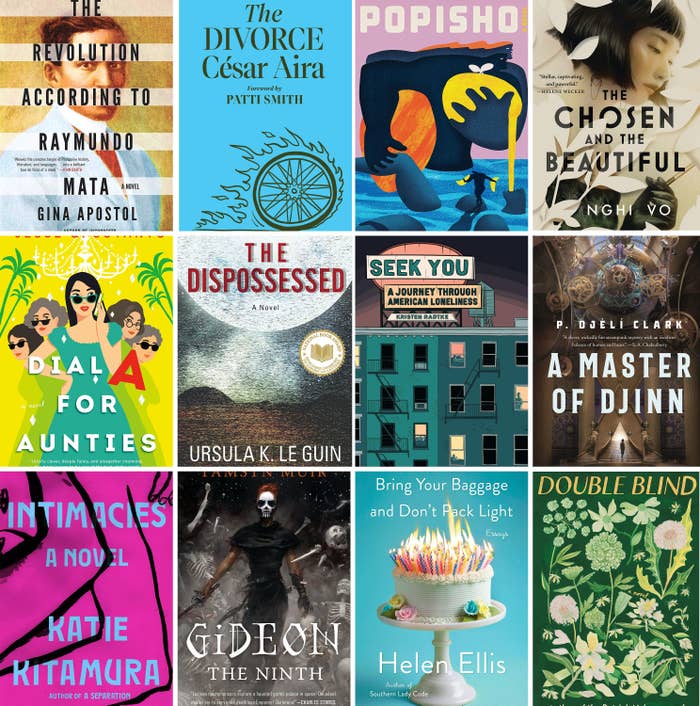 "The arrival of the Great Philippine Novel on what once was — and arguably still is — the shore of the Philippines' colonial master is not only cause for celebration but one more layer of historical irony for Apostol's exceptional and irreverent postmodern masterpiece, which buttresses what is ostensibly the diary of a Filipino revolutionary with a meta structure of academic repartee that showcases every weapon in the gifted Apostol's literary arsenal." — B.F., Politics & Prose (Get your copy.)

The Divorce by César Aira, translated by Chris Andrews
"A careening, off-kilter, and amiable journey into the singular world of Argentina's César Aira. I've said since the first time I read him that Aira's tiny books (this one clocks in a smidge under 100 pages) changed my beliefs in what books can and should do. The Divorce and the world created within it — more a collection of modern fairy tales than a novel — just adds to this conviction." —Justin Souther, Malaprop's Bookstore/Cafe (Get your copy.)

"Popisho is both full and filling. A perfect summer read, it is sumptuous, rich, and beautiful beyond imagination, and brims with all the joy, possibility, feeling, conflict, food, and magic that life could possibly hold. Leone Ross possesses a peerless originality, and in Popisho she has created a world like no other, a place I could spend a lifetime in — and a book I plan to return to for years to come, just to experience it all again. This is a splendiferous, bubbling, swelling thing, bursting with love and sex and surprise and metamorphosis. There are some difficult topics addressed — addiction, abuse, and more — but ultimately the story affirms life and love." —Anna Siftar, Oblong Books (Get your copy.)

"This story is told from the perspective of Jordan Baker, a queer Vietnamese woman, and reimagines The Great Gatsby's New York into a dark fantasy full of lifelike paper magic, ephemeral elixirs, and deals with demons. Vo takes classic characters you think you know and gives them all a sinister sheen. She is a master at blurring the lines between fiction and reality until they seem nonexistent, making the magic feel grounded in the fabric of the story. Truly, this is one of the most well crafted novels I have ever read!" —Lindsay Howard, Books Are Magic (Get your copy.)
"What do you do when you accidentally kill your blind date in self-defense? Call your mom and aunties, of course! Queue the comedy, romance, and mystery, because this book has it all. Meddy Chan needs to hide a body and photograph a wedding all while continually running into her ex-boyfriend... who is also still the man of her dreams. Only Meddy's family can help her get through this laugh-out-loud romp with Arsenic and Old Lace wit and humor." —Katie Fransen, The Novel Neighbor (Get your copy.)
"What you might first think of as an examination on the flaws of 'utopia' quietly becomes a picture of what life might look like without hierarchy, and a reminder that revolutions are never finished." —Bry, Brookline Booksmith (Get your copy.)

"Seek You resonated with me as a fascinating discourse by illustrator and writer Kristen Radtke about the loneliness so many of us have experienced 'together' during pandemic conditions. Her examination of loneliness in America began several years before COVID-19 impacted the globe, and includes sections exploring both an assortment of devices and platforms used for human communication, and also the array of internal and external attitudes and perceptions of what it means to be lonely, whether or not one is alone." —Maryelizabeth Yturralde, Creating Conversations Bookstore (Get your copy.)

"A Master of Djinn is a high octane mystery fantasy novel set against a steampunk background in 1912 Cairo that hooked me with an explosive opening scene and kept my interest with an intriguing mystery and a fully realized world full of terrifying djinn, imaginative contraptions, and badass characters. Clark is a master of writing fight scenes, and this novel is chock full of them. The characters feel so real, and the mystery unravels in an explosive way. This story will absolutely enthrall you from beginning to end. Come for the magic and mystery, stay for the epic battles." —Candice Huber, Tubby & Coo's Mid-City Bookshop (Search for your copy here.)

"Katie Kitamura dazzles us again with Intimacies. Her style is so perfectly suited to my taste that everything she writes impresses. Her ability to impart vivacious detail with sparse and direct prose is a testament to her talent, and the moments that she is able to create between characters and places are memorable and beautiful. This book has stuck with me for months now, and I think of it often in the small moments of intimacy I find in my life." —Matt Keliher, Subtext Bookstore (Get your copy.)
"What says 'beach read' better than lesbian necromancers in space? Gideon the Ninth is a delightfully weird adventure through the post-apocalypse, with a pitch-perfect blend of classical literary references and memes of Tumblr-days' past. I've read this book probably five or six times; I will absolutely be reading it again." —Alex Abraham, Brookline Booksmith (Get your copy.)
"What do you get when you cross an Alabama debutante with an Upper East Side socialite and a world class poker player? You get Helen Ellis' s new collection of essays, delivering home truths with an iron fist wrapped in a cashmere glove. Whether she's writing about the outrageousness of 'her kind of people' or why she needs to take the Greyhound for her trips to Atlantic City, you'll chuckle along on every page." —Emily Crowe, An Unlikely Story (Get your copy.)
"Edward St. Aubyn is best known as the author of the Patrick Melrose novels, which follow in acerbic, often disturbing detail the drug-addled journey of the titular protagonist to overcome the trauma of his childhood. Double Blind is also interested in trauma, but has a lighter touch, focusing on the intersection of science, nature, and emotion to explain how and why humans act the way they do. Fascinating, rich, and managing to balance dilettante interests while never losing focus, this is a smart summer read from one of Britain's most stimulating writers." —Griffin Reed, Subterranean Books (Get your copy.)

"In a corrupt empire where magic is powered by sacrifice, this revolutionary fantasy takes the phrase 'eat the rich' to its logical conclusion." —Kierston Frost, Brookline Booksmith (Get your copy.)

"A charming collection of essays built on questions about love and identity that Brammer uses as springboards into lucidly written anecdotes that flow with a graceful ease between being clever and caring. A book for the online queer trying to figure themselves out in an often unwelcoming world, it invites the reader into the tortilla factory, through the Oklahoma fields, and into mimosa-soaked Brooklyn apartments to find what it means to have a body that wants to love and be loved. This book was a comfort to me and is sure to be something I'll turn to the next time I feel lost, like a friend." —Luis Correa, Avid Bookshop (Get your copy.)

Just Us by Claudia Rankine
"It is important for books like Just Us by Claudia Rankine to be read and shared not only among BIPOC communities, but across book clubs and university campuses. These conversations need to be had by the same institutions who have perpetuated white supremacy models over decades and are just now recognizing the harm caused. We need more books like Just Us; we need more conversations like the one Rankine initiates on these pages. We need more of us to transform the current headlines into racial equity on and off the pages, websites, and public statements." —Sarah Rafael García, LibroMobile (Search for your copy here.)

"When he lands in London (the "Harare North" of the title) our unnamed protagonist carries nothing but a cardboard suitcase full of memories and an email address for his childhood friend Shingi. Finessing his way through immigration, he spends a few restless weeks as the very unwelcome guest in his cousin's home before tracking down Shingi in a squat. This shocking, powerful first novel is the story of a stranger in a strange land — one of the thousands of illegal Zimbabwean immigrants seeking a better life — with a past he is determined to hide." —Naledi Yaziyo, Rofhiwa Book Cafe (Get your copy.)

"Kinch Na Shannack is drowning in student loan debt for his education as a thief to the guild's school — not the fake school for suckers, of course, but the real one. Probably. He's behind on his payments (the interest is what will get you) and when he gets a job for the guild, the only acceptable answer is yes. This puts him on an epic quest with phenomenal world-building and so many jokes that don't ever feel forced. This book is a wild journey and hilarious. It's one of the best fantasy books I've read in years!" —Kate Larson, Ballast Book Company (Get your copy.)

The Plot by Jean Hanff Korelitz
"Stephen King is correct in his blurb when he says this is 'extremely readable.' I picked this up on a whim over a weekend and was dying to finish it by the time Monday rolled around. Failed writer Jacob Finch Bonner finds himself helming an MFA program full of overconfident novices believing themselves to be Donna Tartts and John Grishams in the making. But when one of them presents a plot that Jake has to admit will bring anyone notoriety, it haunts him — especially when the student dies suddenly, leaving his brilliant plot without an author. Jake goes from a no-name to an instant success when he takes the plot for himself, enjoying the perks along the way. That is, until anonymous emails and tweets flood in, accusing him of plagiarism, and bringing his worst fears to life. Interspersed with excerpts of his stolen novel, this book moves incredibly fast and will keep you glued to the page until the very end!" —Abby Bennsky, Old Town Books (Get your copy.)

Switch by A.S. King
"Time has stopped in Printz Award-winning author A.S. King's new surrealist sci-fi YA novel Switch. When all the adults proceed as normal but leave it to kids to fix the problem, teens like Truda face new developments of their own. Meanwhile, Truda's dad obsesses over a mysterious switch in their house he protects with hundreds of boxes. It's up to Truda to determine just what went wrong with the world and her family, and how she can make it right again. King miraculously blends the
sharp, astute precision of a poet with all the humor of Kurt Vonnegut. I cracked up and cried in equal measure. All in all, Switch provides a moving commentary on humanity's struggle for kindness in the race against time. Truda reminds us that even the average person — well, superhuman javelin throwing capabilities aside — can completely change the world." —Megan Pinckard, Brookline Booksmith (Get your copy.)
The Summer Book by Tove Jansson, translated by Thomas Teal
"This collection of interwoven tales about a girl's vacation at her grandmother's island home is as strange and lovely as Jansson's illustrations. The perfect book to help you soak up everything summer has to offer!" —Devon Dunn, Book Culture (Get your copy.)
"A dark, funny, weird, and intimate portrait of adolescence, this is not your typical coming-of-age story: Even if you think you've read every "two teens with seemingly nothing in common become friends" novel, this original, twisty, and addicting book will defy your expectations. Full to the brim with some of the most embarrassing things you'd never say out loud but feel almost creepily relatable, The Knockout Queen is one of the truest and wildest rides, captivating at every turn, moving and personal in every way, from a ridiculously gifted writer. Fiery hot and the perfect salty summer read!" —Emily Tarr, Thank You Books (Get your copy.)

"Akwaeke Emezi is pure magic. Dear Senthuran is a song, an adventure, a wound, and a balm all in one. This is their first memoir, proving that they are a master of every genre they write. The book covers so much territory, from the painful to the ecstatic. Told through a series of letters, the memoir gives us insight to Emezi's relationships with humans, body, spirit, life and death, writing, and power. Akwaeke's ability and willingness to bare their soul is a treasure that we don't deserve." —Mara Kalinoski, BookBar Denver (Get your copy.)
"Mia McKenzie is back with her second novel Skye Falling. When we meet Skye, she is returning from her gig traveling around the world. She comes home to West Philly, for what she thinks will be another brief stay between trips. Known for climbing out bathroom windows to escape difficult situations, Skye becomes more grounded as she expands her notion of family and reconnects with memories of her childhood. This endearing and hilarious book is an ode to chosen family, soft Philly pretzels, and the people who make us feel at home." —H. Melt, Women & Children First (Get your copy.)
"Certain authors are gifted with the ability to create atmospheres that stick in your brain, and stories that feel like dreams you just woke up from but can't shake off. Novik is one of those authors. Her new Scholomance series is a fun but dark, edgy, gritty, creepy-crawly take on a teen school of magic. Bonus: Proceeds from the sale of this book do not benefit a transphobe." —Maddie Collins, Harvard Book Store (Get your copy.)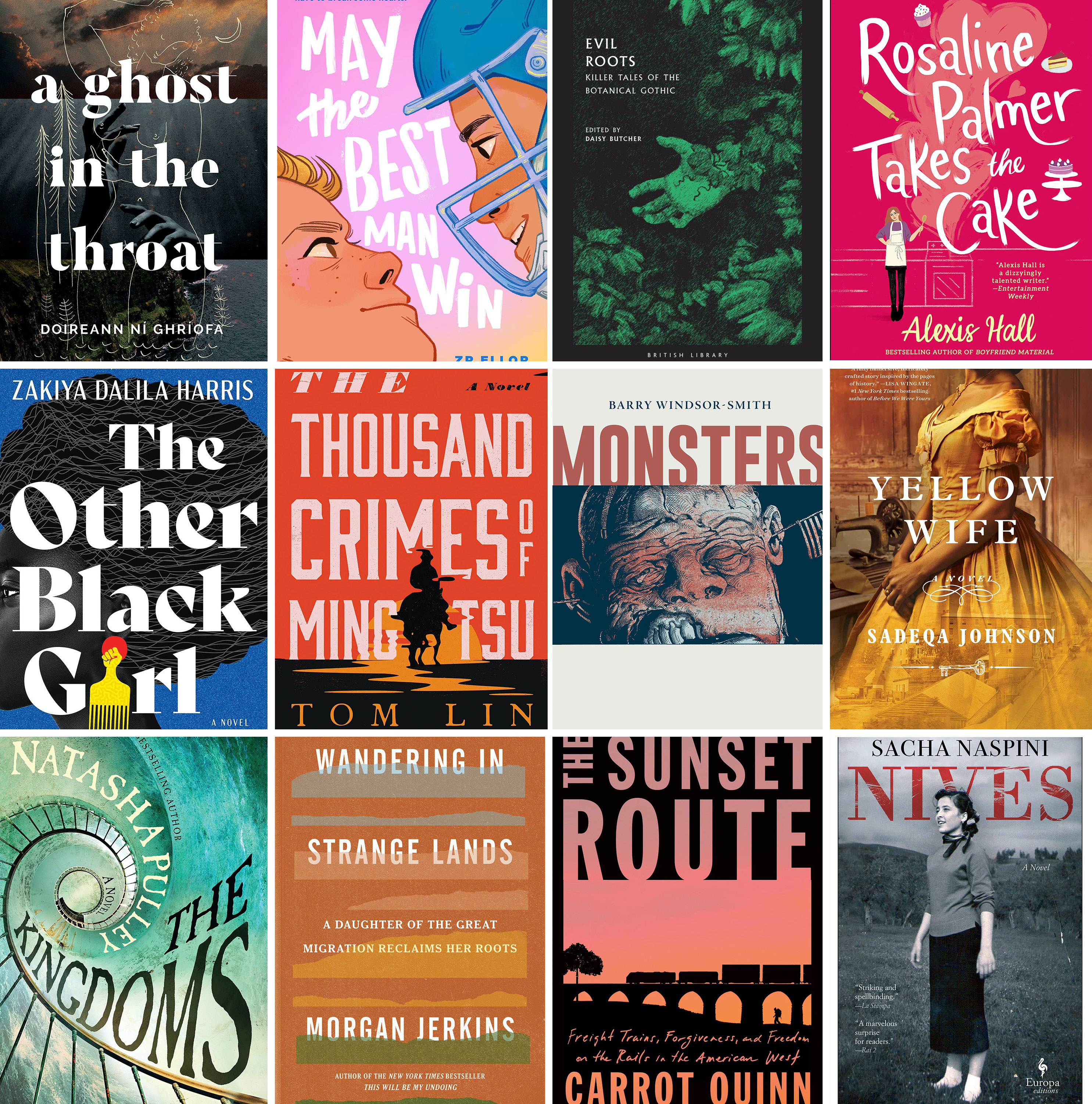 "Many writers have used classic literary works as a lens for examining their own lives, but none have ever given me the visceral thrill that Doireann Ní Ghríofa has. She doesn't meditate on a mysterious 18th-century Irish lament; she wrestles with it, turning it over and over to reveal myriad intimate connections to modern motherhood and marriage. To read A Ghost in the Throat is to hold in your hands a living, beating heart." —James Crossley, Madison Books (Search for your copy here.)

"Jeremy Harkiss is determined to start his senior year off with a bang — after all, this is the first time he's presenting his authentic and unapologetic self to the world. When he (very publicly) broke up with Lukas that past summer, everyone still thought Jeremy was a girl. Despite the heartbreak Lukas still nurses from their failed relationship, he's taking Jeremy's transition in stride, on top of mourning the death of his older brother and their complicated history. Now the boys are going head-to-head in a war for the Homecoming King crown — and they're not afraid to make waves in the school's population while they duel. You could even say there's still romantic tension beneath their intense rivalry. May the Best Man Win has everything I could ask for: genuine character, emotional depth, and thought-provoking discussions on what it means to be masculine. Last but not least, it's a love story that's messy, vulnerable, and so beautifully real." —Andrew King, Secret Garden Bookshop (Get your copy.)

"Who doesn't love to sit in their garden with a glass of iced tea and read captivating stories during these summer months? STOP! I am here to save your life: Those plush lawns, lovely flowers, and lush vines are actually plotting your demise. Don't believe me — secure a copy of Evil Roots: Tales of the Botanical Gothic. The aptly named Daisy Butcher has collected 14 classic vegetation-horror tales wherein the plant kingdom seeks retribution on those who wander unwary along the garden path. Favorites include the M.R. James chiller 'The Ash Tree', William Hope Hodgson's disturbing botanical body horror 'The Voice in the Night', and Emma Vane's 'The Moaning Lily,' a lurid and weirdly erotic rediscovery. Stay safe, stay inside, leave nature to the doomed." —Dan Doody, University Book Store (Get your copy.)
"Think The Great British Bake-Off with a queer rom-com glow up! My perfect week consisted of reading this lighthearted masterpiece and watching the show intermittently — totally recommend. A young, struggling mother hopes participating in a TV baking competition might be the key to a new path for her future. Little does she know, the bake-off won't just bring more delicious dessert to her life — it stirs up more drama and romance.
"Author Alexis Hall never ceases to amaze me: Boyfriend Material was my favorite 2020 romance, but this one seriously 'takes the cake.'" —Jacqueline Izzo, Books Are Magic (Get your copy.)
"I love The Other Black Girl for so many reasons: the exposé of the publishing industry; the stress of workplace friendship; and the woman at the center of the story. Everyone in the book business has been unknowingly waiting for this book —and anyone who's ever wondered what it is like being 'the other' in the workplace or the world has been waiting as well. Well done." —Sarah Bagby, Watermark Books & Cafe (Get your copy.)
"While I usually like to compare a new book I love to some of the older books I love, I'm going to get a little interdisciplinary here and describe this one as a Kill Bill-type story with a Deadwood vibe that moves with the momentum of a train that Butch and Sundance might have robbed. These pages are filled with sex, murder, and mayhem, sure, but they also contain a solemn exploration of the souls of men and nations —and planets for that matter. It all adds up to a damn near perfect debut novel that already has me asking for more from Tom Lin." —Mark Schultz, Carmichael's Bookstore (Get your copy.)

Monsters by Barry Windsor-Smith
"Legendary comics artist Barry Windsor-Smith reveals his writing chops with this 35-years-in-the-making instant classic of graphic literature. Monsters is a stunningly gorgeous subversion of Captain America–style 'super soldier' tropes, taking inspiration from Frankenstein, Graham Greene, Slaughterhouse-Five, and The Tin Drum, in a wrenchingly painful but beautifully human meditation on country, family, love, violence, and redemption." —Jonathan Hawpe, Carmichael's Bookstore (Get your copy.)

"A challenging read but beautifully told, about a woman born into enslavement on a Virginia plantation, who's been promised freedom. This book doesn't pull any punchesas it tells the story of a painful period in American history, vividly painting the harsh realities we continue to experience." —Melinda Large, It's a Mystery Bookstore (Get your copy.)
"Natasha Pulley has an uncanny ability to make me feel some kind of way about the concept of time. Honestly, I'd be mad if I didn't love it so much. The interplay of time and memory in her newest novel, The Kingdoms, wows to astounding and gut-wrenching effect. Truly it has everything: alternate history, naval warfare, a yearning-filled love story, and temporally displaced tortoises. I did yell out loud alone in my apartment as I neared the end, which is about as glowing an endorsement as I can give. Please read this and then everything else she's ever written so next time we can yell together." —Sarah Reif, Powell's Books (Get your copy.)

"Morgan Jerkins' story begins with family rumors and gaps in generational memory, yet she is moved to search for her ancestors and her lineage regardless. She travels across the country through the deep south (and California) with an optimistic, honest outlook that is absorbing, and I could not help but be invested in her trek to find answers. This book gave me faith that, despite being third generation American on my paternal grandfather's side — with an ever-changing last name of which I don't the latest iteration — and first generation on my mother's, there is hope in connecting with my roots, too." —Heather Halak, Third House Books (Get your copy.)

"You will hear this earnest, searing memoir, which follows Carrot Quinn's time riding freight trains around the country, compared to Wild and Educated. Those comparisons are accurate enough, but The Sunset Route stands on its own as a raw, tender story unlike any I've read in a while. This is a poignant memoir, a seat-of-your-pants adventure, and an exhilarating study of community, redemption, and freedom." —Sam Kaas, The Norwich Bookstore (Get your copy.)

Nives by Sacha Naspini, translated by Clarissa Botsford
"Yes, it's only June, but Nives is one of my favorite books of 2021! After Nives's husband of 50 years dies by falling into the pig trough, she brings a beloved chicken into her house as a companion animal. The two enjoy watching television together until the chicken falls ill and Nives places a call to the town vet who happens to be an old lover. During the call, scandal and gossip come to the front. Spirited and witty, Nives is a book to savor on a long summer night." —Caitlin L. Baker, Island Books (Get your copy.)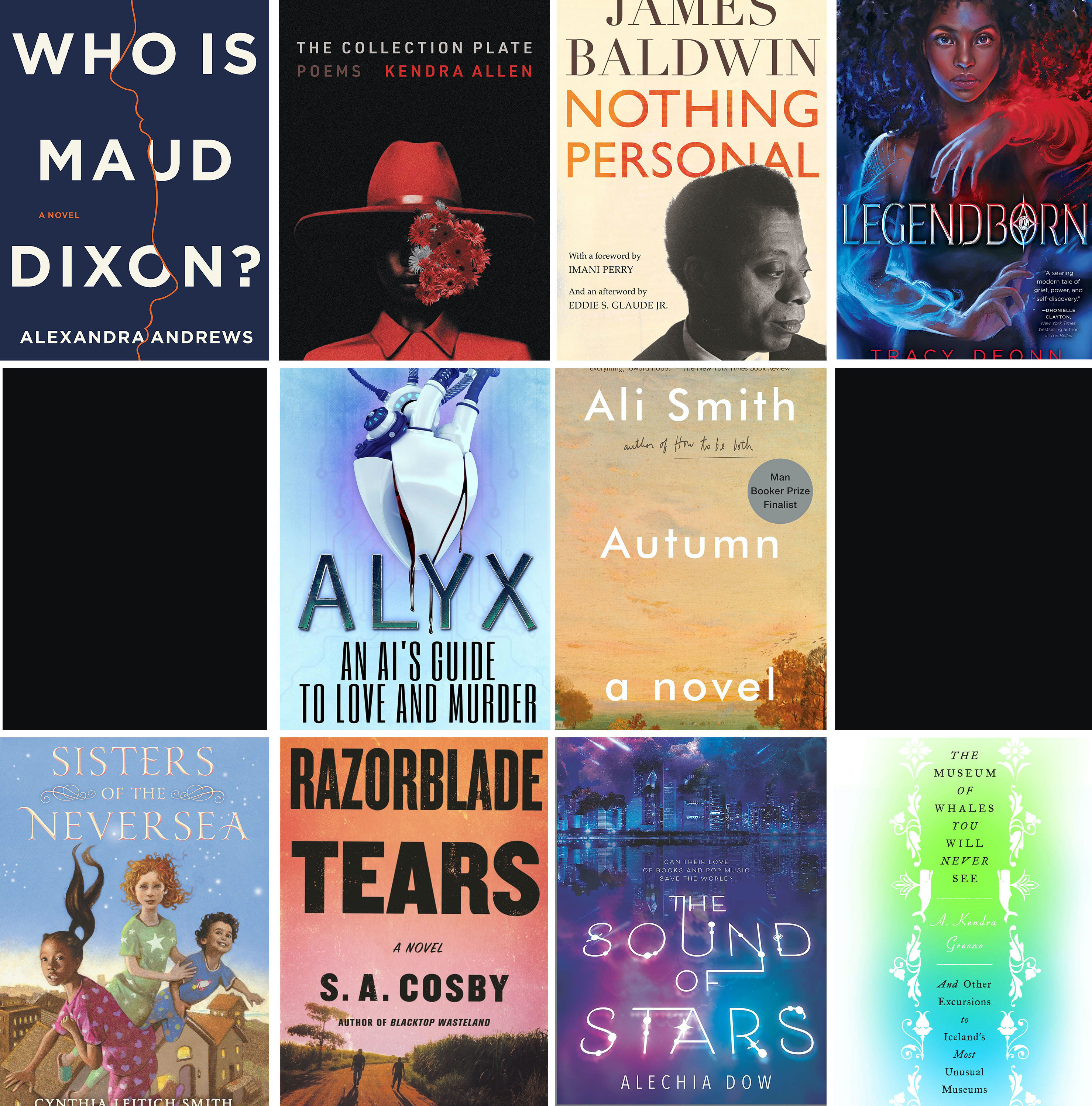 "After losing her publishing job following an ill-advised workplace romance, Florence is at loose ends, trying but never actually writing her novel, until she lands an assistant gig to the mysterious reclusive writer Maud Dixon. At first symbiotic, their relationship takes a turn for the worse on a research trip to Morocco when Florence wakes up in the hospital after an accident she can't quite remember. Meticulously plotted, this Ripley for the 21st century will delight mystery readers who relish a deft plot twist." —Sam Miller, Carmichael's Bookstore (Get your copy.)

"Baldwin's writing never fails to touch where others have tried to go but fallen short. To think that an essay from 1964 could so accurately describe the lovelessness of today's world better speaks to the power of Baldwin's mind and pen. He keenly observes the world and the movement of people, saying, 'Everyone is rushing, God knows where, and everyone is looking for God knows what — but it is clear that no one is happy here, and that something has been lost.' Baldwin highlights the power and value of human connection, and challenges us to acknowledge and reckon with the past and also think beyond the present, in the hopes of building a better future — because 'generations never cease to be born, and we are responsible to them because we are the only witnesses that they have.' Nothing Personal is what the world in 2021 needs to push on." —Jonathan Pope, Prologue Bookshop (Get your copy.)

"It was difficult to put this one down; I burned through it in a few days. I was already a fan of Harris's short fiction, and in this novel he proves, yet again, that he is a masterful author. A house with a built-in AI starts to become sentient and through a series of logical interpretations begins to wreak havoc on a teenage girl and her neglectful mother that have just moved in. The characters are rich and full, believable and alive – one has no difficultly empathizing with all of them, including the sentient AI. The relationships between all of the characters are also believable and pull the reader in, mixed with a perfect blend of action and unpredictability. While set in the near future, one gets the sense that the occurrences in this book could be real challenges faced as we let AI into our lives without discrimination. The story has elements of horror, romance, and great storytelling in general. It's a science fiction masterpiece that readers of all genres will love." —Jean-Paul Garnier, Space Cowboy Books (Search for your copy here.)
"Bree is an outsider. First, she's the girl whose mother died. Then, she's the Black high school student at a predominately white college. Then, after witnessing a magical attack on her first night, she becomes the only non-member aware of the secret society of the reincarnations of Arthurian knights that resides on campus — and they're connected to her mother's death. To investigate, Bree decides to use her own magic to infiltrate the society. Legendborn has mystery, adventure, romance, and constant twists, and I couldn't put it down." —Abby, Brookline Booksmith (Get your copy.)
"I love retellings of classic stories, and this is one of the most unique I've read yet! In this modern-day reimagining of Peter Pan, Smith pairs an old-fashioned narrative style with characters who are self-aware, sensitive, and not afraid to call out prejudice. Stepsisters Wendy and Lily, along with their little brother Michael, are lured to Neverland with the promise of escape from the current upheavals of their home life. There they find adventure, but not paradise: The fairies, pirates, and especially the 'Indians' are tired of Peter's self-absorption and tyrannical games. The sisters must find a way to mend their friendship and help the inhabitants of Neverland come to a truce in order to get home." —Sara Waltuck, Brookline Booksmith (Get your copy.)

Autumn by Ali Smith
"Written in the wake of Brexit, Ali Smith's Autumn hits home for readers in a post-Trump America. As the first of her seasonal quartet of novels, Smith lays out an all-too-familiar political terrain fraught with racism and isolationism. At the heart of this landscape is the close connection between two neighbors: Elisabeth, a child at the start of the novel, and Daniel Gluck, a centenarian. They forge an immediate and intensely intimate relationship as they explore storytelling, art, love, and loss in their own lives and their surrounding world. Elisabeth and Daniel speak to each other with an earnestness reserved for the young and the aged, and this lack of self-consciousness invites the reader in with open arms during a time where so many others have closed their physical and metaphorical doors. Smith's final book of the series, Summer, was released in paperback in May and all four books would make the perfect journey this summer." —Sonja, Seminary Co-op Bookstores (Get your copy.)

"With truth-telling like this, it's only fitting that this poetry collection is titled The Collection Plate. Through personal narratives, Kendra Allen's collection takes us through the intergenerational vastness of Blackness. The Collection Plate is spacious, forgiving, and emotional. I love this book and appreciate all of the feelings it made me feel!" —Dartricia Rollins, Charis Books & More (Get your copy.)
"I've been thinking a lot about this book — part essay collection, part travelogue — increasingly over the past few months. While released just over a year ago, at the height of that early part of the pandemic where people were still comfortable making optimistic predictions, its effect is only just taking hold of me. Greene details a number of Iceland's 265 museums — an impressive amount when recognizing the country's population of 330,000 — and examines how they were established, who maintains them, and why so many have been established in the last 25+ years. So many are the product of accidental collections — a repeated joke gift over the years, an obsessive gathering over the course of a life, a hobby practiced over decades — that became too substantial for others to ignore. Eventually, a home becomes a showroom, guests become visitors, one bathroom isn't enough. I'm struck by the vulnerability of letting others participate in one's passion so openly. There is a welcoming-in of others that I can't help but connect to our recently reopened world, once again excited to share enthusiasm in a room together." —Bryce Lucas, 57th Street Books (Get your copy.)

"I do not see this book included on nearly enough book lists! The Sound of Stars is a heartfelt sci-fi YA romp that I absolutely adored. (And not just because of that gorgeous cover!) Dow's debut features a complex Black teen girl protagonist who is a biromantic demi-ace rebel librarian with anxiety and hypothyroidism. Set in a dystopian post–alien invasion version of New York, The Sound of Stars explores a meaningful love story between Ellie, a human girl, and M0Rr1S, an alien invader whose job is to prepare Earth for colonization. The two connect over their (illegal) passions for books and music and embark on a dangerous — and pop culture reference–filled — road trip to save humanity. The family dynamics, friendship, queer representation, and discussions of race, power dynamics, and colonization were what really set the book apart for me. Told in dual perspectives, it's a beautiful and thrilling character-driven story with an entertaining plot — a love letter to books and music and the way that art makes us feel." —Kaitlyn Mahoney, Under the Umbrella Bookstore (Search for your copy here.)

"Razorblade Tears is going to be the book of the summer! Following the incredible success of Blacktop Wasteland last year, Cosby follows up with this incredible 'rural noir' hit. The precision and perfection with which he writes his characters is incredible and a complete bonus to a story that will draw you in from page one. Cosby is a power hitter that you need to add to your bookshelf!" —Shane Mullen, Left Bank Books (Get your copy.)