As part of a weeklong series about how we have sex now, BuzzFeed Books asked Goodreads for some of its most popular erotic novels. Below are 16 super-sexy books from the past five years, each with an average rating above 3.5 stars.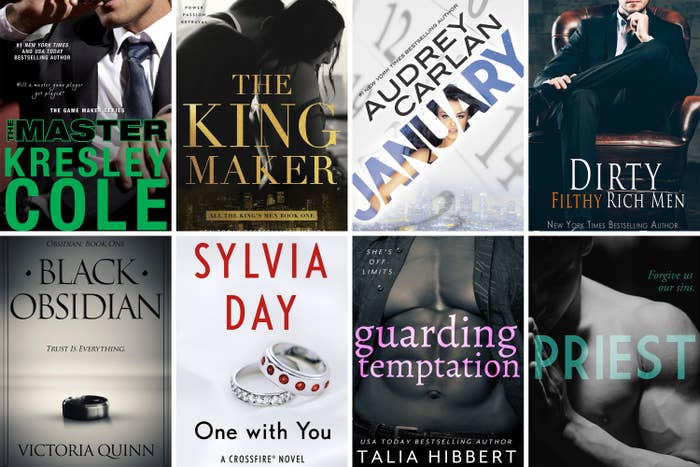 What it's about: Maksimilian Sevastyan is a rich Russian politician and mob boss who's in Miami to check out some real estate. Catarina Marín is a woman in danger, and she needs some money to get out of town — fast. When her friend, an escort, offers her a one-time appointment, Cat takes the opportunity to make a couple thousand in one night. Who's the client? Maksimilian, of course.
5-star review: "FANGIRLING!! I absolutely loved these two. They had passion and fire. They fought and f*cked with such intensity that I couldn't get enough. As soon as I finished this book, I dialed it back to page one and started it all over again!" —Sammy Loves Books
What it's about: Maxim Cade is the son of an oil magnate and heir to an empire he neither wants nor agrees with. Lennix Hunter is a member of the Apache Nation dedicated to keeping that empire from invading sacred land. When the two meet at a pipeline protest, the chance encounter changes their lives — though they don't realize it until years later.
5-star review: "I fell in love with Maxim Cade and Lennix Hunter at first sight and knew that they were both powerful forces to be reckoned with. I loved their passion for one another and how their connection felt like a once-in-a-lifetime kind of love that came right off the pages. The Kingmaker made me swoon and melt, but also made me hold my breath when all seemed lost. I loved every word of this story and truly can't wait until The Rebel King." —Bookgasms Book Blog
January by Audrey Carlan
What it's about: Mia Saunders' father is drowning in gambling debt, and the loan shark is her ruthless ex-boyfriend. After he's brutally attacked, Mia knows she has to pay it down over the course of a year — so she takes a job as a high-priced escort. January is the first in a series of 12 novellas, each one focused on a new month, client, and location.
5-star review: "This is hands down my favorite of Audrey's series so far. I loved the concept. I loved the depth. I loved the characters and the emotion that simmered between the two of them. Truly, I tore through this story and would have finished it a whole lot more quickly if reality would have left me alone long enough to do so. When it was over I didn't even pause a beat before I shifted to February!" —Rhenna Morgan
What it's about: Donovan, Weston, and Sabrina meet at Harvard — Weston and Sabrina are first-year students, Donovan is a TA — and Sabrina has a romantic history with both. Ten years later, Donovan and Weston are best friends and business partners — and Sabrina's their new employee. Tension ensues.
5-star review: "Dirty Filthy Rich Men is a masterfully written tale of lust, secrets, lies, jealousy, betrayal, and possession amplified by elements of forbidden romance and unfinished business. All-consuming plot! Kindle-melting sex! Supreme cast! Epic upon epic!" —SueBee
Priest by Sierra Simone
What it's about: Tyler Anselm Bell is a 29-year-old priest who's never had a problem following rules — until heir and ex-stripper Poppy Danforth steps into his confessional.
5-star review: "Many times, I was like, 'Oh, she won't go there.' And then she damn well did! Oh, my goodness. It's one of those books where you're worried about reading it in public, because your secret shame will show. The writing was great, the sex was phenomenal, and this was taboo done right. If you're looking for a hot read, go for it." —Penelope Douglas
What it's about: Nina Chapman is a political campaigner with radical ideas and a big, secret crush on her older brother's best friend, James Foster. James is interested too, but he's convinced Nina's too young and unable to commit. Then Nina finds herself at the center of a scandal — and she ends up riding out the storm in the safety of James' home.
5-star review: "This book is so incredibly sexy. It's also smart and a little angry, and I loved it because I feel some of that same anger. There's some political commentary that will be familiar to many readers, including some frustration over the 'faux woke' and white society's stringent expectations regarding black women. It's a thing of beauty. It's trope catnip, it's competence porn, it's fantastically sensual, JAMES IS AN ABSOLUTE DREAM, and I loved it." —Jessica
What it's about: One With You is the much-anticipated finale to the Crossfire series — and getting married is just another beginning in the very hot, often heartbreaking Gideon Cross–Eva Tramell love story.

5-star review: "From the very start of this series, I've been completely captivated by this beautiful, erotic, and heartfelt love story. There's a special intensity that Gideon and Eva's relationship always had that really resonated with me deeply. Back when I read Bared to You when it was first released, I remember it was the first book in my life that I read, finished, and immediately flipped back to page one to read again. Since then, I've been addicted to this story and loved each one of the books." —Aestas Book Blog
What it's about: The first time Rome meets Cal, she mistakes him for someone else and slaps him across the face in the middle of a crowded bar. But he's not upset; he's into it — which is surprising since he's a dom. The two start dating, but they're both keeping secrets.
5-star review: "I got lost in this story, and I was grateful that it was so long because I never wanted it to end. I instantly fell in love with the characters, and I could picture exactly what was going on in my mind, like a movie, because the story is written so well. The ending left me aching to know what happens next, and I almost started to cry at the thought of having to wait a while for the next book." —Dija P.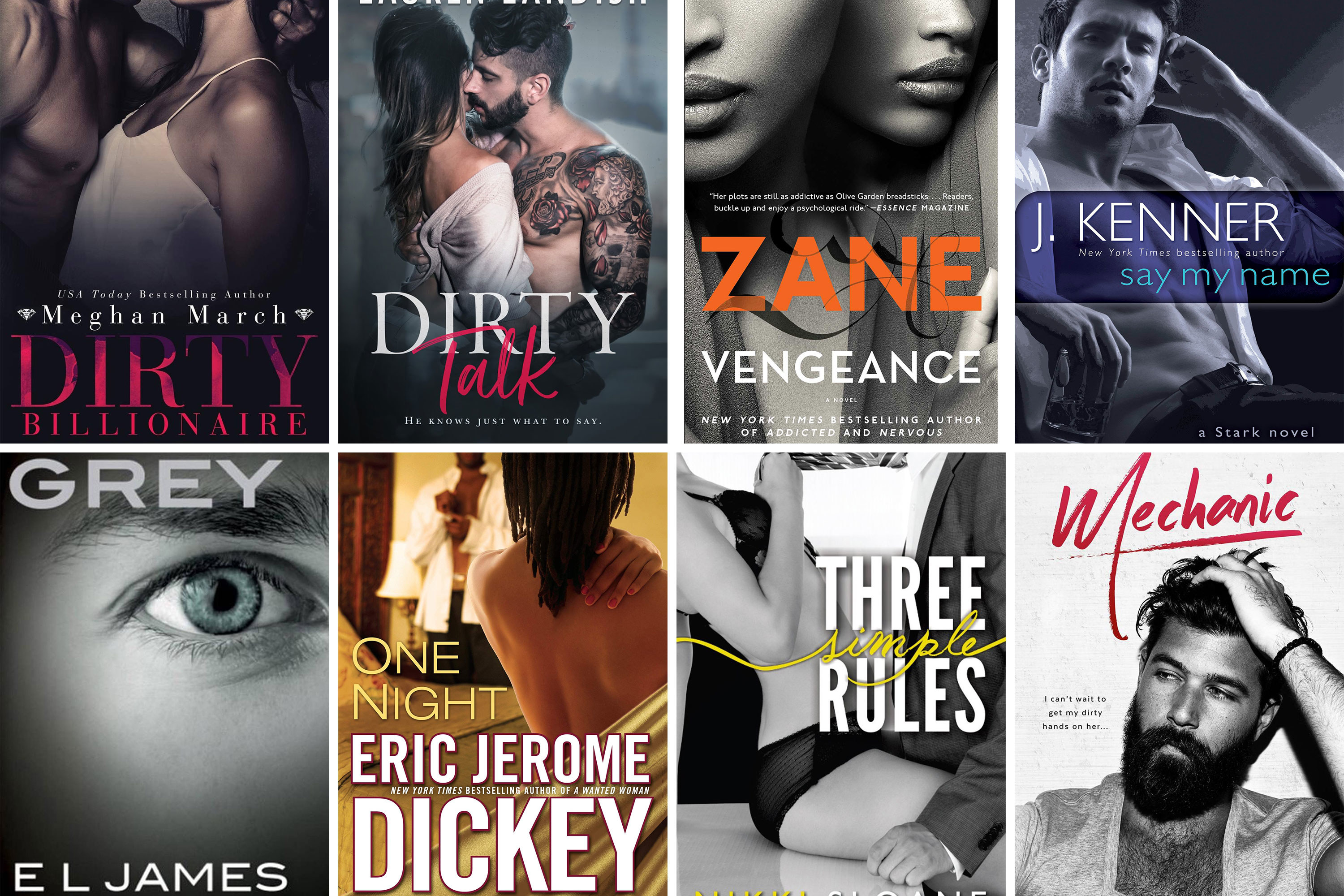 What it's about: Creighton Karas is a self-proclaimed asshole and a billionaire who's used to getting what he wants. Holly Wix is an up-and-coming country singer who gave him the best sex of his life — and now, uncharacteristically, he can't stop thinking about her.
5-star review: "March swirls a fun story with characters you want to love. Dirty Billionaire is aptly named and searingly hot: I was immediately addicted. GIVE ME MORE." —Heather
What it's about: Derrick King is a radio DJ who gives out sex and relationship advice as "The Love Whisperer." When Kat finds out her boyfriend has been cheating on her, she calls in to get some insight — but the two unexpectedly hit it off.
5-star review: "Lauren Landish has that little something that lets you know she loves to write. From the very first page to the very last, Ms. Landish has written a story that you will not want to put down. Dirty Talk is one smokin' HOT romance story with a great mix of heartbreak, danger, a twist, intense chemistry, and so much more." —Cheryl Graham-Petit
What it's about: Caprice Tatum returns to Atlanta after decades away, working on a music career that's brought her international fame. But she still can't get past trauma from years before, especially as she starts mingling in the same social circles as the people who hurt her. There's one person she trusts — her childhood crush, Jonovan — but can she open herself up to intimacy while she's so focused on getting revenge?
5-star review: "One of the things that I love about this book is that Zane addresses an all-too-real topic. I love it when I read a book and it takes me through a myriad of emotions, and this is THAT book. I laughed, cried, cussed (a lot), and I learned a few things about mental illness as well. To me, that is what reading should be about. And in typical Zane fashion, the sex is off the chain hot, and will have you sitting there with your mouth stuck open." —Kiera
What it's about: Jackson Steele is a super-successful architect and a minor celebrity whom everyone seems to want. Sylvia Brooks had him for one amazing weekend but ran away when it seemed like they could become something real. Now she has to face him again with the hope that he can save a project that could make or break her career.
5-star review: "I think this is J. Kenner's best work to date. I was immediately pulled in; everything was super intriguing. There is this fantastic 'what's going to happen next' build that makes it a page-turner. Hot doesn't cover the sexy times in this book. Erotic, passionate, add in some kink, and the pull between these two is off the charts." —Gretchen
What it's about: Paine is a mechanic and business owner. Penelope is a sheltered rich girl whose controlling father has picked out a lawyer for her to marry. But when Penelope walks into Paine's garage, their attraction is undeniable.
5-star review: "This book is deliciously smutty good. I love the fact that he is a dirty mechanic and she is a polished rich girl. The guy knows what he wants, and he knows what she wants. It will surely remind you the script of a cheap porn film. Lots of dirty talk, dirtier action, and a lot of talking about breeding. An entertaining and funny story." —Sophia Triad
What it's about: Evelyn Russell is a young, ambitious designer who's got a singular focus on professional success. But when she makes a mistake that costs the company thousands of dollars, she's determined to make the money back — and she does it by selling her services one night at a BDSM club.
5-star review: "Just… WOW. Talk about total sensory overload! One of the hottest stories I've read in a while, with possibly some of the best written sex scenes I have ever come across. Steamy, romantic, exhilarating — every twist and turn in this mouthwatering story was delivered just right, penned to perfection, and kept me hypnotized cover to cover." —Natasha Is a Book Junkie
One Night by Eric Jerome Dickey
What it's about: A man and a woman, each carrying secrets and grief from their pasts, have a chance encounter at a Los Angeles gas station — and then experience the craziest 12 hours of their lives.
5-star review: "I am in awe of Eric Jerome Dickey's writing talent. Each and every book I read of his raises my level of obsession. One Night was no different. This book was intense and suspenseful. Some of the bombs dropped in the book had me going back to read again, wondering if I read it right the first time. And the passion...WOW!!! Nobody can pen a sex scene like EJD!! They are so intense and just pure liquid fire!" —Amber
And, of course: Grey by E.L. James
What it's about: The follow-up to the love-it-or-hate-it Fifty Shades series, as told from Christian's point of view.
5-star review: "Lots of smoking hot sex! So much more erotic told from his POV! Lordy! I found myself up all night reading and not wanting to put it down! E.L. James I hope you are sitting somewhere beautiful sipping on some fine ass wine thinking, Damn I'm fucking good and I don't give a shit who hates my book! Ha!" —Michelle
Goodreads reviews have been edited for length and/or clarity.