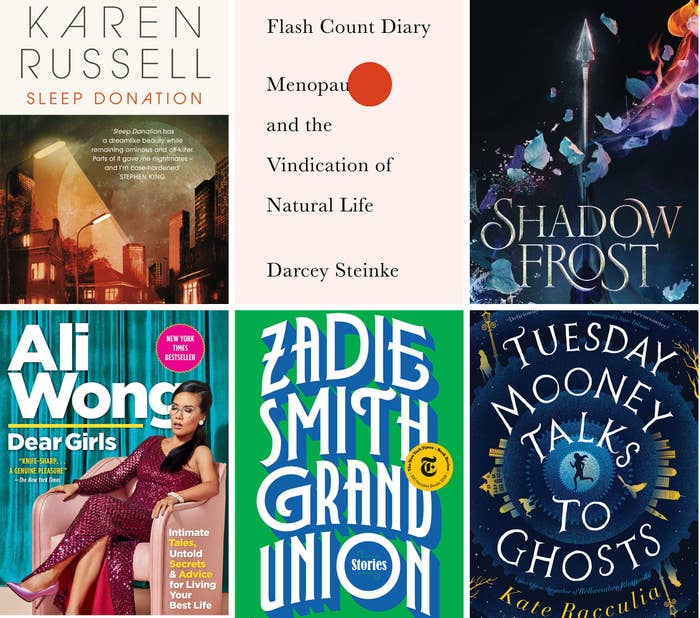 Sleep Donation by Karen Russell (Vintage; Sept. 29)
In a world overtaken by fatal insomnia epidemic, Trish Edgewater works at Slumber Corps, where she searches for people who are not dealing with insomnia and asks them to donate their healthy sleep. She's starting to question the ethics of this endeavor as she sees a separate but related pandemic resulting from an infectious nightmare that is transmitted from these donations.
Flash Count Diary is Darcey Steinke's personal, historical, and philosophical examination of menopause, weaving in analyses of gender, sexuality, and identity. It's an illuminating and accessible account of an experience (and demographic) that too often gets pushed to the side.
[Read: "Going Through Menopause Changed The Way I Think About Gender," an excerpt from Flash Count Diary]
Shadow Frost by Coco Ma (Blackstone Publishing; Oct. 6)
Asterin Faelenhart, Princess of Axaria, finds out that she holds the key to destroying the mysterious demon that is wreaking havoc on her kingdom. But she and her friends realize something is more sinister afoot when the beast becomes the least of their problems and they have to solve who's trying to assassinate the princess herself. (19 Really Great YA Books You'll Want To Pick Up This Fall)
Comedian Ali Wong has written a memoir in the form of hilarious and poignant letters to her two daughters, sharing stories and insights about dating, working, motherhood, and her experience as an Asian American woman.
Grand Union by Zadie Smith (Penguin Books; Oct. 6)
In her first short story collection, Zadie Smith plays around with genre, lending her distinct voice to historical, dystopian, and modern stories about identity, politics, class, and humanity.

An eccentric Boston billionaire dies, leaving behind a treasure: part of his fortune. Tuesday Mooney, a notorious loner, bans together with a ragtag crew of acquaintances for the treasure hunt across the city and an adventure of a lifetime. Full of pop culture, art, and literary references, each clue brings them one step closer to the treasure, but also kicks up some of their pasts. (24 Books That Are Perfect If You Need A Laugh)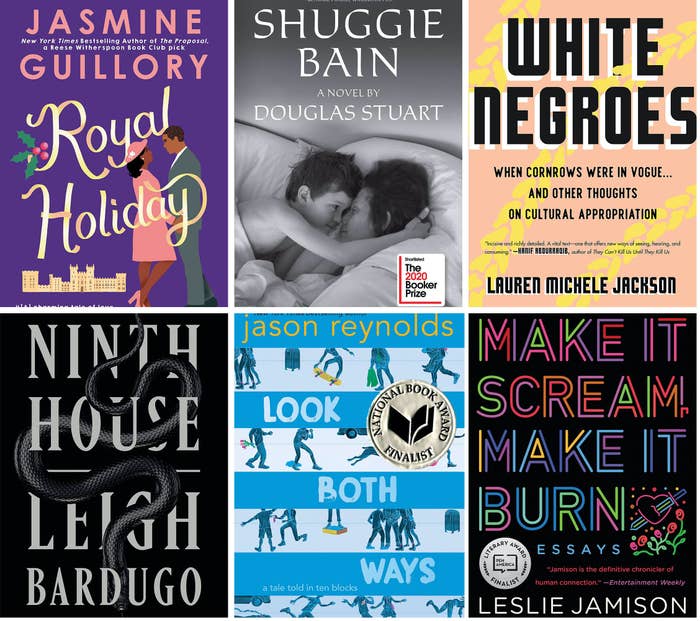 Royal Holiday by Jasmine Guillory (Berkley Books; Oct. 13)
When Maddie gets the opportunity to style a member of the British royal family over Christmas, she invites her mom, Vivian, to come with her and stay in the Queen's country estate. All Vivian expects is a quiet Christmas in the British countryside — until she meets Malcolm, the private secretary to the Queen. The two are instantly attracted to each other, and after giving her a private tour of the estate, they begin exchanging notes via servent. Soon, it blossoms into a full-blown romance. (5 Books We Couldn't Put Down Last Month)

Shuggie Bain by Douglas Stuart (Grove Press; Oct. 13)
In 1980s Glasgow, young Hugh "Shuggie" Bain grows up with a mother, Agnes, he all but worships, in rundown public housing his older half-brother and half-sister can't flee fast enough. He's something of an outcast — his peers and their parents don't trust his lack of stereotypical masculinity and dismiss him as "no' right" — but he'll do anything to make his mother smile, and he often does. But as Agnes struggles with alcoholism and debilitating pride — aggravated by a cheating husband who leaves their family in poverty — Shuggie tries desperately to support them both.
"This is a book about black aesthetics without black people," writes Jackson (an occasional BuzzFeed News contributor) in the introduction of her debut work of cultural criticism. It's an effective summary of the book, which tackles the slippery concept of cultural appropriation in everything from the rise and fall of Vine (RIP) to the proliferation of Real Housewives of Atlanta reaction GIFs online. Amid the deluge of thinkpieces on this topic, Jackson's writing is a beacon of nuance — smart, funny, and engaging on the recent controversies of the past decade or so. (33 Books You've Got To Read This Autumn)

While recovering from a brutal attack, 20-year-old Alex Stern — the only survivor of an incident that ended in multiple homicides — is given the chance to attend Yale for free. The catch? Her benefactors ask that she find out all she can about the school's secret societies — and all of their sinister, even occult, activities. (Here Are The Winners Of The 2019 Goodreads Choice Awards)
Jamison's poignant essay collection is equal parts memoir, criticism, and journalism, covering a wide range of subjects — parents of children who experience past-life memories; 52 Blue, "the loneliest whale in the world"; the Museum of Broken Relationships; her own experience of love and heartbreak; and more.
Look Both Ways by Jason Reynolds (Atheneum Books; Oct. 27)
This collection of stories tells 10 tales — each focused on a different kid in middle school — of what happens after the bell rings and students make their trek home. It's effective, impactful, hilarious, heartbreaking. (19 Really Great YA Books You'll Want To Pick Up This Fall)