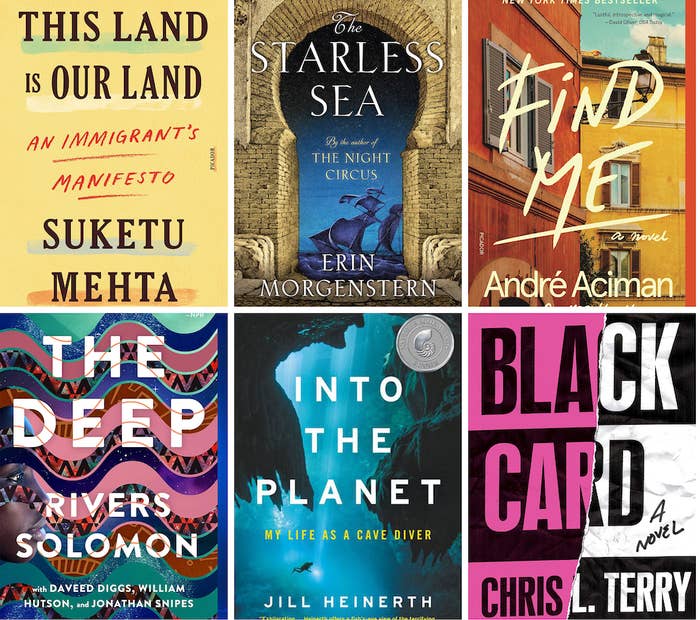 In This Land Is Our Land, Suketu Mehta challenges the anti-immigration sentiments spreading around the world, and in the US especially. Born in India and having grown up in New York, Mehta draws from his lived experience and his years of reporting to illustrate how a fear of immigrants is more destructive to a community than immigrants themselves, arguing that more open borders lead to flourishing countries and communities.
When grad student Zachary Ezra Rawlins finds a story from his own childhood in a mysterious library book, he sets off on a journey of self-discovery that will lead him to a secret world buried deep below the surface of the earth. It's a mystifying and powerful realm, with protectors and those who'd like to destroy it. Along with one of those protectors, and a shifty man whose allegiances are unclear, Zachary voyages into this magical world to find his purpose.
Find Me by André Aciman (Aug. 4)
The good news is that you don't have to have read Call Me By Your Name, Aciman's 2007 bestselling novel turned Oscar-nominated movie, to immediately fall in love with this sexy, melancholic follow-up. It stands entirely separate, yet connected, a beautiful ode to the passage of time, to the lasting power of true love and the ache of loneliness even when coupled up. Ordinarily, this would be the part of the write-up where I tell you what Elio and Oliver have been up to since their transformative summer in that Italian villa all those years ago, but this novel is best read cold, the revelations about who these characters have become unraveling slowly like a gorgeous piece of classical music. —Tomi Obaro, 33 Books You've Got To Read This Fall
The Deep by Rivers Solomon with Daveed Diggs, William Hutson, and Jonathan Snipes (Aug. 4)
Inspired by a song by hip-hop group Clipping (which consists of rapper Daveed Diggs and producers William Hutson and Jonathan Snipes), The Deep tells the story of an idyllic underwater world inhabited by the descendants of pregnant Africans who were thrown overboard enslavers' ships. One of these descendants, Yetu, is tasked with holding the memories of her people, so that they can live without past trauma haunting them. But when the past becomes too much to bear, Yetu swims to the surface and finds herself in the world she and her people came from, where she'll set off on a journey of self-discovery.
Jill Heinerth is one of the world's most renowned cave divers — she was the first in history to deep dive into an Antarctic iceberg — and Into the Planet is a behind-the-scenes account of her thrilling and dangerous career. Weaving in science and personal history, Into the Planet reads like compelling travel writing, guiding readers through our oceans' beautiful and mysterious depths.
Black Card by Chris L. Terry (Aug. 11)
Terry's satiric novel follows an unnamed bassist in a punk band in Richmond, Virginia; his mother is white and his father is Black. In this world of Black Card, the "black card" is a physical card — and the narrator, who's regularly faced with the criticism that he's not Black enough, has his revoked after failing to speak out about a racist incident. The narrator embarks on a campaign to win it back, but he ends up the suspect of a violent crime, forced to face the realities of the experience of Black men in the US.

In 2017, when Michele Filgate published "What My Mother and I Don't Talk About," her essay about being abused by her stepfather, it struck a chord — the essay become one of Longreads' most popular exclusive for the entire year, and was shared by writers like Anne Lamott, Rebecca Solnit, and Lidia Yuknavitch. Inspired by the responses, Filgate sought other essays about other unspoken topics between mother and child; this intimate, cathartic, and thought-provoking anthology (featuring essays from Kiese Laymon, Alexander Chee, Carmen Maria Machado, and others) is the result.

[Read: Bernice L. McFadden's essay "How My Runaway Daughter Unearthed My Mother's Secret Shame"]

Connie Goodwin is a tenure-track professor; her area of expertise is the history of witchcraft in colonial America and the ways in which those early societies threatened women with skills or hobbies they disapproved of. But there's a reason she was drawn to this area of study — she is the direct descendant of a woman who was tried in Salem, and whose magical powers were very real. And when her partner's life is suddenly in danger, she finds herself facing down a centuries-old curse.
The Revisioners by Margaret Wilkerson Sexton (Aug. 18)

The Revisioners alternates between two narrators: women of different generations of the same family line, separated by over a century. In 2017 we follow Ava, a biracial single mom who moves in with her aging white grandmother to act as a companion. In 1924, Josephine, a former sharecropper and formerly enslaved woman now in her seventies, runs a thriving farm and begins a cautious friendship with her new white neighbor. As the novel continues, Ava and Josephine's stories increasingly parallel each other as their newfound relationships become more and more threatening to the narrators and their families. Sexton painfully brings to life the continued assault on the Black American psyche as she ties together the dangers Josephine and her family experience daily in the Jim Crow–era South and the undercurrents of racism that threaten both Ava and her young son. —Jillian Karande, BuzzFeed Books newsletter review
Dominicana by Angie Cruz (Aug. 25)
"The first time Juan Ruiz proposes, I'm eleven years old, skinny and flat-chested," Ana Canción, the narrator of Cruz's third novel, informs us on the first page. It's a harbinger of things to come for Ana, who marries Juan four years later in a business deal arranged by her parents. Whisked away from the Dominican Republic to New York City in the late '60s, Ana must reckon with her own loneliness, her cheating husband who drinks, and her homesickness. Though the plot points are grim, Cruz tells the story with a raucous sense of humor and writes in short, present-tense chapters that help make this a propulsive though heartbreaking read. —Tomi Obaro, 33 Books You've Got To Read This Fall