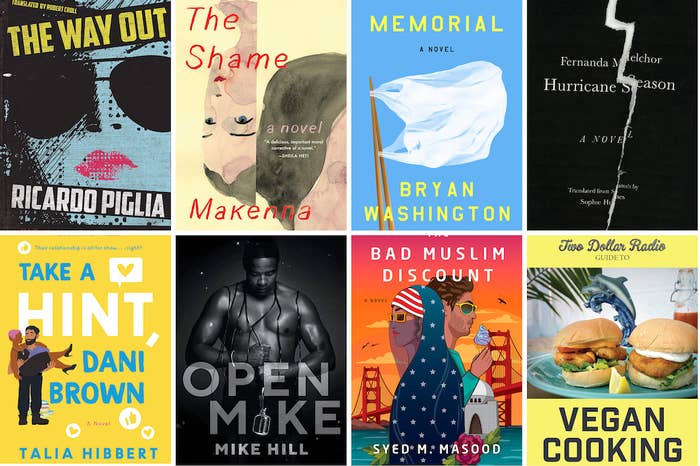 1. The Way Out by Ricardo Piglia, trans. Robert Croll
The late Ricardo Piglia is a legend in Argentina, but oft-overlooked in the US; his latest English translation is another mind-bending mix of autofiction and detective novel. It's got all the twists, turns, paranoia, tangents, and weirdness you'd expect if you've encountered his books like Target in the Night and Artificial Respiration — an oddball crime novel that's part of a tradition spanning from G.K. Chesterton to True Detective. —Justin Souther, senior buyer/bookstore manager; Malaprop's Bookstore
2. The Shame by Makenna Goodman
This is the perfect novel to confront the isolation we've been living in for the past several months. Goodman's novel chronicles the life of Alma — a stay-at-home mom and vivacious writer — as she grapples with obsession, belonging (or lack thereof), validation, and moral righteousness. With writing evocative of Wendell Berry, a sharp underscore of feminist prose, and deeply insightful commentary on modern perception, The Shame is a chaotic journey through loathing and acceptance, comfort and the unknown. —Caroline McDonald, employee; Bart's Books
3. Memorial by Bryan Washington
Should anyone be surprised that Memorial, Bryan Washington's latest, delivers on the promise of last year's short story collection Lot, a dozen times over, and is the pitch-perfect novel of the year? I certainly am not. Much like Lot, Memorial is an acerbic, page-turner brimming with so much life you can't help but be touched by it. The pages are graced with such descriptive clarity, one begins to wonder why real life can't be as rich. This bountiful treatise on love, life, queerness — and plenty of food! — must be read, shared, and held close upon completion. —Uriel Pérez, BookPeople
I've been really stuck on romances, and Talia Hibbert can write one like no one else. PhD student Dani Brown ends up one half of a viral video duo with Zafir during a fire drill miscommunication and — to fulfill both her need for a friend-with-benefits and the good press the video creates for security guard Zafir — they start fake dating. Of course, this is a romance novel and these two are destined for a very real happy ever after, but just enjoy the steamy, sexy, and very emotionally aware journey. And once you finish this, you can read Hibbert's books about Dani's sisters — Get a Life, Chloe Brown is out now, and Act Your Age, Eve Brown is available for preorder. —Cat Bock, buyer and inventory manager; Parnassus Books
Fernanda Melchor's English debut is haunting, incendiary, and the kind of book that leaves you with more questions than answers. Set in Mexico, it is a dark blend of superstition, violence, and small-town life that unequivocally critiques and suffocates with a relentless force. —Heather Halak, owner; Third House Books
Open Mike is a powerful and transparent journey of Emmy Award–winning journalist Mike Hill. As a Black woman, I am struck by the authenticity, candor, and fullness of this book. Oftentimes in the media and entertainment arenas we rarely get a glimpse into the journey of a Black man. We usually just see the end result — a polished, well-spoken professional. In Open Mike, Hill pulls back the curtain and allows the reader to experience the frailties, insecurities, and sometimes controversial decisions, that created the man before us. I urge every person of every hue to read this poignant work for a closeup and personal look at the experiences of one of our rising leaders who in the end has found amazing joy — despite the circumstances. —Ramunda Young, owner/cofounder; MahoganyBooks
I absolutely loved this book, which follows two families from Pakistan and Iraq in the 1990s, to San Francisco in 2016. The writing is perfect; there are so many amazing lines in here. I was torn between wanting to take my time to savor it, or just blazing through. This is a book that I didn't know I deeply needed. —Melissa Taylor, co-owner; E. Shaver, Bookseller
The Two Dollar Radio Guide to Vegan Cooking is a perfectly hilarious way to learn some badass recipes. In the first of a new *very well-priced* guidebook series from the publisher, celebrity chefs Jean Claude Van Randy and Speed Dog venture out to solve mysteries and "slay the hunger demons." —Gary Lovely, marketing manager; The Book Loft in Columbus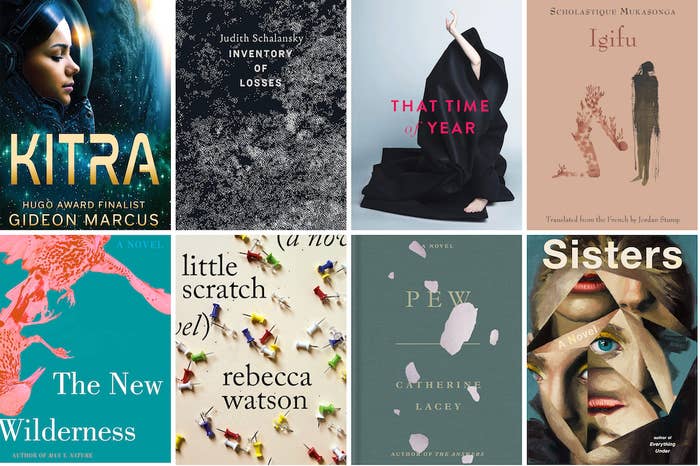 9. Kitra by Gideon Marcus
Kitra reminds me of the juvenile space opera adventures of the late '30s and early '40s but with several major differences. It's a fun, quick read, but the writing isn't schlocky, and the characters are more believable and actualized — not to mention being a diverse cast, unlike the exclusively male heroes of the olden days. It helps that Marcus is a space historian, so the science is kept reasonably accurate. The book also retains a positive storyline, and while it is fraught with danger it stays good-humored and is ultimately about friendship. In these days of strife, it was refreshing to read such a positive and amusing story. —Jean-Paul Garnier, owner; Space Cowboy Books
10. An Inventory of Losses by Judith Schalansky, trans. Jackie Smith
This is a stunning look at twelve objects, animals, and ruins, lost to the world forever, replete with meditations on memory, nature, and the relentless passage of time. Part history, part memoir, and part fiction, this book glimmers with insights and a strange, subtle magic. Meticulous, singular, and utterly original. —Mark, operations manager; Brazos Bookstore
11. That Time of Year by Marie NDiaye, trans. Jordan Stump
That Time of Year is somehow both refreshing and deeply unsettling at the same time. The perfect book to send you careening straight into the fall season, NDiaye's story of a man who's lost his wife and child on the last day of their summer vacation in a remote French village is chilling, slanted, and startling. I'm always looking for genre-bending books that I feel like I've never read before, and this nails it perfectly. —Angela María Spring, owner/buyer; Duende District
12. Igifu by Scholastique Mukasonga, trans. Jordan Stump
Every season in which we get a book by Scholastique Mukasonga, translated by Jordan Stump, is a blessed season indeed. Though the book is physically small, it contains nothing less than the heaviness of memory — its oceanic vastness, its vitality to the health and recovery of a community, its weight on the individuals charged with keeping it. Though each story has its narrators, characters, and families, I came away feeling that the main storyteller was both one and many — a we, a collective. In isolation, the stories are glittering gems; together in their own collective, they shed smoothness, and each edge is felt. When I read "Grief" in The New Yorker, I was moved; when I read it a few days later at the end of Igifu, I was verklempt. —Anna Weber, events manager; White Whale Bookstore
No one captures the beauty, horror, and heartbreak of the natural world quite like Diane Cook. Much like her acclaimed collection of short stories, Man V. Nature, The New Wilderness explores the perils of being human in an off-kilter, not-so-distant world. Let me just say, it is an impossible task for me to boil these 400 pages of sheer genius into a just few sentences! More than a frightening and prescient exploration of climate change, The New Wilderness is a captivating portrayal of human nature, isolation both physical and psychological, and the complexities of mother-daughter relationships. Like nature and humanity, this enthralling novel is at times brutal and cruel and in equal measures gentle and serene. Cook's sharp, subversive brilliance radiates in familiar and unexpected ways throughout this tour de force. My favorite book of the year by far! —Lauren Messamore, marketing manager; Watermark Books
Little Scratch drops us without ceremony into the frenetic, unsettled narration of an unnamed, assault-scarred office worker. The rhythm (agitated) and spacing (spotted) reveal a mind attempting to absorb, minute by minute, a torrent of mundanity mixed with terror. Watson has rendered in type a disturbed and attenuated mode of thought that is all too familiar to most of us today. —Alena Jones, manager; Clancey D'Isa, marketing director; Seminary Co-op Bookstore and 57th Street Books
15. Pew by Catherine Lacey
Pew is a wholly disquieting tale of the power of judgment to neatly and horrifically categorize the world for our own elevation. Told in the southern gothic tradition, this is character development in its finest form — an utterly spellbinding examination preconceived notions and the damaging effects of moral superiority. Timely, provocative and bound to be a classic. —Kristin Hildum, owner; Read Books Virginia Beach
16. Sisters by Daisy Johnson
Sisters is a twisting, compelling read from start to finish. Johnson provides a masterful look into the relationship of sisters June and September, born 10 months apart. Exiled to their aunt's beat-up old summer house, the girls explore every crumbling inch and wander the beach as the events of the previous months unfold. The house creates a haunting, intimate sense of place, and as their single mother sleeps through the days, the reader is left alone with the two girls. Johnson's language is evocative and hypnotic, a reminder of why she was short-listed for the Man Booker for her previous novel, Everything Under. Fans of Shirley Jackson and Barbara Comyns will recognize this skillful kind of creepy. Anyone wanting to get lost in a perfect eerie read will appreciate it just as much. —Heidi and Michael Bender, owners; Split Rock Books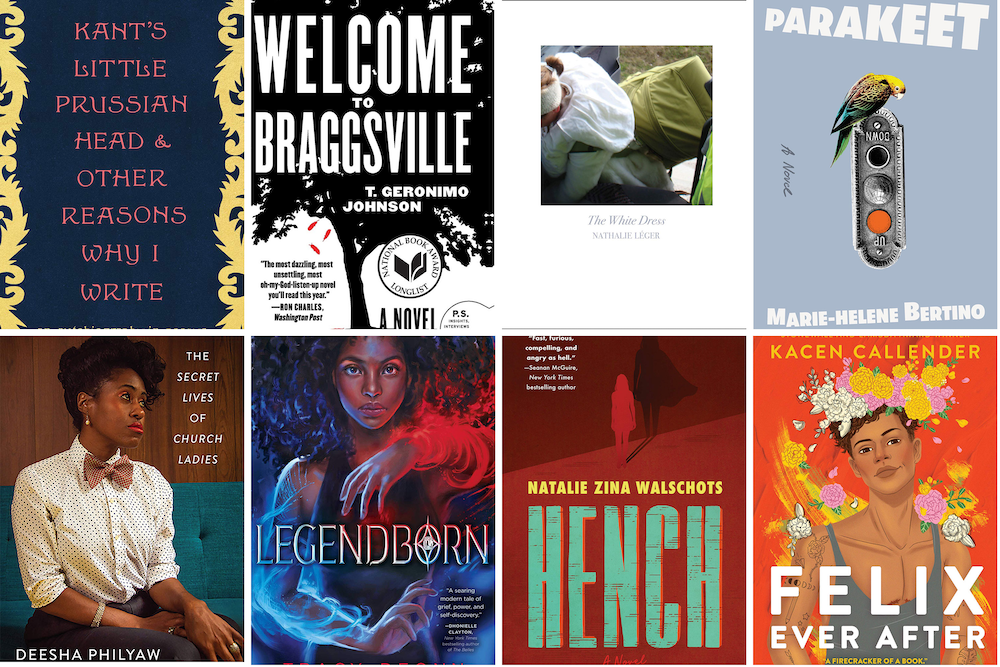 In a departure from fiction, Claire Messud's latest is 26 essays on childhood, family relationships, art, and books. Messud is one of my favorite contemporary writers; her novels are among my most memorable reads. I cannot wait to dip into this one!
—Sherri Gallentine, head book buyer; Vroman's Bookstore
This book constantly surprises. At first it seems to be an incredibly quirky coming-of-age novel, a story about a Southern kid who winds up at Berkley. But then, very suddenly, it becomes something entirely more complicated. I find myself rereading passages, poring over paragraphs to find the subtle shifts where Johnson has begun to unveil aspects of human nature that maybe we'd rather ignore.
As the United States faces the hard truth that the status quo is deadly for people of color, this book begins to untangle the complexities of race in the South, as well as the folly of youth. As a full-grown adult, I want to shake good sense into the characters. But, at the same time, I'm reminded how incredibly deep I thought my understanding of the world was in college — and how very much I had left to learn.

This book is one you'll likely wrestle with. But it's a significant contribution to southern literature, one you shouldn't miss. —Kendra Gayle Lee, owner/bookseller; Bookish Atlanta
The third book in Leger's uncategorizable triptych turns its lens onto Italian performance artist Pippa Bacca, who was tragically murdered while hiking across Europe in a wedding dress to promote world peace. This harrowing story, told in Leger's agile, exploratory, and gorgeously labyrinthine prose, raises questions about womanhood, justice, and what it means to make art in the world. To be consumed in one sitting and mulled over forever. —Halley Parry, bookseller; Skylight Books
20. Parakeet by Marie-Helene Bertino
Parakeet is a fever dream of a novel that you'll find yourself attempting to understand and longing to return to weeks after you've finished it. The book begins with a young woman on the brink of marriage visited by her long-dead grandmother in the form of an admonishing parakeet. Believe it or not, anthropomorphic birds are not the strangest thing to happen in this book but, with each outlandish development, the story imparts lessons on aging, loss, acceptance, and love. Marie-Helene Bertino is a rare writer — one whose wit and eloquence is obviously innate but who will quietly knock you out with the alarming importance of what she has to say. —Caroline McGregor, marketing and events; Books & Books
This poignant collection of nine stories explores the often unspoken gulf between the complex reality of Black women's lives and the narrow expectations and roles the church offers to women and girls. Reading these stories is like listening to your aunts telling secrets together when they think all the kids have gone to sleep — these are grown women's truths, rarely written in contemporary fiction, but immediately and welcomingly familiar. You'll want to sit and stay awhile. —E.R. Anderson, events coordinator; Charis Books & More
Bree Matthews just wanted to get away from the claustrophobic grief of her hometown and the well-meaning people giving her cliché condolences about her mother's tragic passing. Joining the early college program at UNC-Chapel Hill was supposed to give her the space she needed to move on — but how was she supposed to know that her first night there she'd stumble upon magic, demons, and a centuries-old secret society tasked with protecting the world from destruction? When Bree discovers this secret society might have sinister ties to her mother's death, she decides to infiltrate its ranks and find out the truth. The truth, however, might be more complicated than she'd hoped. Legendborn is filled with twists and turns that send your heartbeat skyrocketing and your mind whirring as it searches for answers. It is a story about the intricately bound legacies of family, country, trauma, and duty, as Bree discovers the power and love passed down to her by her ancestors, which, in her hands, is enough Southern Black Girl Magic to save the world. —Kylie, bookseller; Mysterious Galaxy
23. Hench by Natalie Zina Walschots
What makes a hero? A villain? What if we measure the consequences of seemingly good actions and find that, in fact, they harm more than they help? Hench is a captivating twist on the superhero genre. —Melanie Cade, owner; Mojo Books & Records
When someone posts private pictures of Felix Love pre-transition in the lobby at school, he dives headfirst into a revenge plot for the ages. Meanwhile, he also faces typical high school drama, ongoing questions about gender and identity, and the stress of college applications. Kacen Callender brilliantly layers the complexities of managing multiple marginalizations — including being a Black, bisexual, nonbinary, and lower-income student at a private high school — while also dealing with the everyday struggles of being a high school senior. Though there are trauma and heartache in Felix's story, it bursts with love, joy, and pride. It is a perfect celebration of queer Black love and joy. —Read Davidson, customer orders; Harvard Book Store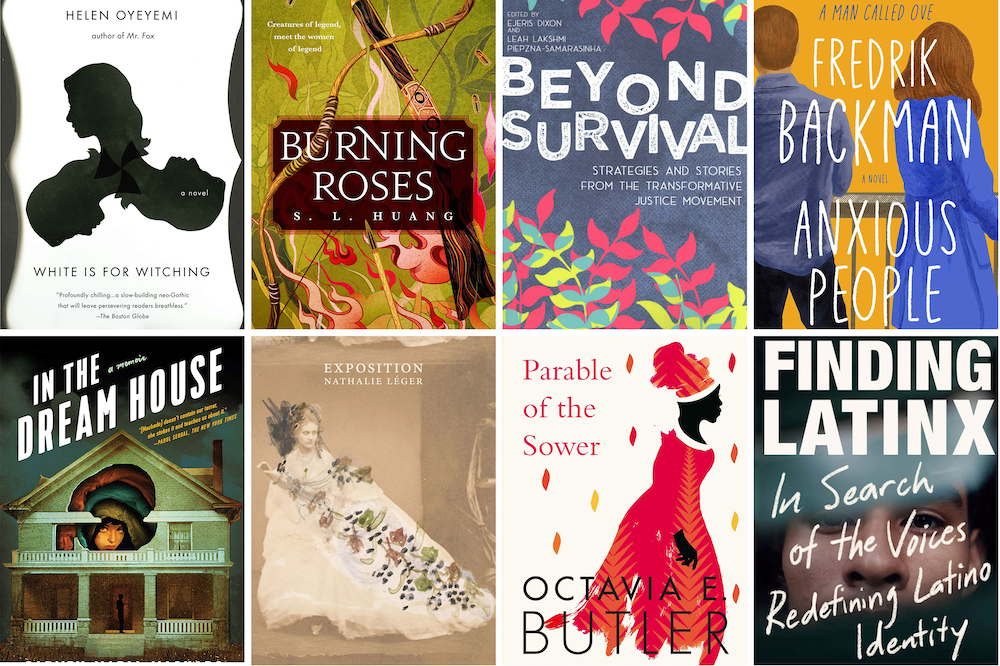 If you're ready to get in the fall mood, this is the read for you — a creepy story about family legacy, race, and queer identity that is littered with gorgeous and strange turns-of-phrase. A must-read for fans of horror and literary fiction. —Nicole Brinkley, manager; Oblong Books Rhinebeck
Red Riding Hood (Rosa) and Hou Yi the Archer, now middle-aged, join forces to quest to defeat Hou Yi's former apprentice and save the land they both love. Follow these queer, expert markswomen on their adventure while experiencing their parallel stories of family and reconciliation. This is truly the dark fairy tale remix you want right now. —Candice Huber, owner; Tubby & Coo's Mid-City Book Shop
We are deeply invested in the vital conversations that are happening right now around justice and dignity. We believe in imagining a better world where punishment is not the zero point from which we all have to flee or towards which we threaten to push each other. But the project of imagining and building such a world is not always easy and clear cut. That's why we recommend Beyond Survival, a collection of writings from within the transformative justice movement.

This collection presents the voices of disability activists, Indigenous people, two-spirit, trans, queer, intersex people; Black people, Latinx people, people of color; and women. It is not the work of a single author, but is a collection of strategies and stories, some mapped out with total clarity and some told with all the messiness of lived experience. These stories are deeply engaging and, we hope, inspiring.

Thanks to a generous donor, we not only recommend this book, but we've also arranged to provide free copies to people in our community who are interested in reading it. While the supply lasts, we will be handing over a copy of this book, at no cost, to anyone who asks for one. —Mark Trecka, bookseller and Instagram manager; Binnacle Books
Fredrik Backman has another smash hit with Anxious People. With Backman's stunning characters combined with a closed-room mystery, this book has all of the ingredients for a novel all your friends will be talking about. When a bumbled bank robbery turns into a bumbled hostage situation, a room full of people with problems of their own becomes a room full of people trying to find what they need most in life: love. It's what we all need and what Backman delivers. —Shane Mullen, events coordinator; Left Bank Books St. Louis
I found myself completely transfixed from the first page of this book. Machado cuts herself open and completely pours herself out in this genre-defying memoir. Delving deep into the murky waters of domestic abuse, with care and style, Machado brings the reader into the innermost parts of her personal experiences. A necessary and timely work, this book explores a far too unexamined reality of abuse in queer relationships. It's breathtaking in both its beauty and its terrifying reality, and Machado clearly exemplifies incredible writing. —Elisa Thomas, bookseller; Cellar Door Bookstore
30. Exposition by Nathalie Léger
A brand new title from St. Louis' own Dorothy Project, Exposition explores the life of the Countess of Castiglione, a 19th-century noblewoman who decides to become the most photographed woman in the world. Leger presents this story of womanhood, vanity, and the passage of time in prose that is taut, luminous, and genre-defying. An absolutely gorgeous little book. —Griffin Reed, bookseller; Subterranean Books
Parable of the Sower is one of the cornerstone works in the genre of Afrofuturism and the broader science fiction genre. The novel is set in a world a mere ten years in the future where water is as precious as oil, communities are ravaged by substance abuse, and a political leader will gain power under a "Make America Great" slogan.

The Parable series is Butler's most prescient work. However, it would take over three decades for the title to make the New York Times bestseller list on Sept. 3, 2020. —Isis Asare, founder; Sistah Scifi Online
Paola Ramos is the voice for the millennial and younger Latinx generation, and Finding Latinx proves just that. Ramos understands what so many journalists, publishersm and even the public do not understand or see: We are not a monolith. We carry many stories, many beliefs, many identities, and many experiences. We are Indigenous, Black, Asian, queer, and trans. We are more than just an immigration story, and we extend and live well beyond our southern borders. Ramos allows us to tell our stories outside of the white gaze and the non-Latinx lens. In Finding Latinx, Ramos writes with candor and empathy the generational and political divides within our community — how Latinos embraced assimilation and how we, LatinX, are starting to move against that. In these stories, we celebrate the depth and bounty of our culture, language, and history. This is the book I've needed my whole life. —Michelle Malonzo, buyer; Changing Hands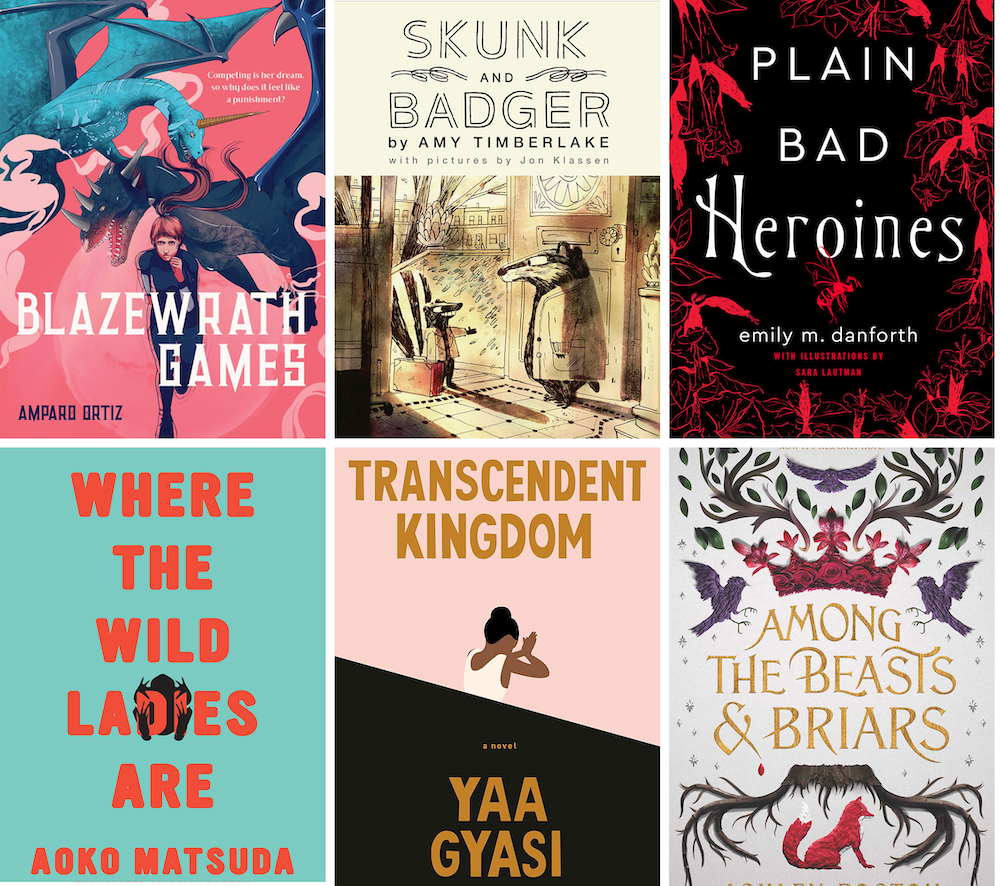 Blazewrath Games is the perfect book if you are missing the Olympics this year, but also wished that they had more dragons and fighting in it. Ortiz blends a story of action, suspense, and unexpected twists with the power of a dragon's roar. This will also appeal to anyone who ever wanted to be a contestant on Legends of the Hidden Temple and GUTS. Ortiz is definitely an author to look out for, and this book fills me with so much Boricua pride. Everyone who loves YA fantasy needs to read this fresh take on dragons. —Christian Vega, events coordinator; Astoria Bookshop
34. Skunk and Badger by Amy Timberlake, illustrated by Jon Klassen
No one wants a Skunk. Rock-loving Badger agrees, so why would his aunt agree that Skunk could be his roommate? Badger is determined to get rid of Skunk so he can return to his Important Rock Work. But Skunk does make a very good breakfast, even if there is his thing with chickens... This charmingly quirky novel begs to be read aloud. Featuring illustrations by Jon Klassen, it's the perfect book for curling up with (along with a bowl of popcorn, and maybe a chicken to cuddle). Like Frog and Toad or Wallace and Gromit, Skunk and Badger are certain to be beloved. —Marika McCoola, book fair manager and owner; Porter Square Books
There are books you love, and then there are books where the author was obviously listening to all your conversations and decided to run the transcripts through a word cloud to come up with an outline. That is to say, Plain Bad Heroines was not just up my alley — it had packed a bag and moved into my bedroom. A short list of things you'll find in this novel: curses, lesbians, gilded-age society scandals, yellow jackets, a heaping dose of snark, and the nagging sense that the line between what's real and what isn't has been blurred. This is both the story of the curse that plagues Brookhants School for Girls and the terrible things that happened there in 1902, and the making of a movie The Happenings at Brookhants, which tells that same story over 100 years later. It's the sort of New England Gothic that I can never get enough of. It's the perfect autumn read for you and your best friend that you're secretly in love with, trust me. —Katherine Nazzaro, bookseller; Porter Square Books
Enthralling, smart, and relatable, these stories offer commentary on society, gender, and power, and they feature ghosts: a woman who harnesses the power of her hair; a person who falls in love with a ghost; a man who is outsmarted by two strange lantern-pushing saleswomen. Each story in this book is a retelling of a traditional Japanese ghost tale. A thin thread connects them, growing gradually stronger until the end, making this a superb choice for those novel enthusiasts looking to read more short stories. Matsuda's realistically flawed characters are relatable — even when they're trees. —Marika McCoola, book fair manager and owner; Porter Square Books
Gifty, a PhD candidate in neuroscience at Stanford, narrates Gyasi's brilliant second novel, reflecting on her Ghanaian heritage and the casual racism she experiences growing up in a small southern town. This novel takes several deep dives: into Gifty's complicated relationship with her mother, the abyss of her brother's addiction, the age-old power struggle between religion and reason, and, perhaps above all, those transformative moments when one realizes that neither science nor faith alone will ever be able to answer all of the metaphysical questions that plague our human existence. —Emily, manager and buyer; An Unlikely Story
Among the Beasts and Briars tells the story of the beautiful kingdom of Aloriya and the cursed wood surrounding it, which no one is allowed to enter — because when they do, they never return. It isn't until a devastating attack on Aloriya that Cerys, the seemingly unimportant daughter of the royal gardener, musters the courage and strength to travel through the terrifying woods (joined by her annoyingly loyal fox companion) and find the answers she needs to save her loved ones. This book has everything a reader looks for in a great fantasy read and creates an atmosphere where each page has the power to either fill your heart with feels or send a chill up your spine. It was impossible to put down, which resulted in me reading it in one day — and though I was satisfied with how the story ended, I was sad to have to leave the magical world Poston has created. I cannot recommend it enough. —Colleen Regan, assistant book buyer; An Unlikely Story