The Lost Spells by Robert MacFarlane and Jackie Morris

This incredible poet/illustrator duo are back with more stunning nature poems to read aloud. Each piece of this beautiful volume — from the endpaper to the ribbon to the contents — brings tears to my eyes and raises goosebumps on my skin. In a year that has been so hard and seemingly devoid of goodness, this is a charming book to remind us of the beauty that surrounds us and the gifts nature shares with us. —Courtney Knudsen, Collected Works Bookstore & Coffeehouse (Get your copy.)
Erpenbeck's memoir is a free-floating collage of vignettes, speeches, and musings on creativity that transcends its form. It encompasses her craft, her self-discovery as a writer, and her childhood in East Berlin, and it resonates powerfully with the conditions of life in our world now. We're grateful to it for illuminating the possibilities for human life and imagination under systems of oppression. —Camden, The Booksmith (Get your copy.)
Short essays about the wonderful beauty and oddness that is the natural world, beautiful illustrations to accompany the essays, and interspersed moments of autobiographical connection? Yes, please! This book was such a delight in a year that hasn't seemed to have many, and the ability to pick it up for just one essay at a time was perfect for my seemingly minimized attention span. —Cat Bock, Parnassus Books (Get your copy.)
I couldn't wait to start baking as soon as I looked through this book! I've baked several of the recipes, and the chocolate chip cookies are the best I've ever made, and the coconut chews have become a household favorite. As we head into the holidays and gear up for the seasonal bake-a-thon, you must have this book by your side in the kitchen. —Sherri Gallentine, Vroman's Bookstore (Get your copy.)

Piranesi by Susanna Clarke
For those who fell in love with Clarke's first novel, Jonathan Strange and Mr. Norrell, this is a much anticipated delight. Piranesi is not your average fantasy novel. Clarke creates a surreal world, and pulls and envelops one completely into its mysterious labyrinths. A tale swirling with ancient seas and lost knowledge, this is a hearty nod to Philip K. Dick and Ursula K. Le Guin. It even contains unexpected dry humor! You will still be thinking about the story and characters as you go about your life, long after you've finished reading. A very good thing. —Gena Brady, Subterranean Books (Get your copy.)
As someone who loves both dystopian fiction and baseball, I feel like this book was written specifically for me. That it is told entirely from the point of view of a father only cemented that feeling. When AutoAmerica rejoins the Olympics with the goal of defeating ChinRussia, Gwen — who is "Blasian" (of Black and Asian ethnicity), has a golden arm, and has developed into a great pitcher in an underground baseball league formed by her parents — suddenly finds herself a top recruit. And under the omnipresent, watchful and witty eye of Aunt Nettie, Gwen is on the verge of delivering on her promise. But at what cost?
The whole book is amazing. Its message of radical defiance and hope is exactly what we need during this tumultuous year, and the ending left me speechless. Ann Patchett said that, with this book, Jen has "pitched a perfect game," and she's absolutely right. —Paul Swydan, The Silver Unicorn Bookstore (Get your copy.)

This groundbreaking story captivated my attention with its luminous characters and the author's ability to seamlessly move through time. Grounded in culture and family ties, it really shows all the ways family trauma and history can haunt us for generations to come. —DeShanta Hairston, Books and Crannies (Get your copy.)
Hornsby's ruminative and God-haunted road trip novel is a hidden gem from this dementedly off-kilter year. I'm grateful for Hornsby's humor, and for what [20th-century French philosopher] Simone Weil would call Father Dan's "unmixed attention." In his encounters with this novel's cast of characters, I was reminded of these words from Weil: "Attention, taken to its highest degree, is the same thing as prayer. It presupposes faith and love. Absolutely unmixed attention is prayer." Hornsby's a writer to pay attention to. —John Francisconi, McNally Jackson ( Get your copy.)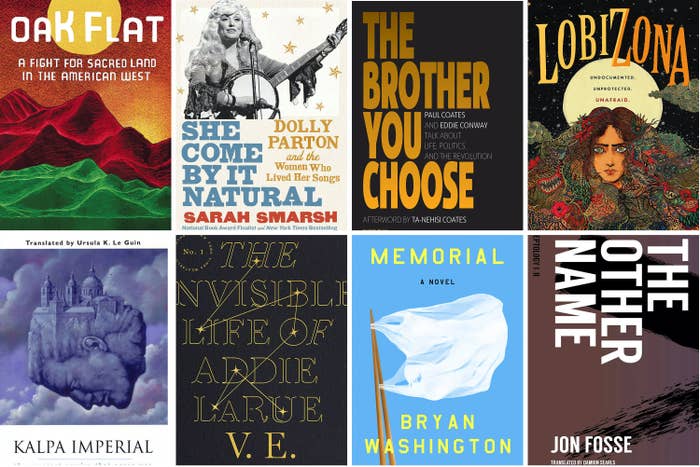 Oak Flat is a stunningly beautiful — both visually and lyrically — oral history of Oak Flat and the perilous history of the Indigenous culture there. Redniss's beautiful illustrations illuminate the text and history layered in how we exist in our space, for better or worse, on this earth. —Nick Buzanski, Books Are Magic (Get your copy.)
This book spoke to me on so many levels! She Come By It Natural is an ode to one of my absolute favorite idols and feminist icons Dolly Parton, but it is also an ode to the author's grandmother. If you have ever listened to "Jolene" or adored Dolly's character in one of her many films, you will definitely want to read this book to further appreciate the many things that Dolly has done in her career to become the icon that she is. It is a perfect gift book, and a book you will want to discuss with friends and family. —Shane Mullen, Left Bank Books (Get your copy.)
Reading Eddie and Paul's discussions about their lives — the Black Panther movement, the prison system, the effectiveness of activism — couldn't be more relevant. I was shocked at how closely their experiences mirror what's going on in our country today. A must-read. —Suzanna Hermans, Oblong Books (Get your copy.)
Lobizona by Romina Garber
An intersectional feminist read from beginning to end. This story dives deep into what it means to be "undocumented" while also flipping the term on its head. It is the first time that I saw the word reimagined, claimed as an identity and felt proudly.
The author builds a magical world both aesthetically and ideologically. Written as a young adult novel, Lobizona is both accessible and relatable. And of course, there's a beautiful love story at the center: both self-love, and love with a partner who cares what the main character, Manu, thinks and feels. Garber writes: "Why settle for being a son of the system when you can mother a movement?" Mic drop. —Kalima DeSuze, Cafe Con Libros (Get your copy.)
The Other Name by Jon Fosse, trans. Damion Searls
A gorgeous, meditative novel by one of Europe's greatest authors. Taking place over the course of a day, a widowed painter meditates on God, love, art, addiction, and friendship. A major achievement — a novel which feels more like a symphony or a sculpture than fiction. Beautifully translated by Damion Searls. —Mark Haber, Brazos Bookstore (Get your copy.)

Memorial by Bryan Washington
This novel is at once heartwarming and funny and realistically sad; it's a glimpse into multiculturalism and queer life, as well as a story of family and when to say goodbye. I fell in love with the prose almost immediately, but the characters were so real and the situation between the lovers so intensely true that I couldn't help but fall and stay under its spell until the end. I wish there had been even more. There were moments when I felt as if a hipper, more understanding John Updike had written this beautiful book, but the writing is so crisp and the structure of the novel is so unique, that I want Washington to have all the glory. This is one of the best of the year. —William Carl, An Unlikely Story (Get your copy.)
If you're looking for a book to lose yourself in, this is the one. I was hooked from the first page and read this in a weekend. The Invisible Life of Addie LaRue is a sprawling magical epic that traverses time and place. Promised to a man in an arranged marriage in 1700s France, Addie craves her freedom. She prays to the gods for an escape and ends up making a deal with one who answers. The devil's in the details though: She gets out of the marriage, but her freedom and her life ends up looking very different from what she imagined. —Melissa Taylor, E. Shaver, Bookseller (Get your copy.)
Read an excerpt from The Invisible Life of Addie LaRue.

Due to the pandemic, the election, and the numerous other distractions of 2020, reading — and concentrating on reading — has been difficult at times this year. Because of this, I've been revisiting old favorites. The one I'm most thankful for is Angelica Gorodischer's Kalpa Imperial. Published in English translation by the great Ursula K. Le Guin back in 2003, the book is like a warm blanket to me, a perfect little fantasy collection — irreverent, fun, mythical, and a beautiful piece of world building. A truly special book not on most people's radars. —Justin Souther, Malaprop's Bookstore (Get your copy.)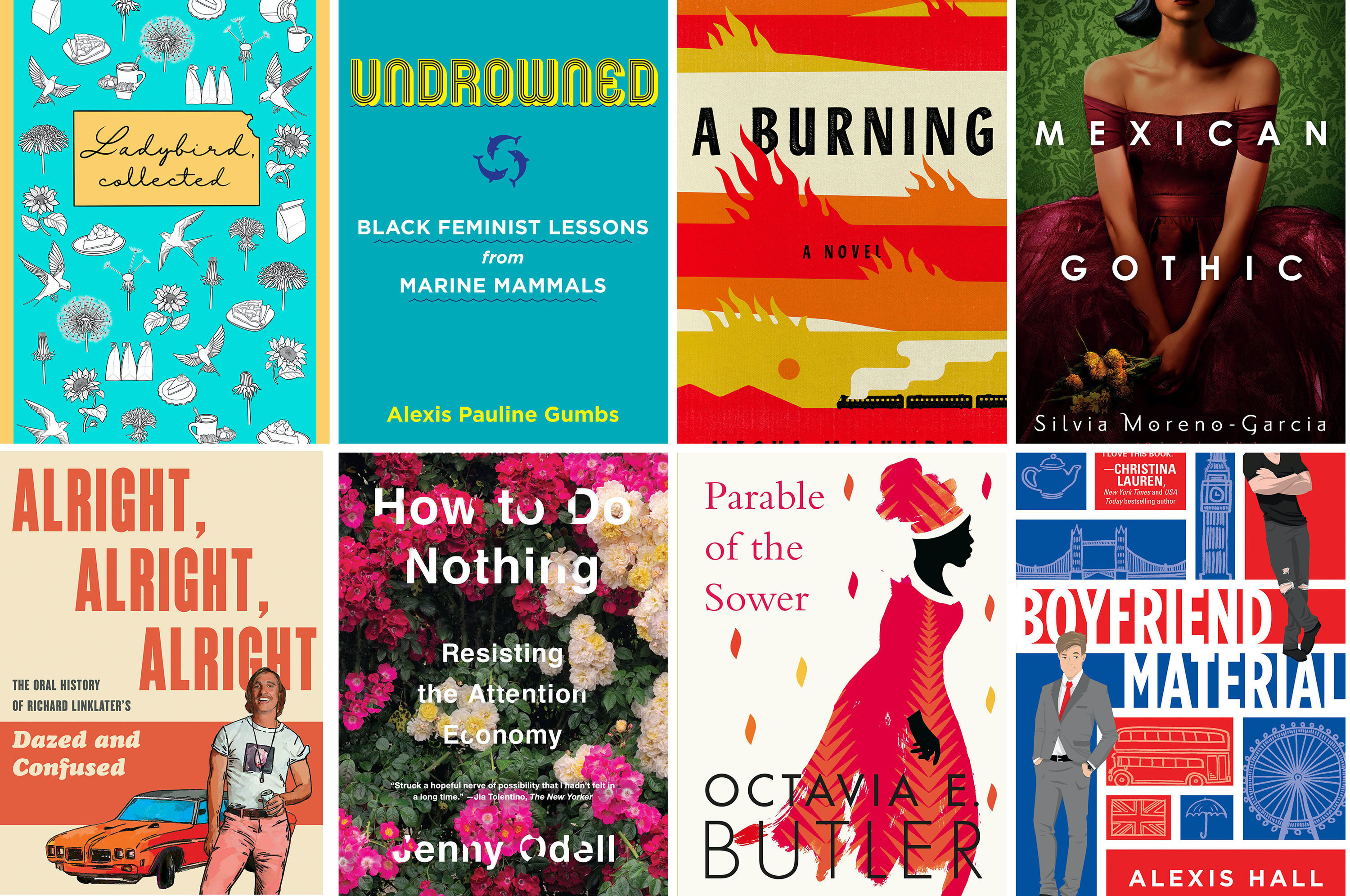 Our friends across the street at the Ladybird Diner have been handing out thousands of free lunches since March. We're inspired by their efforts to feed those in need, and their free lunch program is an inspiring example of what a small business can do to care for its community. Meg, the diner's owner, published a book of essays to help fund the community lunch program. One hundred percent of the proceeds from the sale of the book go directly to feeding people in need. In addition to supporting a great cause, Ladybird, Collected is a compelling read about community, parenting, and small business. —Danny Caine, The Raven Book Store (Get your copy.)
We're always thankful for the wisdom and imagination of Alexis Pauline Gumbs. Reading her books feels like a cross between stumbling upon an ancient sacred text and discovering that your favorite singer put out an album you somehow missed. Her poetic observations are at once uncannily familiar, alien, and intimate. With so much at stake right now in the world you may be tempted to read more topical "political" books, but if you want to understand how social justice can move at the pace of the natural world, at the pace of history, don't miss Undrowned. It will blow you away. —Errol Anderson, Charis Circle/Charis Books & More (Get your copy.)
Prepare to be immersed in contemporary Indian culture. This work is written from multiple points of view, each character hailing from a different walk of life. And yet, there are universal themes at play, with timely and grave parallels to the challenges we're currently facing. It may also serve as a warning against the corruption of our institutions. No easy answers are found here. At one point, I nearly set A Burning aside and I'm grateful that I did not. —Melanie Cade, Mojo Books & Records (Get your copy.)
Chilling, dark, with all unexpected turns. Silvia Moreno-Garcia channeled the classic gothic writers. Well done! —Mel, It's a Mystery (Get your copy.)
Boyfriend Material is a hilarious LGBTQ rom-com. When Luc O'Donnell is in the tabloids again, he needs an image makeover to keep his job. His friend-of-a-friend Oliver Blackwood is a buttoned-up, vegetarian barrister. They agree to fake date, and gradually and delightfully progress from sorta-enemies to real boyfriends. One of my favorite 2020 comfort reads! —Jen Cheng, Old Town Books (Get your copy.)
I read How To Do Nothing right before quarantine hit and I started the improbable task of working from home for a bookstore. It's extremely wise and so, so helpful in our hyper-internet age, and helped me reframe how I think about using (or simply experiencing) my time, what I consume and why, and how connectivity helps capitalism enter the smallest parts of our lives. —Dana, The Astoria Bookshop (Get your copy.)
It took over 40 years for the prescient novel by Octavia Butler to make the New York Times bestseller list. The novel's protagonist lives in a California thirsting for water, in an America surged by drugs and led by a president campaigning to "make America great again." We are grateful for Parable of the Sower because it is more than just a brilliant work of fiction — it is a philosophy on self-empowerment in a world that is constantly changing. —Isis Asare, Sistah Scifi (Get your copy.)
This book is Austin in the late '80s and early '90s. It covers the making of Slackers and Dazed and Confused, and extensively documents the general run-amok-ness of the young cast. Anyone who lived in Austin at the time will be mining their memories as to whether they were also at The Carousel Lounge when a certain actor was dancing on the piano or getting grub from Mad Dog & Beans when the cast-members were there with the munchies. And for those of us who have no idea how a film gets made, it elucidates the compromises, the knock down drag-outs, and the coercion involved in creating a film just as the director envisions it yet somehow within the realm of what the studio will allow. —Kelly von Plonski, Subterranean Books (Get your copy.)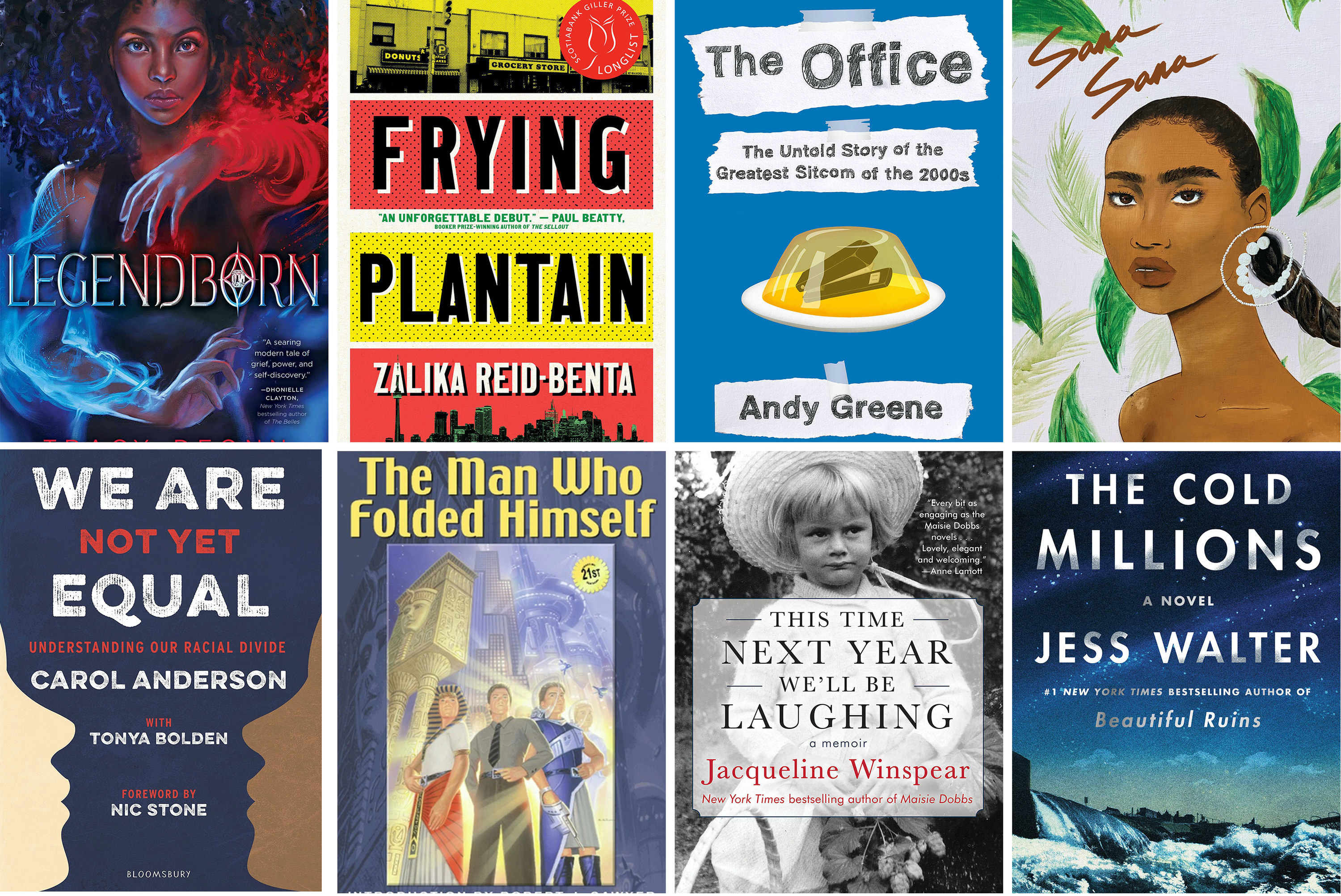 Legendborn gives an updated twist on the King Arthur myth and has one of the coolest magic systems I've read. It's nonstop action, but the characters are crafted in a way that makes you really care about them as well. A fun escape into magic and mayhem! —Candice Huber, Tubby & Coo's Mid-City Book Shop (Get your copy.)
Caught between her Canadian nationality and Jamaican heritage in Toronto's Little Jamaica neighborhood, Kara Davis is an embodiment of the child-of-immigrants narrative. Reid-Benta carefully crafts 12 interwoven short stories that follow Kara through the experiences of being Black in a predominantly white elementary school, the pranks she falls victim to in middle school, and her mother's unrelenting grasp of control as she becomes a teen and young adult. Reid-Benta's characters are viscerally real for any child of immigrants living in the United States or Canada, but especially for daughters of immigrants who balance insurmountable pressure to retain cultural traditions while trailblazing in a new world. As a Cuban-American whose mother wasn't born here, I saw much of the same themes and characters in my own life. This gripping book dragged me out of my first reading slump of 2020, and I hope it does the same for you! —Heather Halak, Third House Books (Get your copy.)
Watching The Office always feels like coming home, so it's no surprise that reading the behind-the-scenes stories feels just as warm and inviting. In a year rife with chaos, I came to this book for comfort and it DELIVERED. My roommate and I raced to finish our shared copy at the beginning of lockdown and then spent weeks spouting the fun facts we learned while rewatching our favorite sitcom. —Marnie Murray, Harvard Book Store (Get your copy.)
Ariana Brown's Sana Sana is the perfect poetry collection for 2020. With radical tenderness, Brown invites us into some of her experiences growing up a Black Mexican queer woman, through the conflict and joy and healing. Brown has been performing spoken word across the country for more than a decade, and Sana Sana is the first printed collection of her most famous work. It's the perfect gift for any lover of poetry, or anyone just trying to survive capitalism. A quote: "The lesson — / if you are alive, you are descended from a people / who refused to die. Nothing is more sacred than you." —Kaleigh O'Keefe, Harvard Book Store (Get your copy.)
In The Cold Millions, Jess Walter has created a vivid and thrilling story in the wild and turbulent time of 1909 Spokane, Washington — a hotbed of the west coast labor movement. Here labor unions fought for the rights of workers and the lower class, the "cold millions" like Gig and Rye Dolan. These brothers are swept into the fight where they encounter a myriad of unique characters including three strong women, one a real-life labor and rights organizer, Elizabeth Gurley Flynn; a corrupt millionaire lumber/mining baron; dangerous cops; mysterious friends; and a brave lawyer. Throughout the tale we witness the bond between the brothers stretch and reflect their own experiences and hopes for the future. Jess Walter has a tremendous ability to bring his complex characters to life within such a significant historical time, and his wry sense of humor is delicately threaded through the story. —Maureen Dooley-Sroufe, Cannon Beach Book Company (Get your copy.)
Jacqueline Winspear is the author of one of the most popular series at our store, the Maisie Dobbs series. This new book is a memoir of Jacqueline's life growing up in England, and her family's resilience in the face of war and a hardscrabble existence. The book is heartfelt and humorous, poignant and frank, and — as with the Maisie Dobbs books — beautifully written. We are so thrilled to be able to share the story of Jacqueline's upbringing with all of her fans. —Sally McPherson and Kim Bissell, Broadway Books (Get your copy.)
I am grateful for this book because not only was it a great read, but also because the author took chances with the narrative, taking on uncomfortable topics and handling them beautifully. When authors takes risks, like Gerrold did with this book, it inspires other authors to write without fear and push the boundaries of what is possible in literature and culture in general. If you haven't read this book, and you enjoy mind-bending science fiction stories that take on themes of sexuality and gender, then this book is a must-read. —Jean-Paul Garnier, Space Cowboy Books (Get your copy.)
This young adult, anti-racist title is a must-read for teens and young adults. It documents the long history of US tactics purposefully designed to limit progress in the Black community. It's very well-written and engaging breaking down the systemic racism that has existed in the US from the end of the civil war through the Obama presidency. This book should be a required read in every school across the US for grades 7-12. —Janeice Haynes, Detroit Book City (Get your copy.)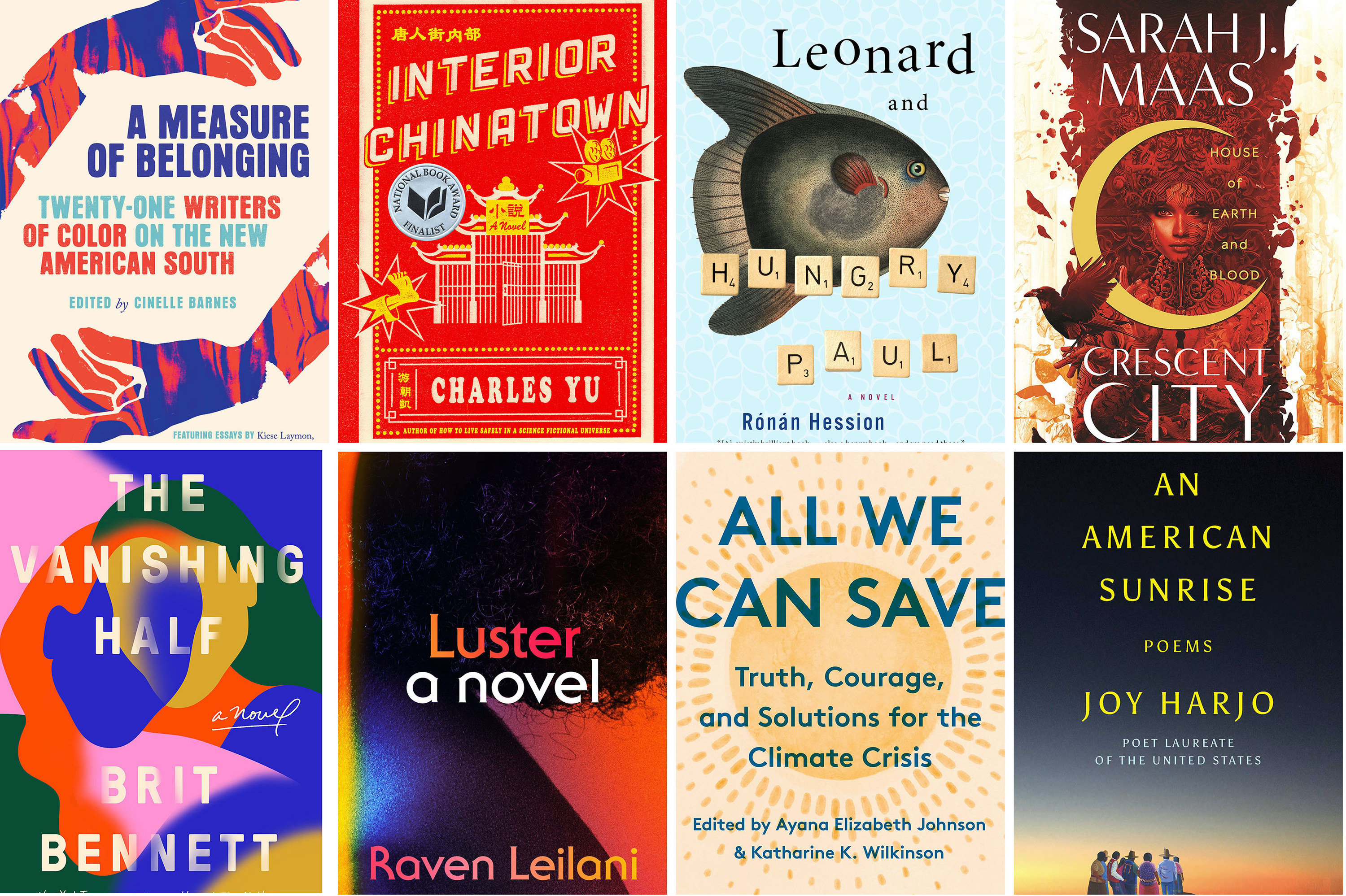 This poignant collection conveys the complexities and joys of living in the American South, asking 21 writers of color living in the South: Who is welcome? These often urgent, often funny, always nuanced essays illuminate the myriad tensions of living in the South but also why it's worth it. It's also edited by one of our regulars, essayist Cinelle Barnes, and published by the incredible, boundary-pushing Hub City Press. Even if I wasn't a Southern reader and bookseller, I would love this collection. It offers diverse snapshots of a region flush in both potential and problems, of anyone who's ever contemplated their belonging. —Sara Peck, Blue Bicycle Books (Get your copy.)
Willis Wu is Generic Asian Man, but he dreams of someday being Kung Fu Guy! Master of metafiction Charles Yu is back with a savage and hilarious novel about how Asian Americans are portrayed in our media and treated in our society. —Sarah Brown, Subterranean Books (Get your copy.)
Earlier this year, a preview copy of Leonard and Hungry Paul found me at the exact right time. Written by Irish musician Rónán Hession, it's the story of two male friends in their thirties who still live with their parents, meet up to play board games, and simply enjoy being in each other's company. —Caitlin Baker, Island Books (Get your copy.)
Drugs, sex, and all things fantasy are where this book begins. What starts as a murder mystery transforms into so much more. From the variety of creatures, to the richly built fantasy world, Sarah J. Maas has once again captured my heart. She surprised me, elicited a couple undignified snorts of laughter that luckily only my cat heard, and even got me to ugly cry. Maas's way of bringing characters to life is a true pleasure and I can't wait to see people meet Bryce and company. From the power of friendship, to epic battle scenes, to a truly original fantasy world, this book has it all. Filled with magic, mysteries, badassery, and, above all, heart, this book is a special gem I'll love for many years to come. —Constance, Mysterious Galaxy (Get your copy.)
I started reading An American Sunrise at the beginning of the lockdown here in Pittsburgh, and it was the only book I could read for several weeks, sometimes reading just one poem over and over again. Harjo's ability to hold darkness and light together, just like a morning sky before sunrise, was my blueprint for processing the past year. But beyond the refuge I was able to find in her words, I also found a call to remember and a call to act.
Harjo holds so many different events and feelings together in a single poem, sometimes in a single line — braiding together stories both personal and ancestral, allowing radiance and beauty to blossom while also pushing American readers in particular to confront and reckon with the violences historically and currently done in their names and on this land. From "Directions to You": "You will not always be lost. / You are right here, / In your time, / In your place." —Anna Weber, White Whale Bookstore (Get your copy.)
Hopeful and illuminating, All We Can Save is an anthology of essays by women at the forefront of the climate crisis. So often climate writing can make us feel doomed and anxious, but this collection is a comfort because of its honesty and courage. There are so many incredible people organizing and working towards solutions. It's reminder that we can work with hope towards a better future. The audiobook is narrated by many awesome people, like Janet Mock, Ilana Glazer, and Jane Fonda. —Kaylie Padgett, Women and Children First (Get your copy.)
Luster by Raven Leilani
An acid-tipped portrait of the artist as a young broke millennial, Luster pushes on painful pressure points of modern life with humor, precision, and a bruised, beating heart. Edie is a futureless editor at a publishing house when she begins a Tinder-borne affair with a much older man. He's white, married, and wealthy; she's Black, orphaned, and completely broke. I won't spoil anything else, but know that as this story complicates, Leilani skillfully excavates truths about power, class, racism, gender, manners, and trauma that exist even in our most minor interactions. I loved this book for its sexiness, its embrace of complexity, and its careful attention to pain. —Molly Moore, BookPeople (Get your copy.)
Brit Bennett dazzles us once again with her second novel, The Vanishing Half. Spanning decades, the book tells the story of Desiree and Stella Vignes, twin sisters who are inseparable as children but whose lives veer in opposite directions as Stella decides to run away from her past and hide her Blackness to live in the white world. Many years after the sisters' separation, their grown daughters meet by chance. As the cousins discover their family ties, worlds come crashing down. Bennett grapples masterfully with issues of race, family, and love that will leave you with your heart aching and unable to put the book down. A story of sisterhood, love, and the inescapable toll of racism on a family, The Vanishing Half speaks to our times. The characters are so unique and beautifully developed that you won't want to leave them behind. —Michaela Cohen-Fuentes, Politics & Prose (Get your copy.)

Arundhati Roy's latest collection of essays is powerful and timely, exploring the coronavirus pandemic, the persistent and rising threat of authoritarianism, and how her own fiction is in dialogue with these things. Although this may sound exhausting — especially as we drag ourselves along, sluggish with pandemic fatigue — Roy's voice is brilliant, reasonable, clear as a bell, and full of charm. And so we're grateful for her work and grateful for this book at a time when clear and reasonable voices are what we most urgently need to hold at the center of our attention.
In the book's final essay, Roy calls the global pandemic "a gateway between one world and the next." Such imagination is urgently needed, especially when we're running out of steam while navigating this moment of crisis. She invites us to really consider that aspect of the term "crisis" which implies a turning point. "We can choose to walk through [the gateway], dragging the carcasses of our prejudice and hatred, our avarice, our data banks and dead ideas, our dead rivers and smoky skies behind us. Or we can walk through lightly, with little luggage, ready to imagine another world. And ready to fight for it." —Mark Trecka, Binnacle Books (Get your copy.)
I am grateful for mother, scientist, professor, and member of the Potawatomi Nation Robin Wall Kimmerer's book Braiding Sweetgrass. Kimmerer takes us on a journey from the past to the present and reminds us of all we have to be grateful for, asking us, "What would it be like to be raised on gratitude, to speak to the natural world as a member of the democracy of species, to raise a pledge of interdependence? No declarations of political loyalty are required, just a response to a repeated question: 'Can we agree to be grateful for all that is given?'"

Kimmerer's book is a beautiful blend of scientific knowledge and traditional wisdom that reads like poetry, testimony and essay, bringing hard facts about our dying natural world to surface, and with a gentle hand, she motivates and stirs something deep within us. Milkweed Editions published a special hardback edition this year; it is a treasure that will stay in my personal library and will be passed down to family. I love it that much. —Rosaura Magaña, Palabras Bilingual Bookstore (Get your copy.)
A wise, knowing, mature, vulnerable, and generous conversation about what love is and what it is not. hooks disabuses us of our delusions about love and helps us replace them with something much deeper and much more fulfilling — a perfect book for making sense of such a grievous year. —Jeff Deutsch, Seminary Co-op Bookstore & 57th Street Books (Get your copy.)
Wendell Berry's Sabbath Poems have gotten me through moments I probably shouldn't have gotten through. A Small Porch, half poetry and half essay, heralds the importance of looking at nature as something sacred. A book of short life lessons from a rural farmer. If you're looking for a starting point for diving into Berry's writing, this is it. —Gary Lovely, The Book Loft of German Village (Get your copy.)