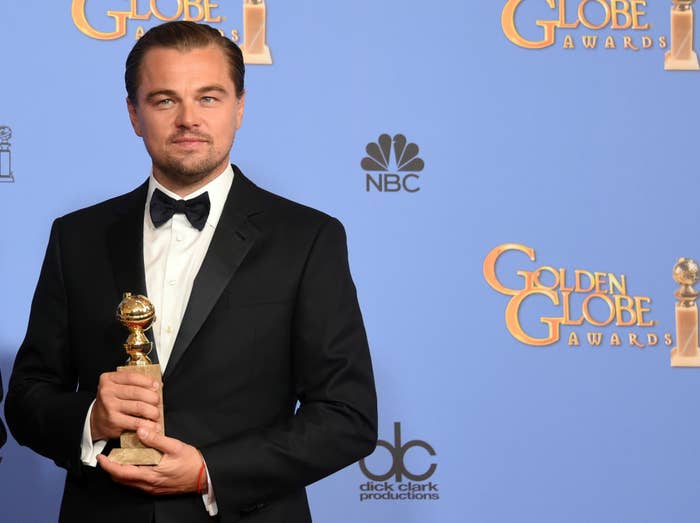 As he accepted his Golden Globe for dramatic acting on Sunday, Leonardo DiCaprio said that he shared his award with all the Native people represented in his new film The Revenant, and with "all the indigenous communities around the world." The star tied Native land rights to environmental justice, saying, "It is time that we recognize your history and that we protect your indigenous lands from corporate interests and people that are out there to exploit them. It is time that we heard your voice and protected this planet for future generations."
Indigenous characters — in particular, Arikara and Pawnee characters — play significant supporting roles in The Revenant, in which DiCaprio's Hugh Glass seeks improbable revenge on another white man for killing his Pawnee son. The film co-stars Native American actor Forrest Goodluck as Glass's son, Hawk, and First Nations actor Duane Howard as Elk Dog, among other Native characters who assist or antagonize DiCaprio's white protagonist. The Revenant also employed cultural consultants, and much of the dialogue in the film is spoken in the Arikara language.
At press time, DiCaprio was out of the country and could not respond to a request for a comment on how he plans to follow through on his call to action, his publicist said. But representatives of the indigenous groups portrayed in the film were enthusiastic about the actor's speech, and wondered what his next steps might be.
This week, Mark N. Fox, chair of the Mandan, Hidatsa, and Arikara Nation, wrote to BuzzFeed News: "Mr. DiCaprio's words and support for our rights and the rights of all Indigenous nations are amazing and courageous. Like a man with true character, he is willing to challenge American Society where many others of influence fear to tread. His efforts both on and off the screen have brought honor to our Arikara, Hidatsa, and Mandan people. We look forward to allying with him in the struggle to promote truth and protect our rights as sovereign and Indigenous people!"

Fox said that DiCaprio has not formally met with the tribal government, but added that the MHA Nation would be extending a formal invitation to the actor to visit their homelands.
Adrian Spottedhorsechief wrote on behalf of the Pawnee Business Council, "Yes, it is long overdue. For so long, our stories of struggle and survival have not been heard. Different Tribal Nations as a whole are the forgotten people of this land. In today's time, when we fight or stand up against government and big companies, no one hears about our fight or hears our words."

Spottedhorsechief was pleased by DiCaprio's public broaching of indigenous issues, and hopes that "people will hear his words and [that] he himself will follow through."

A related observation was made by Native American studies scholar Adrienne Keene, Ph.D., who pointed out on Twitter that, while she appreciated the speech, "I'd rather it didn't take a Marlon Brando or a Leo DiCaprio to 'bring [attention]' to what we as Natives have been saying for generations." (Keene was referring to the 1973 Academy Awards, when Brando sent Sacheen Littlefeather to reject his Oscar for The Godfather.)
Other observers had harsher critiques: Assiniboine activist Lauren Chief Elk-Young Bear tweeted Sunday night, "I think that shoutout was him making Native people his mascot," noting that he did not thank any groups or individuals specifically and instead relied on vague language that rendered all Native peoples a monolith. In a separate series of tweets the next day, she criticized his wording as part and parcel of "white saviorism."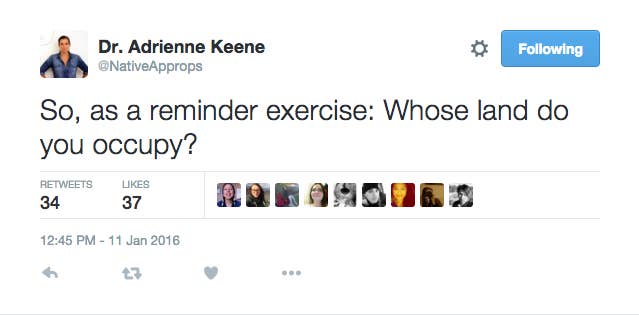 "The reason the Leo shout out was so remarkable to folks is that Native peoples are invisible," Keene tweeted. "It shouldn't be revolutionary to call upon the peoples whose land you occupy, but it is."

Before making the speech at the awards ceremony, DiCaprio and director Alejandro González Iñárritu were careful to involve indigenous cultural experts in the filmmaking process. Craig Falcon, the film's cultural consultant and a member of the Blackfeet Nation, said Iñárritu consciously ensured that the film was "not exploitative." Loren Yellow Bird taught DiCaprio the Arikara language, and advised on the culture as well, Falcon said. "[Iñárritu] wanted to do things very authentic," Falcon told BuzzFeed News, adding that the consultation was an ongoing process that lasted throughout the shoot and extended to all manner of details, such as the feathers in the mane of a warrior's horse.

WhileThe Revenant was still in production last April, Indian Country Today Media Network reported contrasting circumstances on a very different film. The Native consultant — along with a group of extras — on Adam Sandler's comedy The Ridiculous 6 walked off its set in protest because they found the film misrepresentative of and offensive to Apache people. "I wasn't allowed to talk to a producer and they wouldn't allow me to talk to anybody," the adviser, Bruce Klinekole, told ICTMN. "I couldn't say anything on behalf of my Native people or on behalf of my Apache people who were depicted so badly."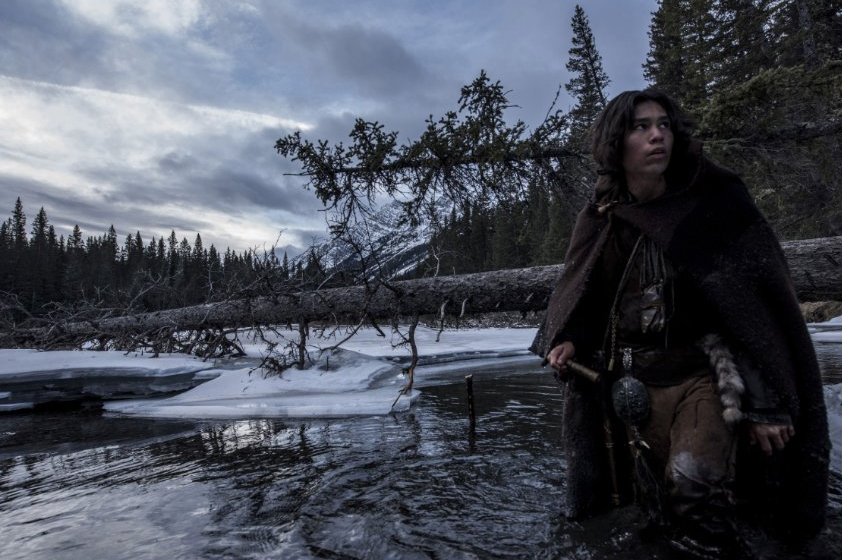 Like Native Americans broadly, the indigenous tribes depicted in The Revenant have endured historical dispossession that is lesser-known in the mainstream. For example, in the 1960s, the Indian Claims Commission found in separate cases that the federal government owed millions of dollars to the four confederated bands of Pawnee Indians and to the Mandan, Gros Ventre, and Arikara tribes: The initial sums paid for Native lands in 19th-century treaties were so far below market value that they were "unconscionable."

The Pawnee Nation is now based in Oklahoma, after decades of encroachment and dispossession in the 1800s compelled them to accept relocation from the Great Plains.

Furthermore, the very venue at which the Golden Globes takes place — the Beverly Hilton — is a mere 10-minute drive from a former Tongva village that was home to indigenous inhabitants of the Los Angeles basin. According to the California legislature, the Gabrielino-Tongva tribe signed one of 18 "lost" treaties with California Native groups. Theirs in 1851 guaranteed the tribe a reservation; however, the U.S. Senate refused to ratify this and 17 other treaties and placed these documents under an injunction of secrecy. The California bill states that the treaties were later discovered in a locked desk drawer in the United States Senate Archives in 1905, with the promise of a federal reservation never fulfilled.
Because The Revenant received 12 Oscar nominations this week, including a Best Actor nod for DiCaprio, he may take up the stump again as awards season continues. Falcon believes DiCaprio will support the cause in more concrete ways: He said after the Golden Globes speech, he joked to the director of his current project, "I think I really did a good job with brainwashing Leo and Alejandro over the last year."
CORRECTION
The lede of this article has been changed to clarify that the people depicted in The Revenant were Native Americans, not First Nations people.
UPDATE
On July 13, the Leonardo DiCaprio Foundation announced it would give a $2.1 million grant portfolio to several indigenous-led initiatives.