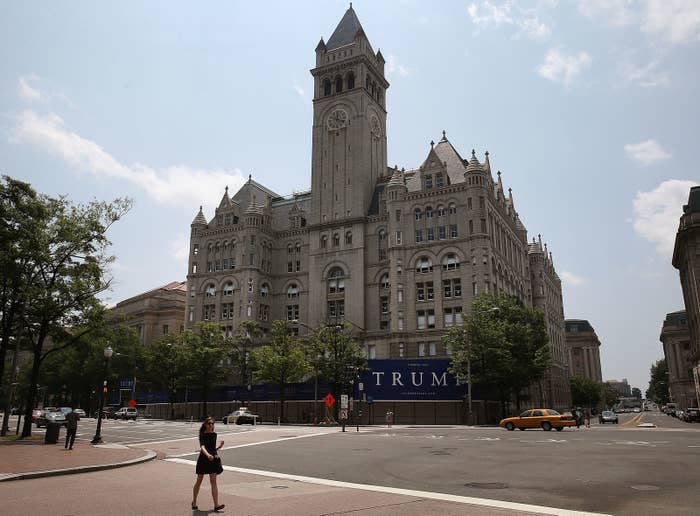 As he runs for president, Donald Trump has a massive business deal underway with the federal government: a luxury hotel in the iconic, taxpayer-owned Old Post Office building, just five blocks from the White House. Now, a newly released document gives a glimpse into how Trump channels money to his children. It also shows that Trump leveraged a mere $2.4 million equity investment to gain control of the $200 million project.
Despite the fact that the deal concerns a beloved landmark owned by the public, key parts of the project — including who exactly owns it and how much money Trump actually invested — have remained secret. By using the Freedom of Information Act to appeal a previous denial of records, BuzzFeed News gained access to the new document: a key part of the 2013 lease Trump signed with the federal government to take over the Old Post Office building.
The document indicates that Trump gave three of his children — Ivanka, Donald Jr., and Eric, all of whom spoke at the Republican National Convention — more than 22% of the federal project, though they apparently invested no money of their own.
The stakes were allocated through separate companies bearing each of the children's names, and the document indicates that those companies did not invest money. Nevertheless, their stakes could earn the children a big chunk of any profits generated from the taxpayer-owned site.
Trump has created a "wealth generation mechanism for his kids," said Peter Smirniotopoulos, an adjunct professor of real estate at George Washington University School of Business. Smirniotopoulos said he does not support either Trump or Hillary Clinton for president.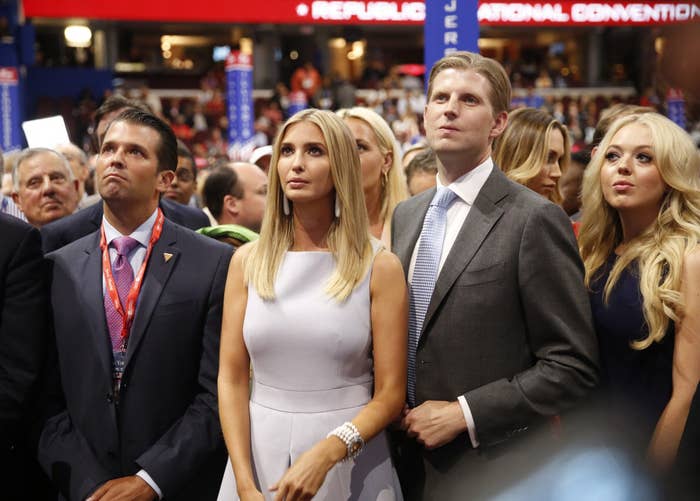 It is highly unusual for a presidential candidate to run for office while executing a high-profile business deal with the very government he hopes to lead, but Trump is doing exactly that.
He won a crucial first bidding round to develop the Old Post Office building in February 2012, before he announced his bid for president. He beat out national hotel chains such as Hilton and Hyatt, which also wanted the project, and Trump is now renovating the 120-year-old building into a 263-room hotel that he and his family will run as they lease it from the government.
Trump, who has had several companies go through bankruptcy, made his initial proposal to win the project with a rock-solid equity partner: Colony Capital, one of the biggest real estate investors in the United States. But, as BuzzFeed News reported this spring, Colony Capital left the deal after Trump won the first phase of the competition. Even so, the government's General Services Administration, or GSA, continued negotiating a final lease with Trump that left him in control of the building.
The Washington Post this week reported that Colony Capital, which is run by a friend of Trump, said it left the hotel project after the "timeline became too long for the firm."
It was previously not known how Trump initially financed the endeavor, but the new records show that Trump's capital investment at the time when he and the government finalized their lease in 2013 was just $2.393 million. And that, say experts, raises questions about whether the government ensured Trump had enough capital then to cushion taxpayers if the project hit hard times or tanked.
"Clearly this deal is a highly leveraged transaction," said real estate finance expert Daniel Alpert, who reviewed the new document and others related to the Trump lease. Alpert, managing partner of the investment bank Westwood Capital Partners LLC, said he did not support Donald Trump and has donated to the campaigns of Bernie Sanders and Hillary Clinton.
Trump, he said, "was able to persuade GSA to grant him a very valuable ground lease, which reduced the need for him to put cash in the deal."
Smirniotopoulos, the real estate professor, asked: "Is the $2.4 million capitalization enough equity for a 60-year lease?"
The question is hard to answer because so much of the deal remains behind closed doors. While the document obtained by BuzzFeed News fills in some details, it does not give a complete picture. For example, the government has refused to release Trump's original proposal that won the bid, making it impossible to gauge how closely the current project matches the initial concept.
Trump, who has not released his tax returns, has also refused to make public key documents on his deal with the federal government.
What is known is that Trump found ways to leverage his own wealth without putting cash on the table. According to a redacted version of the lease that was released to the public, Trump was required to put down a security deposit of $4 million — but in the form of a letter of credit, not cash. Trump himself was listed as the personal guarantor of the project, records indicate, signing a $40 million guaranty — which apparently also required no cash up front. That guaranty could be reduced based on how much equity Trump contributed to the project, the GSA said in a report to Congress.
Trump has created a "wealth generation mechanism for his kids."
After winning the competitive bid for the project, Trump used the federal lease itself as collateral to borrow $170 million from Deutsche Bank for the hotel renovation. And Trump has applied for a federal tax credit worth about $32 million that would help offset the cost of the project.
It is not known if Trump put in additional money beyond the $2.4 million after he and the government finalized the lease. A Trump Organization executive, who was involved with the project and supports his boss for president, told BuzzFeed News that Trump later invested $40 million more. That echoed a claim Trump himself made in 2015: "I am putting $42 million of my own cash into the project," Trump told the Washington Post.
The Trump executive, who spoke on condition that he not be named because he was not authorized to discuss the project publicly, said Trump's $40 million investment was separate from his $40 million guaranty but declined to explain how or when the subsequent investment took place. "Mr. Trump has invested a bunch of money in this project," the Trump executive said. "How it's structured — does it really matter?"
Neither Trump nor the agency has released records of such an investment, nor did either respond to emailed questions about it.
The new lease document also opens a window on who exactly owns the project, showing how Trump's children benefited by getting more than 22% of the project.
The document explains the complex makeup of a crucial corporation that Trump created to hold the federal lease and control the project, a corporation called "Trump Old Post Office LLC."
That company is in turn owned through a web of holding companies owned by Trump and his children. None of it is simple.
Even now, the federal government is still redacting the names of "private individuals," including that of Donald Trump, who is one step away from becoming president. But by cross-referencing with campaign disclosure documents, it is possible to understand what's been redacted.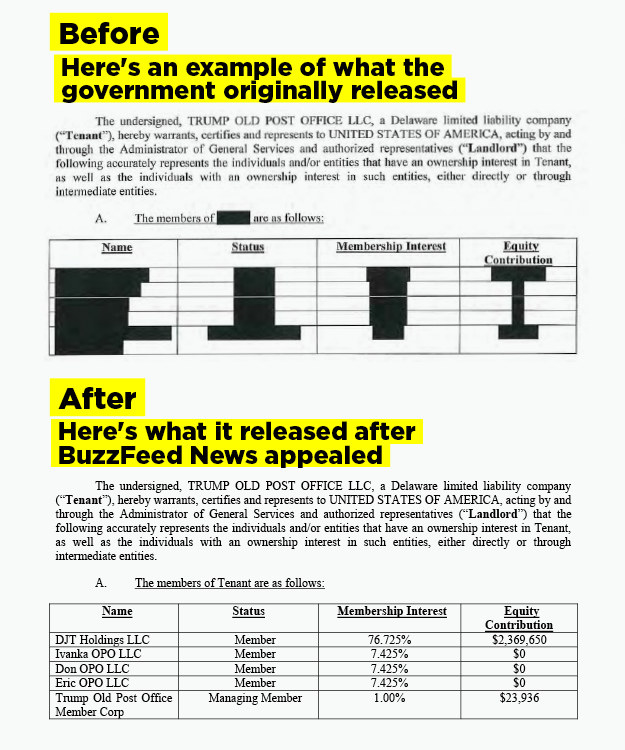 Most of "Trump Old Post Office LLC" — 76.725% — is owned by a holding company called "DJT Holdings LLC," which invested $2.369 million. Trump himself owns "DJT Holdings LLC" through a revocable trust, according to separate records he filed with the Federal Election Commission during the presidential campaign.

Another 22.275% of "Trump Old Post Office LLC," is owned by Trump family members, his campaign disclosure form states. Now, the new document breaks that down, showing how that chunk is owned by companies bearing the names of Trump's children: "Ivanka OPO LLC," "Eric OPO LLC," and "Don OPO LLC." Each of those three companies got 7.425%. (OPO is a common abbreviation for "Old Post Office." LLC stands for "limited liability corporation.")
But, the document shows, none of the companies bearing the names of the Trump children put in money at the time the lease was signed; in each case, their "equity contribution" is listed as zero. It is possible that those companies invested money in some other way or at another time.
Ivanka, who introduced her father at the Republican National Convention, has managed the project from the beginning as Trump's executive vice president for development and acquisitions. The owner of Ivanka OPO LLC is listed as "Ivanka Trump Revocable Trust."
The owners of "Eric OPO LLC" and "Don OPO LLC" have been redacted from the lease document.
Yet another Trump holding company, "Trump Old Post Office Member Corp," put in $23,936 for a 1% — but controlling — stake in the main company, "Trump Old Post Office LLC." Though the government has redacted Donald Trump's name in this other holding company, Trump himself has revealed in his campaign financial disclosure form that he owns 77.5% of it, and that his family owns the rest. The new document shows that "Ivanka OPO LLC," "Don OPO LLC," and "Eric OPO LLC" again put nothing into this other holding company at the time the lease was signed, but own the rest of it.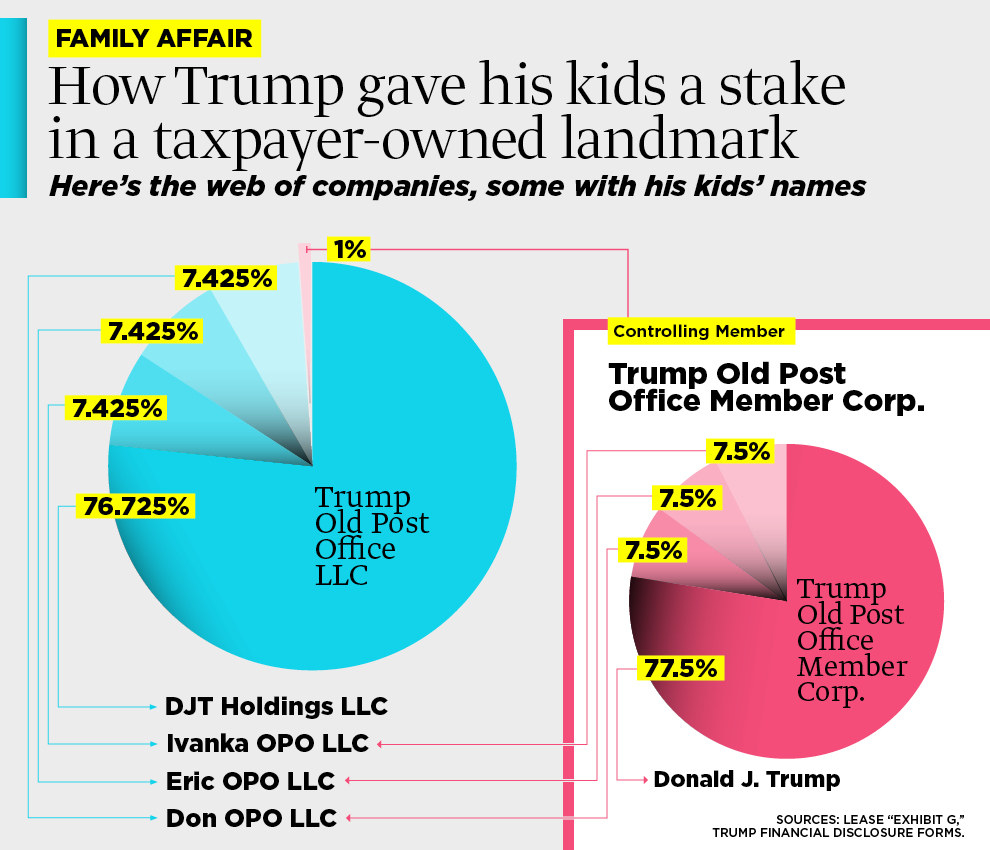 Trump's spokesperson, Hope Hicks, did not respond to an email and a phone call requesting comment. A spokesperson at the Trump Organization did not respond to requests to interview Ivanka, Donald Jr., and Eric Trump. The GSA also did not respond to requests for comment.

Last month, Trump sued the local Washington, DC, government, alleging that its tax appraisal of the project was too high at $91 million. Trump does not own the building, but must pay "possessory" tax, which the District levies on government-owned property leased to for-profit companies.
Trump also continues to litigate against two celebrity chefs he had tapped to open restaurants in the hotel. Trump sued them for withdrawing from the deal in response to incendiary comments about Mexican immigrants he made during his first official campaign speech. "They're bringing crime," Trump famously said. "They're rapists. And some, I assume, are good people."
In a deposition from one of those suits, Trump said he planned the comments in advance, but didn't discuss them with anyone or write them down.
He also testified that he had signed hundreds of leases but "very rarely" actually read them.
The Trump proposal that was approved by numerous government bodies emphasized how multiple, high-end restaurants would draw pedestrians toward the building, adding life to an area known mostly for massive office blocks. Yet the plan was quietly scaled back to a single steak house after the original restauranteurs pulled out, court records show.