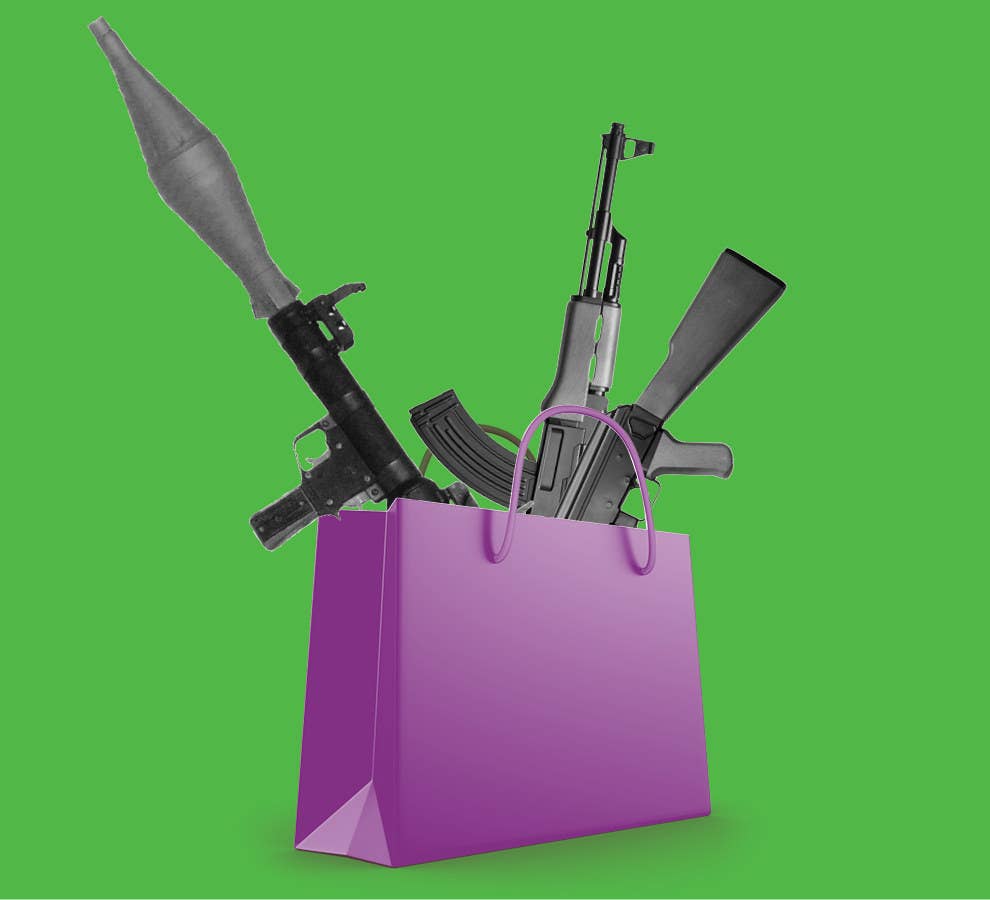 Late last month, the U.S. Special Operations Command, which oversees America's elite commandos and their operations against ISIS in Syria, sent a lengthy shopping list to a small group of arms dealers. The tightly held list, obtained by BuzzFeed News, doesn't include U.S. weapons and ammunition but rather Russian-designed arms, including hundreds of AK-47 rifles, heavy mortars, and anti-tank rocket-propelled grenades, enough to equip a battalion.
The U.S. military said the weapons are for the anti-ISIS effort, and the only place the U.S. is known to send arms to anti-ISIS forces is Syria. In Iraq the government in Baghdad buys its own weapons. Still, the Pentagon would not say who exactly would get the weapons. Sources say the U.S. military currently provides arms to the "Syrian Democratic Forces" coalition made up of the Kurdish militia known as the YPG and other groups.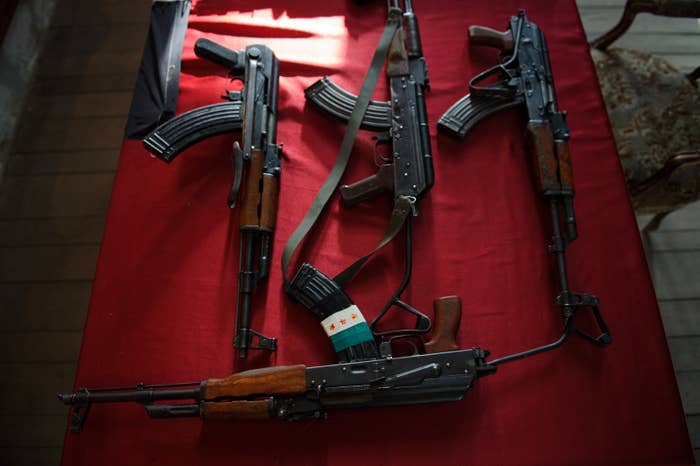 "We will continue to provide equipment packages to vetted groups," the Pentagon said in a statement. "For operational security reasons we do not discuss these operations in detail or speculate on potential future operations."
The new deal underscores how many weapons are pouring into the world's most volatile battlefield; the U.S., Russia, Iran, Saudi Arabia, Turkey, Qatar, and other countries have armed various factions in the Syrian civil war.
The new arms tender also shows how the U.S. — even for its most critical counter-terrorism operations — is willing to rely on obscure arms dealers with dismal track records and dubious connections.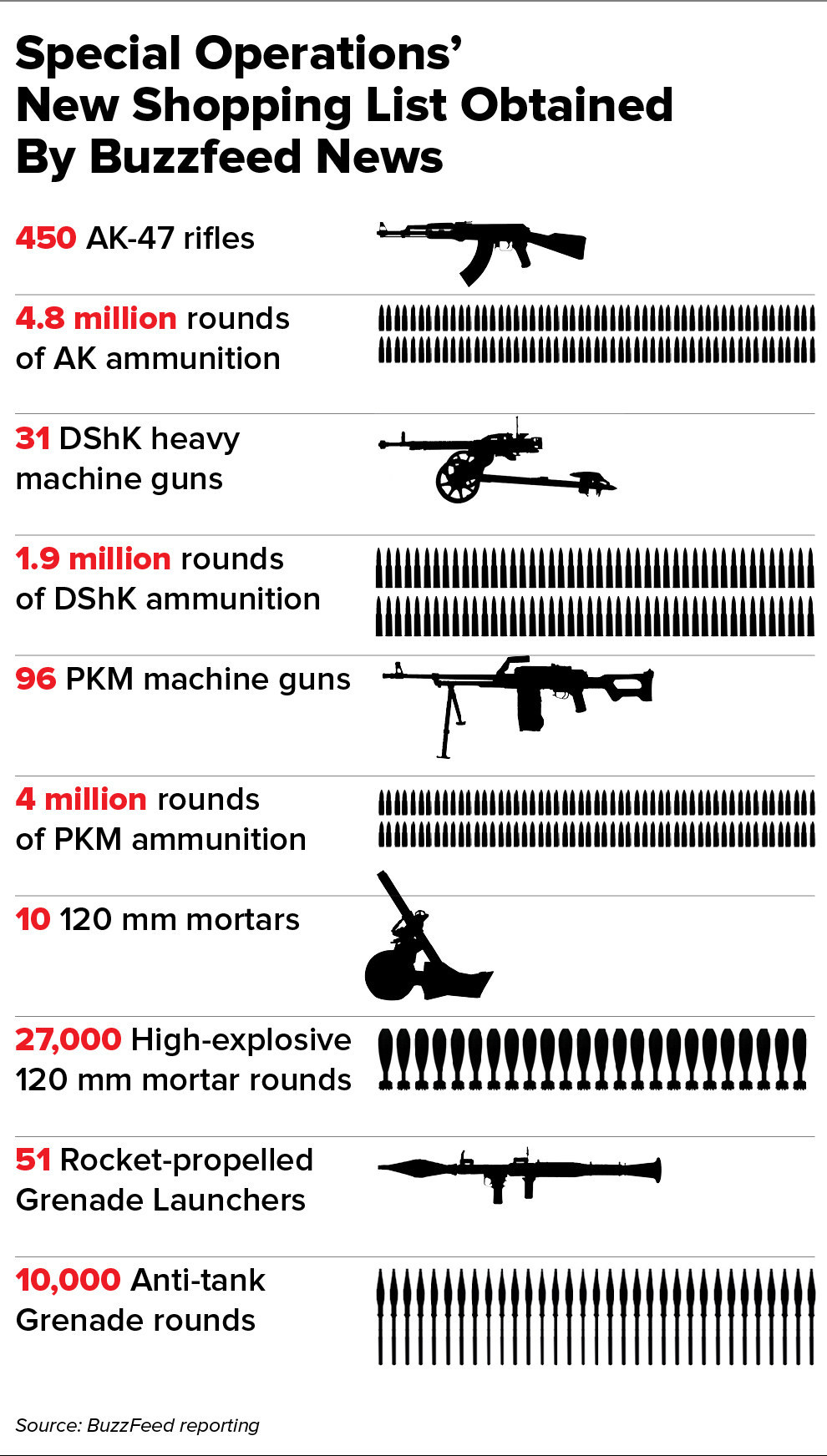 Among the companies SOCOM has authorized to bid for the weapons is the American arms-dealing company Purple Shovel, sources tell BuzzFeed News. That firm was at the center of the failed "train and equip" program to fight ISIS. That disastrous program — which was initially envisioned to vet, train, and arm thousands of Syrian rebels — was canceled in the fall last year, after only a handful of Syria rebels were actually trained in spite of millions of dollars spent.
Purple Shovel, run by a former Army counterintelligence sergeant, has suffered a series of problems. As two previous BuzzFeed News stories reported:
The firm and its subcontractors tried to sell thousands of substandard and corroded grenades to SOCOM for Syrian rebels.

The owner of Purple Shovel's key Bulgarian subcontractor, who provided the grenades, had ties to a notorious organized crime figure nicknamed The Baron.

An American civilian subcontractor for Purple Shovel, Francis Norwillo, died in June in a grenade explosion in Bulgaria. The U.S. government has not investigated his death, and the Bulgarian government has not released any findings.

The CEO of Purple Shovel's U.S.-based primary subcontractor in Virginia was sanctioned for securities violations, including "fraud and deceit" three years ago. Another executive was indicted for bribery in a federal case that was later dismissed.

The firm obtained weapons for the Syrian rebels from the sanctioned dictatorship of Belarus.

Lt. Commander Matthew Allen, SOCOM's spokesman, defended the command's dealings with Purple Shovel. In an email to BuzzFeed News he wrote that the earlier contract for the failed "train and equip program" was "executed within DOD and federal acquisition regulations." He said the firm fulfilled its contract on time and on budget. He also wrote that SOCOM is not investigating the Purple Shovel "train and equip" contract award.
To the contrary, after the collapse of the "train and equip" program, SOCOM selected Purple Shovel in December to be one of eleven arms suppliers for the next five years. It's a lucrative assignment for any arms dealer. While there is no dollar amount listed in the solicitation, two arms dealers tell BuzzFeed News that the upcoming contracts under the SOCOM "basic ordering agreement" could provide business worth hundreds of millions of dollars.
Purple Shovel's growth rate over the last year and a half has already been nothing short of phenomenal thanks to its business with SOCOM, the only federal agency, according to records, which has ever directly given the company any business. In 2014 Purple Shovel LLC had annual revenue of just $2 million, according to a federal procurement database. It was designated a "service-disabled veteran owned small business." At the end of that year, SOCOM steered over $50 million in contracts to the company for the Syria operation.
Prompted by the earlier BuzzFeed News reporting about Purple Shovel's role in the Syria operation, Sen. Claire MacCaskill in October requested information on the Pentagon's Syria contracts.
Employees at Purple Shovel hung up the phone several times when contacted by BuzzFeed News for this story, and the company's CEO and founder, Benjamin Worrell, did not respond to repeated phone calls and emails. A lawyer for the company previously wrote that many of BuzzFeed News' initial findings were incorrect. She declined to provide details because she said the firm is barred by federal law from discussing its Defense Department contracts, and she has not followed up.
Though it's unclear if Purple Shovel will win the latest contract for the battalion-sized lot of Warsaw Pact arms, the new agreement with SOCOM, granting it special status to bid for contracts, could launch the firm into the major leagues.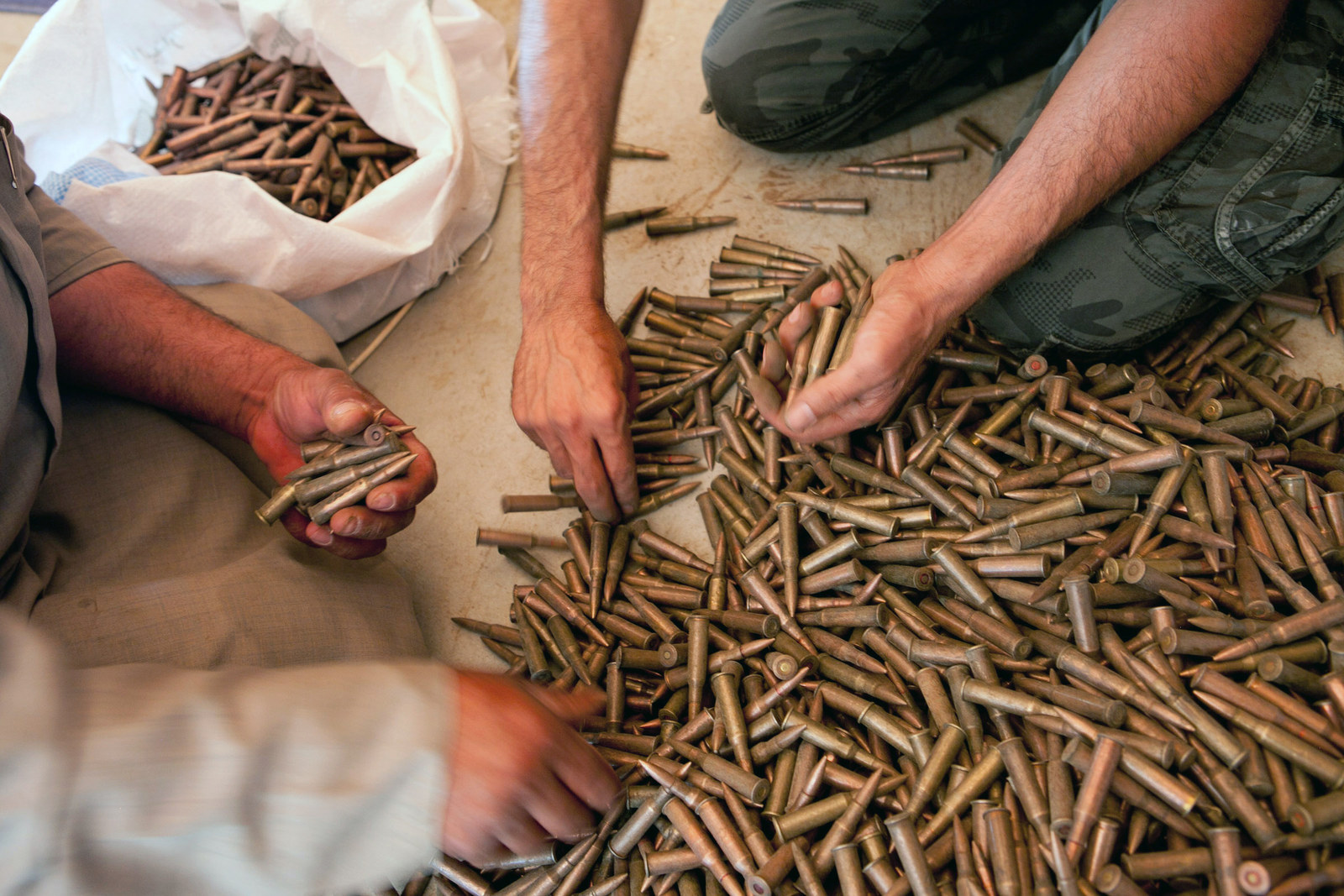 Administration officials have worried since the beginning of the Syrian civil war that guns and ammunition provided to rebels could fall into the wrong hands.
Indeed, previous U.S. arms shipments to Syrian rebels have reportedly been diverted to al-Qaeda.
Though the Syrian Kurds have proven to be effective allies against ISIS, they are also reportedly involved in battles against other anti-Assad rebels, and are associated with the PKK, a Kurdish group that the U.S. has designated a terrorist organization, and that is fighting Turkey.
Pieter Wezeman, who monitors arms transfers for the Stockholm International Peace Research Institute, says it is impossible to get rid of all the risks when transferring arms to "non-state" groups.
The Pentagon said, in a statement to BuzzFeed News, that it has procedures to monitor arms shipments and make sure they "remain in the control" of the rebels who get them.
Another potentially troubling part of this procurement is that some of the weapons in this tender are extremely powerful, such as the 120-millimeter heavy mortars, with 27,000 shells. Those can be fired at targets miles away, well out of sight, and cause tremendous damage to towns and villages. One former Special Forces officer, speaking on condition of anonymity, said such mortars "are very indiscriminate weapons" that could cause civilian casualties.