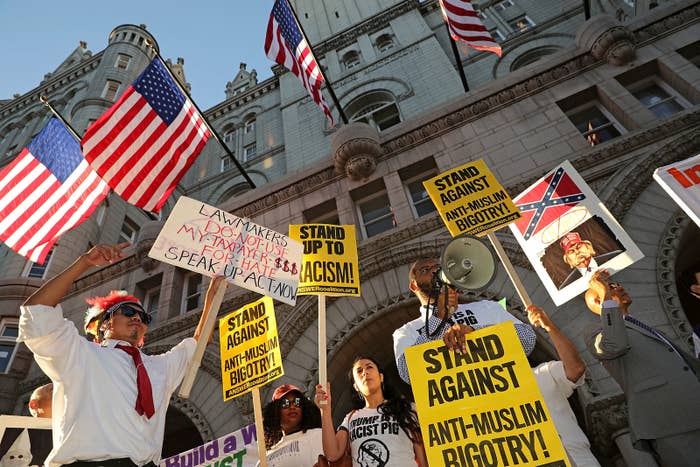 The federal bureaucrat who oversaw the controversial process by which Donald Trump took over the iconic Old Post Office Building, steps from the White House, has an outside business interest in a financial services company, according to corporate records.

Both the bureaucrat and his agency refused to say specifically whether he disclosed it, as required by federal ethics rules, raising more questions about the government's role in granting Trump and his children a lease to one of the most prominent taxpayer-owned landmarks in the nation's capital.
The Republican presidential candidate's newest luxury hotel has been constructed in the 117-year-old Old Post Office, and he gave a big stake of the project to his children, Ivanka, Donald Jr., and Eric. Trump leases the property from the government's General Services Administration.
A previous BuzzFeed News investigation revealed that Trump gained control of the building despite changing key elements of his proposal, including his capital partner and architect, and that his team has pushed the government to accept design changes that insiders said ran counter to the principles of historic preservation.
Trump has intertwined his hotel with his campaign for the presidency. He hung a huge sign on the taxpayer-owned building that said "Trump, Coming 2016." He's held campaign events there, including one just last Friday, where he vigorously promoted the hotel, saying, "It's going to be something very special."
The federal official who made much of this possible for Trump is Kevin Terry, a contracting official at GSA. He has handled the deal with Trump and Trump's children at every step of the way since 2011, overseeing the bidding process in which Trump beat out 10 competitors, dismissing complaints from at least one losing bidder, and later approving the controversial changes Trump made to his winning proposal. Terry continues to oversee key parts of Trump's deal with the government.
Now, BuzzFeed News has learned that in addition to his work for the US government, Terry is listed as the director of an Iowa company called Concorde Financial Services.
There is no indication that Concorde does business with the GSA or with Trump. But federal ethics rules requires that contracting officials such as Terry disclose "All positions outside the U.S. Government." Reached by phone last week, Terry said about Concorde, "I'm telling you there is nothing there." Asked if he had disclosed his outside business role to the GSA, Terry did not answer. Instead he said, "You've crossed the line," and abruptly hung up.
A GSA spokesperson also declined to say if Terry revealed anything about Concorde Financial to the agency, citing confidentiality rules. But she did write in an email that "Kevin Terry has complied with all requirements of the confidential financial disclosure process and applicable ethics guidelines. GSA is prohibited by law from sharing the details of the disclosure forms."
In 2000, the Iowa company changed its name from Concorde Property Management to Concorde Financial, and it continues to file reports with the state every two years. It is unclear what the company's business is. Its president — Terry's brother Timothy Terry, an investment advisor and accountant in Iowa — did not return calls.