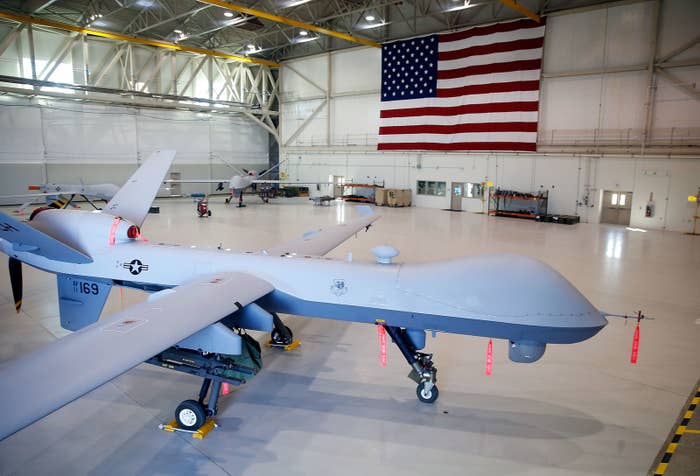 WASHINGTON — The Air Force is investigating the failure of its classified computer network at Creech Air Force Base, a key nerve center for worldwide drone and targeted killing operations, BuzzFeed News has learned. The network, which crashed in early September, has not been completely rebuilt, according to US government contracting records.
Military officials would not say whether the critical failure was due to internal technical issues, a cyberattack, or something else. "The investigation into the issue is ongoing," said Maj. Malinda Singleton, an Air Force spokesperson, declining to comment further.
The computer network that crashed at Creech is called SIPRnet, a parallel, classified version of the internet that can transmit secret-level intelligence, targets, electronic intercepts, and video. Its outage impacted "critical services," according to federal contracting records at fbo.gov.
Creech, in Nevada, is considered the heart of the US's "targeted killing" program. From there, Air Force pilots operate the armed "remotely piloted aircraft" — drones — via satellite links over Syria, Afghanistan, Pakistan, Somalia and elsewhere, and fire missiles at alleged al-Qaeda or ISIS figures. The Predators and Reapers, known as MQ1's and MQ9's, are also used for surveillance and intelligence gathering.
Within weeks of the network crash at Creech, there were a series of airstrikes that went terribly wrong. Those incidents, which resulted in scores of deaths in Syria, Afghanistan and Somalia, are still under review and investigation. But "if there are any issues on a SIPR network, it would not disrupt flight operations" of Predator and Reaper drones, said Air Force spokesperson Singleton.
On Sept. 17, just one week after the computer disaster, 62 Syrian soldiers positioned at a base, were accidentally killed by US airstrikes in the middle of a ceasefire. The case is under investigation, a CENTCOM official told BuzzFeed News. There has been no official explanation for the targeting snafu though the US expressed its regrets quickly after the incident.
In Afghanistan, 15 civilians were reportedly killed in a US drone strike on Sept. 28, according to the United Nations. A Pentagon official said the incident is under review.
Also on Sep. 28, in Somalia, 22 Somali soldiers were reportedly killed in US drone strikes. Somali authorities say none of them were al-Qaeda and it was a case of "misdirection." That incident, a separate Pentagon official told BuzzFeed News, is also being reviewed.

BuzzFeed News learned of the network crash from a contracting notice posted by the US government posted in early October, which says: "On 9 September 2016, the SIPRNet system currently in operation at Creech AFB failed and critical services were impacted. The services were somewhat restored with the use of multiple less powerful devices," according the notice, and "there is currently no other backup system."
The same day the SIPRnet system crashed, the Air Force quietly announced elsewhere that Creech would be subject to a surprise cybersecurity inspection starting in October. Among other things, it warned personnel to be wary of phishing attacks and extra careful in securing their login credentials.
A separate internet system, called JWICS, handles top-secret information — military officials would not say if JWICS operations at Creech were also affected.