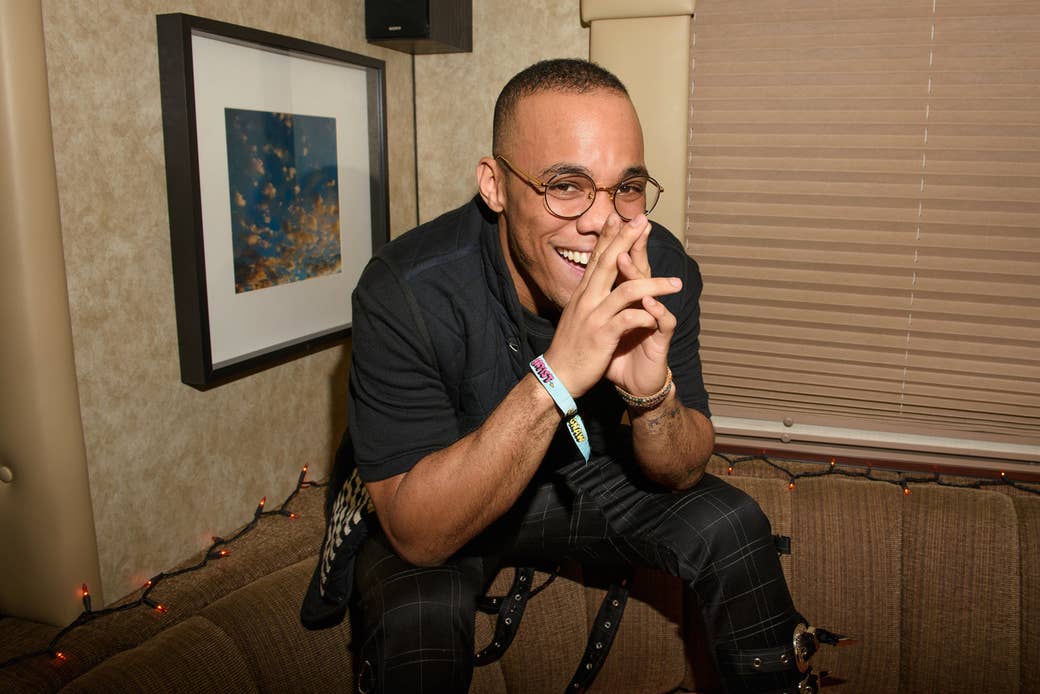 "We went from a couple thousand people the first year to 40,000 today," Tyler, The Creator exclaimed to the crowd during his Saturday night performance at Camp Flog Gnaw, the very music festival he founded. "Coachella, we comin' for ya."
Los Angeles-based Camp Flog Gnaw started as a somewhat fever dream for the rapper. In a Tumblr post from three years ago, he mentions that he sought to carve out a place where people held one thing in common: No matter your size, race, or beliefs, we have the music. Now in its fifth year, the festival has become a major staple as it makes its loud and unique voice heard.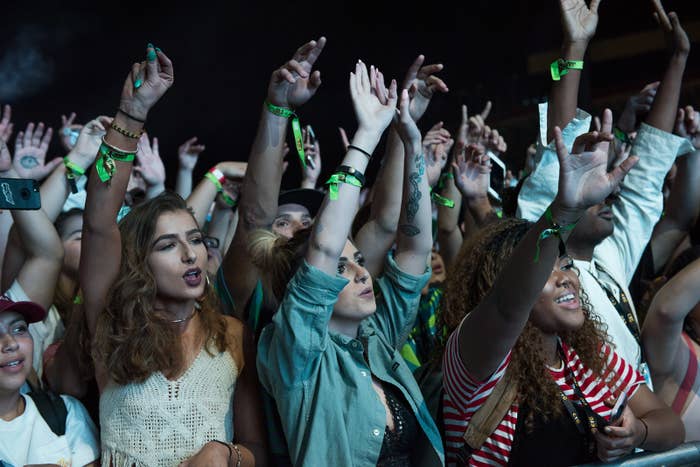 When Woodstock took place in August 1969, it originally was promoted as "three days of peace and music," but as young people gathered, there was certainly music, but also protest of all manner of the established political rule, including the Vietnam War. The 400,000-person gathering capped a decade of uprisings that included second-wave feminism, the civil rights movement, and the sexual revolution.
There are more than a few parallels and comparisons you could draw between the revolution of the 1960s and what is happening in America today, including through its music. The '60s boasted rock 'n' roll as the soundtrack; we've had hip-hop leading the charge for the better part of the last two decades. And because of its history and the creators behind it, hip-hop — like rock 'n' roll — is inherently political. Woodstock had its Grateful Dead, The Who, and Janis Joplin; 2016 Camp Flog Gnaw had Chance the Rapper, Lil Wayne, and Erykah Badu.
Donald Trump was declared the winner in the US presidential race last week, and as the reality set in, the timbre of this year's Camp Flog Gnaw shifted from a two-day music festival to something more socially and politically significant. There was an anti-Trump rally down the street from its home base at Exposition Park, and "Not My President" signs lined the benches bordering the festival entrance. Tyler also reacted fast, pressing T-shirts for the event that featured the president-elect's face donning a swastika and a Hitler mustache with text that read "President Trump 2016 — we fucked up."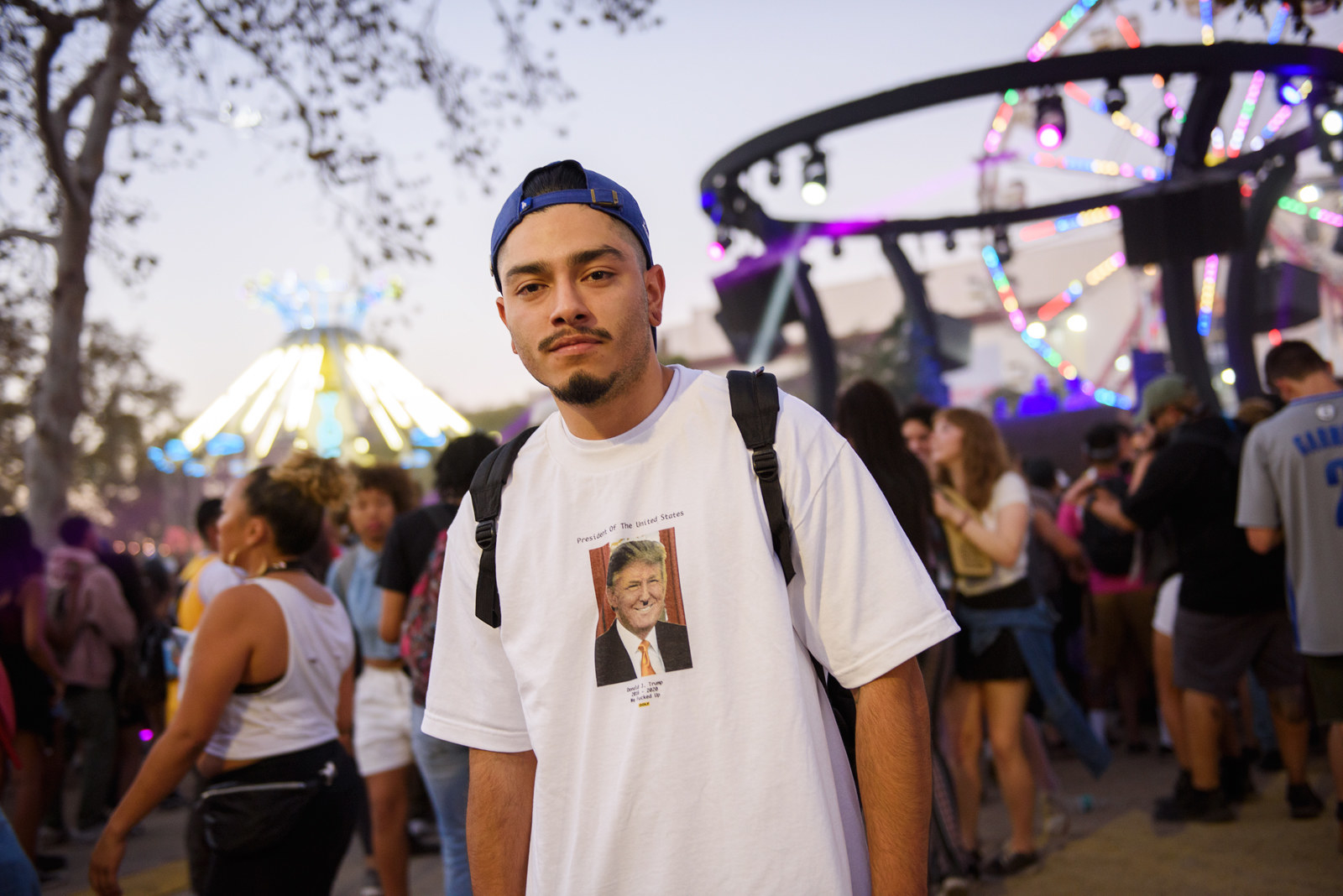 Just as protesters took their dismay to the streets last weekend, inside the fest, many performers at Camp Flog Gnaw — mainly hip-hop and R&B acts — weren't afraid to express how they were feeling about the past week's political events. A$AP Ferg dedicated his song "Fuck Out of My Face" to Trump, asking the crowd to put their middle fingers in the air. Tyler, The Creator closed his set with a special appearance by YG to perform "FDT (Fuck Donald Trump)" as everyone in the audience screamed the lyrics back. DJ Mustard reminded festivalgoers that he was "anti-Trump" as he blasted Kendrick Lamar's "Alright."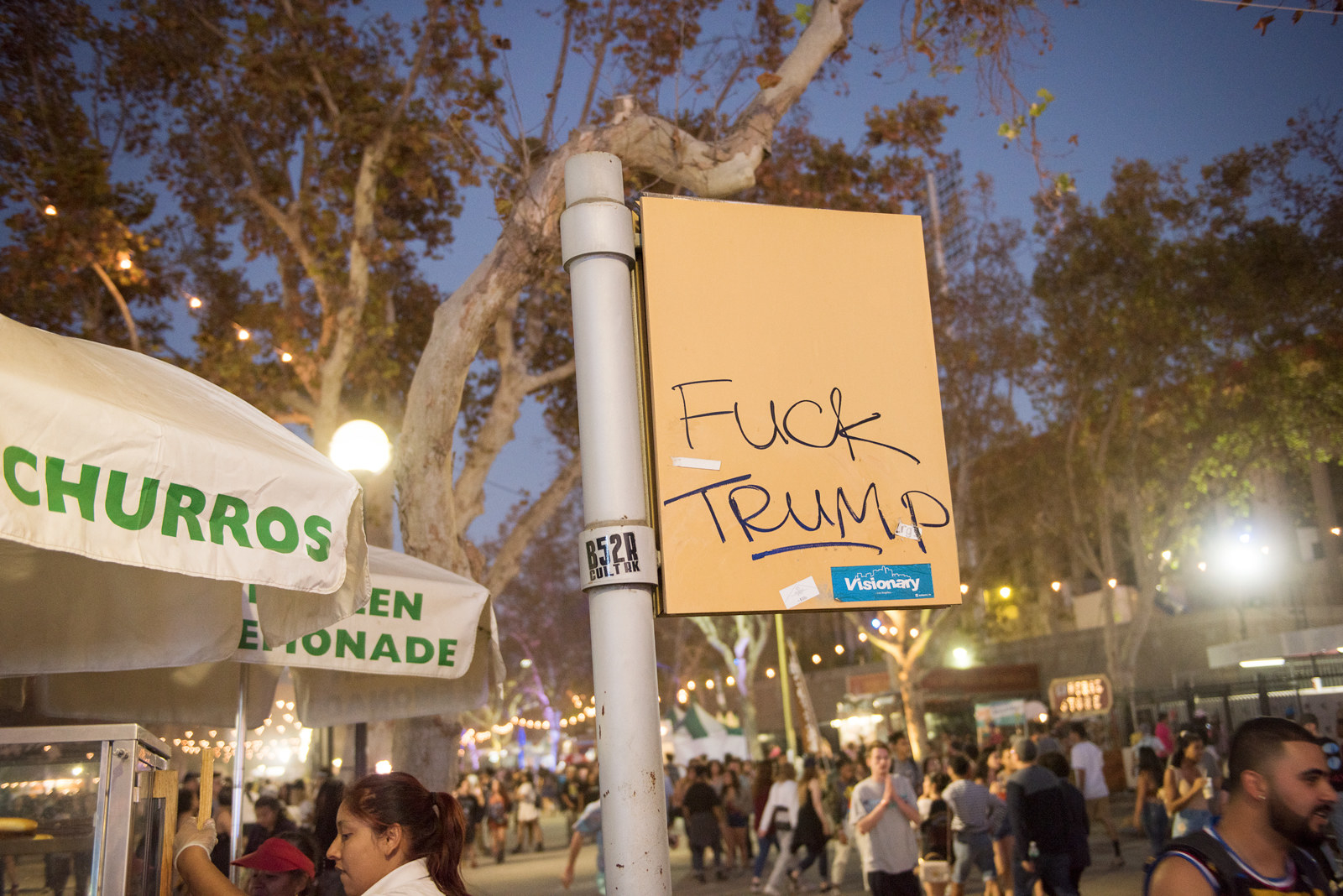 "It's important for me to keep on moving and not feel defeated," singer Yuna told BuzzFeed News at the festival. "Being Muslim and Southeast Asian, the message I try to bring [in my music] is unity and peace. Artists now seem more socially conscious. We're real people, too. The changes that are happening, we're going to be affected by them, and our fans are going to be affected. It's important to use the platform we're given."
"It's almost impossible to not absorb the political state and the environment around you and let it come out in a very personal way," singer Gallant told BuzzFeed News backstage. "If it's your opinion, it's valid and should be expressed in some way. The future of music is definitely more diverse than it has been in the past."

The thousands of young attendees were decked out in LA street style — some in Tyler's Odd Future and Golf Wang apparel — with stylish self-expression taking as much precedent as the live performances. The congregation was still held together by that latter common interest. "There are so many black people here!" Anderson .Paak exclaimed during his Sunday night set. "I don't see many black people at most of these."

The ultimate climax of the weekend was during Chance's performance of "All We Got." "This is my favorite song," he told the audience. As the lyrics "I get my word from the sermon / I do not talk to the serpent" flowed out of him with intent and power, Chance's personal experiences articulated through his music revealed that — in certain scenarios — simply existing and being who you are can be a political statement. While Camp Flog Gnaw sold out weeks before the election, attendees of the event on this particular weekend with this particular lineup made the crowd seemingly part of a greater force. Whether the audience chanted along with Tyler and YG or danced with .Paak, it was as Chance rapped on stage: "Music is all we got."