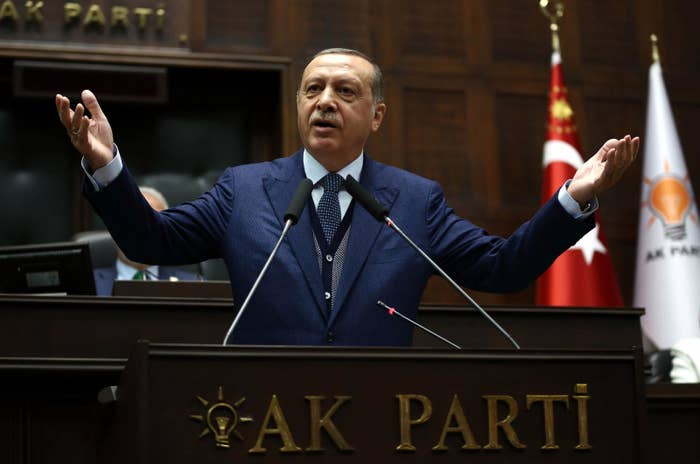 The Turkish President has criticized authorities in the United States for failing to intervene in the brawl between protesters and his bodyguards, and instead issuing an arrest warrant for members of his security detail.

"What kind of law is this? If my bodyguards cannot protect me then why am I bringing them to America with me?" Erdogan said at a dinner in Ankara, according to Hurriyet Daily.
Erdogan's comments came hours after authorities in Washington, DC, announced that 12 members of Erdogan's security detail would face criminal charges for violently suppressing protesters outside the Turkish ambassador's residence in the US capital last month.
US prosecutors also announced felony assault charges against two Americans, one of whom can be seen kicking a protester repeatedly. Several videos that captured the incident showed Erdogan's guards kicking, choking, and shoving protesters on Washington's Sheridan Circle.
US officials have not clarified as to how they expect to detain individuals charged who are currently in Turkey. Erdogan, meanwhile, has vowed to fight back against the arrest warrants.
Turkish officials have also pushed back on the accusations, and blamed the US for not taking sufficient precautions to avoid the brawl. Erdogan claimed that protesters affiliated with the terrorist-listed Kurdistan Workers Party, or PKK, and Fetullah Gulen, allegedly behind last year's coup attempt, were 40-50 meters away from where he stood with his bodyguards.

"The US police is doing nothing. Can you imagine what the response would have been if a similar incident had taken place in Turkey?" he said.

On Thursday, Ankara summoned the US ambassador in Turkey to protest the US decision to issue arrest warrants.

"It has been conveyed to the ambassador that this decision taken by the US authorities is wrong, biased and lacks legal basis; that the brawl in front of the Turkish ambassador's residence was caused by the failure of the local security authorities to take necessary measures," a statement from the foreign ministry said.
"This incident would not have occurred if the US authorities had taken the right measures they take in similar high level visits and therefore Turkish citizens cannot be held responsible for the incident that took place," the statement continued.
Erdogan's uncharacteristically diplomatic and measured response to the arrest warrants, however, was in stark contrast to some of his recent war of words against other countries. In March, after the Netherlands revoked the Turkish foreign minister's permit to address a rally in Rotterdam ahead of the Turkish referendum, Erdogan was furious, and called the Dutch "timid and cowards" and "Nazi remnants and fascists."
The Turkish government then took it a step further, blocking off the Dutch Embassy and consulate in Ankara, and barring the residences of the Dutch, charge d'affaires, and consul general.
That same week, Erdogan accused Germany of using "Nazi practices" to block him from campaigning during the referendum.

US authorities' decision to issue arrest warrants for Turkish guards comes nearly a year after Erdogan's demand that the US to extradite Gulen, a Pennsylvania-based cleric whom Turkey has accused of plotting a failed coup last year.