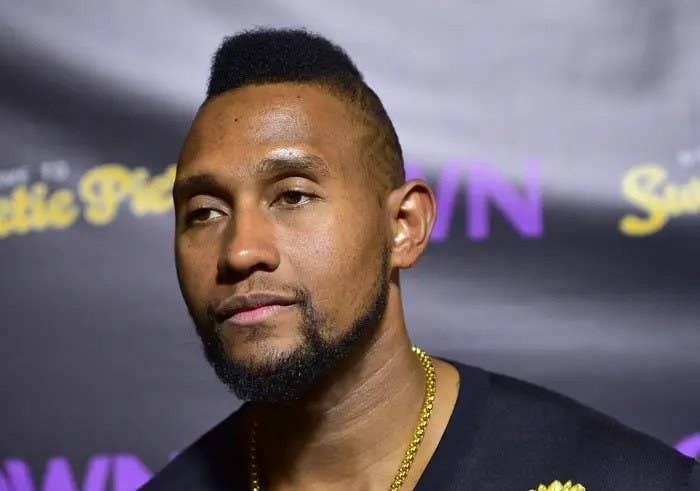 Former reality star James "Tim" Norman of the reality TV show Welcome to Sweetie Pie's was sentenced to life in prison Thursday for his involvement in the murder-for-hire plot that led to his nephew's death, the Department of Justice announced in a press release.
A jury found Norman, 43, guilty on Sept. 16 of conspiracy to commit murder for hire, murder for hire, and conspiracy to commit mail and wire fraud, all associated with the fatal shooting of 20-year-old Andre Montgomery Jr. in 2016.
"Tim Norman portrayed one image to the public, but there were more sinister intentions lurking underneath," Assistant US Attorney Angie Danis said during Thursday's sentencing hearing, according to the press release. "And the measure of someone's character is what they do when they think no one is watching. When he thought no one was watching, he planned the execution of his nephew and carried it out."
Both Norman and Montgomery appeared on the Oprah Winfrey Network reality show that aired for nine seasons. The series ran from 2011 to 2018 and documented the family of Robbie Montgomery, Norman's mother, and featured their soul food business named Sweetie Pie's, which was founded in the St. Louis area.
During the trial, prosecutors said that Norman conspired with others to kill Montgomery to receive $450,000 through a life insurance policy.
Travell Anthony Hill, one of Norman's codefendants, pleaded guilty to one count of conspiracy to commit murder for hire and one count of murder for hire and admitted to fatally shooting Montgomery after receiving a call from Terica Ellis, another codefendant. Ellis also pleaded guilty and admitted she provided Montgomery's location to Norman and Hill. Norman allegedly paid Ellis $10,000 and Hill $5,000 for their roles in the scheme.
Norman denied ever paying Hill and Ellis to hurt his nephew when he took the stand during the trial. Insurance agent Waiel "Wally" Rebhi Yaghnam also admitted to conspiring alongside Norman to fraudulently obtain a life insurance policy on his nephew before Montgomery's death.
Ellis was sentenced to three years in prison in January, and Yaghnam received the same sentence in November. In October, Hill was sentenced for 32 years for fatally shooting Montgomery with a .380-caliber handgun, according to the press release.
In spite of the testimony against him and his conviction, Norman has continued to say that he is innocent. In an Instagram post last week, he said he was in disbelief and in the caption wrote, "#innocent."
"The feds 100% know I did not do those insurance policies. But the jury didn't get to hear that," the post said. "And not one person got on the stand and said that I told them to hurt my nephew. They destroyed my name and image so you guys wouldn't search for the truth."
The FBI St. Louis Division's Jay Greenberg called out Norman's failure to take responsibility for the crimes in a statement following his sentencing to life in prison.
"Five families, especially that of the victim, are suffering and irreparably harmed as a result of Norman's plot to have his own nephew murdered," Greenberg said. "At least all his co-conspirators have accepted responsibility. To this day, Norman hasn't accepted responsibility despite the fact 12 jurors unanimously convicted him after seeing and hearing seven days of evidence in trial."