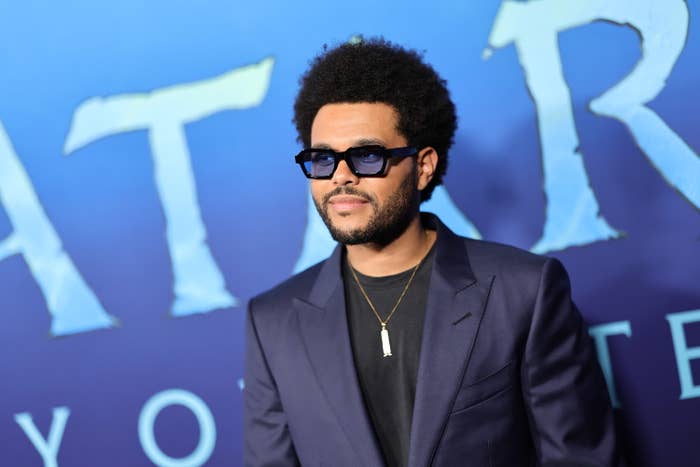 The Weeknd has responded to the backlash against his debut television series after a Rolling Stone report alleged that the production is a "shitshow." The explosive exposé, published Wednesday, included 16 anonymous sources, many of whom detailed a tumultuous creative process and questionable rewrites and reshoots on the set of HBO's The Idol.
"@RollingStone did we upset you?" the Weeknd tweeted.
The "Die for You" singer shared a clip from the show of his character Tedros with Jocelyn (costar Lily-Rose Depp) talking to a character played by Dan Levy. In the clip, Levy, possibly playing a publicist or agent, encourages pop star Jocelyn to be featured in a Rolling Stone cover story.
"Rolling Stone? Aren't they a little irrelevant?" Tedros said.
Jocelyn then suggests that the magazine is "a little past its prime," with Tedros adding, "Nobody cares about Rolling Stone." Tedros also opens his phone to compare the magazine's 6 million Instagram followers with Jocelyn's 78 million.
BuzzFeed News has reached out to Rolling Stone for comment on the tweet and the clip.
According to Rolling Stone's piece, many on the set claimed the Weeknd and co-creator Sam Levinson — best known for creating Euphoria — overhauled the erotic drama in a controversial direction after the ousting of director Amy Seimetz, who reportedly employed a "feminist lens."
In a statement to BuzzFeed News on Wednesday, HBO said it's excited for fans to see the series following a creative shift that the creators felt was "in the best interest of both the production and the cast and crew."
"The creators and producers of The Idol have been working hard to create one of HBO's most exciting and provocative original programs. The initial approach on the show and production of the early episodes, unfortunately, did not meet HBO standards so we chose to make a change," the statement read. "Throughout the process, the creative team has been committed to creating a safe, collaborative, and mutually respectful working environment."
One source told Rolling Stone that the Hollywood satire became "the thing it was satirizing."
Another source described the new creative vision for the series as "any rape fantasy that any toxic man would have in the show — and then the woman comes back for more because it makes her music better."
Representatives for the Weeknd, Levinson, Depp, and Seimetz have not responded to BuzzFeed News' requests for comment on the report and HBO's statement.