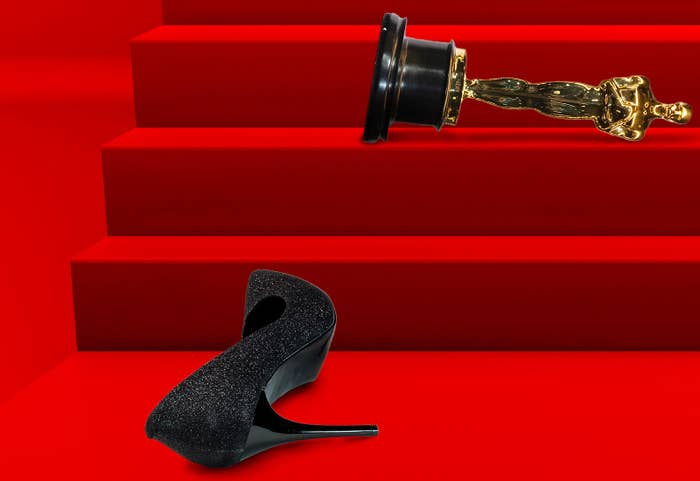 One second you're achieving the highest honor in cinema, and the next you're on the ground forever a meme. In this scenario you're Jennifer Lawrence, who fell down over a decade ago while walking up the Oscars stage to accept Best Actress for her performance in Silver Linings Playbook.
In her iconic 2013 Oscar speech, which has 15 million views on YouTube, the actor played it off cool while receiving a standing ovation. "You guys are just standing up because you feel bad that I fell, and that's really embarrassing," she said.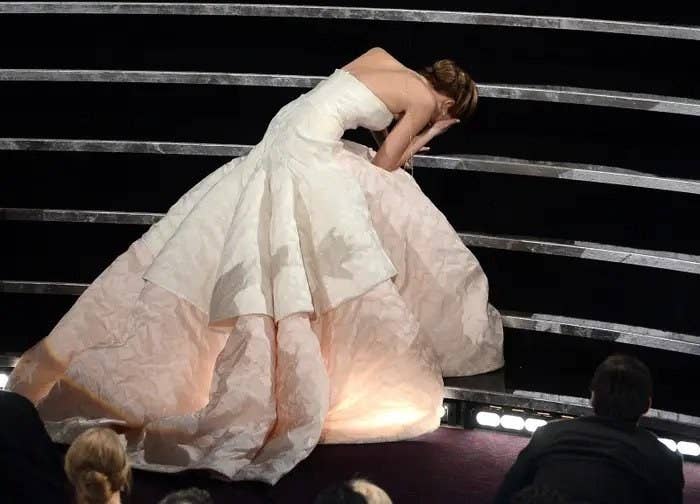 She shouldn't be embarrassed. She's not the only person to stumble at the awards show. Jennifer Garner, Barbra Streisand, Meryl Streep, and Lawrence once again in 2014 have tripped at the Oscars or on the ceremony's red carpet. And it's not just women. Rami Malek fell off the stage at the 2019 show before being treated by paramedics.
Jessica Chastain is the latest celeb to fall victim to the awards show stumble, though not at the Oscars. Last month, the actor briefly tripped at the SAG Awards while taking the stage to accept her win for playing Tammy Wynette in George & Tammy.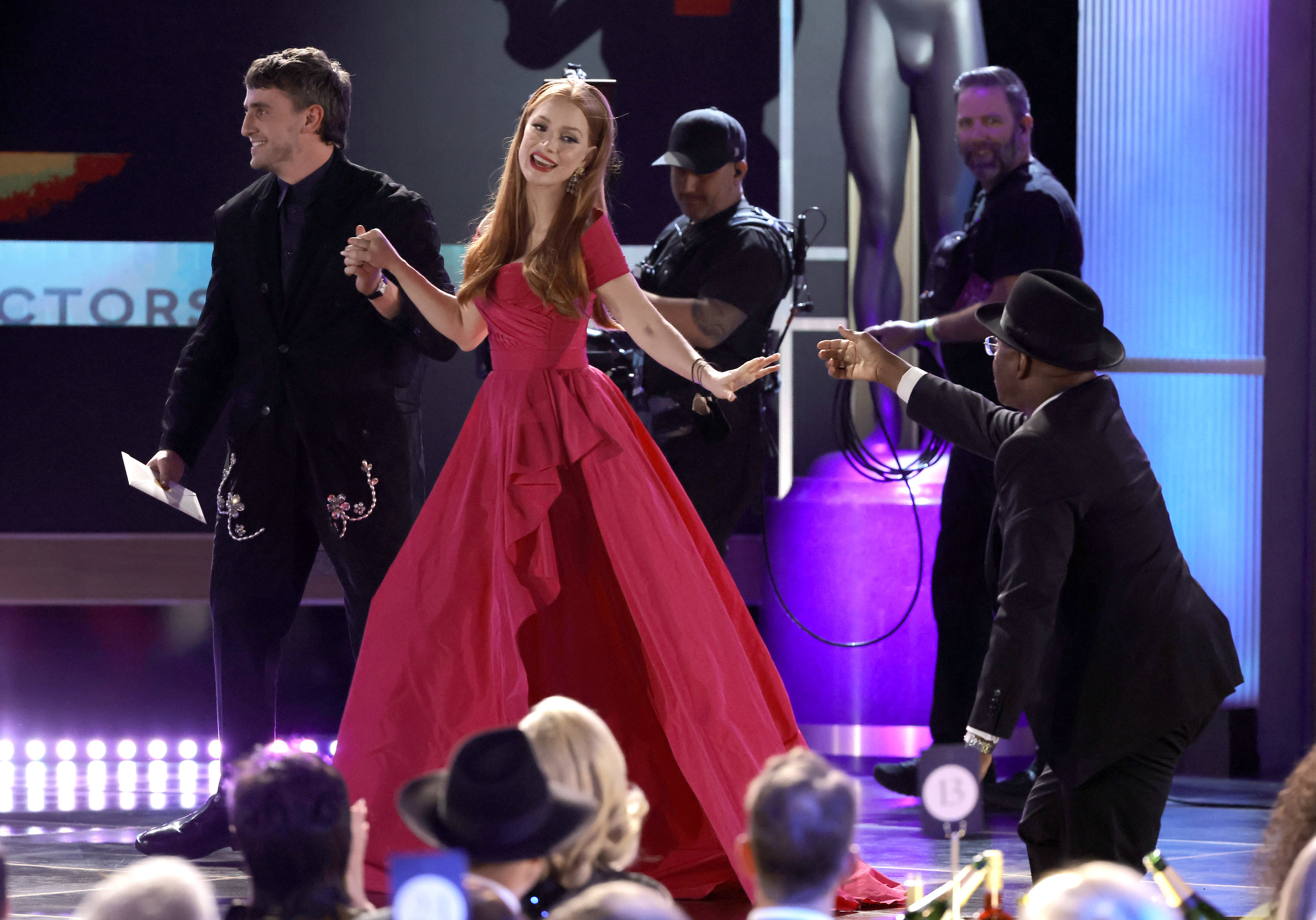 Walking up the stairs is a simple task that's surprisingly hard when you're rushing in a gown and high heels all in front of the watchful eyes of your industry peers and millions more at home. Add in the overwhelming emotions, surprise factor, and the fact that you now need to think of something to say to the world, and ya, it's no wonder why Lawrence fell.
So how exactly do you make your way up the Oscars stage without meeting your downfall?
"Always just try to take it slow because wearing heels in gowns is always a challenge. Every gown is different, whether it has a slit or a long train," 2023 Miss Universe R'Bonney Gabriel told BuzzFeed News.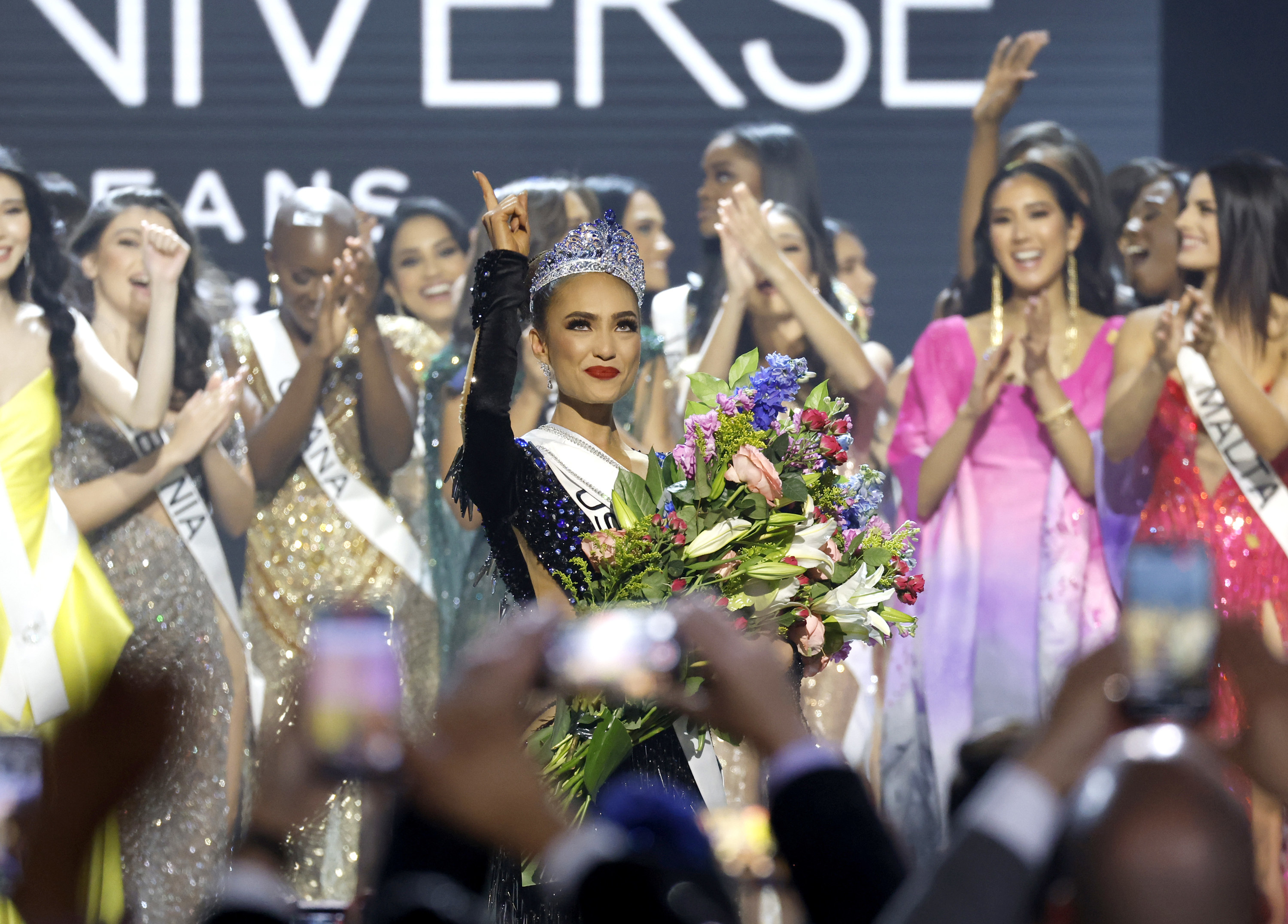 She knows a thing or two about maintaining poise in high-stress situations and even higher heels. Gabriel, who became the first Filipina American to win the Miss Universe pageant on Jan. 14, said she would wear heels (and socks to avoid blisters) ahead of pageants to get comfortable moving in them.
A fall at an awards show like the Oscars is notable not for the embarrassment. (It's not embarrassing! It happens.) Instead, it pierces the bubble of pomp and circumstance that encases the event. It's as if the weight of the night bubbles up so much that unexpected moments must leak out.
Like in 1999 when Life Is Beautiful director Roberto Benigni won the best Foreign Language Film prize and climbed on his seat before hopping his way to the Oscar stage with uncontainable joy without tumbling. Try doing all that in heels.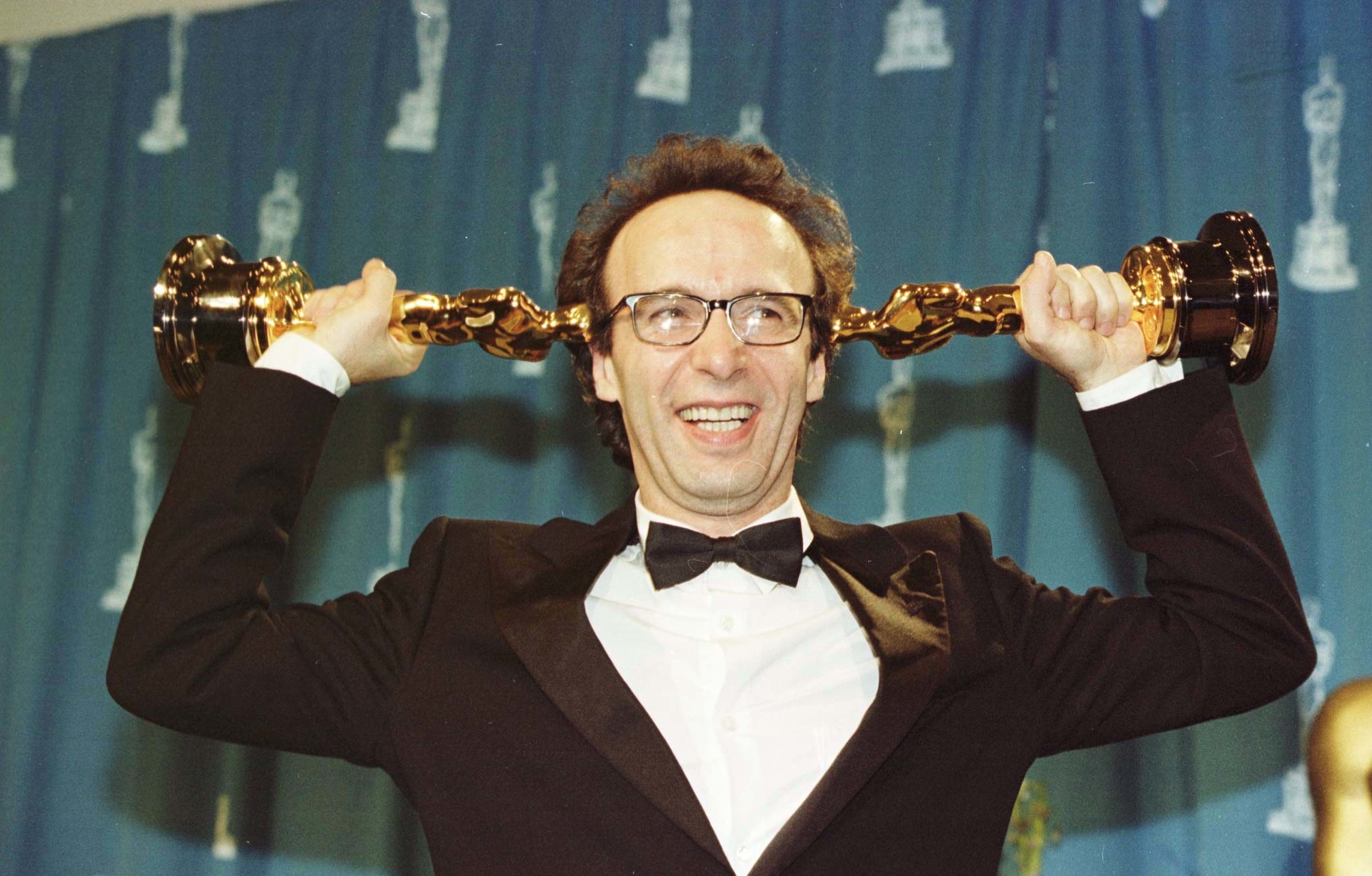 Jamie Hadfield, who has coached pagaent contestants for over 20 years including winners like Gabriel, said it's human to trip all the time. She recalled one instance where a fog machine at a Miss United States pageant caused many to slip and fall. She even mentioned how two Miss USA queens, Rachel Smith and Crystle Stewart, fell on their rears consecutively at the 2007 and 2008 Miss Universe pageants.
"But for something like the Oscars, they probably don't have those exact steps to practice on," Hadfield said. "It won't always be exactly the scenario, but try to recreate it as much as you can."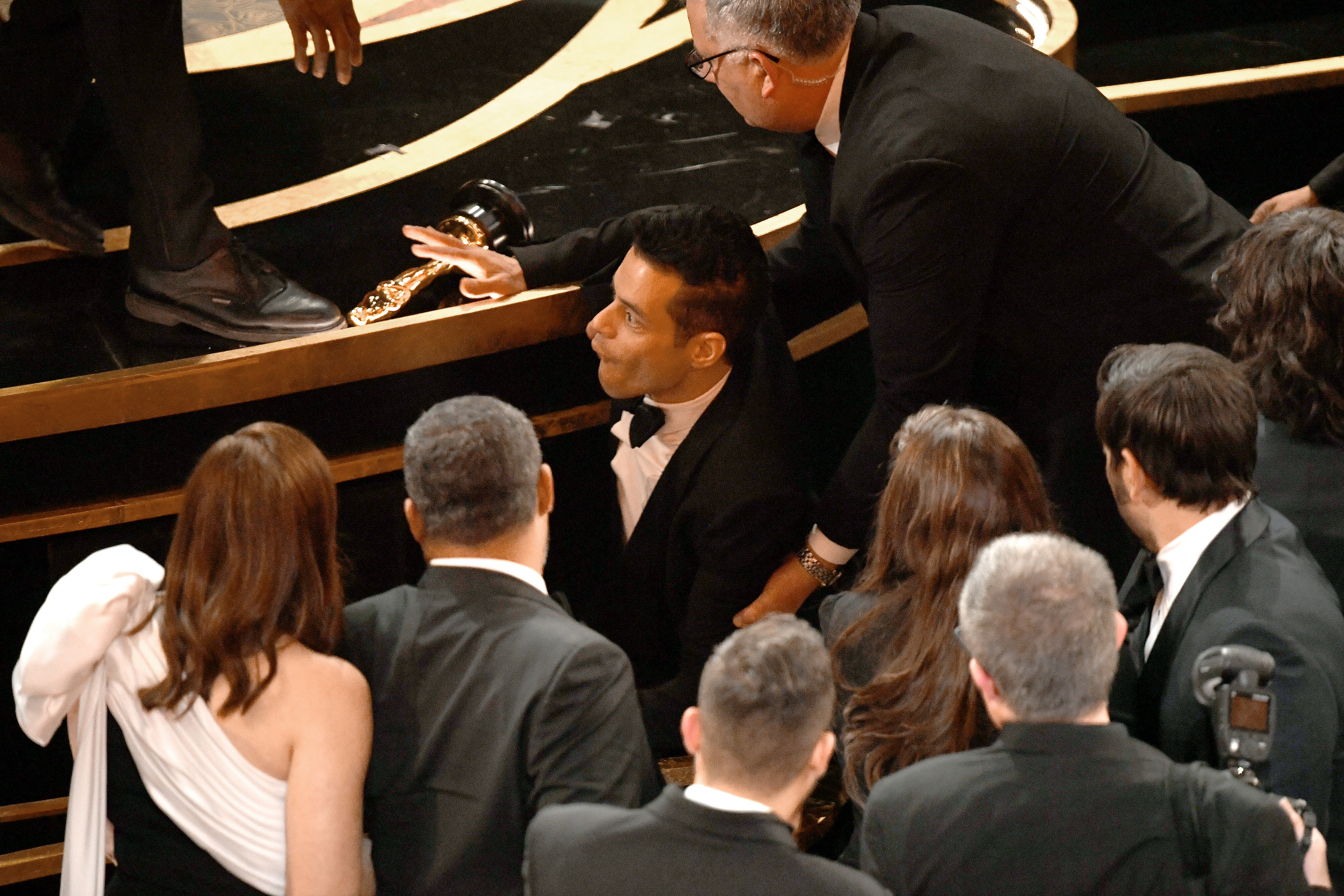 Pageant coach Mardis Hall blindfolds the queens he works with so they can learn sensory deprivation, the process of limiting certain senses for a period of time. "What happens in pageants is that you are going through the motions of whatever your muscle memory has or doesn't have," Hall said.
Even with all the practice, a fall, trip, or stumble could still always happen. Like Hadfield said, "That moment when you're announced a winner is something you can't practice."
So embrace the unpredictability and mishaps. After all, while an Oscar is an Oscar, becoming the meme of the night is an even higher honor.