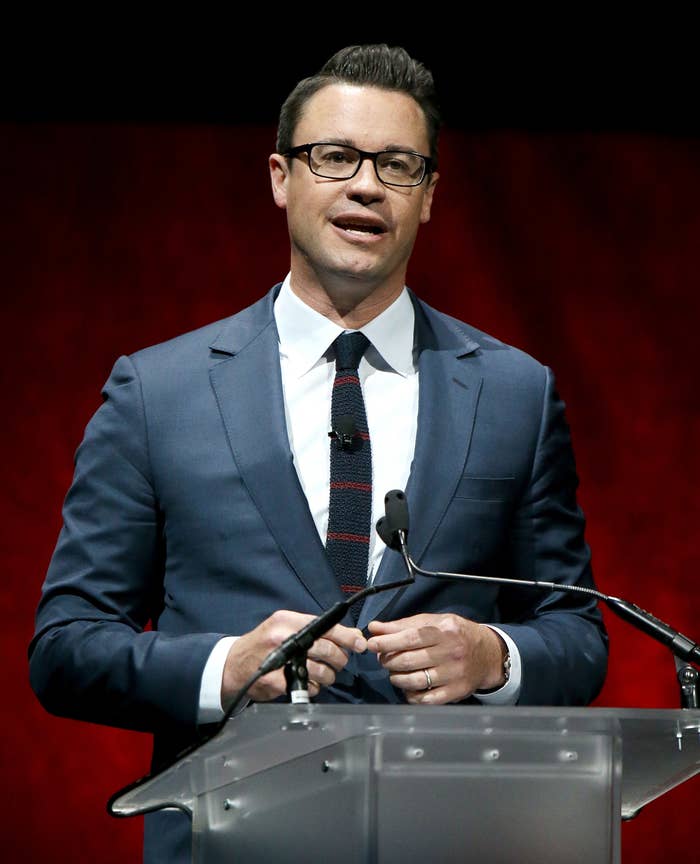 Dave Hollis, the former president of worldwide distribution at Disney and ex-husband of Rachel Hollis, author of the self-help book Girl, Wash Your Face, has died at the age of 47.
He was recently hospitalized for heart-related issues and died in his Austin home on Saturday, according to Variety. He would have turned 48 on Tuesday. He is survived by his four children: Ford, Jackson, Sawyer, and Noah.
An exact cause of death has not yet been announced.
In an Instagram post on Tuesday, Rachel asked for prayers for her and Dave's children.
"We are devastated," she wrote. "I have no words and my heart is too broken to find them. Please wrap the kids in prayers as we try and navigate through the unthinkable."
From 2011 to 2018, Dave led theatrical distribution at Disney during major milestones for the movie studio like reaching an all-time record of $7 billion at the worldwide box office in 2016, according to the company. He later left the title to run Rachel's company, Chic Media, in 2018.
The two announced their split online on June 8, 2020. Prior to this, during their 14-year marriage, the two rose to fame through Rachel's popular Instagram account where they espoused hard work, humility, and the importance of family.
Like Rachel, Dave was a prolific self-help author. He published his first book, Get Out of Your Own Way: A Skeptic's Guide to Growth and Fulfillment, a few months prior to the couple's divorce announcement. Dave then released a second self-help book titled Built Through Courage: Face Your Fears to Live the Life You Were Meant For in 2021, where he shared how to cultivate courage in the face of adversity following a difficult year for him.
In November of last year, Dave published his third and final book: the children's tale Here's to Your Dreams! A Teatime With Noah Book, which explored finding empowerment through courage.
Despite their positive personas, Dave and Rachel also faced many controversies, including in 2021 when Dave told his Instagram followers to buy his book or unfollow him. That year, Rachel also experienced a backlash for comparing herself to Harriet Tubman.
In Dave's last Instagram post on Feb. 5, he shared a photo of Noah smiling while fishing. "From a freeze to shorts in less than 48 hours. Today was a good day," he captioned the post.
Lawyer and television personality Mel Robbins wrote in an Instagram post about the death of her close friend, whom she said she loved like a brother.
"You made me laugh harder than anyone I've ever met," Robbins wrote. "We could talk about anything, and to anyone, for hours and hours. And we did. Everywhere we went there was laughter."