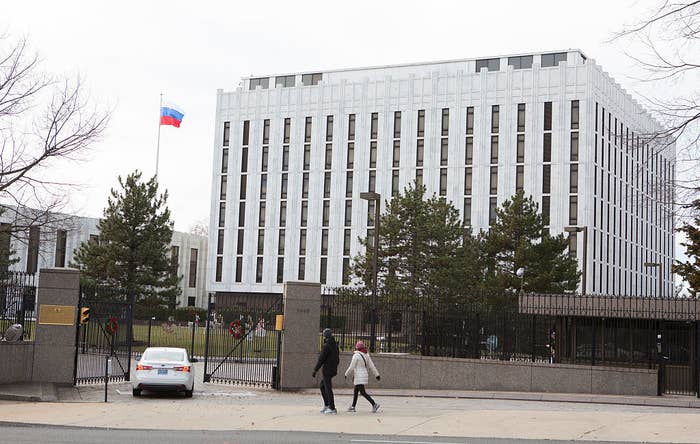 The Russian foreign ministry on Thursday called for the US government to "bring to justice those responsible" for leaking documents that showed banking behavior by its embassy and diplomats based in America.
The formal statement came in response to a story BuzzFeed News published on Wednesday, which found that American bankers flagged hundreds of transactions as suspicious during the last decade. The Russian foreign ministry said that "a lot of information is deliberately falsified" but also called for an immediate stop to the "illegal dissemination of confidential information." It added that "this is no longer just a matter of 'fake news', but a real crime."
The statement also demanded that the US government "bring to justice those responsible, including those who hold relevant posts in the US state apparatus."
BuzzFeed News found that bankers flagged at least two transactions as suspicious close to the election and inauguration of President Donald Trump. In one, former Russian ambassador to the US Sergey Kislyak received a check for $120,000 that was reportedly for payroll. Later, the bank blocked an unknown person who attempted to withdraw $150,000 in cash from the embassy account. Meanwhile, bankers deemed suspicious about 600 transactions involving a home improvement contractor who lived in the greater Washington, DC, area.
Officials investigating Kremlin interference in the 2016 election are examining the transactions after they were deemed suspicious by Citibank, which holds the embassy's accounts. Citibank flagged them to the Treasury Department, which in turn passed them to the FBI.
The Russian foreign ministry said the nature of the wire transfers was "maliciously interpreted" and that they had nothing to do with the US presidential election. It said that some of the transactions were for for the "usual remittances of salary." Others were "earned money" that was wired back home after trips. It also said that payments to a contractor were for normal renovations.
The statement did not explain other transactions reported by bankers. A spokesperson for the foreign ministry, Maria Zakharova, did not immediately respond to a message.
The statement also said that BuzzFeed News was pretending to be a news organization but was "an information tool of the US special services."
"Being attacked by government spokespeople is par for the course if you're doing good journalism," said Matt Mittenthal, a BuzzFeed News spokesperson. "But this is a first: No one has accused us of being an instrument of the Trump administration before."
The statement said that Russian diplomatic behavior is unlike that of their American counterparts, who the statement said use "covert" transactions to fund opposition groups. "Russia does not deal with such things," the foreign ministry said.
Tanya Kozyreva contributed to this story.