Another Round, Episode 62: Put Your Mask On First
Tichina Arnold (Survivor's Remorse, Everybody Hates Chris) talks about black motherhood, cops, self-care, and the Martin reunion that almost happened.
Tichina Arnold has brought some of the best comedic acting TV has ever seen ever since she busted out on the scene in Tracy's all time fave show Martin.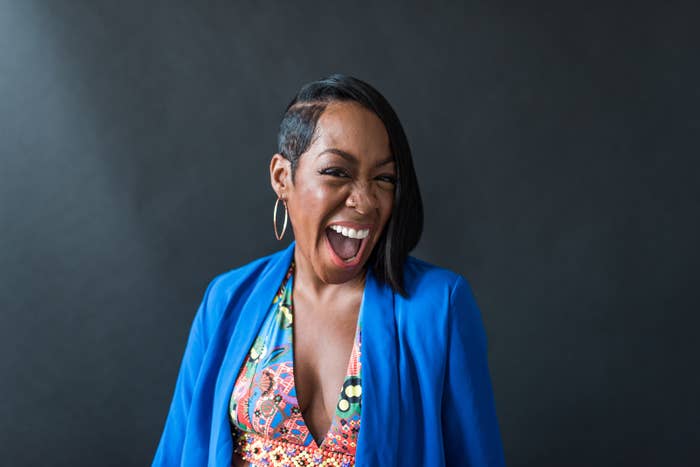 Now Tichina plays Cassie Calloway on Starz's Survivor's Remorse. She talks to us about black motherhood not just on TV but in the real world today which if you've read any headline recently you know is not easy.
To better understand why Martin is such an important show (and to understand how deep Tracy's knowledge of the show is) make sure to look at Tracy's Martin-related articles.
The hilarious Sylvia Obell rejoins us this week as guest host. And it was the perfect week since we know she's the resident Kardashian expert and this week things WENT DOWN.
Tracy bought a round for one of her favorite musical groups, duo J*DaVeY.
The usual business:
Subscribe to the podcast on iTunes, Acast or your podcatcher of choice! While you're there, why don't you leave us a little review?
Subscribe to our weekly newsletter here! In your inbox every Friday.
Follow Tichina at on Twitter.
Follow Sylvia on Twitter.
See Tracy live in Philly at BuzzFeed Audio's Historical Event on July 25th! Tickets and info here!
Find Another Round merch at the BuzzFeed Shop.
Like us on Facebook.
Follow us on Twitter.
Questions? Comments? Need some advice? Email us at AnotherRound@BuzzFeed.com.
This episode features music from Donwill (follow him on Twitter) and Jean Grae.