Last week, actor Constance Wu tweeted a link to a Mashable story from September titled "Amid the Uproar Over Nate Parker, Why Is No One Talking About Casey Affleck?"

"Why aren't we talking about this more?" Wu asked. "THINK about why....Now start talking."
Nate Parker's film, The Birth of a Nation, and Manchester by the Sea, starring Casey Affleck, were the toast of the 2016 Sundance Film Festival. Both promised to dominate Oscar season. And both male stars had a history that included allegations of sexual impropriety. Nearly a year later, Parker's Oscar hopes have evaporated entirely — in no small part because people talked incessantly about the allegations against him. Affleck, by contrast, has emerged as the frontrunner for Best Actor, the conversations about the past allegations corralled into single paragraphs in laudatory profiles.
The reasons why are complex — but increasingly clear.
1. THE SPECIFICS OF THE ALLEGATIONS

Nate Parker was accused of rape — and while he was eventually found not guilty, his co-defendant, Jean Celestin, was convicted (the conviction was later overturned, and the state decided not to re-prosecute, as key witnesses were out of the country). Details of the criminal trial, including testimony from the alleged victim concerning her level of intoxication and her treatment by Parker after the alleged rape, are available in full on the internet. Parker admitted to having sex with the woman and inviting his friend, Celestin, to participate in the sexual act.
Affleck has not been accused of rape, although the allegations against him include sexual misconduct and harassment. In 2010, while filming I'm Still Here — starring Affleck's then-brother-in-law Joaquin Phoenix — cinematographer Magdalena Gorka alleged that after a long night of shooting, Affleck climbed into bed with her, wrapped his arms around her, and became angry when she asked him to leave. His breath, according to the official complaint, "reeked of alcohol." Gorka also alleged that during the shoot, Affleck and others often joked about their sexual exploits and suggested that she should have sex with one of the film's camera assistants.
Producer Amanda White accused Affleck of sexual harassment during filming — according to her lawsuit, Affleck told another crew member to show her his penis; White also alleged that Affleck asked her to stay in his hotel room and "grabbed her" when she refused him.
The women, who were represented by the same lawyer, sued Affleck in civil court for $2 million each. Both Gorka's and White's complaints are available online, but the suits never went to trial. Affleck vehemently denied the claims at the time, but quickly moved to settle both lawsuits out of court. Afterward, Affleck released a statement saying that the disputes had been "resolved to the mutual satisfaction of the parties and the lawsuits are being dismissed," the accuracy of which was confirmed by the lawyer for Gorka and White. It's unclear whether money was exchanged, or how much; neither woman has spoken publicly about the cases since. (When reached, Gorka and White's lawyer had no comment.)
There shouldn't be such a thing as a "better" form of sexual impropriety. In today's calculus of male dickishness, though, Affleck's reads as bad, but not as bad as a rape allegation. It was settled out of court, while Parker's case played out in criminal court. Affleck was never forced to testify, or to comment further on the events that transpired between him and his alleged victims.
It would've been one thing to ignore an alleged gang rape on a college campus, the dominant logic seems to go; it's another (and far easier) thing to ignore what, at least on the surface, could be interpreted as drunken, dickish behavior.
2. THE IMAGES OF EACH STAR

For many, especially many within the (very white) apparatuses of Hollywood, Nate Parker was a relative unknown. He'd starred in several movies, including The Great Debaters and Beyond the Lights, but he was primarily understood as a star in films directed at black audiences. The Birth of a Nation was meant to change all that: Parker had worked tirelessly for years to acquire funding for the film, which he wrote, directed, and starred in; Nation's triumph would be his entryway into mainstream stardom. But the accusations became the center of his newly introduced image rather than a component of an already established one.
Once the alleged rape became part of the national conversation about Parker, other unfavorable parts of his past re-emerged — including a comment in which he declared that he would never "play a gay role" because he wanted to "preserve the black man." Fox Searchlight had bought The Birth of a Nation for a record-breaking $17.5 million after an all-night bidding war at Sundance. Parker's narrative — his struggle to get the film made, his sacrifice, his status as the doting father of five girls — probably seemed easy to position at the center of an awards campaign. But then that narrative expanded to include details of an alleged assault, and there was no way to decenter it from the story of the film.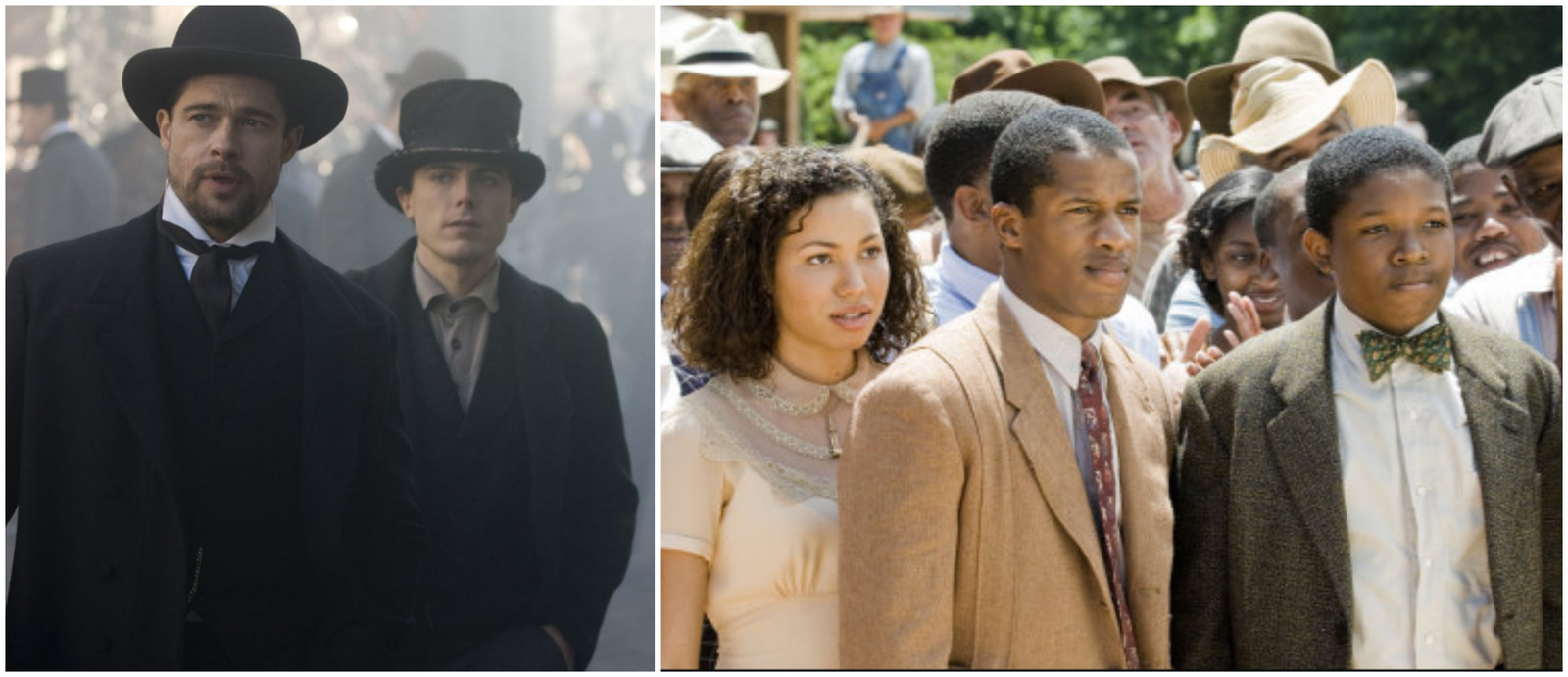 Affleck's image, by contrast, is that of a fame-shy "artist" who's long toiled in the shadow of his older brother, Ben. The elder Affleck took the superstar route, but the younger — whose reputation was first cemented as the pestering Masshole younger brother in Good Will Hunting — was long relegated to supporting roles. He earned an Oscar nomination for The Assassination of Jesse James and starred in his brother's comeback film Gone Baby Gone.
He squandered that momentum, however, with I'm Still Here — a mockumentary with the premise of Joaquin Phoenix quitting acting — which alienated both the press (and which Affleck and Phoenix attempted to dupe) and Hollywood in general (which is allergic to the suggestion that anyone would want to leave such an elite circle).

As Allie Jones points out in The Cut, interviews and profiles over the last six months have positioned Affleck as "Boston's humble, overlooked kid brother who deserves to finally get some recognition for his talent," emphasizing his reticence toward stardom. A recent Times profile is titled "Casey Affleck Is Making Another Splash, Reluctantly"; in the accompanying picture, his hair is greasy, his beard unkempt, and he looks away from the camera, as if embarrassed.

Because he has not incorporated his now ex-wife or children into his image, the focus remains firmly on his skills as an actor. As his second older brother Matt Damon told Variety, "He's one of the best actors I've ever met." Unlike some other "serious" actors, however, Casey Affleck seemed to have swallowed his antipathy for awards campaigning, sitting dutifully for interviews. He's even willing to admit to Variety that I'm Still Here was ill-conceived ("They thought we were trying to pull the wool over their eyes").
Affleck is humble; Affleck is not antagonistic; Affleck is devoted to his craft — Affleck, in other words, is easy to champion.
3. THE PRIVILEGE

That narrative is made possible, of course, through Affleck's positioning in Hollywood. While he has distanced himself from his brother's particular brand of stardom, he is nonetheless part of a kind of Hollywood dynasty. Affleck admits as much, but only somewhat: "I have so many close friends and family who are not only talented, but very successful," he told Variety. "It just so happens the person I married was a super-talented actress. And her brother, Joaquin, happened to be incredibly talented. My brother is Ben. I grew up a block away from Matt Damon. It's just a tight circle of people who have had some success."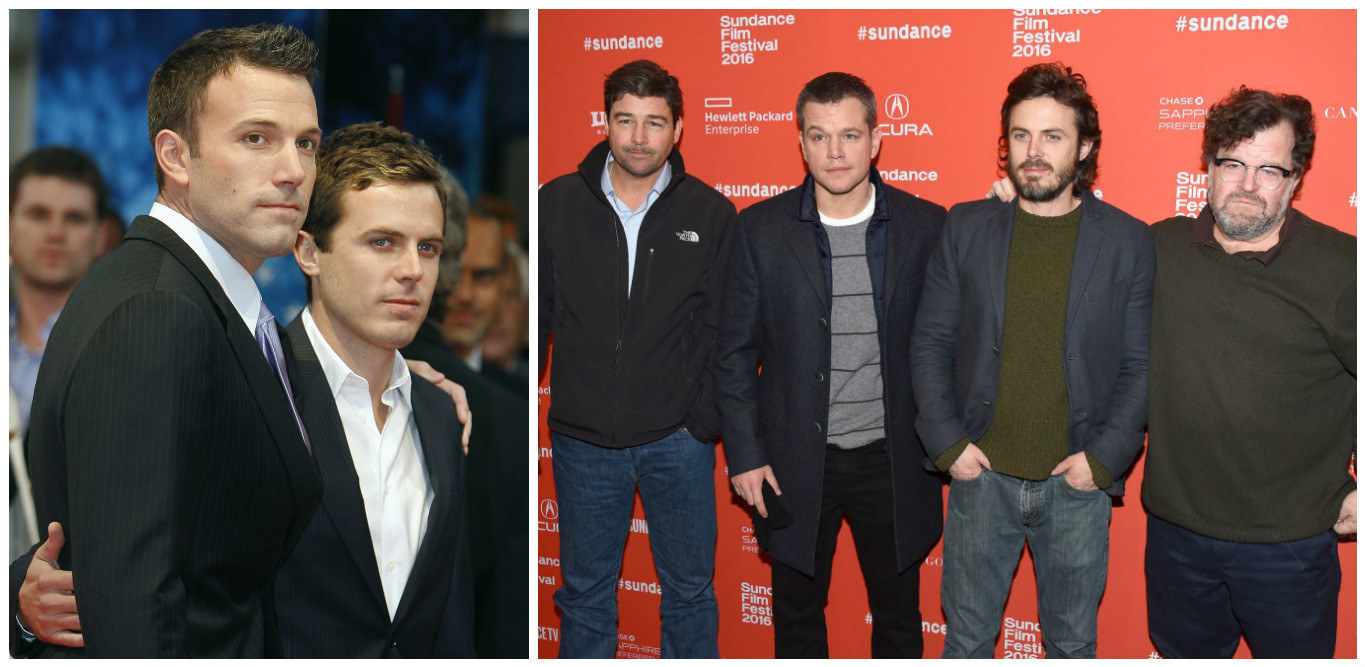 "It just so happens," "it's just a tight circle," "some success" — all careful ways of acknowledging his proximity to two of the biggest stars in the world and one of the most praised actors of our time. But he doesn't seem to acknowledge precisely what that has afforded him: the ability to have a career renaissance after I'm Still Here. He was cast in Manchester by the Sea, originally slated for Matt Damon, after Damon told writer-director Kenneth Lonergan that Affleck was the only person he'd trust to take his place. (Lonergan has not commented publicly on the allegations, which were public knowledge when Manchester began filming.)

When the allegations against Affleck were filed in 2010, he could afford to hire experienced "Hollywood guard dog" Martin Singer as legal counsel. He had the cultural capital to position himself within the long tradition of tortured male artists who behave badly. And even though Affleck was famous, this was 2010 — pre-Kesha, pre–Stanford rape case, before national opinion coalesced firmly around the idea of believing women when it comes to allegations of assault or harassment.
Affleck's privilege also enabled him to employ a skilled and uncompromising publicist who, when reached by BuzzFeed News, said that Affleck would not be commenting further. On top of that, various publications know that an unfavorable article on Affleck could potentially affect their future access to his brother or Damon. (Affleck's publicist had no comment when asked if interviewers had been instructed to keep their questions about the allegations to a minimum.)
Parker had none of that privilege. He quit acting in order to concentrate full-time on the arduous task of acquiring funding for the biopic of a black historical figure, with no white savior, starring a relatively unknown actor. Parker had no name recognition, no famous brother, no famous brother's best friend, no famous wife, no famous brother-in-law.
He lacked that privilege, in no small part, because he is black. He did not travel in the same Hollywood circles as the Hollywood elite — save Denzel Washington — because he was not cast in the same movies. The chances that a family member or best friend would also make it in Hollywood were slim because, as a black man, his own chances of making it in Hollywood were just above nonexistent.
Because of the record-breaking sale of Birth of a Nation, Fox Searchlight was likely anxious about protecting its investment and, as has become clear, more willing to leave its star behind when the imagined Oscar campaign was assuredly dead in the water.
None of which is to excuse Parker's past behavior so much as situate why it was so readily and easily decried: He did not have the massive cushion of privilege to insulate him against a groundswell of criticism.
4. THE FILMS

A brilliant movie, like a brilliant performance, can excuse nearly any transgression. Just ask Roman Polanski, Woody Allen, Michael Fassbender, Mel Gibson, and Christian Bale. And while The Birth of a Nation is, in many ways, Oscar bait, Parker was also a first-time director.
The Birth of a Nation became a Sundance hit in part because of white guilt — on the part of reviewers, producers, and the industry at large — after the #OscarsSoWhite controversy. The film is visceral and powerful, but the primary attraction was rooted in imagined catharsis: Championing it would mean that Hollywood — and the Oscars, which would certainly honor the film — were not, in fact, so white. But Hollywood guilt is a fleeting and fickle thing — and, in this case, insufficient in generating actual loyalty to the film. What's more, the narrative of The Birth of a Nation hinges on the rape of Nat Turner's wife — a fact that made Parker's own history of alleged sexual violence seem all the more egregious.
Manchester by the Sea is the third film by Kenneth Lonergan. It is understated. It is difficult. It does not involve sexual violence or harassment. It is a devastating meditation on the way that some mistakes can never be left behind, how some forms of grief will never lift. The main adjective critics have used to describe the performances in the film is "restrained." It currently has a 97% fresh rating on Rotten Tomatoes; by comparison, The Birth of a Nation has a rating of 76%. It is, by Hollywood and critical standards, a "better" film — perhaps even a brilliant one — and thus harder to dismiss because of the past actions of its male star.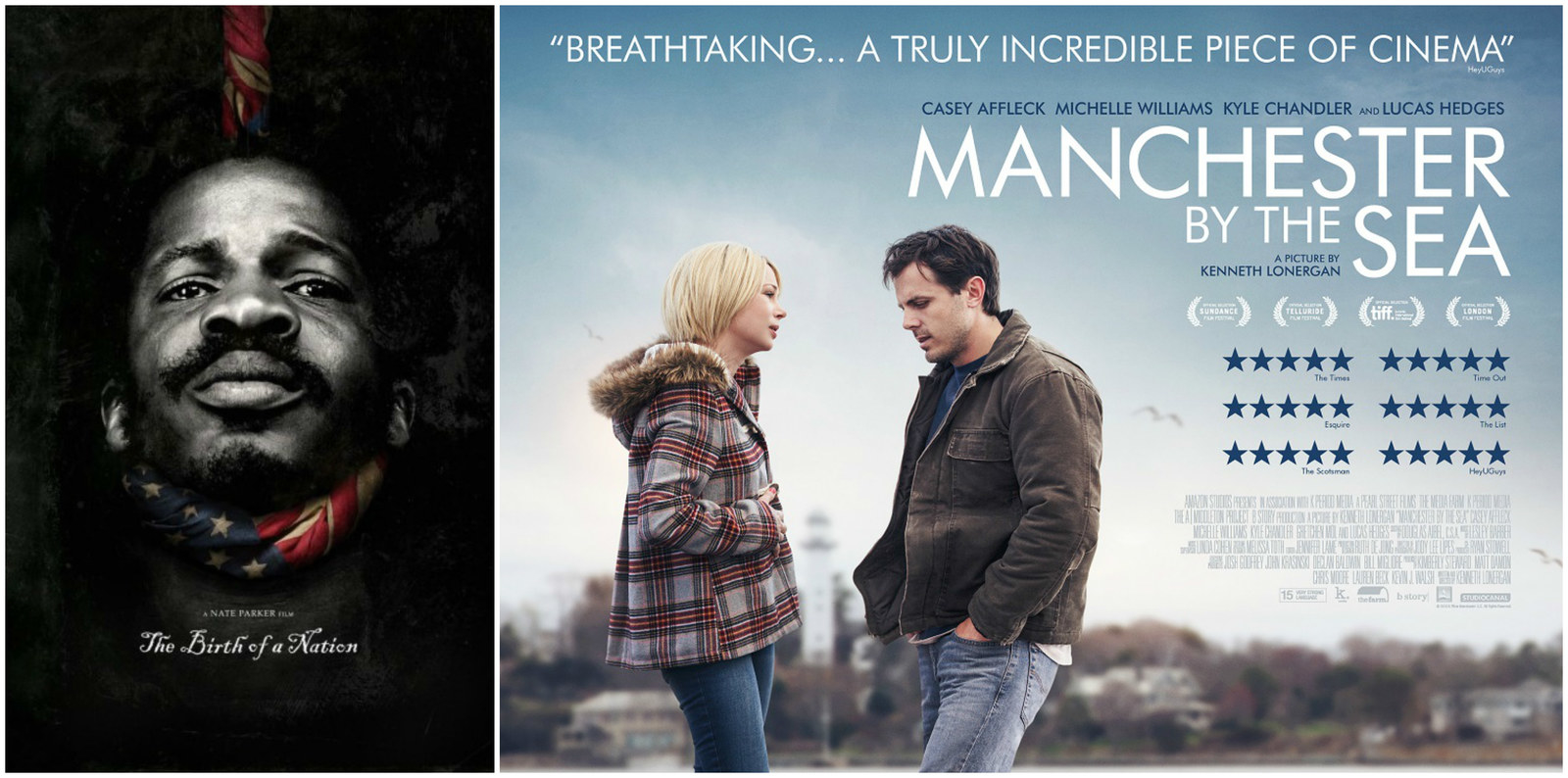 5. THE POSITIONING

But Nate Parker wasn't just his film's male star: He was its auteur. Hollywood loves auteurs, yet it has a dearth of black ones. Parker was a godsend, as he wanted to tell the story of Nat Turner so much that he'd halted his acting career to make it at all costs. His face was on the poster. He was Birth of a Nation; Birth of a Nation was him. When it became essential to decry Parker, it also became essential to decry — and even boycott — his film.
Affleck is the star of Manchester by the Sea, and the recipient of much of its praise, but certainly not all of it. Lonergan is the film's lauded auteur, and co-stars Michelle Williams and Lucas Hedges are also frontrunners for acting nominations. So while it might seem easier to decry Affleck without pulling an entire film asunder, the reverse has been the case. The stakes are lower because he is not the film, and so it's proven easier to ignore, or at least swiftly gloss over, the allegations.

6. THE PR STRATEGIES

This is arguably the most significant reason for the divergent treatment of Parker and Affleck: Affleck has better handlers — led by ID PR publicist Mara Buxbaum, who also represents Sean Penn — and he's remained firmly on message with his response to the allegations, which has been both brisk and deflective.
"People say whatever they want," Affleck told Variety. "Sometimes it doesn't matter how you respond ... I guess people think if you're well-known, it's perfectly fine to say anything you want. I don't know why that is. But it shouldn't be, because everybody has families and lives." The implication: The claims weren't just libelous; they fucked up Affleck's family. (Affleck was still married to Summer Phoenix at the time the complaints were filed, but the two announced their split earlier this year; they have two children.) Here, Affleck's framing subtly positions him — not the women — as the actual victim.
In the Times, Affleck said of the allegations, "It was settled to the satisfaction of all. I was hurt and upset — I am sure we all were — but I am over it." He called the situation "unfortunate" and again invoked the "innocent bystanders" of the families — both his and the victims' — involved. Other interviews, including a recent one with Fresh Air's Terry Gross, avoid the topic entirely.
Affleck's move here is key: He hasn't refused to talk about the allegations, which would likely earn disdain, nor has he dismissed them outright. But he has ensured that they are decentered from the conservation of both his performance and the film. The vast majority of press and audiences have followed his lead.
On its face, Parker's approach to his past seemed like a stroke of genius: He'd confront the allegations head-on in a series of all-cards-on-the-table interviews, thereby clearing the air (and path) to his Oscar campaign. But those interviews quickly became a cascading clusterfuck, with Parker oscillating between attempts to distance himself from the "painful event" and suggesting that paying attention to the allegations only deflects attention from the story of Nat Turner. To many, it seemed that Parker — who later admitted that he'd never truly thought about "consent" — had blinded himself to his own culpability in the alleged assault, and was far more concerned about its potential effect on his film than the effect on the alleged victim.
All that became even more clear when it was revealed that the alleged victim, who had suffered from years of psychological distress after the alleged rape and the trial that followed, had killed herself. Additional details of the case began to emerge, including allegations that Parker and Celestin had harassed the victim in the months after the case. Parker became increasingly defensive and distressed in interviews. His Nation co-star Gabrielle Union, herself a survivor of sexual assault, penned a Los Angeles Times op-ed, saying, "As important and ground-breaking as this film is, I cannot take these allegations lightly."
Parker's general unwillingness to grapple with the way men enact power over women's bodies was more than just a publicity gaffe. His openness laid bare his lack of intersectionality, his assumption of male privilege — and effectively sunk the film and his immediate future in Hollywood.
7. THE TRUMP

It's impossible to know how a different PR approach would've worked for Parker. At the time, I argued that celebrities, and those who employ and protect them, could no longer operate under the assumption that bad behavior and sexual assault could be "spun" — that the victimization of women, at any point in one's career, was not something a star could "move on" from.
That was in August, before the release of the Access Hollywood tape that revealed that Donald Trump — the then–Republican presidential candidate — believed he could grab women he desired "by the pussy"; before more than a dozen women alleged sexual impropriety on Trump's part; before the election results revealed that millions of Americans did not take such allegations seriously — or simply did not care, even if they were true. Before, in other words, it became alarmingly clear that we remain a society in which someone can very much move on from allegations of sexual assault, especially when the person accused is in the position, or has offered the promise, to assist you in some way.
Trump's election is the most visible manifestation of that idea, but Affleck's insulation, however complicated, is an extension of it — as is the recent news that Mel Gibson, accused in 2010 of domestic violence against then-wife Oksana Grigorieva, had been nominated for a Golden Globe for Best Director. As cultural critic Dave Itzkoff observed, it's "so inspiring to see how Mel Gibson redeemed himself in Hollywood by doing absolutely nothing."
For many, it's difficult — amid the daily realities of living in Trump's America — to conjure the necessary ire to decry a white guy accused of doing what so many white guys do: got drunk, behaved badly, felt bad about those bad actions, but emerged from them almost entirely unscathed. Which might be why a half dozen pieces calling attention to Affleck's past have done little to derail his now seemingly assured path to an Oscar. Last week, he appeared on The Tonight Show; this weekend, he hosted Saturday Night Live.
In many ways, Manchester by the Sea enacts the punishment for white entitlement that Hollywood has not, leaving Affleck's character mired in a despair from which there is neither escape nor redemption. But Manchester, for all of its vivid, devastating realism, is still a movie.

When the press, and audiences, and those with their hands on the levers of Hollywood turn a blind eye to Affleck, it is not just a refusal to question and consider and decry alleged "locker room" behavior. It's just the latest sign that the kind of behavior Affleck was accused of continues to be normalized.