At 10 a.m. on the day before Easter, the area around the Canyon Creek Presbyterian Church in Northeast Dallas already has the manic air of a massive children's birthday party. In one corner, a bounce house pulses like an arrhythmic heart. Volunteers from the church assist an endless line of kids as they climb the stairs of the giant inflatable slide. Toddlers absentmindedly drag Easter baskets behind them, trickles of sno-cone wandering down their party dresses. It's like any other quasi-public Easter egg hunt, with just one defining difference: Half of the families are refugees.
In the parking lot, women in hijab stare intently at bingo boards; many children are tasting cotton candy for the first time; there's a brief retelling of the Easter story in English, Farsi, and Arabic. The lawn swarms with adults — some of whom are related, some of whom have gradually taken on the role of second parents — as they guide, photograph, and/or chase after kids rooting around in the grass for plastic eggs.
The mostly white, mostly middle-class Presbyterian church had long hosted its own Easter egg hunt, but last year, it joined with an organization called Gateway of Grace, to make it a very different kind of celebration. "We had some concern in the congregation that it might be weird, or awkward," Pastor Andy Odom told me. "But then we realized that the kids are totally fine with this — they go to school with all different types of people. The only people who'd feel awkward were the parents. So we let go of that, and look at what we got."
This is Gateway of Grace's second hunt at the Presbyterian church, but they've been putting on the event since 2011. "When my family and I came to the US, some of the most difficult times were around the holidays," said Samira Page, Gateway of Grace's founder. "We didn't know what was going on. We could see everyone giving gifts and going to parties and getting excited, but we had nowhere to go, we had no family, we didn't have money to buy a pie. I was so homesick; I'd just sit at home and cry. So when I started Gateway of Grace, I thought, There's no reason any refugee should feel like this on any American holiday — not when God has given to us abundantly."

Page is an Episcopalian minister, but Gateway of Grace isn't a church. It's a ministry with two very specific missions: to decrease the fear of refugees in the Dallas Christian community, and to foster loving friendships between Christians and refugees in need. Page isn't looking to convert people, but to model Christ's love — and, in so doing, help change the very temperature of refugees' reception from frigidity and fear to endless warmth and compassion.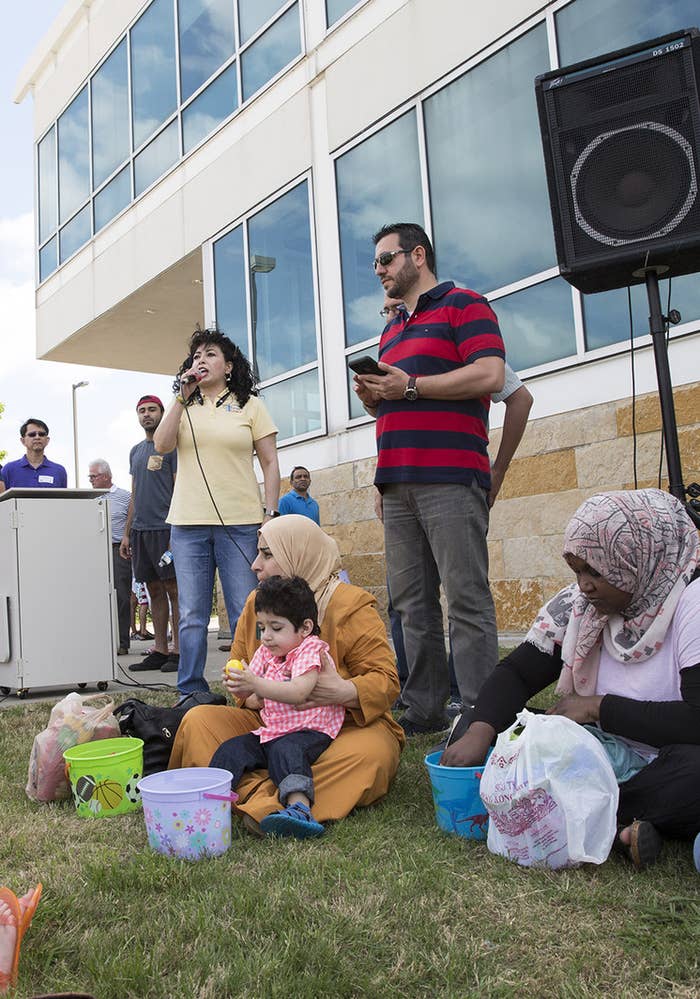 That might sound like empty rhetoric, or, at the very least, overly optimistic. But for the hundreds of people who've worked on both sides of the equation with Gateway of Grace, the experience has been nothing short of revelatory. Over two weeks in Dallas this past spring, I heard many versions of the same idea: that the vast majority of people who are scared of or unwelcoming toward refugees — and Muslim refugees in particular — are people who have never actually met a refugee, or a Muslim. Once you have, something inside you changes.
"When we talk about refugees or Muslims, it's all abstract," Page says. "But when you meet a young mom, or see a smiling child, you see: That's a mom like me. That's just a child! It melts those walls and barriers."
In many ways, Page is the perfect messenger to help people understand this. She's a refugee herself, with a testimony that compels people to shut up and listen. She converted to Christianity; she got her doctorate; she's an ordained Episcopalian minister. She speaks perfect English. She is, as my mother would say, a "put-together woman." She's the exact sort of person that Dallas residents are ready to hear when she tells them to open their hearts.
Every year, she travels throughout Texas and the United States with a very basic message: I was a refugee. God spoke to me. You are a Christian. Listen to God and believe: These refugees are here for us to love them. And that message, articulated in workshops and sermons and one-on-one conversations over the last seven years, has had a significant effect on the Dallas Christian community, across denominations and across the political spectrum.
Page will tell you that this is God's doing, and if you're a believer, that's easy to understand. But it wouldn't be happening if Page hadn't built the infrastructure to effectively retrain people's hearts and minds — this sort of work is far more complex than simply pairing white people who have old furniture to donate with the refugees who need it. It's about providing a "soft landing," as refugee assistance programs are often called, but it's also about creating a world that will stay open and welcoming to these citizens long after they've arrived. And this world has been created, in no small part, by some of those who would have considered themselves most resistant to refugees in general, and Muslims in particular.
But don't ask Page for a specific Bible verse to throw at people who want to keep refugees out. "We hear people talk about this verse or that verse, or the rabbi who said 'welcome strangers' was mentioned 26 times in the Torah," Page told me. "But look at Genesis to Revelation: The one thing that goes through the scripture is the theme of being a refugee, and God being a savior, and God welcoming us. That's the main thing! It's the entire narrative of the Bible. It's what the whole of Christianity is all about."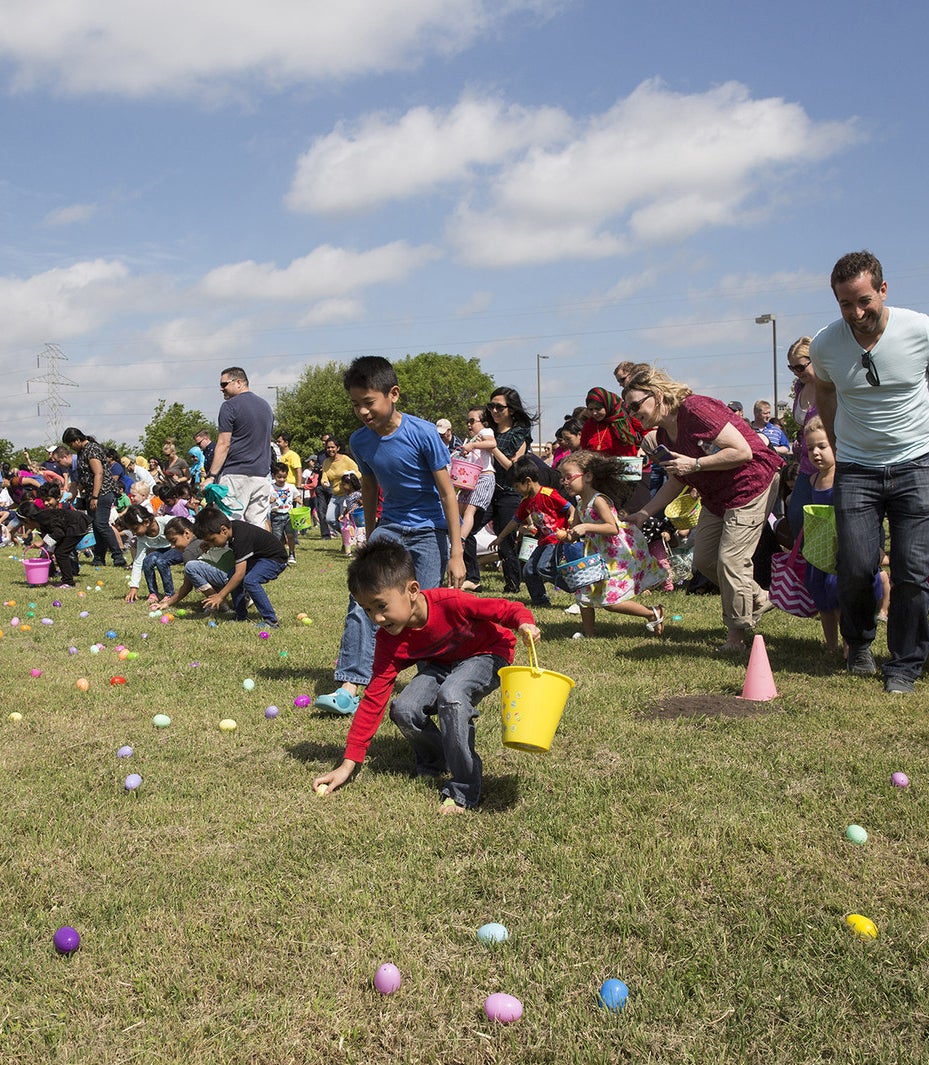 The Gateway of Grace offices are nested inside the Gaston Oaks Christian Center, a nondescript '90s-era building in North Dallas with an unusual backstory. For decades, Gaston Oaks Baptist, like so many of the old mainline churches, thrived in downtown Dallas. The white flight of the postwar period convinced the congregation that they wanted to move from downtown to an area closer to the edges of the city, and in 1990, they broke ground on their current home.

As the years passed, the once-robust congregation began to dwindle, and in order to cover operating costs, they invited a Spanish-speaking congregation to hold services in the church. But it wasn't enough — they simply weren't attracting new members. In 2001, the church was at a crossroads: It could disband, or it could lean in to the idea of an international ministry, opening its doors to more congregations serving Dallas's rapidly expanding refugee community. The existing congregation was mostly white, mostly aging, and, like many aging white people, ostensibly set in their ways. But they opted to transform themselves.
More than 15 years later, Gaston Oaks is home to seven different congregations (and hundreds of members) that share the space — three Burmese, one Central African, one Bhutanese, one Spanish-language, plus the original Baptist congregation, which veteran pastor Gary Cook lovingly refers to as "the old white-hairs" (their median age is somewhere around 80 years old). Every weekend, they stagger their worship services; every three months, they come together to worship as one.
Dallas is deliberately making room — in its heart, in its conception of itself — for refugees.
That's what they did on the Good Friday before Easter, when the service was led by Cook, the worship songs were performed by the Karen Burmese congregation, and Communion was distributed by the pastors from the remaining congregations. In one corner, a cluster of Burmese teens giggled and flirted; toddlers squawked and ran down the aisles. A dozen of the old white-hairs looked on in amusement. "They always talked about how they wanted young people and babies back in the congregation," Cook told me. "Now they've got it — it just might not be the young people they originally envisioned."
It was unlike any Good Friday service I've ever attended. But it was also a portrait of a different and ascendant Dallas, far removed from the images of the '80s TV show or the Dallas of the Bush family that lives in the imagination of most Americans. This is a Dallas that voted overwhelmingly for Hillary Clinton. A Dallas that's 49% nonwhite, and where nearly 1 in 4 residents were born somewhere outside of the United States. Islands of near-complete whiteness persist in the Highland Park area — a highly manicured self-incorporated enclave within Dallas proper, known for its exemplary schools and the tendency to pull over anyone who's not white. But in the rest of Dallas, a child is far more likely to go to school with kids who don't look like them or speak the same language at home.
This is a Dallas that received 4,000 refugees last year — more than any other metro area. But this is nothing new. Texas's robust economy and cheap housing make it an ideal location for refugee resettlement: for Vietnamese and Cambodians in the '70s; for those fleeing the USSR in the '80s; for Bosnians in the '90s. Today, it's become home for thousands of Iranians, Iraqis, Burmese, Congolese, Afghans, Bhutanese, Moroccans, and Syrians fleeing persecution for their religious beliefs, their past work with the American military, or their ethnic identity.
And today, more than ever, Dallas is deliberately making room — in its heart, in its conception of itself — for refugees. Over the last year, Dallas Mayor Mike Rawlings has reaffirmed his commitment to making Dallas a place where "we treat all of our residents with respect and compassion." After Trump issued the travel ban in late January, Rawlings denounced it forcefully; in 2015, he declared he was "more fearful of large gatherings of white men that come into schools, theaters and shoot people up" than of Syrian refugees. Even though Texas Gov. Greg Abbott has pulled the state from the federal refugee resettlement program, there was no doubt among the people I spoke with in Dallas that the city government was on their side.
As of January, Texas no longer receives federal funding for refugee resettlement. But that doesn't mean that resettlement isn't still happening. Instead of going through the state, federal dollars now go through national nonprofit organizations like Catholic Charities, Refugee Services of Texas, and the International Rescue Committee, which handle the first three to five months after refugees arrive in the States. They find housing, set up food stamps, figure out schools, help with job placement, and provide access to a few hours of English instruction every week.
But after that, these refugees are on their own: to continue learning English, to figure out how to use their debit cards and pay taxes, to communicate with the teachers at their children's schools, to arrange adequate medical care. To assimilate. And the organizations helping them do that work — dozens of them in Dallas alone — are by and large faith-based organizations.
A few of them — what Page calls "are you saved, do you know Jesus yet" ministries — openly proselytize. But the vast majority simply offer resources: tutoring centers, after-school programs, basic household needs, medical care, and person-to-person connections between Dallas residents and refugee families. "To share their feelings and joys and pain and suffering," Page says, "that is just such a sacred thing."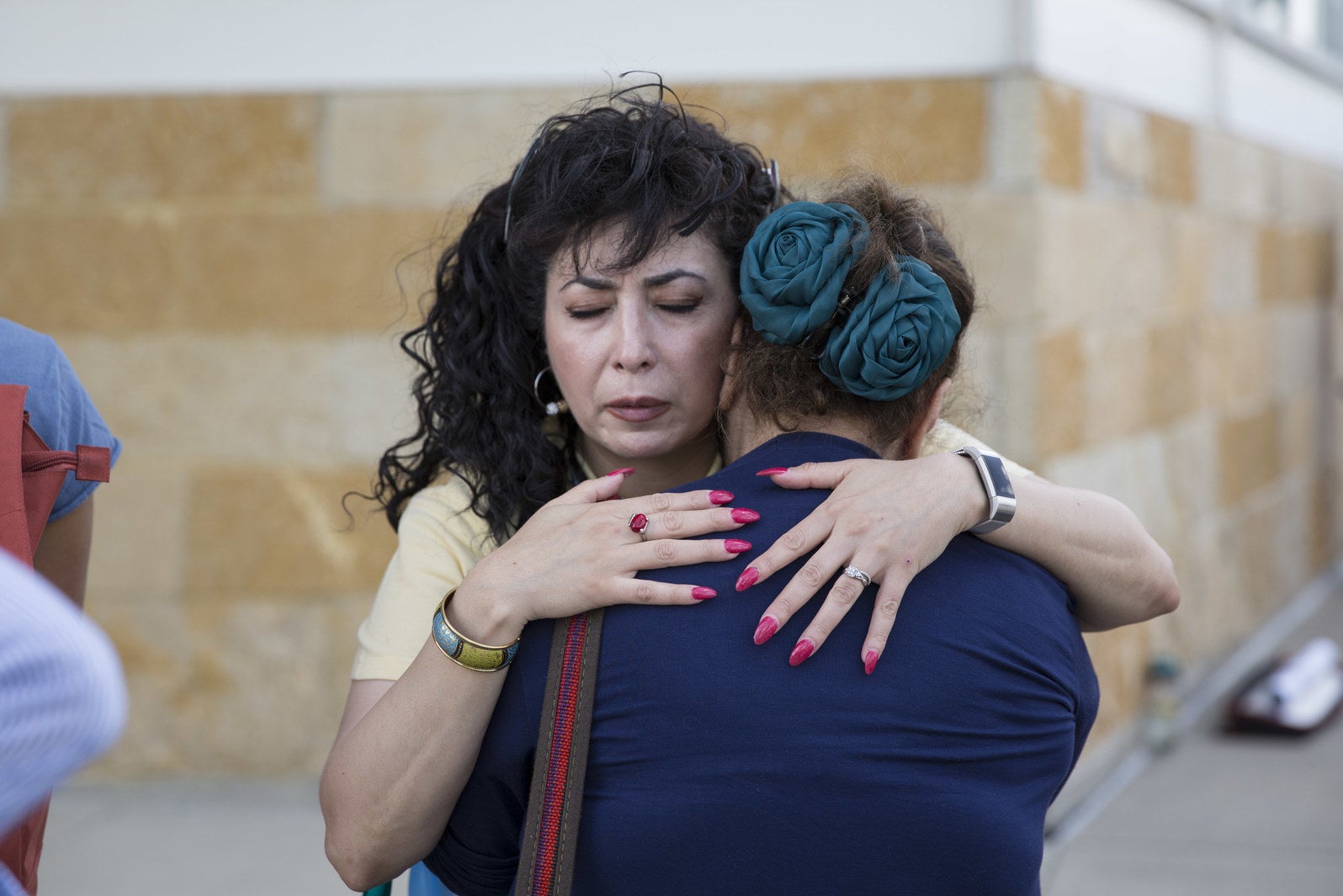 Samira Page grew up a precocious, "geeky" child of Iranian intellectuals who used to make friends "check out" books from her personal collection with library cards she made herself. When she was 6 years old, she had a vision of the Virgin Mary; when she was 9, she saw The Song of Bernadette and first experienced her call to ministry. "I knew that I was called to the church," she says. "But I had no idea what the church was." She was a Shiite Muslim, but describes her Muslim faith as "nominal."

Page married a man who was Sunni, and gave birth to two sons. But Sunnis were widely persecuted in Iran, and in 1998, the family made the decision to flee the country, trekking over the mountains to Turkey. From there, they hired smugglers to take them to Canada, where they would be able to apply for political asylum. But the smugglers took them to Mexico City and left them in the middle of the city. "We had $500," Page says. "We had two children. We had no documentation. We had nothing."
"But God was so amazingly present," she continues. Page eventually found work tutoring Mexican executives in English; after a year, the family amassed enough money to make their way across the US border at Nuevo Laredo, where they were instructed to wander until border patrol picked them up. The agents, however, didn't believe they were Iranian; an interpreter had to prove they were fluent in Farsi before they could be granted political asylum.
Just hours after the paperwork for asylum was signed, they were put on a Greyhound bus. At dawn on an early February morning, they arrived in Dallas. In their hotel room, Page opened the phone book and found the local Islamic center, which connected her with an organization that had been preparing an apartment for Bosnian refugees who never materialized. By noon, Page's family was sitting in a fully furnished two-bedroom apartment of their own.
It's here that Page's story begins to pivot. Page told the man who brought them to the apartment about her interest in Christianity, and he invited the entire family to Wilshire Baptist Church. Six months later, she was baptized.
"Samira looks you in the eye like she'll never leave you."
"This church was a white church," she says. "Baptist, upper-middle-class, very, very white. We were the only people who looked like us." She'd hear people making plans after Sunday school, but she and her family weren't invited. The church was incredibly loving and gave them so much — but didn't, at first, "know what to do with us," she says. Today, she helps train churches try harder to figure out "what to do" with people who aren't like them — even when it requires them to leave their comfort zones.
Eventually, Page found work at a local bank and revisited the call to ministry she'd felt back in childhood. She finished her Master of Divinity from Southern Methodist University in 2010, was ordained an Episcopalian Minister, and continued to pursue her doctorate in ministry. She knew, however, that her call wasn't to a single church, but to a new ministry, which she envisioned combining the work from her doctoral thesis (on decreasing anxiety and fear about refugees among Christians) with actual refugee assistance.
Page has told her story dozens of times. It's at the center of her testimony — the narrative she tells of her own faith journey and how she herself became an advocate for refugees. But it doesn't feel like an overly polished stone: more like a heartbeat. As she tells me her story, she navigates a massive truck to the far corners of Dallas, the GPS yelling at her to merge onto the metroplex's complicated knot of freeways. She's wearing heels, as is her custom; her outfit, like all of her outfits, is immaculately put together. Her eyelashes are perfectly curled, each with a precise amount of mascara. While driving, she wears gloves to protect her beautiful hands — her one true vanity.
Today, Page is shepherding a group of four twentysomethings, down from Indiana for two weeks, as they pick up furniture, which will make its way to refugees who need it. This is out of the ordinary: Her normal schedule involves a fair amount of what she calls "putting out fires" — handling situations when a refugee family is in crisis — but most of her days are spent speaking at events, networking with pastors, and overseeing the language classes and child care at Gaston Christian Center. But she wants to show me what her days used to be like, back when the ministry was small and she didn't have volunteers to haul the furniture all the way across the city.
The first pickup stop is up in Allen, at a home hidden in a maze of mini mansions; the next is at a retirement home back in Dallas, where residents' items are often donated to Gateway of Grace after their deaths. Then it's back north to a refugee apartment complex in Richardson, just north of the Vickery Meadow neighborhood, home to the largest concentration of refugees in Dallas.
Vickery, as it's popularly known, has a convoluted history. In the '70s, it was developed as a mecca for "swingin' singles," as one longtime Dallas resident put it to me: young, childless, and largely white twenty- and thirtysomethings living in more than 100 apartment complexes smashed up against each other. "There were sunken living rooms," Martha Stowe, who heads Vickery Meadow Youth Development Foundation, told me. "I thought it was so cool."
There were discos in basements, social events every night. And because there were no children, there were no schools. By 1990, a combination of white flight and new housing laws (which made it illegal to discriminate against potential renters based on whether or not they had children) had transformed the neighborhood; crime rose sharply, and the "Five Points" — the place where five freeways intersected, with 20 different pay phones — became the center of the Dallas drug trade.
And then the refugees began moving in. Vickery is close to a major hospital and three clinics; it's on the light rail and bus lines. There were thousands of apartments — currently housing 65,000 people, speaking 51 different languages — in close proximity. Four schools, including a middle school and high school, have been added to the community, which is regularly referred to as a "mini-United Nations."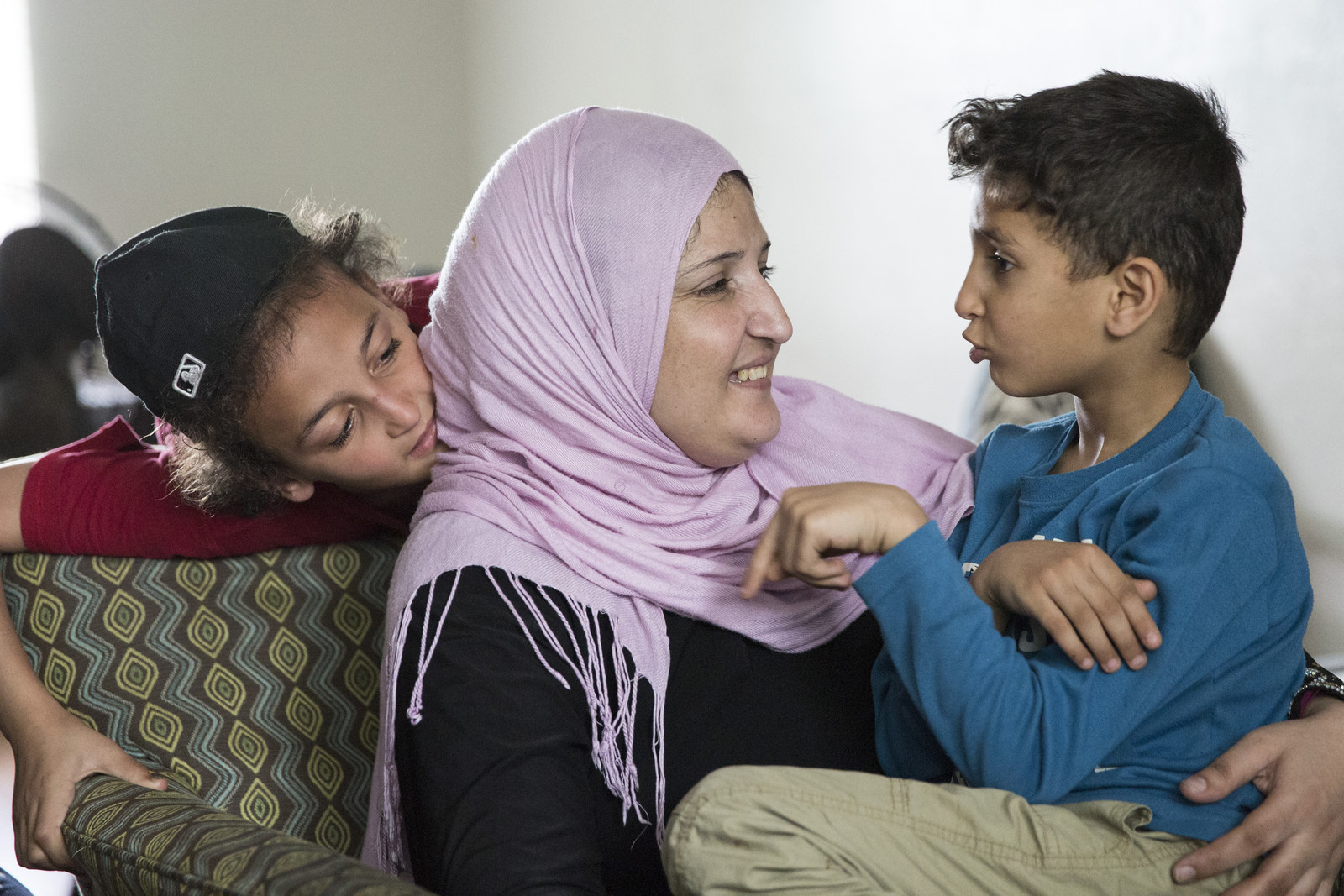 Today, 50% to 60% of incoming Dallas refugees end up in Vickery, which remains a "walking community," with children playing in the small fenced areas outside the two- and three-story apartment buildings that sprawl across the area. Over the last two decades, Vickery has become flush, for lack of a better word, with aid agencies. If a refugee family comes to Vickery, chances are high that they'll be able to find companionship, guidance, and ready assistance with everything from English classes to college prep, from toiletry distribution to women's social groups.

Gateway of Grace focuses on apartment complexes outside of Vickery — where many refugees are placed, and where Page found, when she started her ministry, that they're most likely to struggle in isolation and fall through the gaps in available post-settlement services. That's why we're in Richardson, driving in circles around an apartment complex, bouncing slowly over speed bumps while looking for an Afghan family who arrived earlier in the month.
The father had served as an interpreter for the US Army; as a result, the entire family had been persecuted by ISIS. Once we find the apartment, Page speaks in Farsi with his young wife, who holds their 2-year-old daughter in her arms. The little girl reaches out, grabs at the curly red hair of one of the volunteers from Indiana, and giggles.
"Okay, what else do you need?" Page asks the husband. Their apartment should be familiar to anyone who's ever lived in a standard postwar apartment complex: The main space is a carpeted living area, separated from the kitchen by a breakfast bar. There's a single balcony or yard area, one or two bedrooms with a built-in closet, a bathroom. The family's requests are a bed for their daughter and a coffee table (so they can eat sitting on the ground, as they did in Afghanistan).
"We'll get you a better couch," Page said, pointing at the standard-issue, rickety futon that families get from their resettlement organization when they come to the United States.
After the visit, the group of volunteers stops for lunch at a local Iranian restaurant, where Page is greeted warmly by the owners. She teaches the Indiana volunteers how to drink their tea like Iranians: stick a cube of sugar between your teeth, then suck the tea through it. It's their first baba ghanoush, their first real falafel. They're nearing the end of their two weeks, which has included a fair amount of furniture moving, but every night they have dinner with a different refugee family. The night before, they'd been with a Moroccan family until midnight; each afternoon, the two young women from the group head to a different refugee apartment to tutor women in English.
One of those refugee women, Azam, arrived in Dallas just months ago from Iran. She has carefully sculpted eyebrows and vibrant brown hair streaked with gray and orange. When I meet her later that night at her apartment, she's wearing bright pink lipstick. She greets Samira in Farsi and serves us a small mountain of mandarin oranges and oversized sunflower seeds.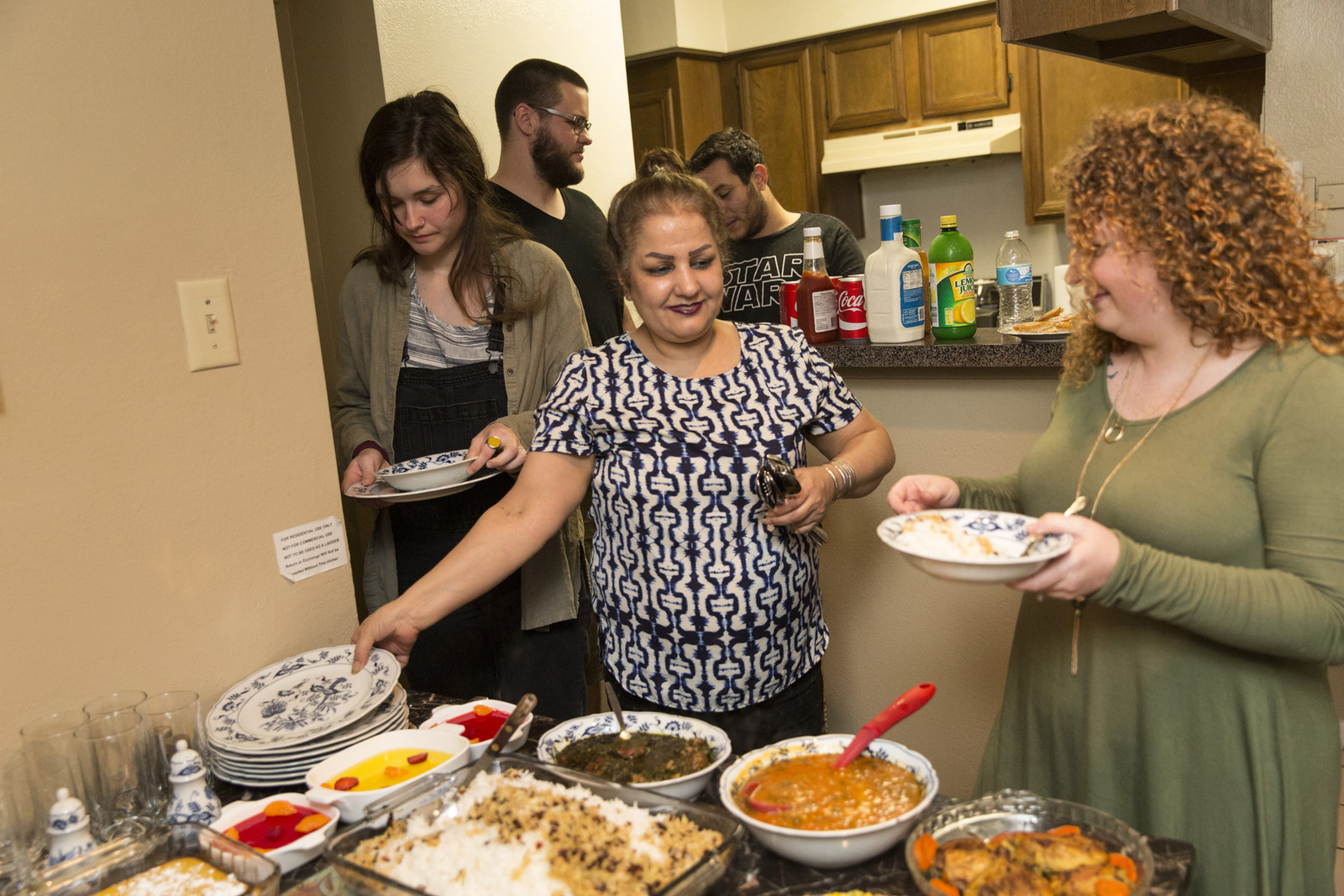 Azam lives in a small ground-floor apartment with her grown son, who was out at the time, working at his job as a cell phone repairman. For the first few months she was in the United States, she tells us, she was horribly lonely. She couldn't drive; she didn't have a phone plan. No one in the apartment complex spoke Farsi. Every night she'd cry and pray; eventually, she told her son, "We don't need people. We have God."
The next day, Gateway of Grace showed up. Then another Iranian family moved into the apartment complex. Now she's getting tutored in English, and she's found a church. But she left her whole life behind to come here. Back in Iran, she had converted to Christianity in secret, keeping it from everyone but her closest friends and family.
"One day the people from the government came, and they arrested me," she said in Farsi, with Samira translating. "They kept me for three nights. They physically assaulted me, sexually assaulted me, tortured me."
"I said that I was a Christian, and that my first duty as a Christian was to love — and I hadn't been sure that I could do it."
"I was so swollen from all the beating, and all of the torture," Azam continued. When she entered her house, she saw that the police had taken or destroyed everything she had — all of her documentation, her books, her furniture. She waited until 4 in the morning and drove straight to a relative's house, reunited with her son, and made connections with a family of Christians in Turkey. They boarded a bus. They had next to nothing.
"These days, back in Iran, people just disappear and nobody knows," Azam says. As she's translating, Page begins to cry. She dabs her face with a tissue. This sort of thing happens often; according to another refugee woman I met, the single best word to describe Page is "emotional." That's part of the reason she's so effective, and why refugees are so quick to trust her: She has a deep reservoir of empathy.
It wasn't always this way. Before Page could tell other people to welcome refugees, she had to figure out how to do it herself. "I grew up during the war between Iran and Iraq, and experienced war in ways that no child should experience," she told me. "I remember being young and just terrified. Because of the sanctions against Iran, there was no medicine. My uncle was a soldier at the front where Saddam Hussein used chemical bombs on the Iraqis and the Kurdish people, and he came home covered in blisters. He died a horrible death after nine months of suffering. So growing up, I hated Arabs, and I hated Iraqis in particular."
"And then I came here, and I became a Christian, and started Gateway of Grace, and the first family that we had was a family from Iraq," Page continues. "And I thought, God has a sense of humor." At this, she bursts into deep laughter, her eyes welling up with tears. "He does! He really does."
When that Iraqi family arrived at the airport, they were told that Page's group was there to help them. The mother immediately came up to Page, opened her arms, and said, "Hello, my sister."
"In that moment, something broke inside me," Page recalls. "God just healed me, and all that hatred and anger just vanished. But I was really embarrassed! I said that I was a Christian, and that my first duty as a Christian was to love — and I hadn't been sure that I could do it."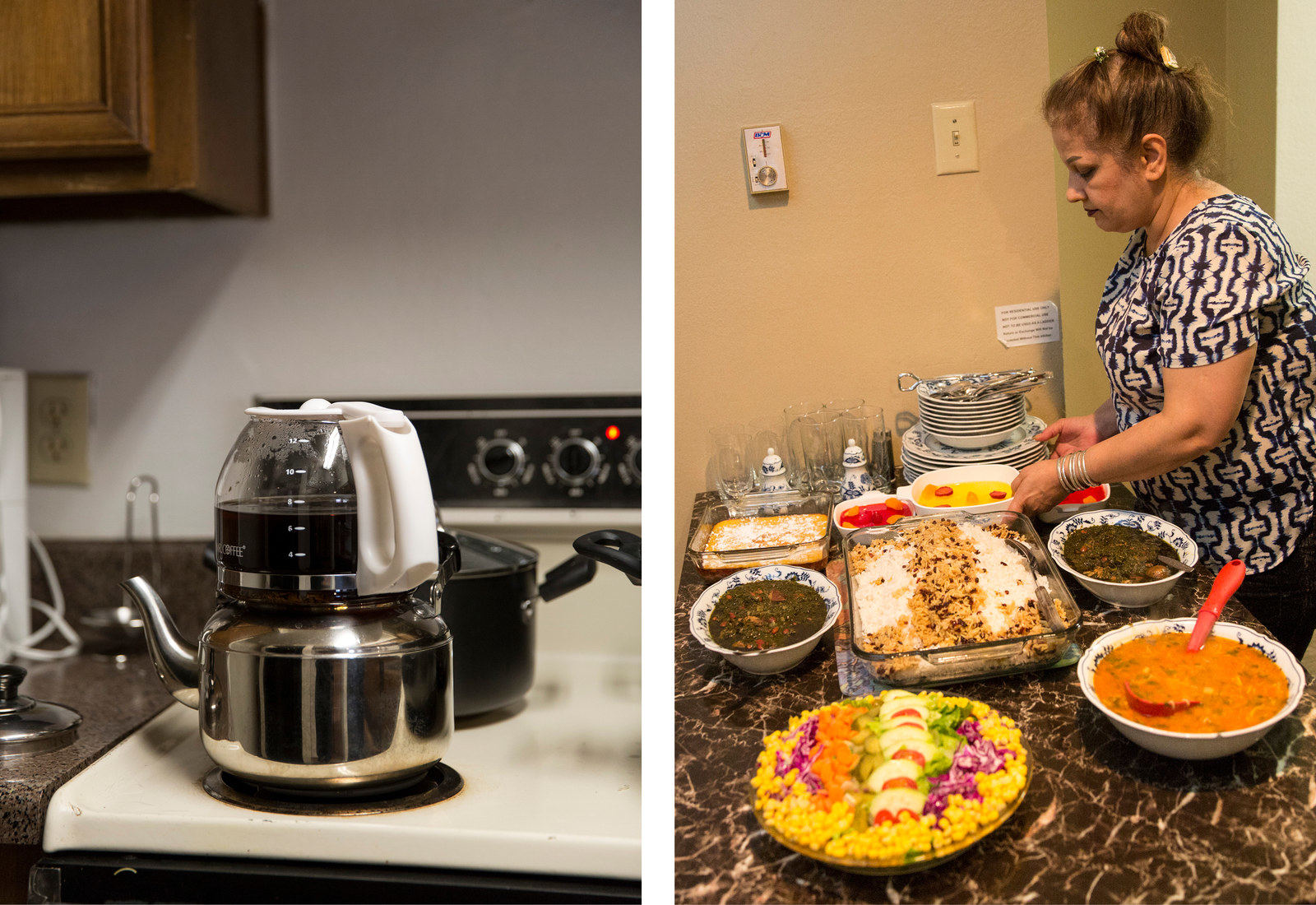 Not everyone Page trains has access to the same sort of experiences. Her "trainees" come to her via many different paths: Some hear one of her sermons, or are invited to hear her speak at a Bible study or small group; others learn about her work at conferences or through word of mouth. Most, but certainly not all, are white and middle-class, with little exposure to or experience with the sort of persecution or physical peril that brings refugees to the US. But there are alternative means to access that empathy. First, Page spends a significant amount of time asking people to think about how bad things would have to get in their own lives for them to leave everything behind — their families, their possessions, their homes, everything — and go to a place where they don't speak the language, and where many people don't want them.

Even that simple exercise helps realign people's understanding. She leads them in prayer, works through scripture, tells her story, and invites others to come tell theirs. "I allow people the space to process it," she says. "Not just to hear about it in a conference style, but allow them spaces to see these Muslim faces, to see what God has to say about refugees, and to pray the psalms over it all ... and then to sit quietly and process it."
When there's a problem that Page can't solve, someone she can't seem to help, and it's keeping her up at night, she puts on a pair of sleep headphones and plays the psalms on loop. Speaking with her in person, I realize she's not just comfortable with pauses; she craves them. They force people to think.
That's what she does while we sit in her office, the late afternoon light filtering in and reflecting off her PhD diploma. "Three years ago, I met a woman that I really wanted to get on board," she began, slowly. "This was a prayerful woman; a "good" Christian. She had worked on Christian missions in Africa, and she had seen the way Christians were persecuted by Muslims there. So when I asked her to help, she said, 'You know, the fact that you used to be a Muslim makes it hard to sit in front of you.'"
"'Okay,' I said, 'I get it.' But I started sending her our newsletters. Then, she starts coming to some of our events. She starts to bring some food to the events. And then she starts to come to the trainings. And then she invited six of her friends, who had the same struggle, to come to her house, and invited me to come to do a workshop with them. She moved from a place from not being able to tolerate me, for having just been a Muslim, to becoming one of my greatest advocates. It all just goes to show: If you really are a Christian, God starts working on you."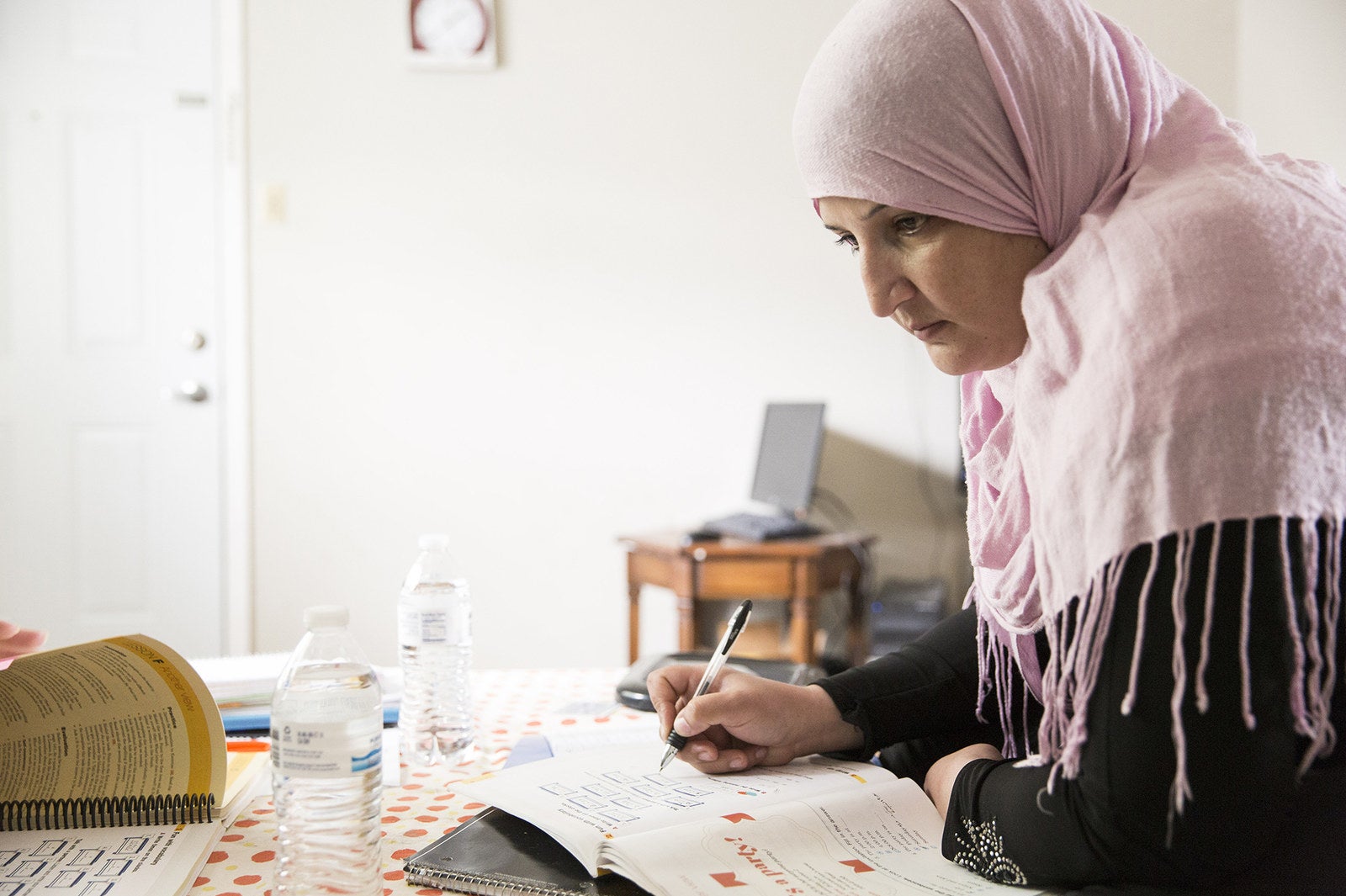 For Sheryl Belson, it all started with her daughter — who minored in Arabic at the University of Texas, studied abroad in Oman, and got a job with Refugee Services of Texas. "As a parent, you're always thinking about how you'll influence your children," Belson told me over a glass of wine at a suburban Italian restaurant blaring country music. "This is one area where our daughter has definitely influenced us."

"Last April, my husband and I just found ourselves undone by the fears people had of refugees," she told me. "Because of our daughter, we know how extensive the background checks are. We know everything they've gone through, everything they will go through to get here. I just kept thinking, if people could slow down their fear long enough, if they could stop thinking they're all going to come here and blow us up and listen and let their brains work logically, they'd realize: They don't have to be afraid."
So Belson and her husband, Maynard, put together a forum at their small, 150-member Anglican church, on "refugee awareness." They invited Page, a representative from Refugee Services of Texas, and refugees willing to share their experiences.
"Our call was simple," Belson said. "Everyone can do something." For a group of 20 from their church, that meant working with three different families, including a family of eight from Syria. Belson sets up and accompanies them to all of their medical appointments, including things like vision and hearing screenings, immunizations, and dental care. One woman handles communication with the teachers; another helps Kholoud, the mother, with her sewing business. Maynard comes over once a week to go over all the bills that have arrived, handle taxes, sort mail, and generally keep the family on track financially.
"If they could stop thinking they're all going to come here and blow us up and listen and let their brains work logically, they'd realize: They don't have to be afraid."
Most of the time, the Belsons communicate with the family through a mix of Google Translate, the children's growing English skills, and occasional phone calls to their Arabic-speaking daughter. That's what they did when Sheryl asked Kholoud if she wanted her family to be part of this story. Her response: "If it can help other people, that's what we want."
On a Wednesday afternoon in March, I arrive at the three-bedroom apartment where the family lives. Page is outside, talking to Kholoud through an Arabic translator. She stands close, her face blank but intent, nodding as the translator lays out what the family needs. That's how Page listens: with her entire body. As one of her seminary classmates told me, "She looks you in the eye like she'll never leave you."
Inside, the girls drape themselves on a pair of old couches. They ask the photographer to take their picture, and when she shows them the shot on the viewfinder, they erupt in giggles. The second-oldest daughter methodically unwraps and rewraps her hijab, the way another girl might undo and redo her ponytail.
When I ask to hear their story, Kholoud responds: "Do you want the short version or the actual version?" The actual version takes an hour to recall and involves multiple bombings; an injury so severe that Kholoud nearly had her leg amputated; fleeing their home for another part of Syria; fleeing there for the refugee camps, where every time a plane flew overhead, the young children cowered in terror; and fleeing that camp for an abandoned building in Jordan.
Kholoud's husband, Hasan, arrives halfway through with the two youngest children, both of whom have spent the bulk of their childhoods in transit or in refugee camps. He pulls up a chair, and one of his daughters brings him a tray with tea, an ashtray, and a pack of cigarettes. He'd been up since before dawn, preparing and then helping deliver sushi for a company downtown. He pulls out his phone to scroll through the photos of the wreckage that had once been their home.
As Kholoud describes the details — and how even today, she does not know the location of several of her siblings — Samira begins to cry. The children flit back and forth; sometimes they laugh at the translator's struggle to convey long paragraphs of speech into a few sentences of summary. There's little need to listen to a story they lived.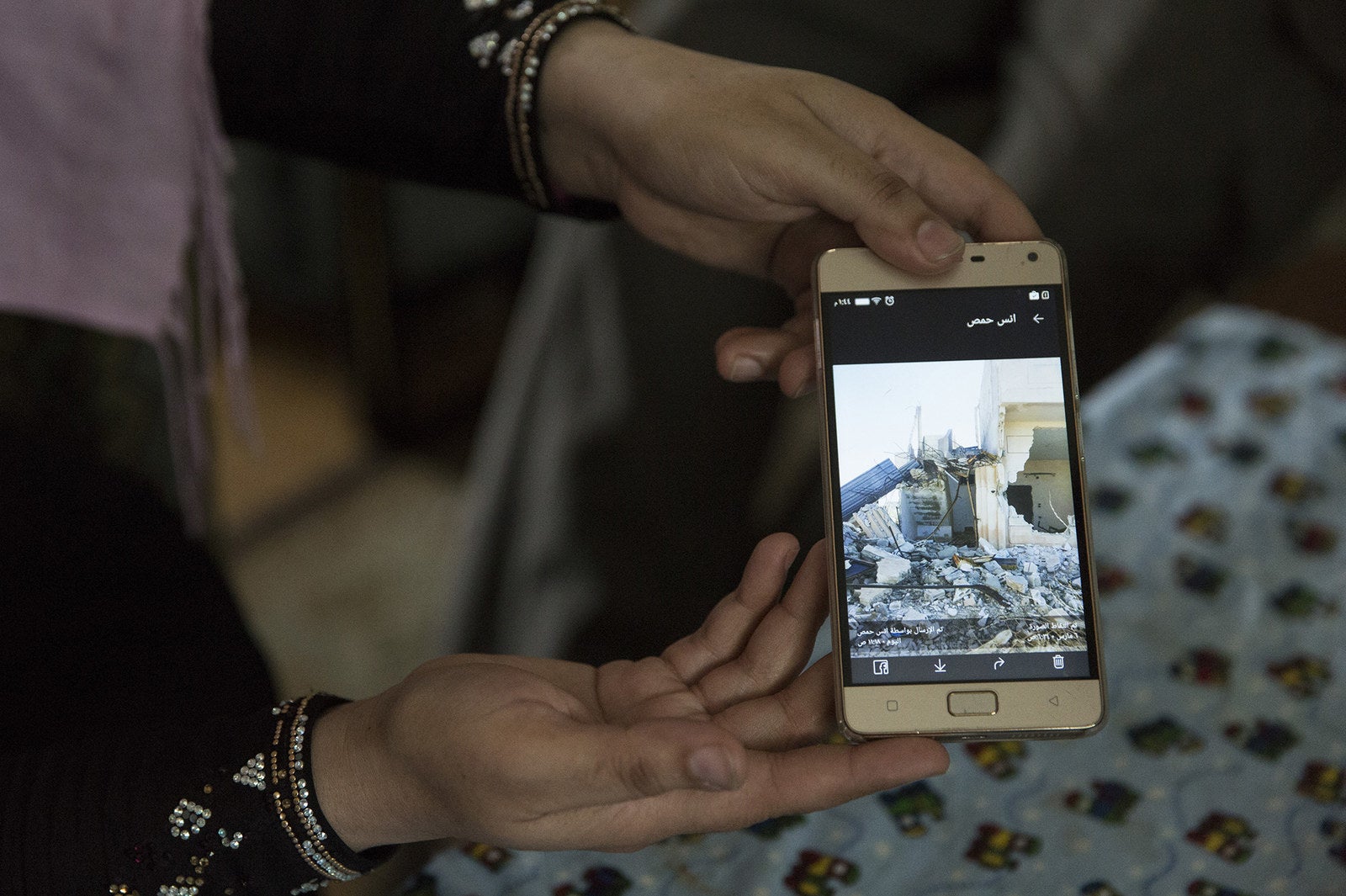 "What do you still need?" I ask, hoping they'll tell me something that I can put in the story and people will send their way. "We need nothing," Kholoud said. "Those still in Syria, those in the camps — they need help so badly."
Pleas like Kholoud's put the tension at the heart of refugee aid in sharp relief: Most can agree that refugees, once they're in the United States, deserve help. But what about those who are still in danger — like Kholoud's sister, whose infant daughter nearly starved to death when their town was cut off from supplies? What about immigrants from countries like Honduras, El Salvador, and Guatemala, where daily existence is similarly dangerous, but who struggle, once in the US, to gain refugee status? Such conversations are inherently political — and enter territory that many working in refugee aid would rather avoid.
Halfway through my time in Dallas, I talked to a middle-aged woman who spends three afternoons a week with refugee women (taking them to the zoo, going shopping, "just lovin' on them"). At the end of our conversation, she said she hoped my piece wouldn't be political: "I'm not a Trump fan," she said, "but I'm not a Hillary fan either. I'm caught in the middle. I just know that God's in control. He puts people in power that we don't like or don't approve of, but I think he's working."
Many Christians I spoke to in Dallas held a similar viewpoint — but just as many articulated anger at Trump, even if they hesitated to politicize the relationships they'd been cultivating. At several points, people would say, "I promised myself I wasn't going to talk about politics," then launch into an in-depth discussion of politics, both local and national.
The head pastor of Northwest Bible Church, one of the leading presences in the Vickery area, even issued an official statement declaring that "With God's Word in the forefront of our minds, it is our deep desire to love the people of this world whom God brings to our doorstep in Dallas. It is also our commitment to pray for our president to make decisions that are pleasing to God and good for people made in God's image." The president of the traditionally conservative Dallas Theological Seminary wrote that "we hold to the principles that countries have the right to define and secure their borders" yet "God also wants to care for the alien and strangers in our midst ... We live within the real tensions of compliance and compassion — maintaining security and ministering with sympathy."
For many in the church, that shift is profoundly unsettling. Today, the church's relevance — its position as what theologian Darrell Bock calls "cultural webbing" — depends on its ability to lean in to those tensions but not be paralyzed by them.
"The left and the right both selectively choose their biblical values," Bock told me. "Which means that we don't end up having the conversations we need to have. Values aren't in solid boxes. They're in spectrums. So how do you negotiate that? The Scripture provides guidelines, and it's meant to be applied to situations like this. But the church is in a difficult place: The context of our original values has changed. The plates have shifted. All of the playbooks have been changed."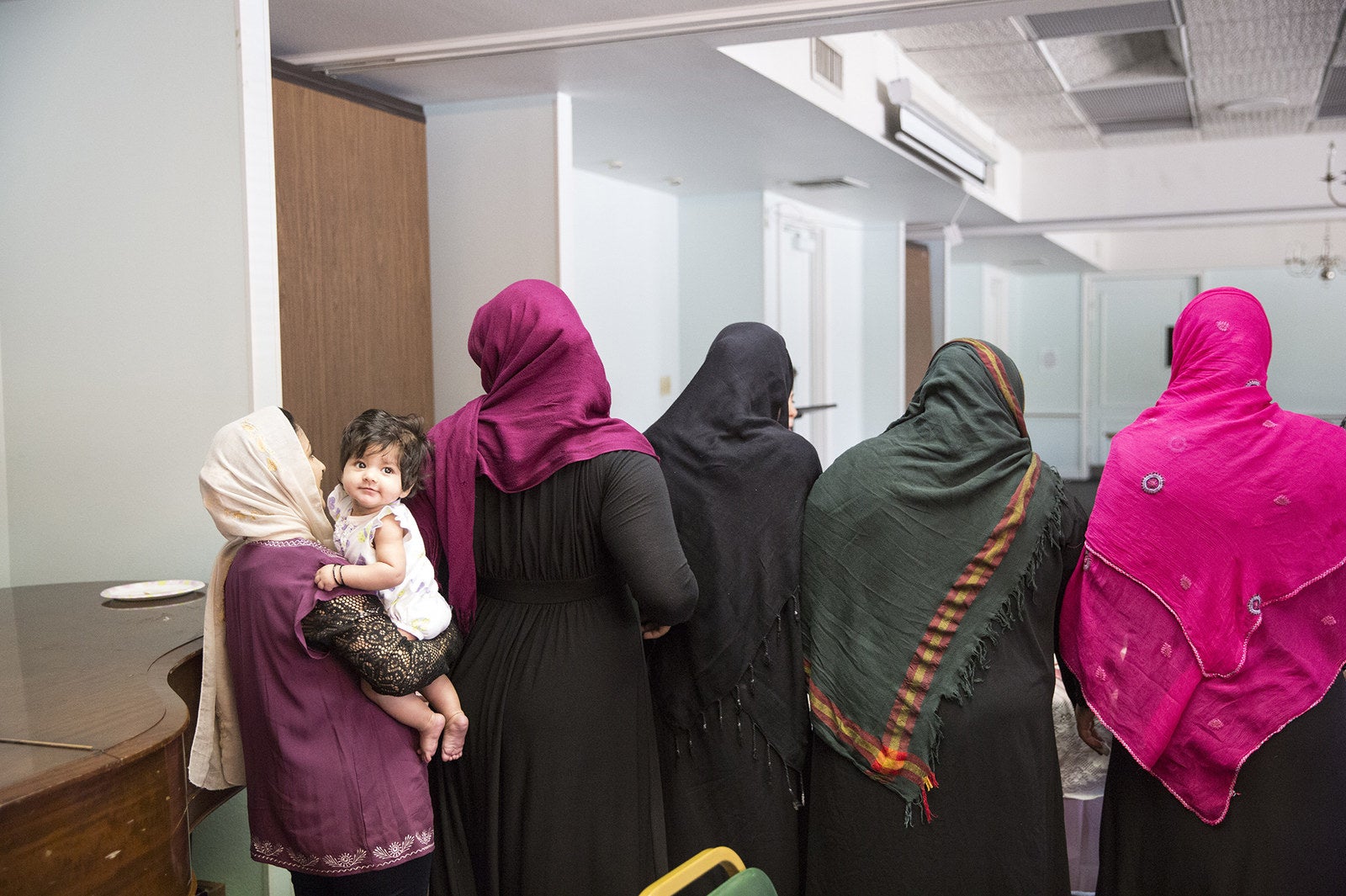 When I first started talking with Samira Page, I asked her to think of a person who'd been most resistant to this work — whose playbook, as Bock would put it, had changed the most. She thought for a second, raised a perfectly manicured finger, and told me she knew exactly who to call.

Michelle Tanzi has the sort of Texas drawl that makes you feel at home, or — depending on who you are, where you came from, and how you've been treated by other people with similar accents — afraid. She wears cowboy boots. She has a short-cropped mom haircut. She owns many guns and often goes to shoot them on her property out in East Texas. She's been married for well over two decades; her son is about to leave for college. And for years she was, in her words, "not really crazy about immigrants." "I would say I was suspicious of Muslims," she told me, one booted foot resting on the other knee. "Pretty scared, too. I hadn't really met a Muslim in real life."
But then Page came into her life. Tanzi knew her through her best friend, who'd been ordained in the same class at SMU. Every so often, Tanzi and Page ran into each other, and they would visit a bit. She felt obliged to help when Page asked, but had no intention of sustained involvement. But then four of the eight people who initially signed up to help with one family from Iraq dropped out, and suddenly there was Tanzi, dealing with them on a weekly, and sometimes daily, basis.
"As I worked with this family, I gradually got less suspicious. I listened to them, really listened to them. And I realized: They just want to be happy. They just want to be safe."
Tanzi drives a truck, and she used it one day to deliver a sofa that she'd had hanging around the house. "Next thing you know, Samira's calling me. 'Hey, what are you doing today? Can you come pick up some furniture?'" So she and Page would go out and move credenzas, bed frames, dressers, hide-a-bed sofas. "The two of us. Picture it."
"I was still a little wary of Muslims, though," Tanzi recalled. "But I started working harder than I've ever worked in my life." Her name and number made its way through the Iraqi community, and suddenly she was receiving calls day and night — some that she could help with, others she could not. A man named Mohammed called her, wondering if he could get some furniture. She told him that the list was slow going: This was still the early days of the ministry, before Gateway of Grace was flush with furniture donations. One day, a missed appointment left Tanzi right near Mohammed's apartment complex, and on a whim, she called him: "Are you there? Can I come over?"
The family had been in the United States for only three weeks. They had very little. Tanzi broke protocol and brought Mohammed's wife with her to the warehouse where they kept furniture, but she picked only a few small things. When she got back to the apartment, she bolted back to her 2-year-old daughter and started crying. "She'd never left her baby before," Tanzi told me. "She'd never left the apartment. Mohammed, I'd later find out, was extremely protective. But he let her come with me. Why did he trust me?"
"This family, they changed my heart," Tanzi said. "The Holy Spirit was just like, whammy."
But even as she grew close to this family — husband, wife, and two daughters — she still found herself suspicious of Mohammed's brother Hussein, who, like Mohammed, had worked with a US contractor in Iraq.
"He dressed in black pants, he wore chains, he had funky hair down to his waist," Tanzi remembers. "I thought he was with ISIS! He was single, he was the right age. I did not like him, and he did not like me. But one day, we're at the hospital, because one of the young girls is having surgery. And I bend down, close my eyes, and start to pray. Suddenly, I feel this presence, and I open my eyes, and there's Hussein, and he's taking my picture. 'You were sleeping, Mom!' he said, just laughin' and laughin' at me. Something in both of us broke right there."
Since then, Tanzi has driven to Houston multiple times to accompany Hussein to the doctor. She's taken the entire extended family out to her ranch multiple times. "They call me 'Mom,' but I talk to their real mom, back in Iraq, on the phone," she said. "You know, after that day in the hospital, everything just clicked: It was like, This is my call, to serve these people."
Tanzi opened her phone and began flipping through her photos: There are the little girls; there's the entire Iraqi family, posing with Tanzi's own husband and kids at Christmas. They look just like any good old-fashioned Texas extended family — only some of the women are wearing hijabs.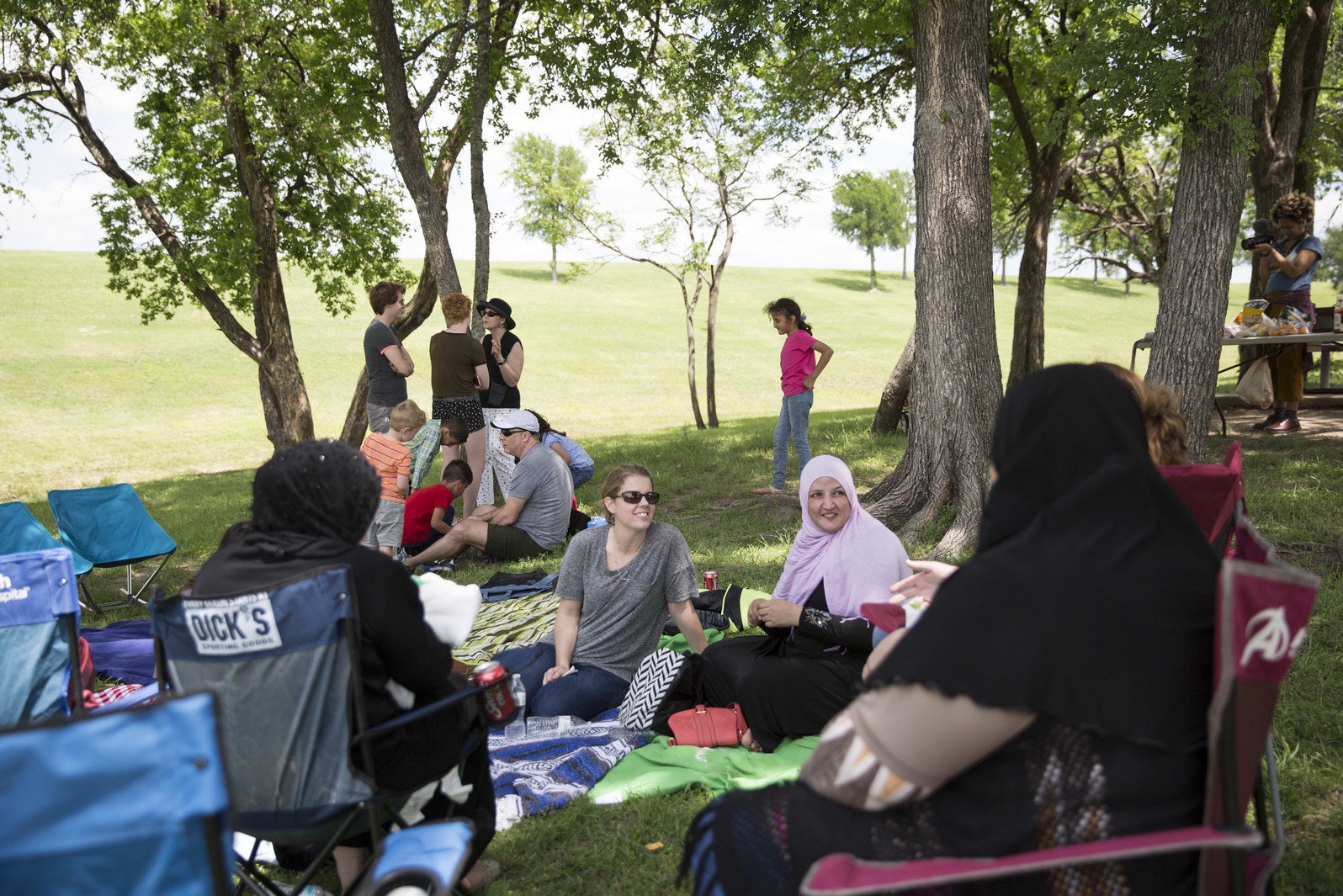 That was the feeling, too, at the Presbyterian church's Easter egg hunt: The postures, the rituals, the energy was the same as any Texas event. And while this was by no means the standard all over Dallas, situations like it are increasingly normal. They aren't supplanting old traditions, though, so much as retexturing them.

At the egg hunt, I watched a man in mirrored sunglasses and a turquoise blue polo shirt, with a bearing that I can only describe as pastorly, work the crowd. He gave a series of dads what I think of as the pastor trifecta: the firm handshake, the clap on the back, the "Good to see you, good to see you." On the corner of his polo, the words "Impact Church" were embroidered in white thread.
He told me his name was Kwesi Kamau, and said that he'd first met Page in seminary. "Now our church cares for an amazing family from Iraq," he told me. "I went over there for dinner, and they are the best people you'll ever meet."
We talked about Dallas, and Page's particular brand of persuasiveness, and the scene before us. "It's nice that you're doing a piece," he told me. "But we need to challenge our nation to do more than read. People in our communities are afraid. Their fear locks them up. But as a Christian, I am guided to live a life that is filled with sacrifice and adding value to others' lives. To do that, you have to open yourself up to God — and to the idea that God might be saying something that you don't want to hear. Because sometimes, when you're so assured of your own righteousness, it can be difficult to hear. So ask yourself: Are you prepared to see things differently?"
After the Easter egg hunt, Kholoud, her family, and a dozen members of the Restoration Anglican Church drove a few miles south, where they'd arranged a get-together in the shady glen of a park. Children splashed in a tiny stream, pulling on an old and patient black Lab owned by one of the members of the church.
Maynard and Sheryl Belson were there; so was Emily Kerr, who helps Kholoud sell some of her crafts online. Page was not: She gave them the tools and the training; now this work is their own. The adults — of the church, of the families — sat in lawn chairs in a circle, laughing and visiting, taking turns holding and cooing at one of the women's infant daughters. It was a refugee barbecue, which is to say it was a barbecue like any other, save the all-beef hot dogs.
One of the young girls from Iraq — 9 years old, with green eyes and freckles — ran over, breathless, and wrapped her arms around the torso of a woman named Tori Math. "Can I have a Coke?" the girl said, digging into the cooler, before running away. "God gave me the family that I needed," Math told me. "I'm a single mom with a son about to go away, and this family of six just came into my life." The Anglican pastor, a thirtysomething in a baseball cap, elaborated further: "These people, and our work with them, it has defined who we are as a church," he said. "It's in our DNA now."
Nearby, the children of these families — Iraqi, Syrian, Iranian, American — were running up an enormous hill bordering the barbecue site. They rolled down, screaming and laughing, stumbled around with dizziness, brushed the grass off their pants, and began running up again. ●
Correction: The description of Page's first experience with Wilshire Baptist has been modified to better reflect their relationship.