It's a mild, early March Saturday in Nashville: the first real weekend of bachelorette season. By 10 a.m., they've already descended on the Gulch, a neighborhood that looks like it was constructed in The Sims: everything built at the same time, in the same slick, clean-lined style. Fifteen years ago, it was a rail yard — an actual gulch. Today, it's a collection of brunch spots (the most popular is Biscuit Love, included in every respectable bachelorette blog post), a Frye Boots store, an Urban Outfitters, a Google office, a place called "Two Old Hippies" selling $200 dresses and tea towels printed with spunky messages, a blowout bar, a juice bar, and an actual bar.

The easiest way to identify a bachelorette party is by their matching T-shirts, emblazoned with Nashville-inflected slogans in twee calligraphy ("When I Sip You Sip We Sip"; "BOOTS and BOOZE and THE BRIDE"). The attendees — bridesmaids, friends, moms, sisters-in-law, anyone who's affiliated with the bride and willing to throw down for a weekend — wear identical tees in black or bright colors. The bride's, of course, is white.
Sometimes, they wear matching flannels, or jackets, or shoes (one group I encountered sported white high-top sneakers; another, pink windbreakers, like a millennial update of the Pink Ladies from Grease). I met one group from Manhattan who refused to wear matching shirts, opting instead for blue fanny packs emblazoned with "BABE" in fluorescent pink. "Our bride hates tacky shit," one of the attendees told me, right before they hopped on a foot-powered Pedal Tavern, where they'd spend the next two hours pedaling around downtown and obeying the commandment to chug every time someone on the street took a picture.
They travel in packs, usually between 6 and 16. And they love murals.
Even without the matching clothing, you can spot a likely bachelorette party from 100 yards away: a group of (almost entirely) white women, wearing nice jeans, cute tops, and fashionable boots, their hair styled in the long, beachy waves that the Blowout Co., which services dozens of bachelorette parties every weekend, says is currently their most requested look. They travel in packs, usually between 6 and 16. They always look mildly lost yet resolutely determined. They tend to be spilling out of or piling into Lyfts or Ubers. And they love murals.
More precisely: They love taking pictures in front of murals, which, over the last decade, have come to dot every gentrifying section of the city. What started as a covertly capitalist art form (a "I Believe in Nashville" mural designed by a merch company) has become overtly so, as business owners all over town realize the free advertising potential of Instagram location tags. During peak bachelorette season, the photo line at the most popular Nashville mural — artist Kelsey Montague's "angel wings," just a block away from Biscuit Love — can take 90 minutes.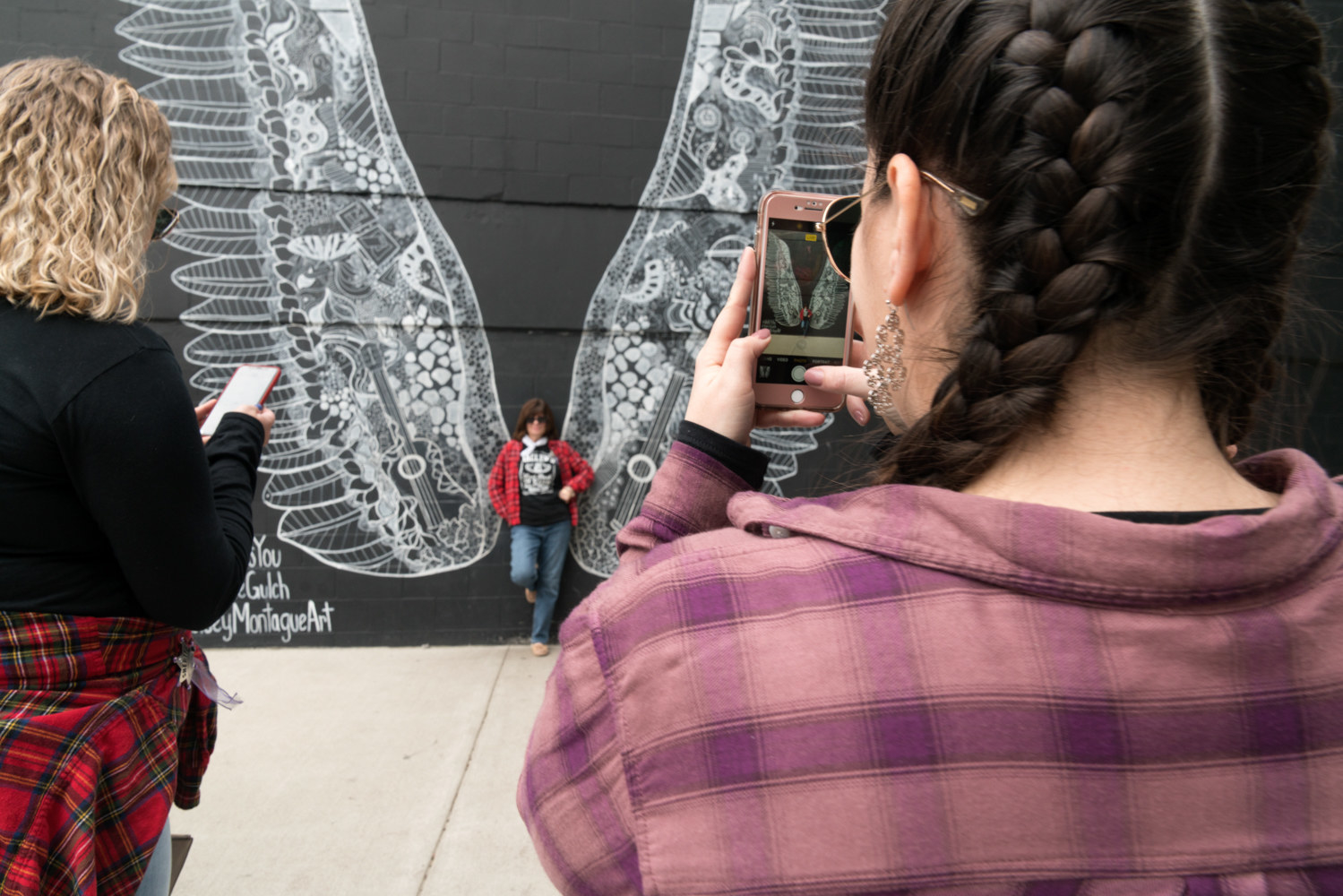 When a group reaches the mural, they snap solo shots before asking the next person in line to take a group picture. On Saturday morning, a woman in a maroon shirt that reads "BRIDE'S LAST RIDE" poses with one leg tucked behind her, her head cocked to the side. Then she scuttles away to join the rest of the group. "Tara, are you so happy?" one of them asks.
They huddle together to scrutinize the photos. Someone, not Tara, finds them lacking. "Can I just squeeze back in and do it one more time?" she asks. But two Ubers have already pulled up to bring the group to their next destination. A pole dancing class, a bicycle bar, a pedicure, a wine tasting tour — and, by the end of the night, a trip to the honky-tonks on Broadway, where bachelorettes have become conspicuous, ubiquitous, and unavoidable.
Depending on whom you ask, these groups are either a symbol of all that's wrong with Nashville's recent, astronomical growth, or exactly the sort of people necessary to sustain it: young, armed with disposable income, en route to the upper-middle class. They are not the Nashville tourists of our parents' generation. Most have little interest in visiting the Grand Ole Opry; if they listen to country music at all, it's a mix of what's become known as "classic" (read: '90s) country and contemporary pop/hip-hop hybrids.
The majority of these bachelorette parties are from the Midwest, but they also come from New York, Seattle, California, and Boston. Most don't own cowboy boots and have never set foot in a honky-tonk. That's part of the allure: the ability to try on a culture while avoiding accusations of appropriation.
The current tourism uptick — which includes the bachelorette parties — can be dated to two different events. The first, which has become a sort of urban legend, was when the Chicago Bears came to play the Titans, and visiting fans drained the entire downtown supply of beer. The second was two articles — one in GQ in 2012, and another in the New York Times in 2013 — that painted Nashville as the hip, artist-friendly home to Jack White and the Black Keys: the latest "it" city, as the Times put it.

The draw to Nashville isn't to go and be a tourist, but to go and spend a weekend sort of pretending that you live there.
The overarching argument of these articles was the same: Nashville is cool now. Which is to say, there are parts of Nashville that serve and appeal to and are filled with members of the so-called creative class and promise a different "experience" than your day-to-day life. The draw wasn't major attractions, like the Opry, but attending a quaint show at the Bluebird Café. Like Austin or Portland, the draw to Nashville isn't to go and be a tourist, but to go and spend a weekend sort of pretending that you live there — and, who knows, maybe one day make it a reality, and bring your friends and business along with you.
"Weekend visits are key to the growth of the city," Steven Hale, who wrote a locally beloved piece about the bachelorettes for the Nashville Scene, told me. "If you come here at 22, 24, 26, and you fall in love with the city, then you can move here and put down roots." That's why the economic development groups in Nashville adore "bach parties," as bachelor and bachelorette parties have become collectively known: These women are at precisely the point in their lives when a move to Nashville is possible.
Some Nashville residents fixate on the unignorable blow-up penises, which, as one Uber driver told me, showed up in the pool at a local hotel when she was trying to celebrate her grandson's birthday. Others are annoyed with drunk girls knocking on their doors when they can't find their Airbnb in a residential neighborhood.
"It's mostly located in downtown Nashville, but it's spreading out to other 'hip' neighborhoods now, which is a weird feeling, because you can't escape it," one longtime resident told me. "Like, you can't go to brunch in most areas without running into a gaggle of women in matching outfits." Servers dread the large, demanding groups and their checks split 14 ways.
"They've gone from being all over downtown to all over anywhere worth getting drinks in this city on a Friday or Saturday night," said one woman who moved to Nashville five years ago. "It's like the bach industry ruins any 'hot new local spot' within a year."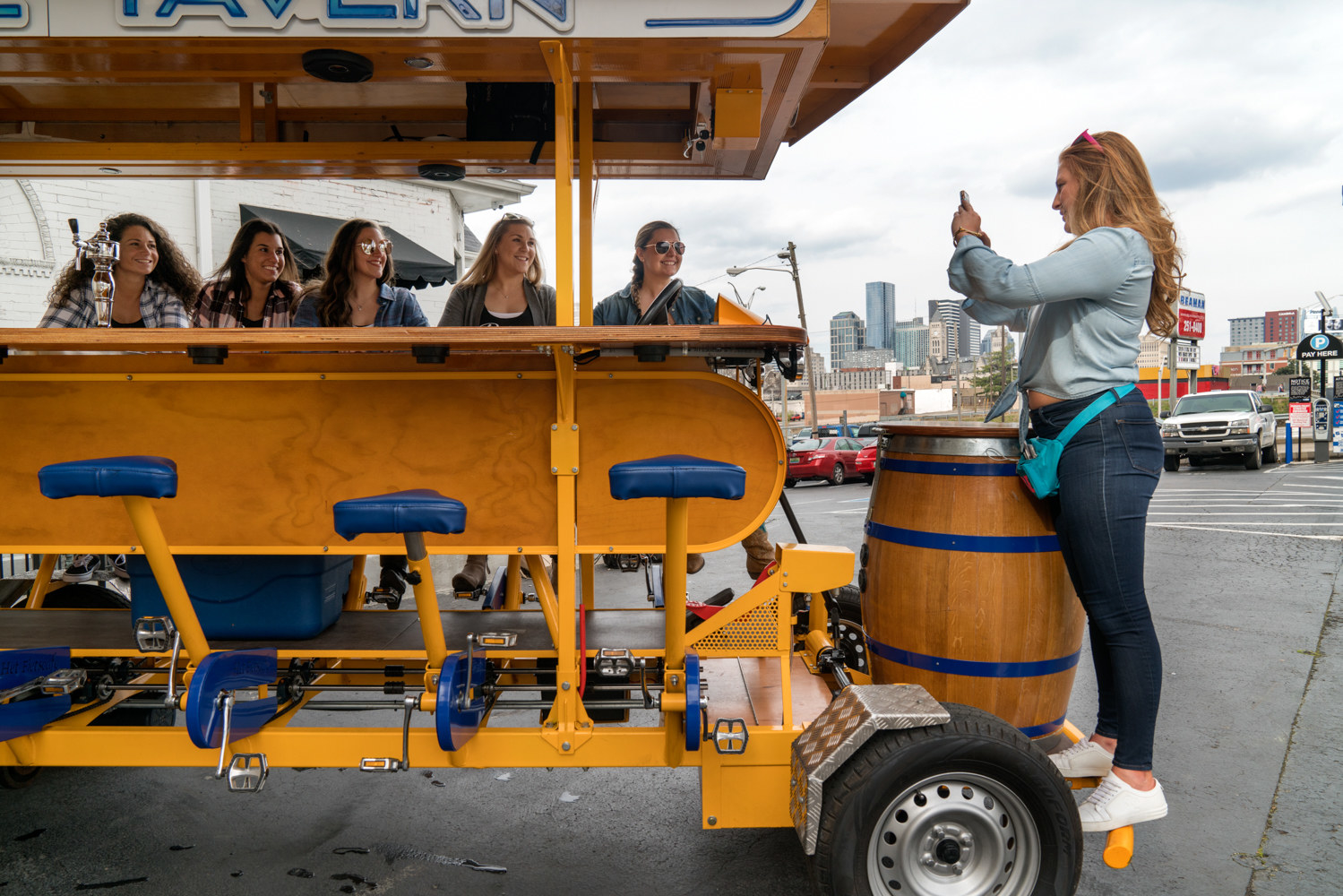 But the larger issue with the bachelorettes is one few will articulate: What does this influx of young, moneyed women, and the web of industries that have popped up to cater to them, suggest about the town that Nashville is rapidly gentrifying into? And what might it signal about the future — and the impact — of intranational tourism throughout the US?
Tourists always went to the honky-tonks on Broadway. They always went to the Opry. But this new type of tourism, centered on Instagram-friendly experiences — and the mobility and capital it requires — means it's touching more areas of the city, and accelerating the already rapid transformation of a sleepy, artsy Southern town into a cluster of "destinations." As that happens, attention to the past — and the things that made and continue to make Nashville feel unique and vibrant and desirable — is swallowed by the desire to document the present. None of these developments are novel to Nashville; at least a dozen people told me "Nashville feels like Austin, 10 years ago." But that decade is telling: Austin's ghost has largely been bulldozed and built over with box condos. Nashville's is still just visible enough to haunt it.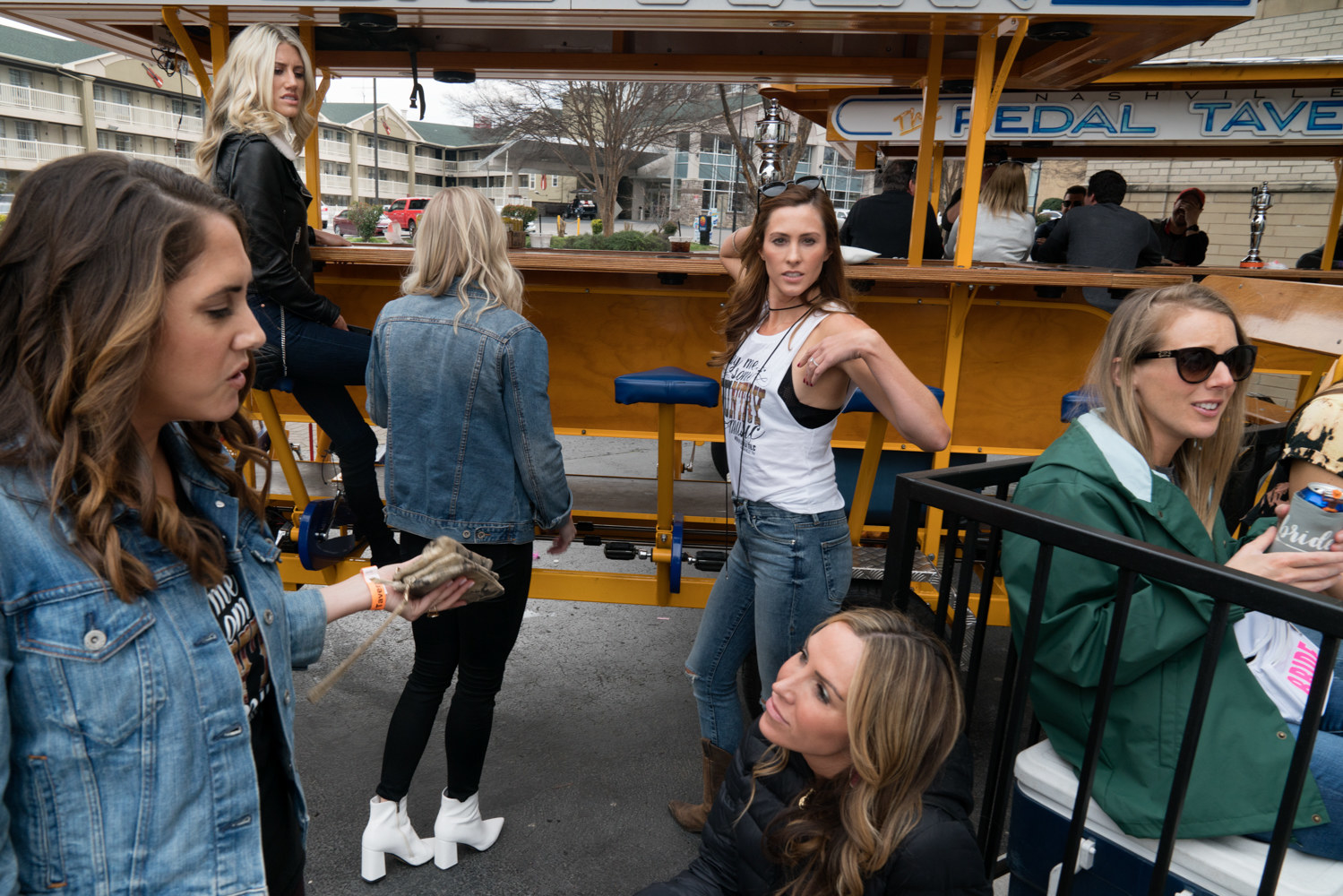 "You've come to the right place," yells Todd, a thirtysomething with a buzz cut and sports sunglasses, from across the parking lot of Losers Bar and Grill. "We've had more girls come through here than Bed Bath & Beyond."

Every weekend, Todd "captains" one of four Party Barges — an F-150 pickup truck outfitted with boat seats, a few life jackets, and the general look, if not actual capability, of a boat — from Midtown, up and around honky-tonk-lined Broadway, and back to Losers.
Todd works for Ray Smitherman, a retired police officer who started the Party Barge four years ago after watching Pedal Taverns — the first type of "transportainment" in the area — take off. Smitherman first came to Nashville from Alabama as a singer-songwriter, and he's found most of his drivers through the music community.
"You've come to the right place: We've had more girls come through here than Bed Bath & Beyond."
A group of women spills out of a pair of Ubers and pass cases of beer to Smitherman, who then places them in a cooler that'll come along for the ride (all transportainment vehicles in Nashville are currently BYOB). "On a scale of one to Randy Travis, how drunk are you now?" Todd asks the group. They're from Fort Worth, Texas, ("We do not live in Dallas!") and slightly more classed-up than the group that came before, one of whom had made a point to show me her penis straw: "Isn't it girthy?"
Unlike some other providers, the Party Barge has a firm rule: no standing up. They don't go through residential neighborhoods. They discourage their riders from shouting obscenities. They play "clean" music. They keep the penises "down." The city hasn't figured out how to regulate these "transportainment" companies, so they try to regulate themselves.
The owners of the Pedal Tavern, which now operates a total of 10 group bikes out of their airy, exposed brick Midtown offices, told me the same. "We begged the city council to regulate us. Because if we're not regulated, then it means that others can come in here and give us a bad name," said Angie Gleason, who moved from Minneapolis to run the Pedal Tavern. "Others" meaning operators like the Nashville Party Wagon (a hay wagon, filled with up to two dozen passengers, towed behind a John Deere tractor), which have faced off with the city over its right to drive a farm vehicle on city streets.
"We want to protect our business," Gleason said. That means no musical chairs, and instructions to yell "Predator danger!" whenever someone on the street tries to hop aboard. On a weekend night on Broadway, the sheer number of drink-while-someone-else-drives mobiles make the street feel like a Disneyland ride. But most operate in respectful, inebriated harmony, united by the rest of the Nashville's dislike for them.
Back at the Losers parking lot, one of the Party Barges sets off onto the street, Kenny Chesney blaring. "The girls come here, and they're not necessarily thinking of the effect on the community," Smitherman told me. "There's some stuff they'd just never do in their hometown."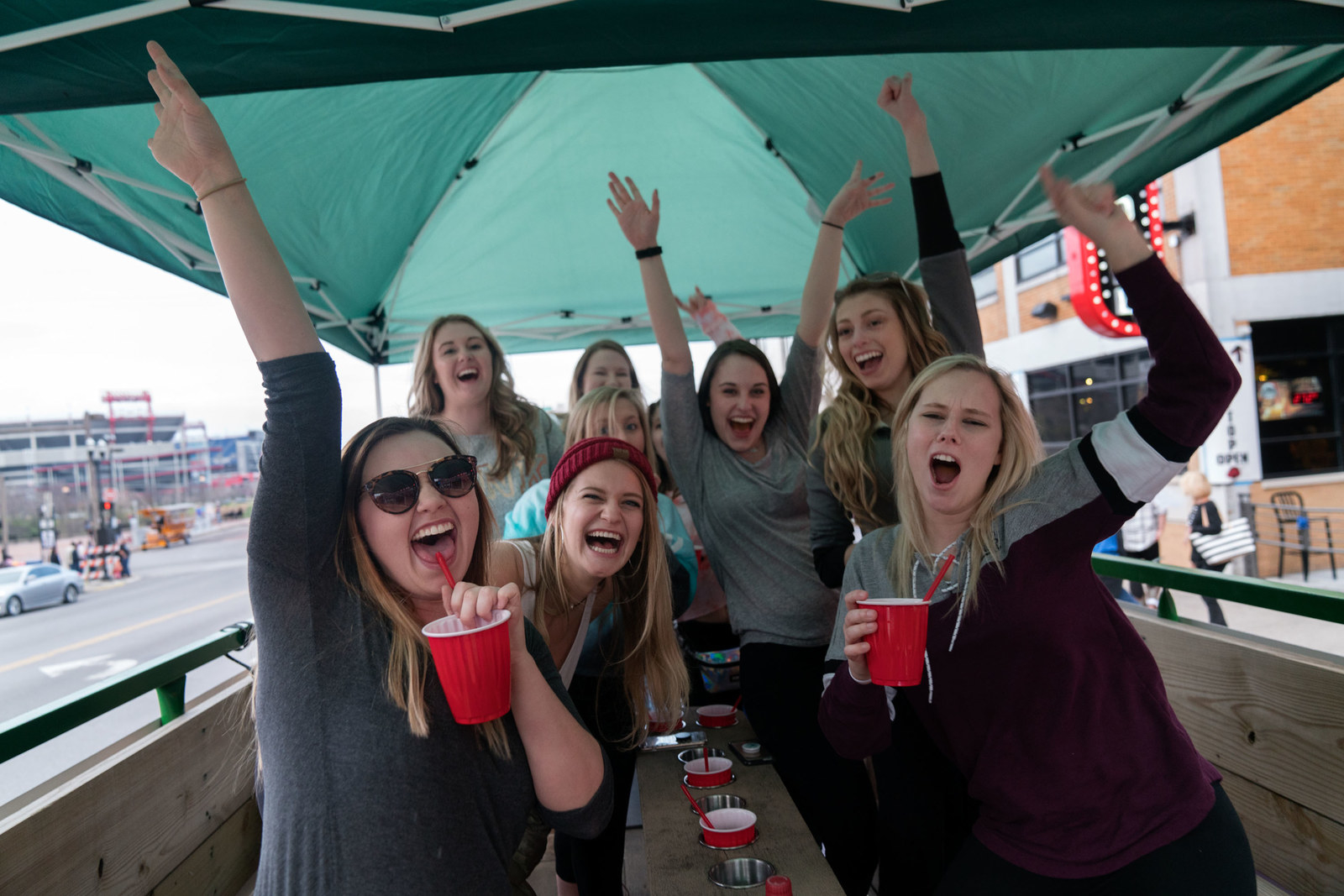 Smitherman's not judgmental; none of the drivers seem to be. One, retired from the Air Force, told me he gets a lot of joy from just driving people around while they have fun. They recognize that the locals are annoyed, but argue that bachelorettes are just the most visible manifestations of what residents, the majority of them recent transplants themselves, are mad about.
The idea of Nashville as the cradle of country music might not be changing — in fact, the endurance of that idea is what brings so many tourists here. But the actual makeup of the city — the sort of people who can afford to live here, and what they have to do to be able to afford it — is.
Tourism has been a central tenet of the American economy since World War II: Our parents and grandparents drove the expanding web of interstates to destinations like Disneyland, the Catskills, the Grand Canyon, and Niagara Falls. In this old model, there was an infrastructure specifically built for the tourist experience: hotels, tour guides, package deals, all cordoned off from where residents conducted their day-to-day lives. But the bachelorettes in Nashville represent a different type of tourist: ravenous for an "experience," especially if there are photos to prove it, and far more willing to spend money on a trip with friends than, say, a couch or a down payment.
That experience can involve something wild and out of the way (say, skydiving) but its most common iteration is deceptively destructive, and usually involves "living like the locals" (staying in neighborhoods, eating in neighborhood spots) without any of the constrictions (not wanting to disturb neighbors, not inconveniencing others, not taking up more space than necessary) that accompany actual residency.
Nashville — or whatever city they're visiting — becomes their playground. And in the case of the bachelorette parties, they get away with it (and have entire industries cater to them) in large part because they are white, and because they have money. Restaurants create rooms and reservation systems to accommodate them. The New York Times writes "36 Hours" itineraries for them. New businesses paint murals to attract them. New companies figure out new ways to get crazy while being contained in a kind of organized chaos.
At the same time, the people who make those experiences possible — the Uber drivers, the Airbnb cleaners, the dance teachers, the barbacks, the backup musicians — get pushed farther and farther away from the city, unable to "experience" it themselves in a context that doesn't involve serving others.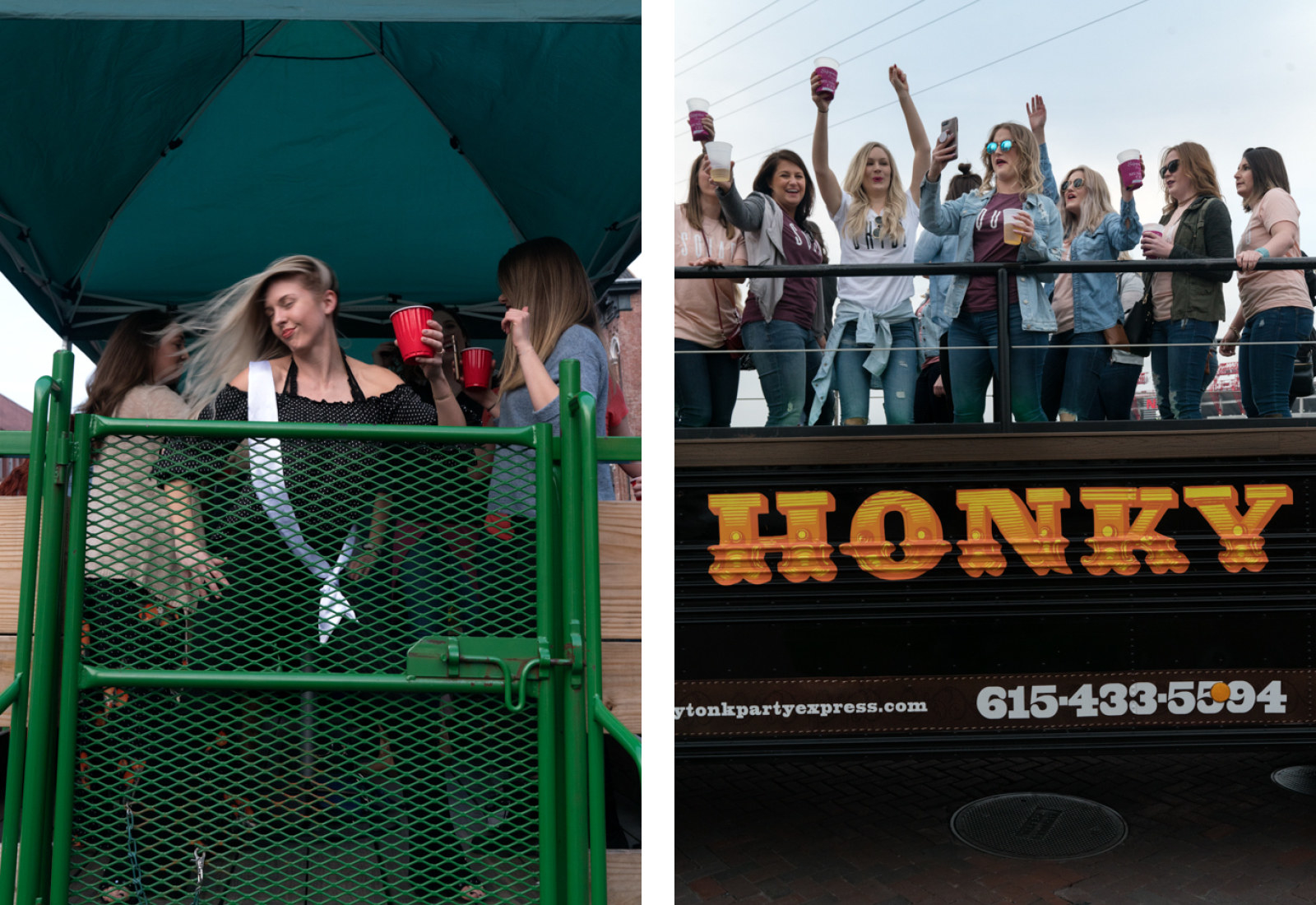 Nashville's history is one of settlement, of segregation, of forced relocation, of white flight, of rebranding and regeneration. You can see a palimpsest of that history in the area of Nashville recently rebranded as 12 South, which is less of a neighborhood and more of a long street lined with shops catering to young people with money. There's a vintage shop selling old taxidermied animals and overpriced, worn tees, a high-end denim retailer housed in an old car repair shop, a Sprinkles bakery with a cupcake ATM, and an old VW flatbed truck repurposed as a mobile "flower truck." The entire neighborhood is, as one bachelorette advice blog post put it, "really cute."

At its heart is the flagship store for Draper James, Reese Witherspoon's lifestyle brand named for her maternal grandparents, both of whom grew up in Tennessee. The Draper James building is whitewashed, with baby blue and white awnings and 8-foot photos of Witherspoon hugging her look-alike daughter, Ava Phillippe, positioned like adorable sentries on either side of the entrance. When you walk in, employees — slender, in heels — inquire if you'd like some sweet tea, which is smartly served in petite plastic cups with lids and straws.
The store, like so much of 12 South, is at a price point that makes it aspirational for most of the bachelorettes who come to browse, shop, and grab photos with the various murals that dot the neighborhood. A package of pencils embossed with "hello sugar" and "thank you ma'am" runs $16; a conservatively cut ponte dress in "Bermuda blue" stripes, which, according to designer notes, is "instantly timeless, polished, but super easy," costs $125. But shopping on a girls trip is less about purchasing and more about browsing and imagining: Is this the dining room table I'd buy when I have my own townhouse?
Many of the women who buy clothes at Draper James embrace an old-fashioned understanding of Southern femininity, the sort that finds nothing wrong with a T-shirt printed with the imperative "Keep It Pretty, Please" ($38). As one woman in her mid-twenties from South Carolina told me, "My mom's crazy about that store. It's the sort of thing rich moms from the suburbs love."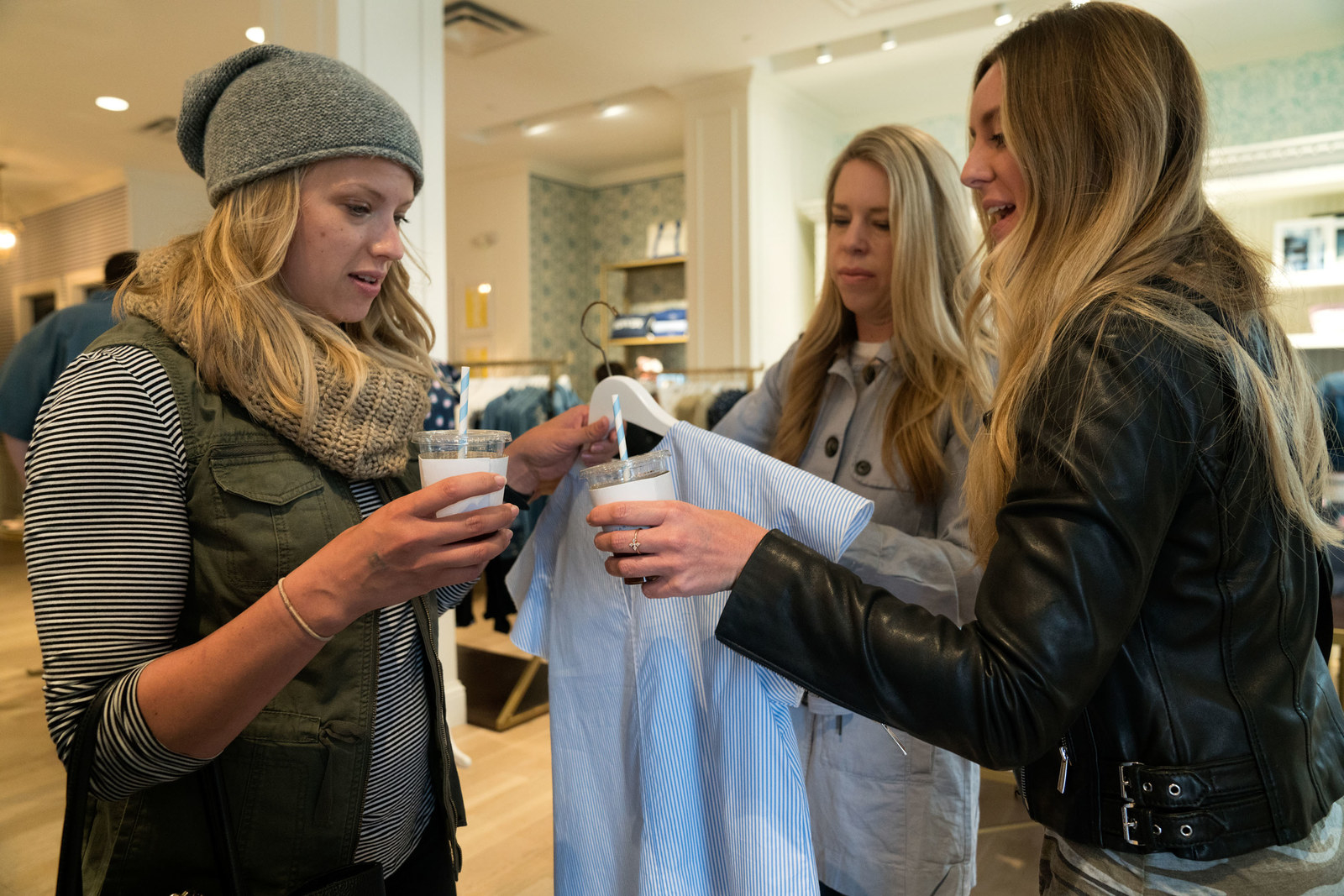 Those rich moms from the suburbs are the sort of people who are moving back into the area now called 12 South, which, until 20 years ago, was considered "the bad side of Belmont" — which is to say, the black side of Belmont: For decades, it served as a community for black residents who stayed in Nashville as their white counterparts began to decamp to the suburbs. Over the '70s and '80s, the neighborhood was primarily known for its numbers joints, drug deals, and prostitution. Sevier Park — now a sprawling, verdant, family-filled neighborhood hub — was dubbed "Needle Park."
In the late '90s, the first tendrils of gentrification began to spread. The "12 South Master Plan," initiated in 1996, improved streetlights and added bike lanes. Vanderbilt and Belmont University art students competed to design public art for the area; the eventual plan involved a bunch of sculpted benches. An upscale restaurant moved in, as did a bike shop, an anarchist bookstore, and a thrift shop named Katy K Designs and Ranch Dressing. In other words, Stuff White People Liked. The neighborhood's Victorians and bungalows were bought up, flipped, and/or transformed — often by artists, musicians, and new families.
Two decades later, that first wave of gentrifiers has been gentrified out of the neighborhood they helped transform. Katy K's shut its doors in 2015 due to rent increases; the anarchists and their bookstore are long gone. The median house price in the most desirable swath of the neighborhood is $633,000. The houses that don't look like they've been through a rinse cycle of HGTV stick out; their residents eye the hordes of weekend visitors, parking on their streets, with a sort of bewilderment.
"Every time I drive through here, I can't believe it. I grew up here, and I don't even recognize a thing."
And the wave of gentrification just keeps expanding. On the northern border of 12 South, the black population of Edgehill, long home to middle-class black professionals, has fallen from 67% to 50% over the last four years. It's a familiar cycle for so many cities: The people who stuck with the city during the '70s and '80s, often people of color and/or the working class, are pushed out by incoming artists and creatives whose incomes necessitate finding cheaper housing. Then the artists get pushed out by the yuppies, who will pay skyrocketing prices to live in a neighborhood that's "cool" and "historical" and "safe."
When a Lyft driver picked me up in 12 South, driving up through Edgehill into downtown, she shook her head at what she saw. "Every time I drive through here, I can't believe it," she told me, unprompted. "I grew up here, and I don't even recognize a thing." Like so many black Nashvillians, she's moved to the northern suburbs, making the 40- to 60-minute commute into the city where, especially on weekends, her primary customers are tourists. She doesn't mind the bachelorette parties, in part because she only drives them during the day, when "they haven't gotten wild yet."
Outside Draper James, a cluster of women has surrounded a temporarily installed sculpture of the Rolling Stones "tongue and lips" logo, set up just feet away from the Draper James mural: a promotion for an exhibit opening soon at the Nashville Musicians Hall of Fame and Museum. One of the women, holding out her phone for a selfie, attempts to hoist herself onto the sculpture, only to slide, ungracefully, down the tongue. She laughs at herself but makes sure to keep the phone steady: It's prime Instagram Story material. Across the alleyway, six women stand a foot apart from one another in front of a mural that says "I BELIEVE IN NASHVILLE" painted on the side of a dental "studio."
When asked why they chose Nashville as their bachelorette destination, most groups defer to a single member of the group (sometimes the bride, often not) who'd heard about, or seen pictures of, another group's trip. "Oh my god, this is a great location for a bachelorette party. My brother came down here for his bachelor party, and had so much fun," one bride-to-be from Bergen County, New Jersey, told me in the line for the angel wings mural. "And my own fiancé is coming down for his own party later this month."
They say Nashville feels safer than New Orleans, even though statistics indicate otherwise; it's less of a scene than Las Vegas. "I didn't want some club experience where we wore tiny dresses and stood in line," one attendee from Los Angeles told me. "This is so much more chill." As for what makes it chill, what makes it fun, what made them feel the necessity of a destination bachelorette, answers were vague. The possibility that what makes Nashville so appealing is the culture developed and maintained over decades by people now being priced out to make room for them to brunch and get drunk, and that that culture might be gradually, steadily eroded by their presence, didn't seem to occur — at least in terms they could articulate — to any of them.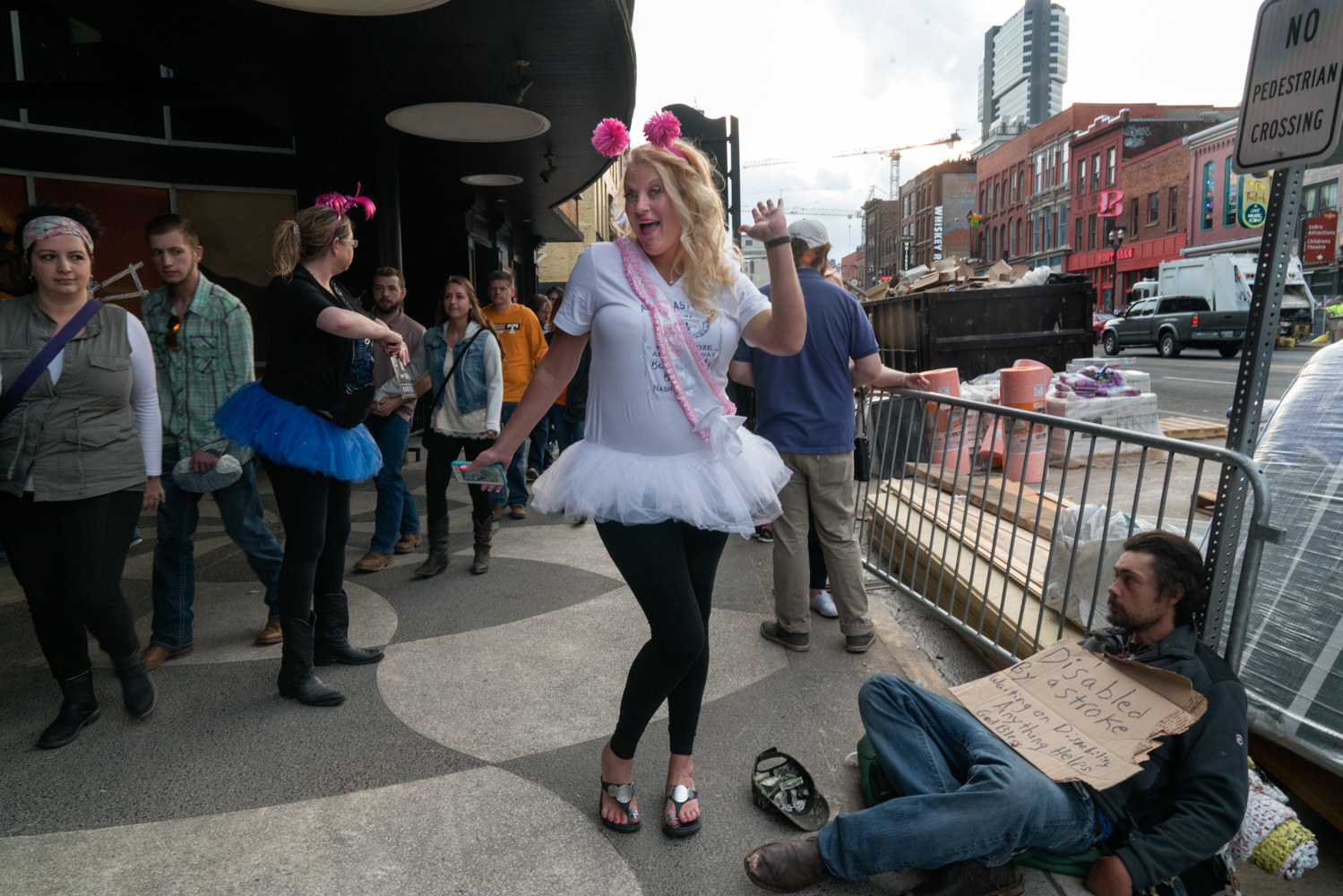 Robbie Goldsmith is the founder of Bach Weekend, one of a half dozen companies that plans bachelor and bachelorette parties in the area. He saw just how many visitors there were — and their spending potential — during his years at the Nashville Entrepreneur Center, where he helped launch its music "accelerator." In person, Goldsmith, who grew up in the Chicago area, presents like a business major, casually mentioning that the sushi bar where we met, on the second floor of Acme Feed & Seed, "was where I closed my last big deal, so that's awesome." In his online avatar, he's wearing reflective Ray-Bans, sticking his tongue out, and pointing at the camera: a human bachelor party.

But Goldsmith didn't start Bach Weekend to live a debauched lifestyle on repeat. After moving to the area in 2010, he started fielding requests from friends and family for recommendations on what to do in the city, especially for "girls weekends." He calculated what the average bachelorette party attendee was paying (around $850) and figured he could provide the same services, bundled, for less — and take out the stress of planning.
Over the last five years, Goldsmith's side job has morphed into a company with four employees, and two complementary businesses: Rocket Experiences, which plans pub crawls and scavenger hunts for visiting corporate groups, and Hustle Media, a social media marketing firm "built on badass customer service, innovative strategy, and winning the attention game."
"Sixty to 70% of our groups are funneling in from the Midwest, within a day's drive," Goldsmith told me. "We've got a ton from Chicago. Others coming from the Twin Cities, Michigan, Missouri. It's not such a thing with people from the South — everyone who grew up in the South knows country, knows Nashville, has been here at some point in their childhoods for something. It's just not as special for them."
Or as Elizabeth Allison, who helps run the Pontoon Saloon — which, unlike the Party Barge, actually operates on the river — told me, "My South Carolina friends and I would never come to Nashville on a bachelorette. It's way too cliché."
"I understand the objections to the bachelorettes. But I'm not the reason they're here. They're coming no matter what."
To reach potential clients, Goldsmith funnels a few hundred dollars into Facebook ads that surface for women, between the ages of 22 and 31, who've recently switched their status to "engaged." A post from their account will often accumulate hundreds of comments, the vast majority of them just women tagging their friends. "The hard part is conversion," he says. "We get thousands of people who go to our website and fill out our forms, but just hundreds who decide to do it."
Still, those hundreds are paying anywhere between $199 (a base package) to $479 per person (the Platinum VIP Package, which includes lodging). Bach Weekend customizes the weekend according to the party's desires, planning pedal pub tours, line dancing classes, and open bar nights at the honky-tonks. (Also included: hangover kits, bachelorette sashes, and room decoration.)
"When they buy, everyone's really tentative about being at the same open bar as other bachelorette groups," Goldsmith told me. "What they don't realize is that whether they go with us or not, they're going to be going to a bar with dozens of other bachelorette parties. Why not go with one with an open bar package, where everyone's there to celebrate the same thing?" There's less risk, too, of annoying everyone around you: At the heart of the bachelorette ethos, after all, is the notion that every space, every restaurant, every service should accommodate you. During your visit, you bend the city to your needs.
"I understand the objections to the bachelorettes," Goldsmith said. "But I'm not the reason they're here. They're coming no matter what. We're just trying to make it a little less crazy."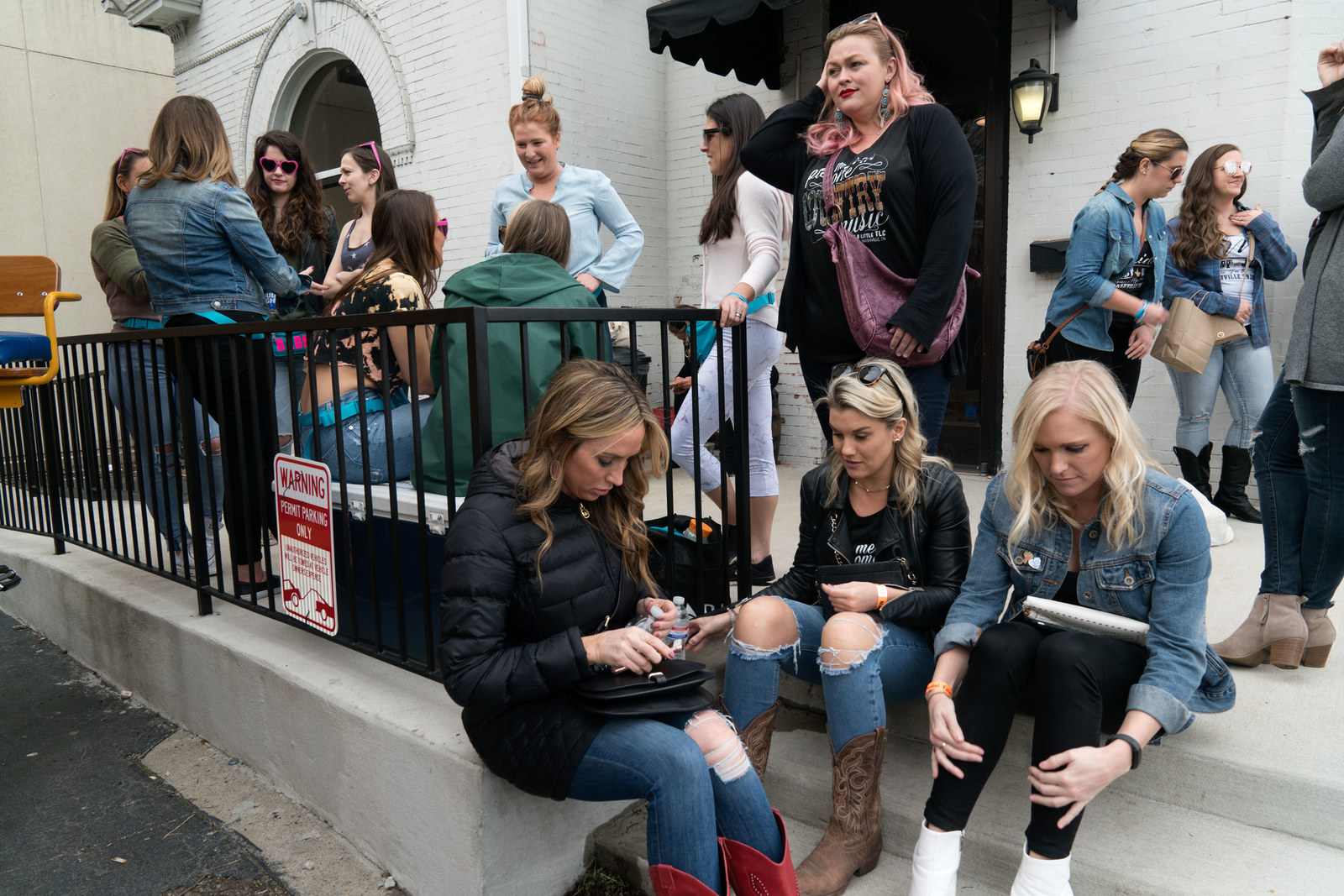 Bach Weekend recently expanded to New Orleans and has tentative plans to set up in Austin. But Goldsmith's plans expand much wider: "For one trip, we'd take over an entire condo building, with 10 units, 10 different groups, and there's a bonfire on the beach at night with drinks — it'd be a real true experience they're never gonna forget." He's also thought about setting up groups who've aged out of bachelorette parties for trips in fully stocked RVs, "exploring the coolest places in America: Glacier, Yosemite, the Rockies."
Bach Weekend attracts repeat customers — Goldsmith told me one woman has now been on four different weekends with four different friend groups. Once they've done the Nashville scene, they need something new. "Two years ago, everyone wanted to do Pedal Tavern," Goldsmith said. "Now a lot of groups are like, 'Well, we did that when we came last summer.' So now we're thinking of putting them on country music tour buses, the super-nice kind the artists ride in — and we'll bring a songwriter on, have them play and hang out. We're talking super high end, highly customizable experiences."
It's about novelty, but it's also about the ability to capture and post that novelty. On "Sips and Sequins," one of dozens of personal blogs offering detailed Nashville bachelorette itineraries, the author suggests the first thing to do is download the Glimpse app, which "allows you to record 1 to 3 second video clips the entire weekend and add that perfect song!" She also advises setting up a photo booth ("Everyone loves a good photo op!") and creating a custom Snapchat filter (which, if you open the app in the vicinity of the Gulch, you can see in abundance).

Photo ops have long provided the unspoken structure of tourism: Thorstein Veblen, one of the first scholars to theorize the performance of leisure, argued that travel is always, at least in part, about being seen traveling. But this feels like something different. "The girls will wait in line for an hour, just for these mural pictures," said Goldsmith. "Next year, we're gonna be prepared with the locations, videographers, the photographers, they're always on call. We're going to build in the experiences — and make sure they get those photos."
You might think that the labor of documenting all these experiences could threaten to overshadow the experience itself. But that's not how Goldsmith sees it.

"Earlier this year, we filmed all the girls pouring champagne into a girl's mouth, and it was just amazing," he continued. "What we really need to focus on now is creating that for every group. We're gonna create great images those girls are going to remember forever."

"And then they Instagram them," he said, nodding, "which, you know, is huge."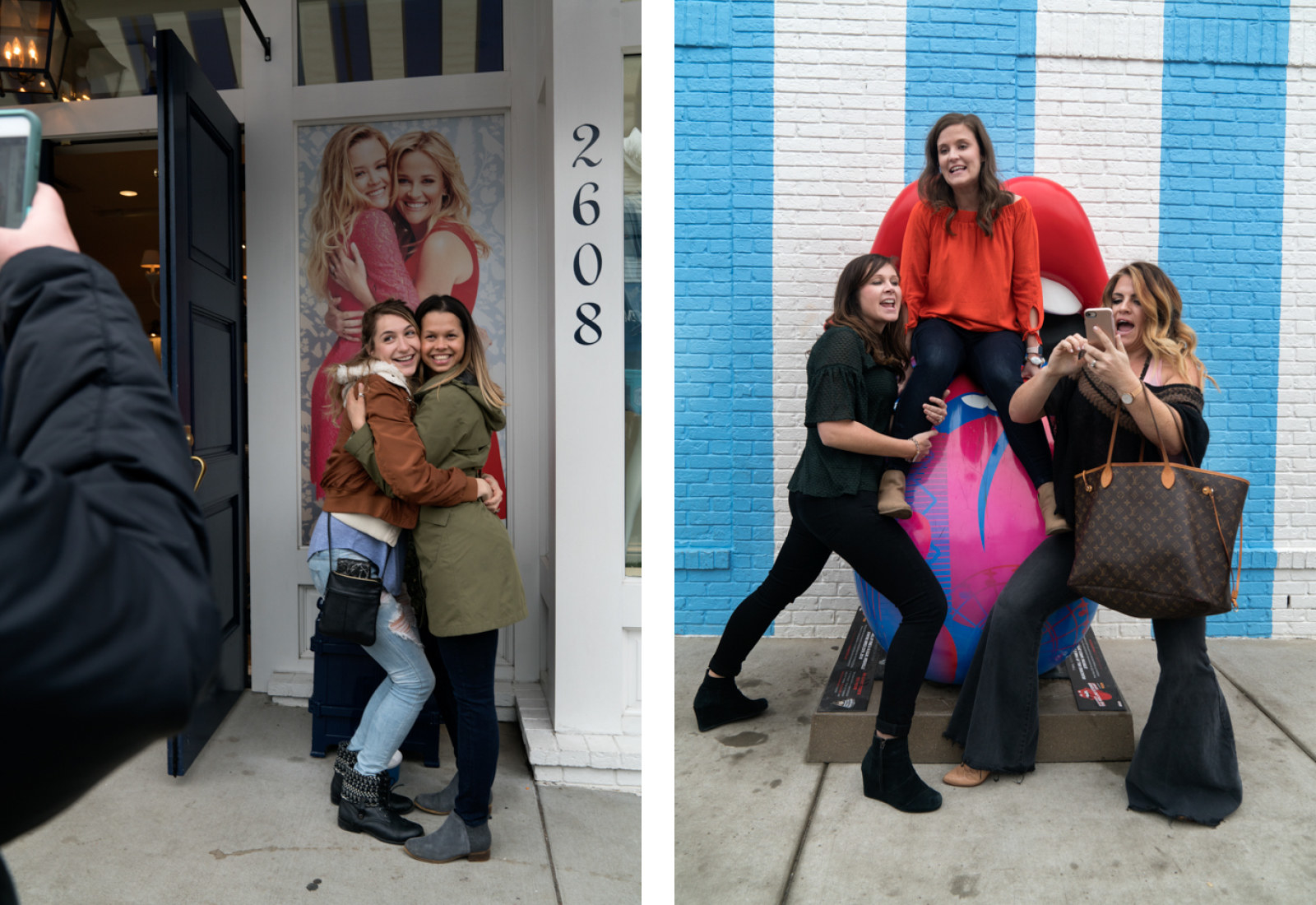 It used to be easy to avoid tourists in Nashville: Just don't go downtown on a weekend. But over the last five years, locals have ceded other neighborhoods and spaces to the bachelorette parties. Pinewood Social functions as a casual workspace during the week, but transitions into a hipster country club during the weekends, with brunch, bowling, drinks, a pool, and a rooftop patio, which make it one of the "Best Spots in Nashville to Take a Picture."

At 7 p.m. on a Saturday, a woozy bachelorette group had set up shop in the corner of the bowling alley. They ate fancy mac 'n' cheese and tried to stay awake; their bowling game never made it past the fourth frame. It was the point in the night when the friends start to get protective of the bride, who was just a bit further gone than the rest, and very eager to talk about her queer fantasies involving Rashida Jones.
"Most of the people who go to a place like Pinewood Social are the type that would never belong to a country club, even if their parents did," historian Rachel Louise Martin told me. "But how else are you going to demonstrate you're the sort of person that could belong to one?" That's one function of a place like Pinewood Social: Its image, once Instagrammed, is the new signification of a certain type of leisure and, by extension, a kind of class.
Martin grew up in and around Nashville, went east for graduate school, where she specialized in oral histories of segregation and took a professor job at a liberal arts school in New England. Then she left it all to come back home. These days, she sings soprano in the church she grew up in, waitresses to make ends meet, and writes about the things she knows best, like how "hot chicken" transformed from its origins in the Nashville black community to a must-eat white tourist food.
"When I was growing up, Nashville was considered so dorky," she told me. "It was everything you wanted to escape as a Southerner." But it still drew people from all over. "Up until 10 years ago, you could still live the Nashville dream," she said. "Move here when you're 22, put in your time, and by the age of 32, you'd be a studio musician. You could survive. You can't do that anymore. And that's going to change what the city is."
"It's all a packaged experience of how to be female: what you're supposed to look like, what you're supposed to act like, how to perform sexuality and hotness."
That change, of course, has already happened: the core of Nashville is increasingly white, increasingly rich, increasingly polished. "I look at the transplants, and I've been surprised by how airbrushed and packaged they seem," Martin said. "A few years ago, I was interviewing a white supremacist for a piece, and when he found out where I was from, he told me, 'Oh, I love Nashville, it's such a beautiful town.' And I said, 'Oh, yes, the river, and the parks, and the...' And he cut me off, and said, 'No, no, I mean the women.'"
The women aren't white supremacists. But they are very white. Same for the bachelorette parties and Draper James. "It's all a packaged experience of how to be female: what you're supposed to look like, what you're supposed to act like, how to perform sexuality and hotness," Martin told me. "It's a cartoon of Southern white sexuality."
Each vendor that partners with companies like Bach Weekend receives slightly less than they normally would for services (drinking, transportation, line dancing). In return, they get a steady stream of customers. Kristen Nicole Hall, the owner of Studio Goddess, doesn't have to take that deal. She has more bachelorette customers than she can handle.
Hall wears her hair in a high topknot and has the centered, soothing demeanor of a power yoga teacher. But she also has the arms and back of a competitive swimmer — the direct result of years learning how to hold her body above the ground on the pole.
Unlike the rest of the bachelorette providers I spoke with, Hall was born and raised in Nashville. "I'm a unicorn," she said. "Most people don't even know anyone who's from here." She attended Middle Tennessee State University, majoring in chemistry and biology, but graduated smack into the economic downturn. She started doing "pole," as practitioners put it, in a back studio frequented by exotic dancers, plus a handful of others who pole danced for fun and exercise. One of them, a district attorney, asked her, "What if we had a space just for this?"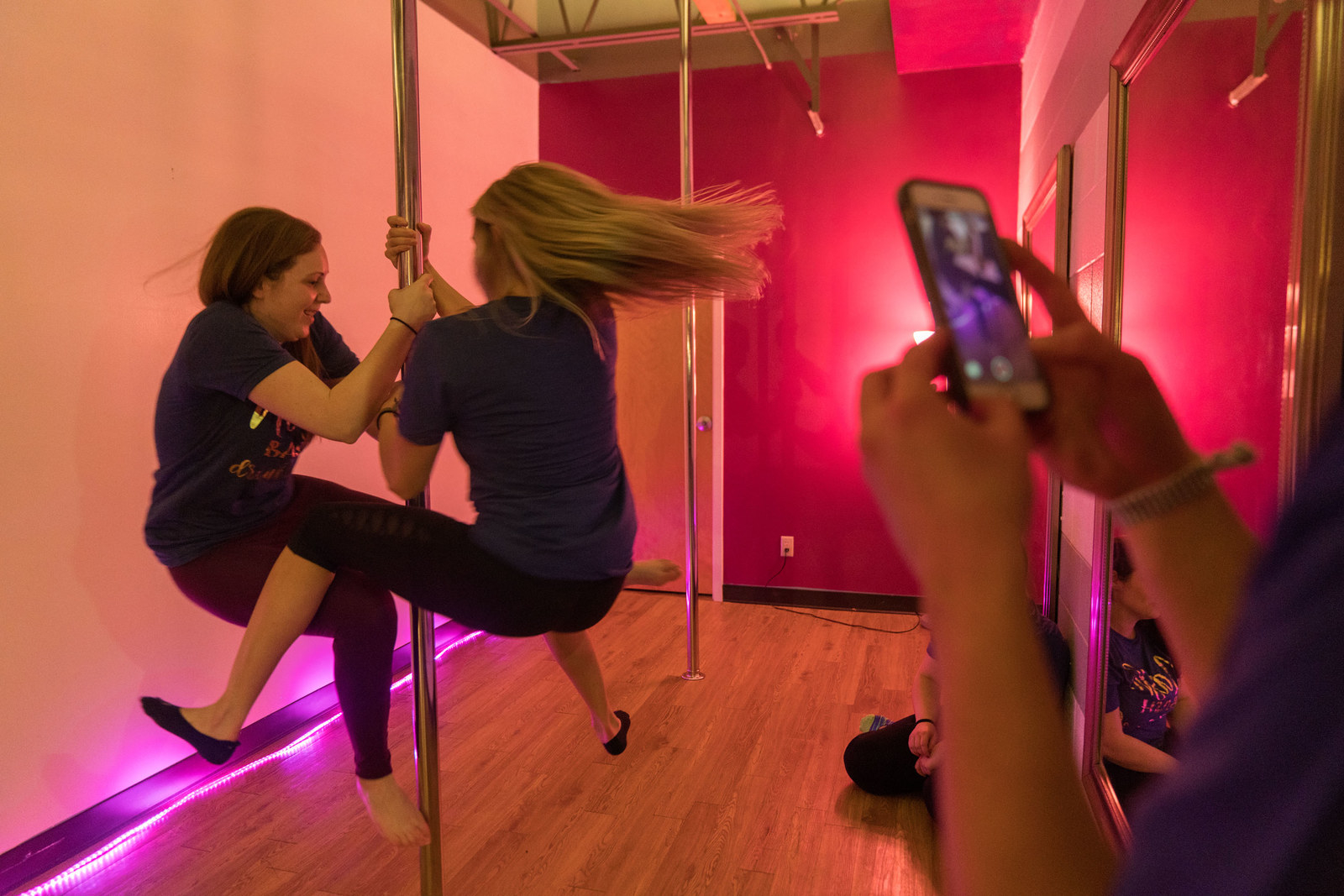 Recreational pole dancing had already spread to urban areas across the country, but, as Hall told me, its sexualized connotation was harder to shake in the South. "I just tell people, 'It's okay to move your body in a way that feels honest.'" The studio's offerings have expanded to aerial, acroyoga, and dance classes like "Shake Your Abs," which run throughout the week. But it's the bachelorette parties — taking classes in pole dancing, "Southern Swagger," and burlesque — that keep the doors open.
Studio Goddess has hosted as many as 32 groups in a single weekend, but the average during bachelorette season is between 20 and 25. One from Louisville, Kentucky, is currently in the studio, wearing purple shirts ("Nash Bash Just Drink") and very tentatively dancing in the general vicinity of the poles.
The teacher has a blonde bob, a classic WASP look, and very un-WASPy dance moves. She's a graduate of the New England Circus Arts School, and works as a performance artist during the week. "Put your back to the pole," she tells the group. "Now raise your arm above, grab the pole, then slide your hands down, and swing that hair forward." The song playing is by Beyoncé. The soundtrack is almost always Beyoncé. There's a lot of nervous giggling.
Most enter the room bashful and tentative, but exit in a very different state. "There's something about these classes," Hall said. "We're told that we have to be sexy for men, but in the room, you're not doing it for others. It's for us."
The bachelorette party streams out of the studio, glowing with a fine sheen of sweat, and picks up champagne glasses filled with mimosas. "People post pictures on social media complaining about the bachelorettes — their plastic cowboy hats, their Steve Madden cowboy boots," Hall said. "And I always comment on their posts: 'These bachelorettes are paying for my future kids to go to college.'" They help her teachers pay off student loans, help them cover child care, help them pursue artistic dreams during the rest of the week. As Hall tells her weekday students when they bemoan the lack of weekend offerings: "Listen: These girls make your classes possible."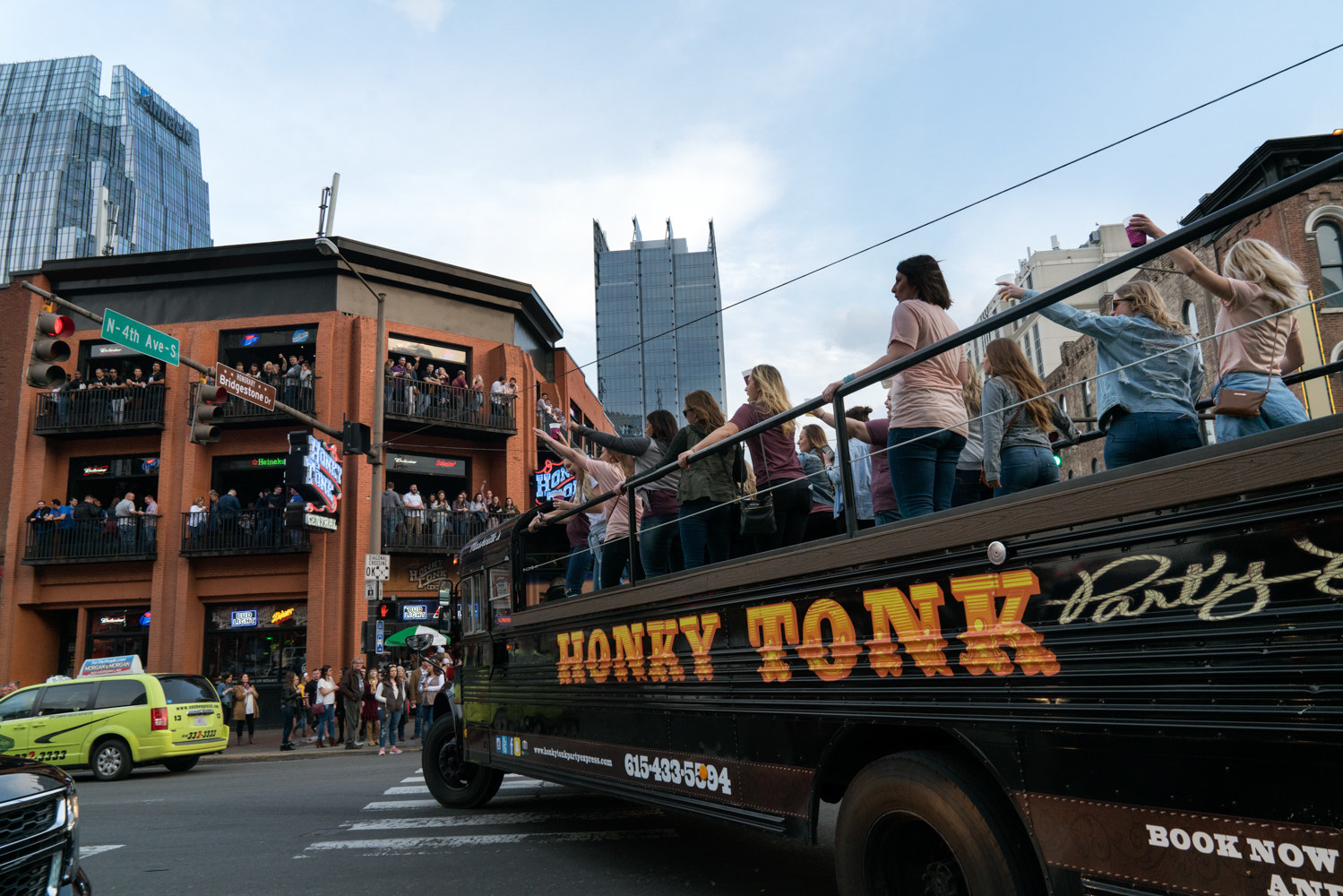 Back on Broadway, the sun is setting, and the streets are beginning to clot with crowds. A different country cover band blasts through the open windows of each honky-tonk. Out of one, you can hear the guitar line of Kid Rock's "All Summer Long," which is actually the guitar line from "Sweet Home Alabama," lifted and repackaged. It's a fitting metaphor for what's become of the street in general, as stages that once served as spaces for original music have metamorphosed into Epcot versions of their former selves. This is the future of Broadway: less Robert's Western World, more Redneck Riviera (the new project from Big & Rich's John Rich) or FGL House, centered around the brand of Florida Georgia Line. These multilevel, choose-your-own-adventure bars, built on the idea of Nashville, are boxing out the places that composed that idea in the first place.

But this is the blissful part of the night — when you're drunk enough to lean into spectacle, forget whatever article you've read on the side effects of gentrification, and neglect your best intentions to only go to the "authentic" honky-tonks, rather than the ones that have the best call-and-response drinking games.
"When the girls go downtown, and everyone takes pictures of them, they tell us it makes them feel like Britney."
On the street, traffic has ceded almost entirely to party transportation. A Redneck Riviera open-air bus is filled with women dancing to "Single Ladies" and holding up cutout photos of the absent groom-to-be's face. Down the street, a group of Peoria nurses is stalled on a Party Wagon on the side of the street. When our photographer steps toward them to get a shot, they start to woo! as if on cue. "When the girls go downtown, and everyone takes pictures of them," the owner of the Party Barge told me. "They tell us it makes them feel like Britney."
Unlike the traditional bachelor party, whose stated allure is a final, debauched moment of release before settling into monogamy, the bachelorette party — at least in its contemporary iteration — offers a last chance to be a public center of attention in a socially acceptable way. Crucially, that unruly spectacle — the moment when you get to feel like Britney, or believe you can dance like Beyoncé — is a plane ride, a long drive, and a world away from your "normal" life. Some of what happens in Nashville stays on Instagram, but most of what happens gets mothballed in the memory of your friends as that weekend when shit got crazy.
When the freeways of the mid–20th century first began to take shape, they were celebrated as great connectors: a way to introduce Americans to so much more of what our vast and diverse country had to offer. Freeways, like cars, and railroads before them, helped democratize travel, but also personalized it. Cheap gas made the entire nation your potential destination. Cheap airfare has only accelerated the process: For $300, you can fly nearly anywhere in the US, then leave it behind after three days and a handful of Instagrams, a public notch on your conspicuous leisure belt.
Like so many others of my age and professional class, I've taken these weekend trips. I've posted these Instagrams. I've been on similar bachelorette parties. I've had fun and I've documented myself doing it, providing proof of something for both myself and others. I don't think women claiming time for themselves is wrong; I don't necessarily think women taking up public space is, either. But watching the bachelorettes of Nashville against the backdrop of citywide gentrification reminded me of how mindlessly I did all of it. Friction, resistance of any kind — whiteness, youth, and money removed it all. Which again begs the question: Who can have a city bend to their will, and whose will is bent or blatantly ignored in the service of others?
That night, waiting to cross Broadway, I find myself sandwiched next to an older couple, dressed up for a dinner on the town. At the stoplight, a Pedal Tavern has just coasted through a red light, holding up traffic in all directions.
"I guess they just have the right-a-way, don't they," the husband says. "They just go whatever speed they want, yell whatever they want, do whatever they want."
The wife stares at the women in the Pedal Tavern, who are seated facing inward, so that they look only at one another. "I guess they do," she responds. "I guess they do." ●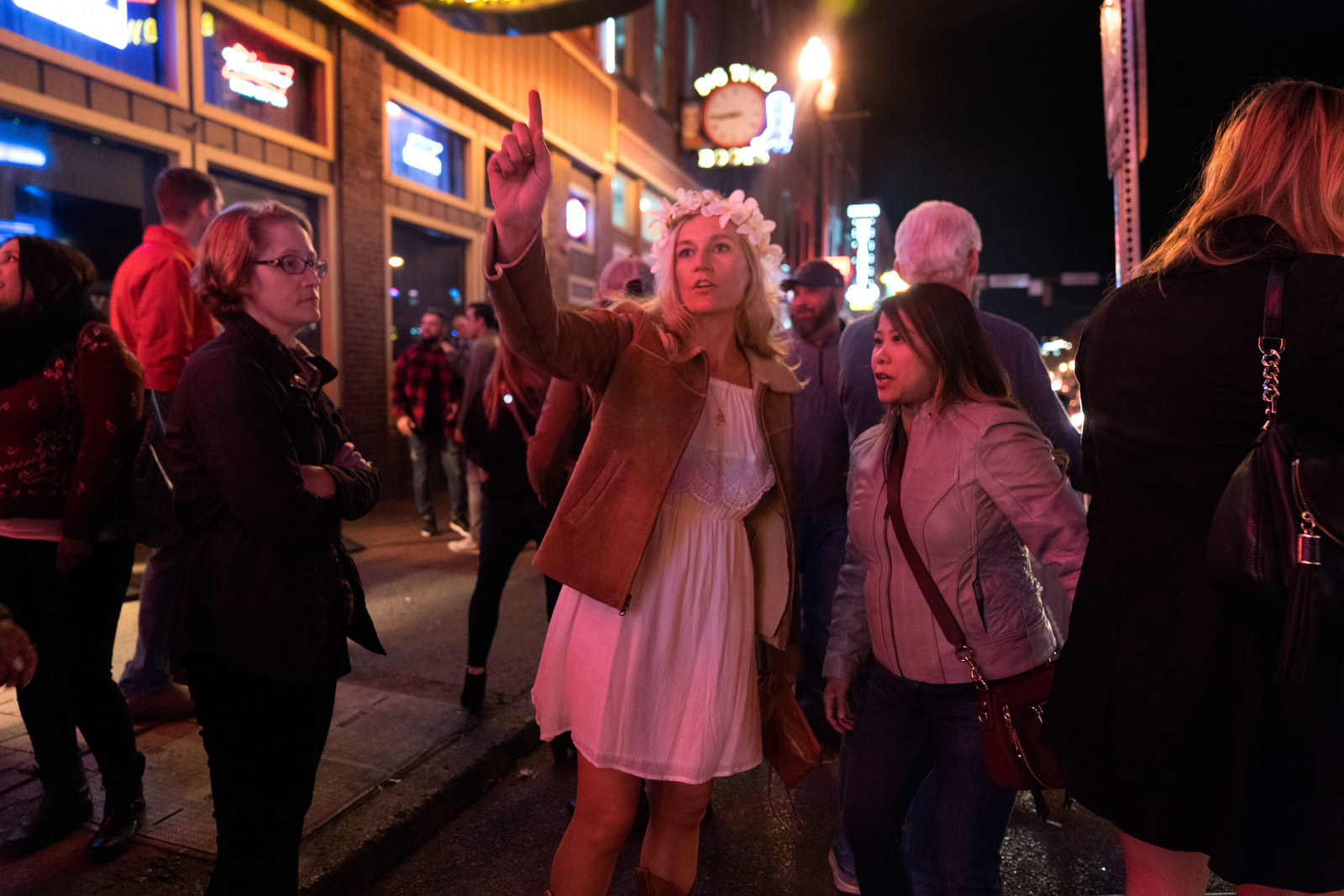 CORRECTION
This article has been updated to more accurately describe the changing demographics of Nashville.