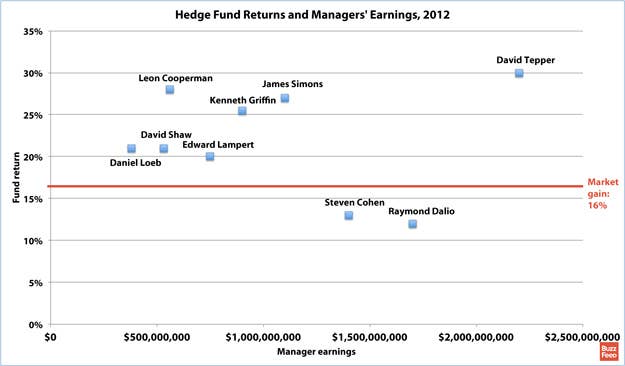 Two of the highest-paid hedge fund managers on Wall Street underperformed the market as a whole last year, according to rankings released yesterday by Institutional Investors' Alpha.
Raymond Dalio of Bridgewater Associates made $1.7 billion last year, making him the year's second-highest paid manager of a hedge fund. But his funds made between 1% and 12% returns, according to the New York Times. The S&P 500, by comparison, rose 16% last year. That means an investor could have made more by investing in a simple index fund. Steven Cohen, the third highest-paid manager at $1.4 billion, underperformed the S&P by 3% (his SAC Capital Advisors had a return of 13%).
The top nine highest-paid managers from last year are listed on the chart above (returns for one of Institutional Investors' top ten, Stephen J. Mandel, Jr., weren't available). Managers in the top left of the chart made the most for their investors relative to what they took home. The ones on the bottom right made the least relative to their earnings. When the Times listed multiple fund returns for a manager, BuzzFeed listed the highest one on the chart. The best returns on the list went to David Tepper of Appaloosa Management, but his services were expensive — he took home $2.2 billion last year.